While most people are eagerly awaiting the launch of availability of the full-sized Bronco, the Bronco Sport is earning a special place in my heart. Initially I joined the chorus calling it the "baby Bronco" because it appeared to be a vehicle simply riding on it's big brother's legendary branding. After putting it through it's paces though and talking with Bronco Sport owners, I'm convinced that this may be the perfect off roader for all but the most die-hard and technically skilled adventurers.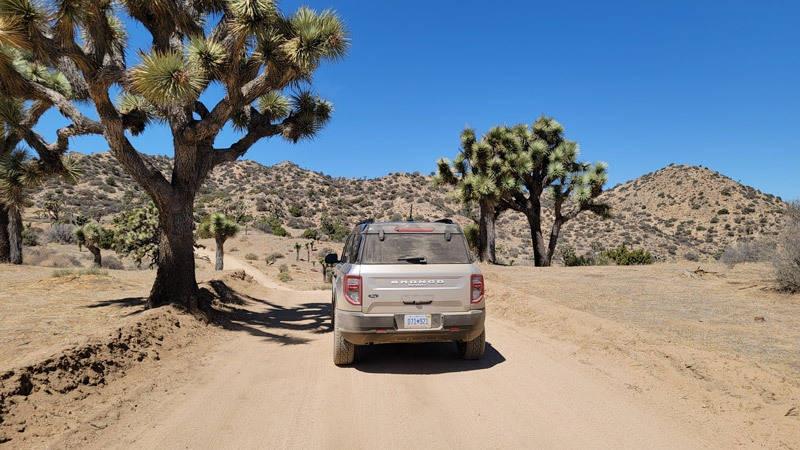 Off roading means a lot of different things to a lot of different people. To some it simply means traveling down a dirt road to a hunting cabin and to others it means crawling over obstacles. The middle ground though is where most of us sit and that's where the Bronco Sport Badlands fills a gap that other brands just haven't been able to.
In this space, there is really only one other competitor - Jeep's Cherokee Trail Hawk. However, while the Cherokee is very capable and also very comfortable, it fails to evoke a sense of adventure the way the Bronco Sport does. Flanking these two, you have casual "lifestyle" vehicles such as the Rav4 Adventure and Trailblazer Activ on one side and the Wrangler, Bronco, and 4Runner TRD Pro at the upper end ready for serious off road adventure.
The challenge with lifestyle vehicles is that they are designed for on-road transportation but to make the owner feel 'sporty'. With the more serious off roaders, they are incredibly competent on rocks, sand, and dirt but they all suffer in terms of on-road comfort, fuel economy, and noise.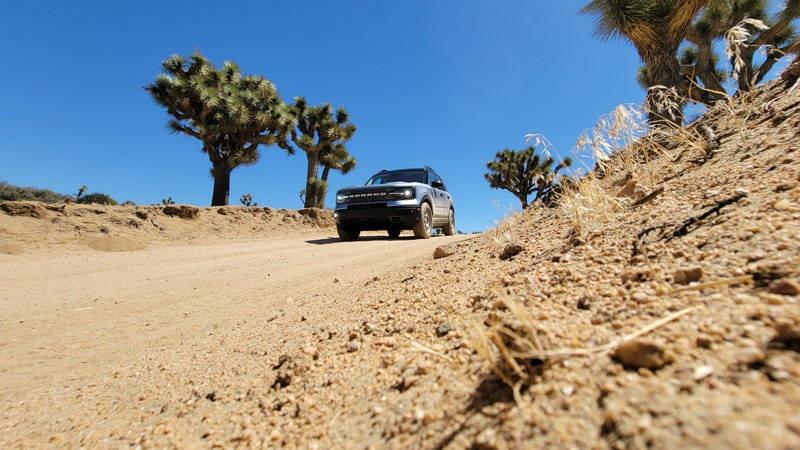 Bronco Sport Badlands somehow strikes a near perfect balance where you can do all but the most aggressive off-road trails but it is also very good on the pavement, even at highway speeds traveling multiple hours to get to your off road adventure.
Earlier this year we tried one of the lesser trim levels, Bronco Sport Big Bend and while it evoked a sense of adventure, it was saddled by a smaller engine and not being configured to do what it aspired to do in terms of off road driving. It was a good vehicle for folks looking for an alternative to the lifestyle vehicles we mentioned above, since it works great on pavement carrying bikes, kayaks, or hiking gear. However, it was just missing that aggressive feeling that anyone owning a Bronco deserves to feel.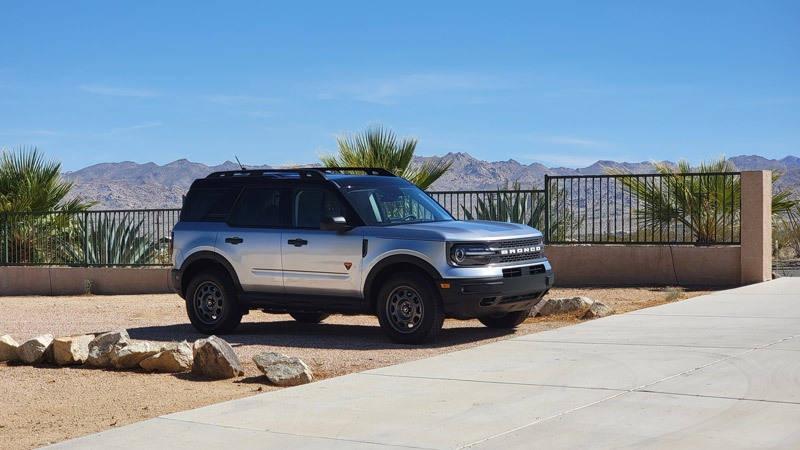 Bronco Sport Badlands addresses that by adding 28.5-inch All Terrain Tires, Skid Plates, and making the 250 hp / 277 lb-ft torque 2.0L engine standard (vs the 1.5L with 181 hp / 190 lb-ft of torque). Additionally, the Badlands trim offers SelectShift with wheel-mounted paddle shifters and a cooling system to help reduce transmission and rear-drive heat. In our adventure through the Colorado and Mojave deserts in 110+ degree heat we never had a program even when traveling at high speeds over sand.
Like the Bronco, Bronco Sport features G.O.A.T. mode which made it easy for novices to easily select the right combination of features to enable for different terrain. While I suspect this will be even nicer in the Bronco where we have more off road features to enable to configure it just right for rocks vs sand vs fuel economy on the highway, it was nice to simply not have to think about what to do when transferring from a sandy wash to climbing a mountain trail.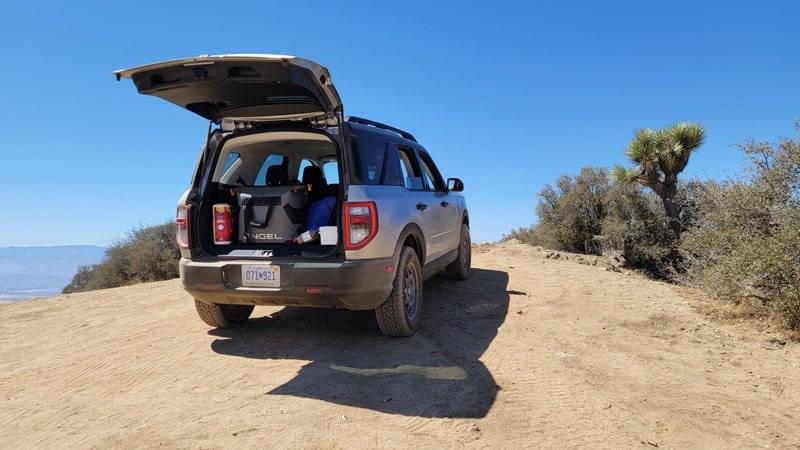 For on-road driving, Bronco Sport also features the Ford Co-Pilot360 suite of advanced driver-assist technologies is standard across the lineup, including Pre-Collision Assist with Automatic Emergency Braking featuring Pedestrian Detection, Forward Collision Warning and Dynamic Brake Support, Blind Spot Information System with Cross-Traffic Alert, Lane-Keeping System, Auto High Beam Headlamps and a rearview camera. Available Ford Co-Pilot360 Assist+ technology includes Adaptive Cruise Control with Stop-and-Go and Lane-Centering, Evasive Steering Assist and voice-activated touch screen navigation. Available Ford Co-Pilot360 Assist 2.0 technology adds Intelligent Adaptive Cruise Control with Stop-and-Go, Lane-Centering and Speed Sign Recognition.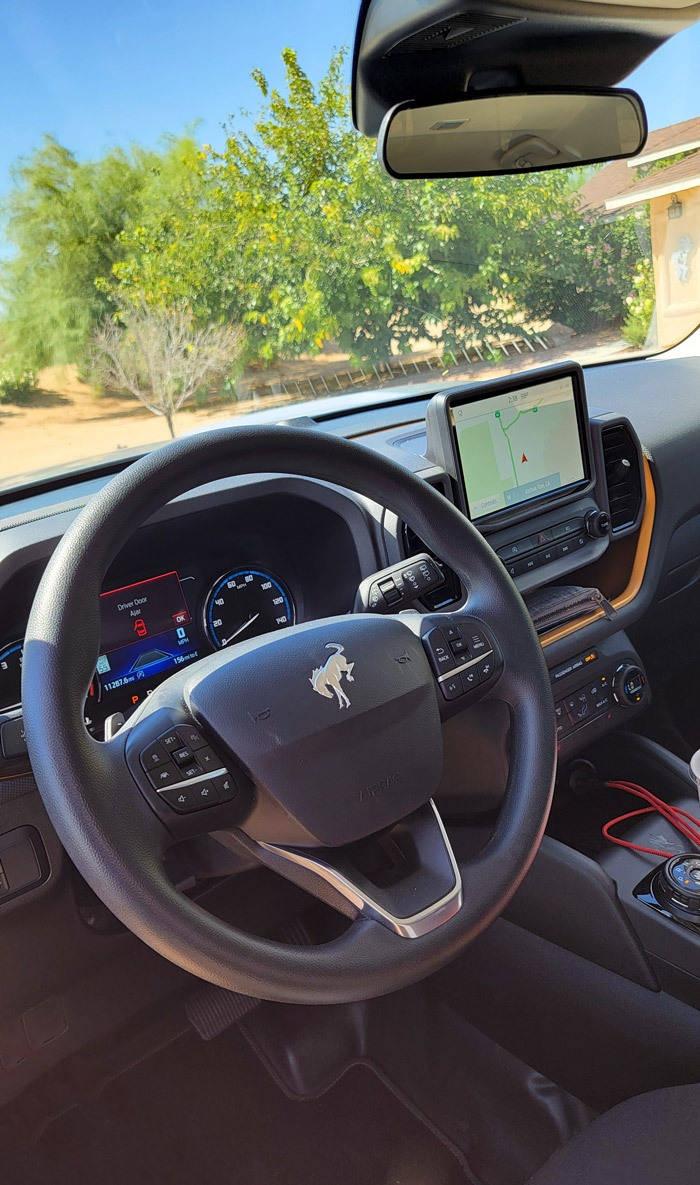 As much as I absolutely loved the experience with the Bronco Sport Badlands, it is important to also put things into perspective. While it can do pretty much anything "easy" that I threw at it, and far more than I would feel comfortable attempting in a lifestyle off-roader, it wasn't perfect.
For instance, it suffers in two critical areas that frankly I think owners will just have to "learn to live with" since resolving the issues would dramatically change the on-road performance that is essential to this perfectly balanced package.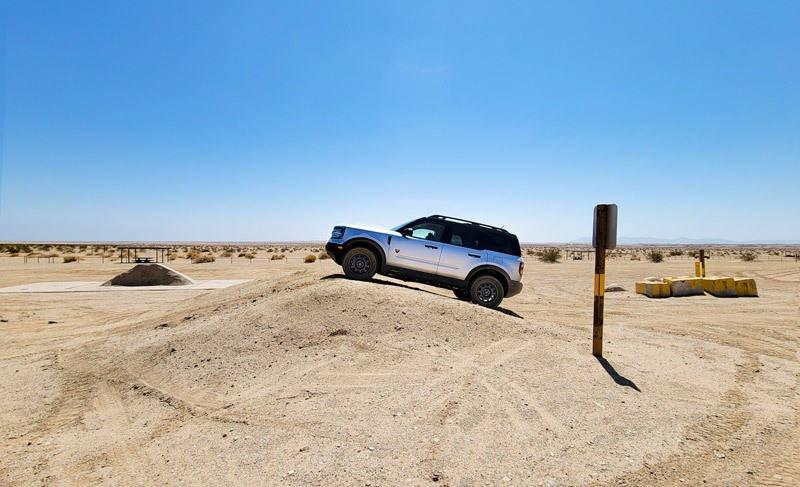 Thank God For Skid Plates - Clearance, Crossover, and Breakover Angles:
Ground clearance on of 8.6" is put it (and the Cherokee Trailhawk at 8.7") in a different class than more aggressive vehicles like Grand Cherokee Trailhawk at 10.8, Wrangler 9.7, and 11.6" for the Bronco. This lower to the ground posture certainly helps with on-road performance but even "easy" obstacles on the off-road training course were challenging or impossible to execute in the Bronco Sport.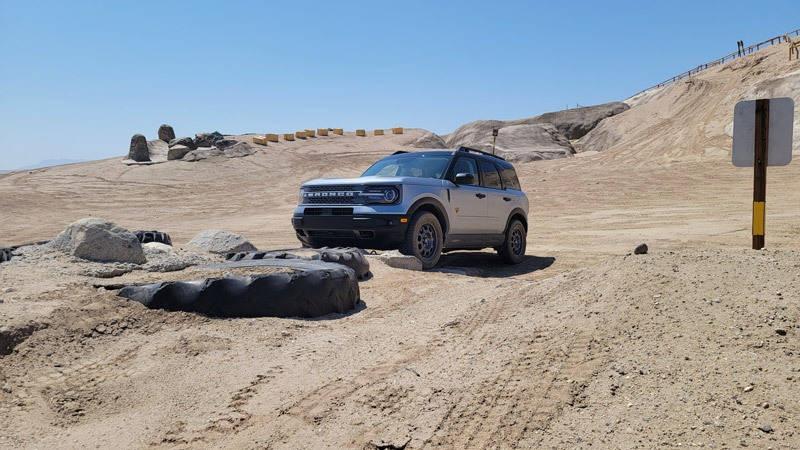 In practical use though, there is almost always a way to overcome those obstacles by either stacking rocks or approaching the challenge from a different angle. However, it was a glaring disappointment to ground out on a green circle hill test.
For instance, the obstacle above was "mostly doable" but it would have been a WHOLE LOT easier with the full-sized Bronco's wider stance and 11.6 inches of clearance!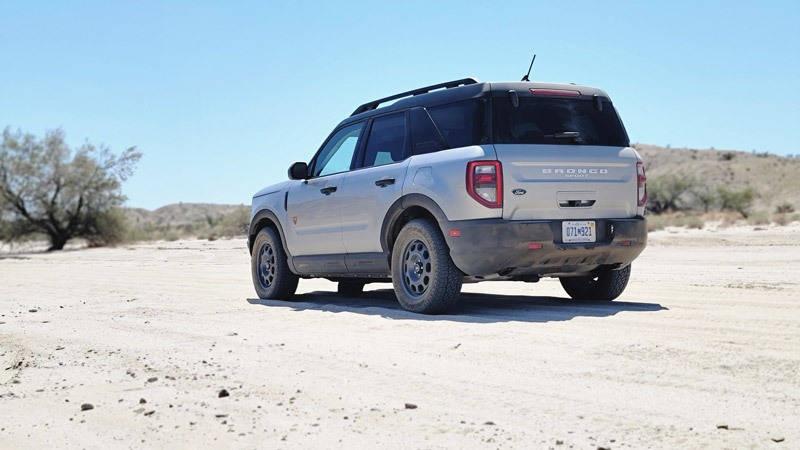 Deep Sand - The Lighter, More Compact Bronco Sport Doesn't Feel As Stable
In sandy washes it was a dream as long as the sand was flat and smooth. However, at high speeds when the sand drifted into piles or we encountered ruts from previous visitors the Bronco Sport Badlands simply didn't have the "heft" and suspension to overcome those bumps or even plow through them like some other off-road vehicles including Tacoma TRD Pro and Jeep Wrangler.
It is a combination here of both the lower clearance, suspension, and more narrow stance. That caused this feeling and while at no point did I feel we were "in danger" it was a very quick reminder that "maybe we should slow down" upon encountering the soft sand that had recently shifted around following a monsoonal storm a few days prior.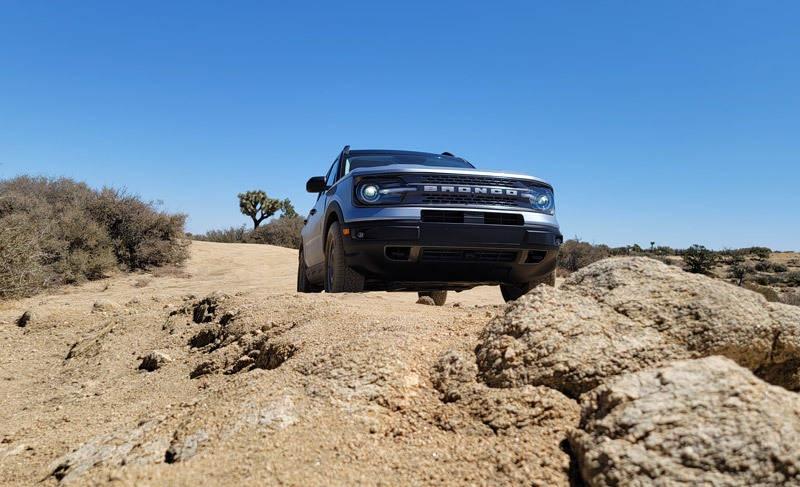 The Bronco Sport Badlands Is The Perfect Off Roader For Weekend Warriors
There are vehicles that will be more technically advanced and those that are more comfortable but the engineers at Ford did an exceptional job designing a vehicle that was equally adept at driving to and from work and to pickup supplies from Home Depot as it is at hitting the trails on weekends. Not only that but they've managed to create a vehicle that simply feels cool and evokes a sense of adventure simply by looking at it.
What's even more remarkable is that in an age where it isn't uncommon to be talking about prices of $40, $50, $60, even $70k+ for off road vehicles that the Bronco Sport Badlands starts at only $33,360 and as tested was just under $40,000.
We welcome future opportunities to take the Bronco Sport Badlands on other adventures and I know you guys will want to as well!