As someone who does a lot of outdoor activities such as riding in UTVs, fishing, and exploring off road trails one of my greatest fears is breaking my phone. Luckily, over the past few years mobile phones and case companies have stepped up to make phones that are far more resilient than they once were. But there's one thing that touch screens will NEVER be able to do well - work with gloves on. That's why I was so excited to check out the Cat S41 phone that they sent me to review. Make no mistake, this isn't your everyday phone for taking to dinner for some food pics - this is the phone you'll take on a hunting trip where you don't want to freak out if it drops in the mud or falls off a tree stand.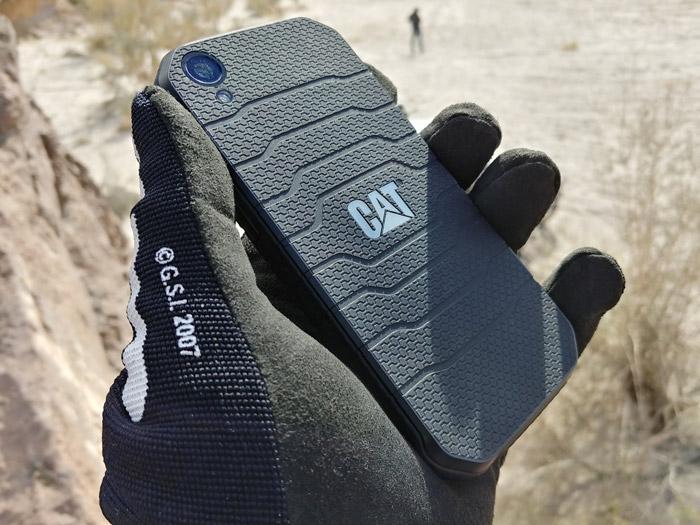 Over the past few weeks, I've been using the phone on a few different trips ranging from a four day adventure racing Baja challenge cars with Wide Open Baja to exploring the "Wild West" in Northern Nevada. This Cat S41 phone is remarkable since it is a purpose built device for a specific group of guys. As a result, it would be unfair to compare it to flagship phones like the LG V30 or Samsung Galaxy S9. It's simply not that kind of device - but it is fast and capable enough that specs simply don't matter when the question is "will it survive the trip?"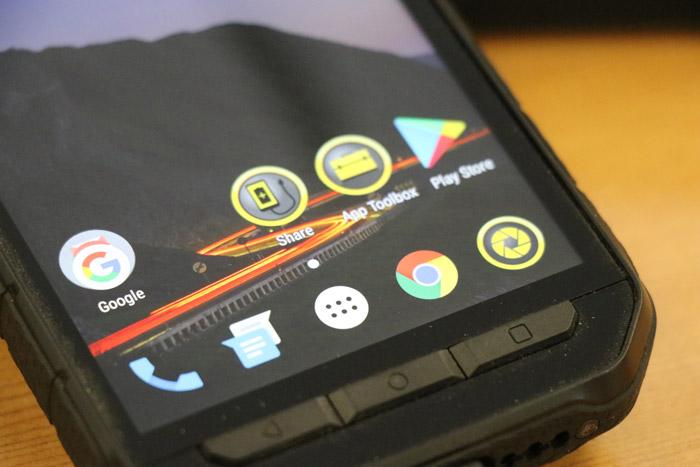 Design of the Cat S41
I've tested many different rugged cases, including those from Otter Box but in this instance your phone IS the case. That means that it's actually less bulky and easier to work with than 3rd-party cases that promise rugged features. Additionally, since the phone is the case, there are additional benefits such as a programmable quick launch button to make it easy to open the camera or other functions.
The Cat S41 features a whopping 5,000 mAh battery that provides up to 38 hours of talk time (3G) and 44 days of standby time. This might seem like overkill since many other phones have only 3,000 mAh but they've done something very interesting here. In addition to simply being able to be used to power the phone, the Cat S41 can also be used to charge another device. Unfortunately they've done so through a proprietary adapter instead of using USB-C or another solution.
The 5" Display features a a FHD (1920x1080) IPS display covered in Corning Gorilla Glass 5. This was surprisingly easy to use with gloves on during our testing.
Inside, you'll find it powered by by the MediaTek P20 with 3G of RAM and 32GB of storage plus a microSD port supporting up to 2TB of additional storage space.
Overall, the guts are fast enough to do everything you'll need while on the trail or working on a construction site. The real advantage though is in it's ruggedness and usability.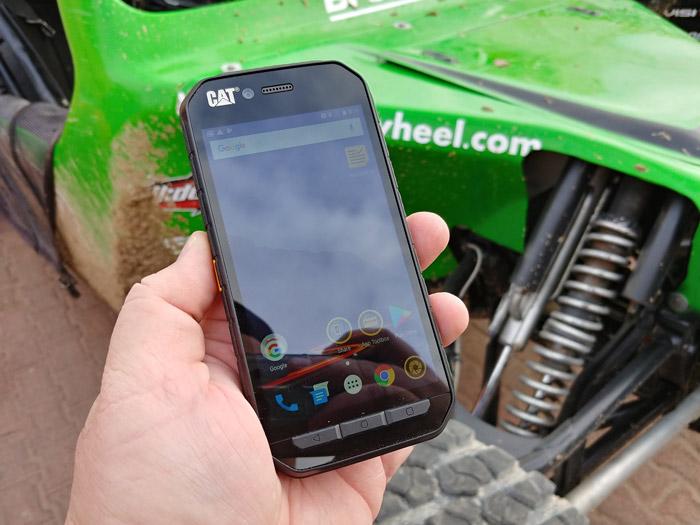 That's where this baby really shines. It is IP68 Certified and waterproof up to 2m for 60 minutes as well as being drop tested up to 1.8M (6ft) and extremely dust resistant. In comparison the LG V30 is listed as "water resistant" up to 5 feet for only 30 min and the Galaxy S9 is 1.5M for 30 minutes. These numbers are all a bit confusing since technically the IP68 rating should be consistent but where the S41 shines is that unlike other phones it has rubber covers for all of it's ports that give it a bit more resistance to not just water, but mud as well.
I'm a bit old fashioned and would resist taking my phone swimming with me but if there was ever a phone that I would trust to keep in my pocket while fording a river - it's this one.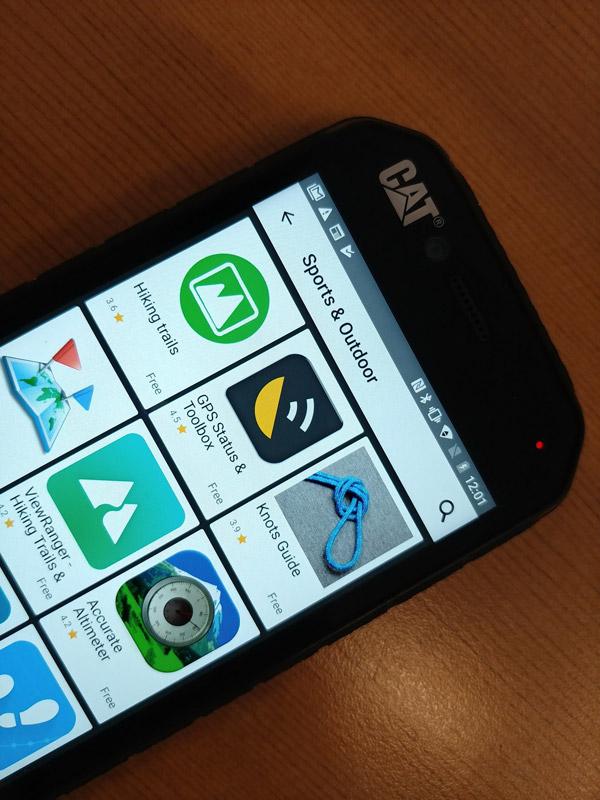 Installed Software and App Store:
The exterior isn't the only area that they made "rugged". Inside, you'll find a fundimentally stock android 7.0 (Nougat) experience but they've added an app store designed for niche apps. This includes construction-related apps as well as those for Sports and Outdoors. Don't worry though, you can still access a stock Google Play Store experience and get full access to all the apps you know and love.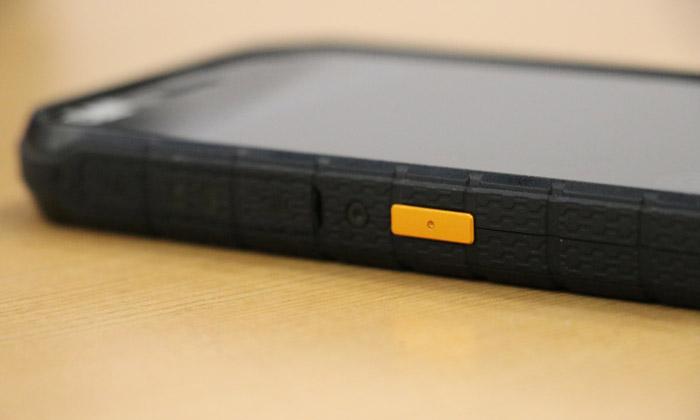 Final Thoughts on the Cat S41:
In many ways, the Cat S41 is a step back in time design wise, while having fairly modern guts inside. While every other phone manufacturer is chasing rounded corners, glass back, no physical buttons, narrow bezels - this phone completely bucks that trend. It isnt' that they don't have the technology to do so, but rather that it isn't that kind of device. All of those "advances" in fact make it really difficult to use if you have gloves on or if you are bouncing around in a truck.
It's nice to see branded devices like this from Bullitt Group that actually live up to the promise of the brand. The company has also manufacturered phones with Range Rover and Kodak brands, but this one feels like it would be at home in my gloved hand at a construction site, sending photos to the main office.
You can learn more about the Cat S41 on their website, or purchase it on Amazon.com. Cat S41 pricing is listed at $449 for an unlocked device.