What's a "sports truck" you ask? For me, it's just like how a sports car is designed to go faster and turn quicker so you can do stuff others can't - this truck can go places and do things other trucks will never be able to. It's also designed for the person who doesn't simply want a "practical" vehicle. They want something that is an object of desire and affection. It's a vehicle that you instinctively crave from the moment your eyes first lock onto it. That's exactly what the 2018 Chevrolet Colorado ZR2 is ... and I'm hooked!
Trucks are traditionally designed to go beyond where the pavement ends and take you on adventures that your family sedan or even SUV simply never will. Chevy designed the Colorado ZR2 to epitomize this spirit and take it to the ultimate conclusion. What they've created is the most capable off road truck available in the United States today!
Comparisons between the Tacoma TRD Pro and the Ford Raptor is impossible to ignore, so let's take a quick look.
The Ford Raptor is a SUPREMELY AWESOME vehicle. It is more powerful, better suspension, bigger cab and overall it is an object of desire for almost all truck enthusiasts. As capable as it is though, I feel that it is simply too big to really "explore" most trails. It's a high-speed desert running beast. Honestly though, it is unfair to contrast the two since it is is like comparing oranges to grapefruits. The other factor for those like me who live in a city is that I need to be able to park it in a garage as well as parking spaces at the mall. From that perspective, it simply isn't practical.
What I want is a truck that is nearly as capable ... but in a smaller package.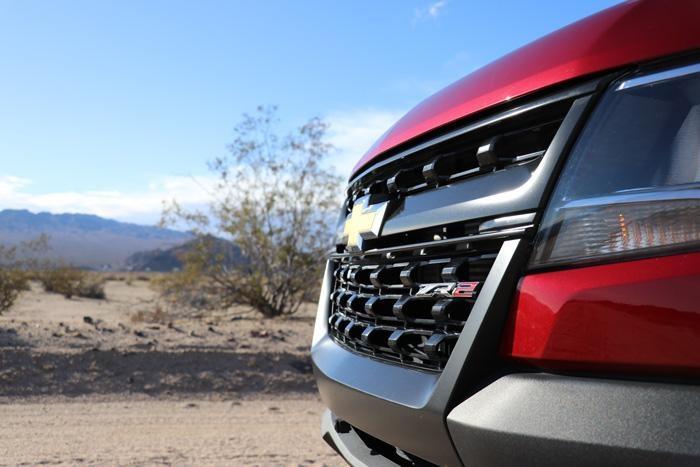 On the other end, you have the Tacoma TRD Pro. Again, as much as I love that truck - simply doesn't "look" or feel as aggressive as the Raptor or the ZR2. On paper, the Tacoma TRD Pro beats the Colorado ZR2 on some off road stats such as Approach Angles (30 vs 35 degrees), Ground Clearance (8.9" vs 9.4") and important "daily" factors like fuel economy (16/18 vs 18/22 mpg). The 2.8-liter Duramax diesel that we drove does offer far more torque 369 @ 2000 RPM and improved fuel economy 20/28 mpg. Ultimately though, there's more to being an off road truck than raw numbers.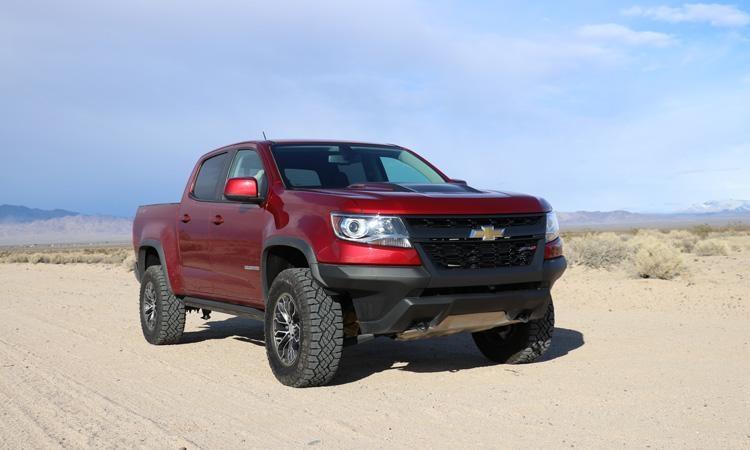 For instance, while both trucks have Goodyear Wrangler tires, Toyota has chosen to bias their truck towards street driving, while Chevrolet has gone "all in" with tires that are better on rocks, sand, mud, and snow. Additionally, there are other key advantages here such as the fact that the ZR2 has locking front differentials and the Tacoma does not. While it is challenging to prove, in use I felt like the forward visibility was better in the ZR2 while going over incline drops.
Both trucks are good .... but as a stock experience, I simply prefer what Chevy has to offer with the ZR2.
While many people will purchase the Colorado ZR2 and relegate it to a "Mall Crawler". It deserves more than that!
This is a truck that deserves to explore new terrain, create legendary stories of adventures few have attempted, and help you look cool the entire time.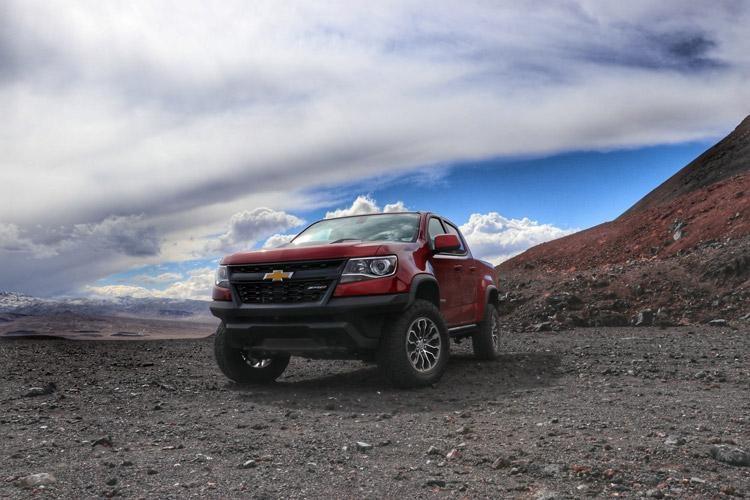 I guess that's why when Chevy delivered it to me to test, I decided I needed to do something special. My normal off road playground is sandy washes and desert canyons, but there was something I read about online that needed to be explored.
So I took the truck up past Barstow and we explored the "Mother Road", Route 66 and then we arived at the Pisgah Volcano!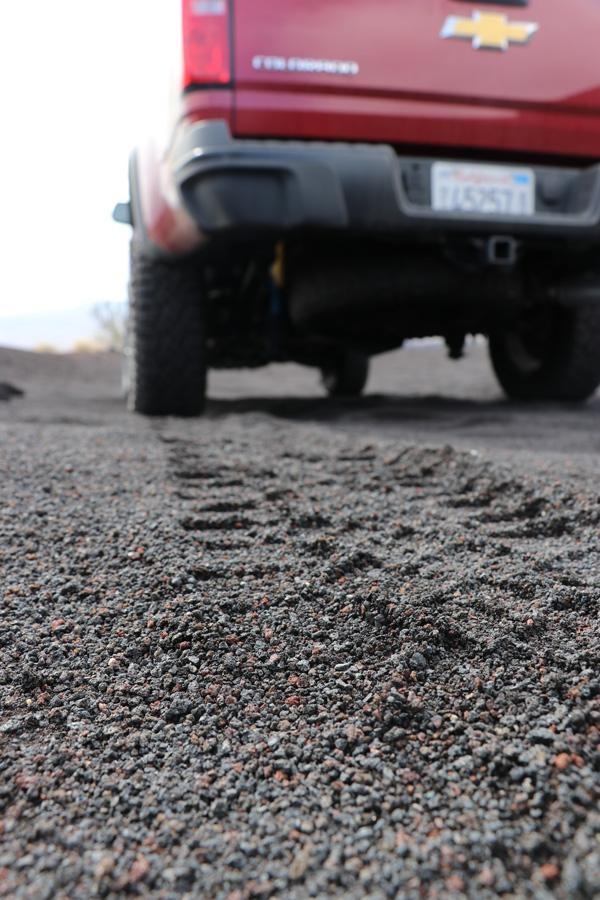 This is a volcanic cinder cone in the middle of the Mojave Desert just off of Route 40 / Route 66 between Barstow and Needles, California. It has an elevation of about 2,545' (reduced some due to mining). Here, in the middle of what is otherwise beautiful khaki colored sand you have this jet black cinder punctuated by colorful granules of volcanic sand with oxidized red pellets mixed in. It's a beautiful sight that few will ever explore - despite it being just off the highway.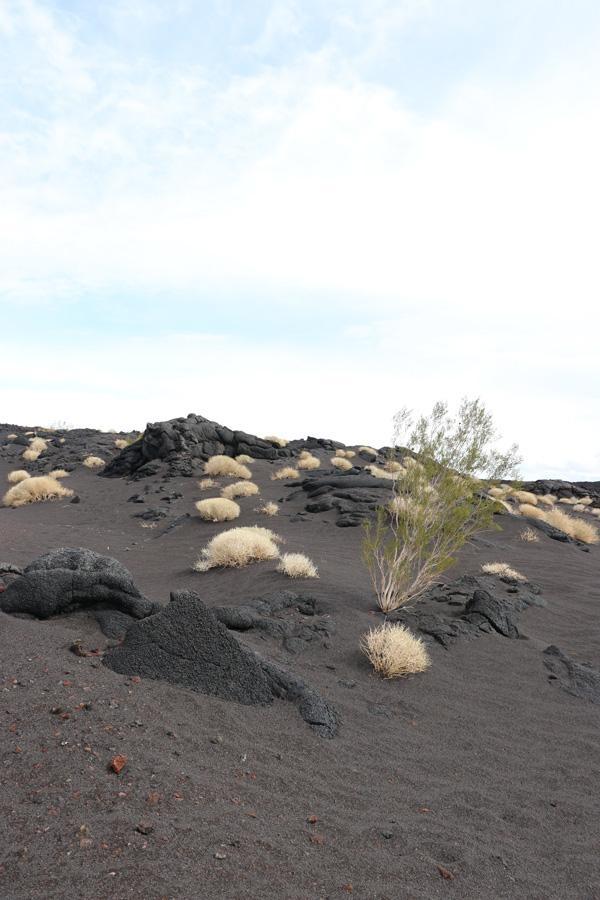 Pisgah Volcano is the youngest of four cinder cones in the area here known as the Lavic Lake volcanic field. It is believed that it was active as recently as 2,000 years ago. From the crater, lava fields extend for about 11 miles west and 5 miles south east of the cone. This creates a stunning landscape that is exciting to explore since it is so unique. On the day we visited, it was even more so since the mountains in the background were covered in snow and despite this area being well over 100 degrees in the summer - it started to flurry at about the time we were ready to head out.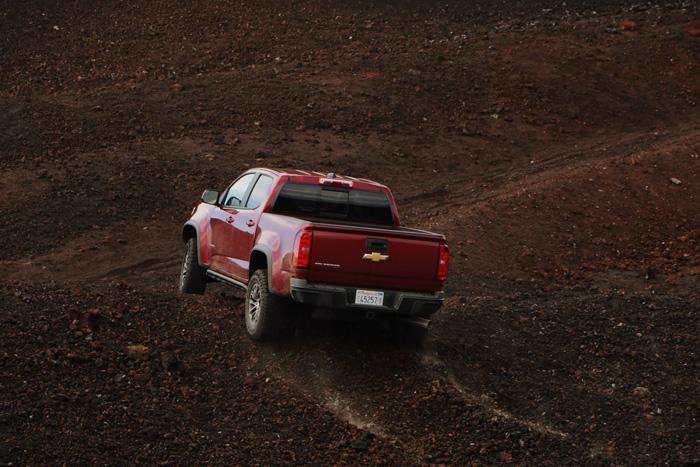 Before we headed north into the Mojave Preserve, I wanted to play around some more and I was thankful for both the tires and the ability to lock both front and rear differentials. While much more coarse than sand, the pumice stone and cinder here was very loose.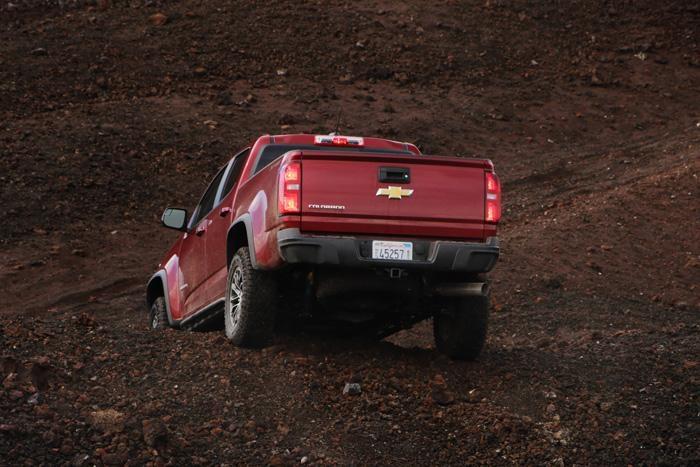 Compared to the standard Chevy Colorado, the ZR2 is 3.5" wider, has a 2" lift, and it has 17" wheels with 31" Goodyear tires. In addition, it also has front bumper cut outs to improve articulation abilities as well simply look much more aggressive. For protection from obstacles, the ZR2 has solid rock rails and skid plates - though for more serious overlanding, it would have been nice if there was better protection. I suppose that anyone doing more serious adventures with larger obstacles would also have the ability to add those though.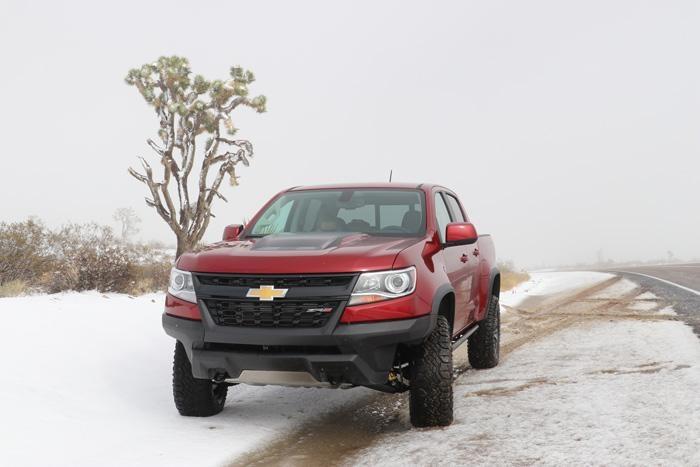 Our next stop after exploring the volcano was to test it's chops at high-speed desert running and rock crawling on some trails in the Mojave Preserve. Here, you will find some ancient trails once used by native peoples thousands of years ago and then used by settlers trying to reach California during the Westward Expansion. Scattered along the route are the remains of military outposts and you can follow in the footsteps of legendary men including Jedediah Smith, Kit Carson and John Fremont.
I was looking forward to using this time to test out the Multimatic Dynamic Suspension Spool Valve (DSSV) suspension system - the same one used in F1 and on the Camaro ZL1. While mostly promoted for it's off road benefits compared to traditional suspension systems, the DSSV did have "on road" benefits too. Specifically, it offers a certain level of comfort while driving around town. Where other lifted trucks tend to sway around corners, the Dynamic Suspension seemed to adapt well on both types of terrain.
Unfortunately, those flurries in the valley turned into slick, wet snow. With unpredictable conditions and frankly drivers that haven't touched the white stuff in many years, we decided to pack it in and come back another day.
The key to a successful day of off roading is knowing when to wrap stuff up before something goes wrong.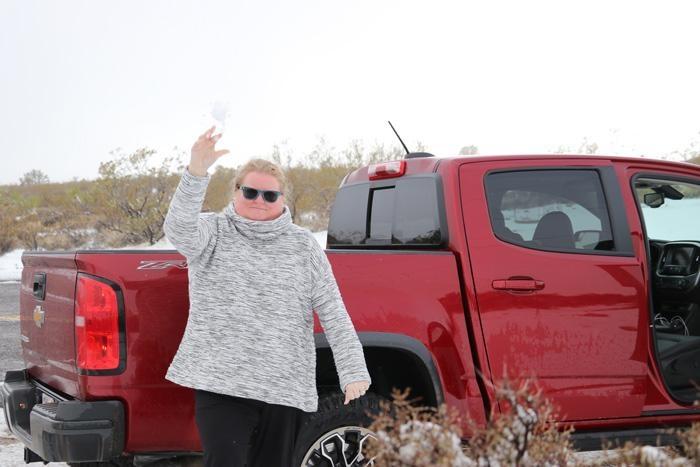 So, before heading on to Vegas, Heather and I decided to have a quick snowball fight. After all, how often can you throw snowballs at each other when surrounded by Joshua Trees and cactus?
The Chevrolet Colorado ZR2 with 2.8L Turbo-Diesel like we tested, starts at $40,360. They also have a gasoline version that trades fuel economy and torque for more peppiness on the road. It really comes down to what style of driving you are most looking for. If you want the full experience of driving the best off road truck available today, then the diesel has significant advantages. However, if you are going to have a mall crawler and value peppiness around town and better passing ability on the highway then the gasoline version might be your better choice.
Overall, it is was an impressive truck that clearly exhibits the change in both style and build quality that Chevrolet is now producing on all of their vehicles today. While I didn't talk about the interior and technology, you won't be disappointed. It was as fun to drive off road as it was on the highway and around town.
We're looking forward to more time with the 2018 Colorado ZR2 and exploring those trails we couldn't take through the Mojave while testing the 3.6L V6 gasoline version sometime soon. Stay tuned!