Generally the SUV space is pretty boring today and this is especially true among midsize crossovers. This space has been dominated by generally bland vehicles that are designed to eek out that extra MGP and be as inoffensive to the most potential buyers. Chevrolet already has a fantastic stable of vehicles in this space including the Trax, Equinox, and Traverse. While these each fit their niche well, what was missing is something that buyers can have an emotional reaction to. I want to feel emotionally drawn to a car and be able to have fun driving it - while still satisfying my needs for space and capability. That's exactly what the 2019 Chevy Blazer does and why they invited me to join them as one of the first people to drive it.
One of the most challenging aspects of this opportunity to be among the first people to drive the new Blazer is that it is a radical departure from the vehicle it immediately brings to mind. The original Chevy Blazer was a fun do anything short wheelbase truck launched in 1969. Various versions were produced between 1969 and 1994 that inspired you to think of freedom, open roads, and all those great things about exploring America. It was a vehicle that was perfect for the era that it earned its place as one of Chevrolet's most iconic vehicles.
In 1995 though, it was discontinued and that style of vehicle was replaced by the Tahoe. It's been 24 years since then and times have changed.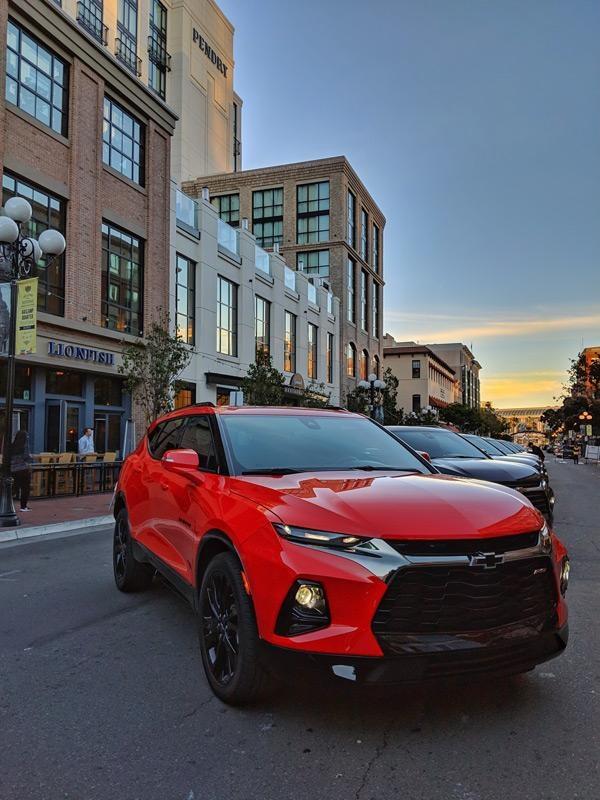 Chevy Blazer RS - sport tuned crossover
What Chevrolet is offering today as the Blazer is NOT that truck-like vehicle and it is unfortunate that is the vision in people's heads once they hear the name. However, after you get over the immediate shock, the original brand promise is still there ... just designed for a new era. The new Blazer is designed for exploring the open roads, blasting around corners, looking good, and knowing that you are driving something that is anything but ordinary.
Chevrolet already has a great line of off-road trucks and Tahoe dominates its segment. So, instead of re-inventing the past, this Blazer represents a different sort of fun and freedom. However, it's still about taking you and your friends on an adventure or a weekend getaway with someone special.
The exterior design of the Blazer was inspired by the Camaro with a similar grille shape, paint options, and the air vents inside are all shared by it's brother too.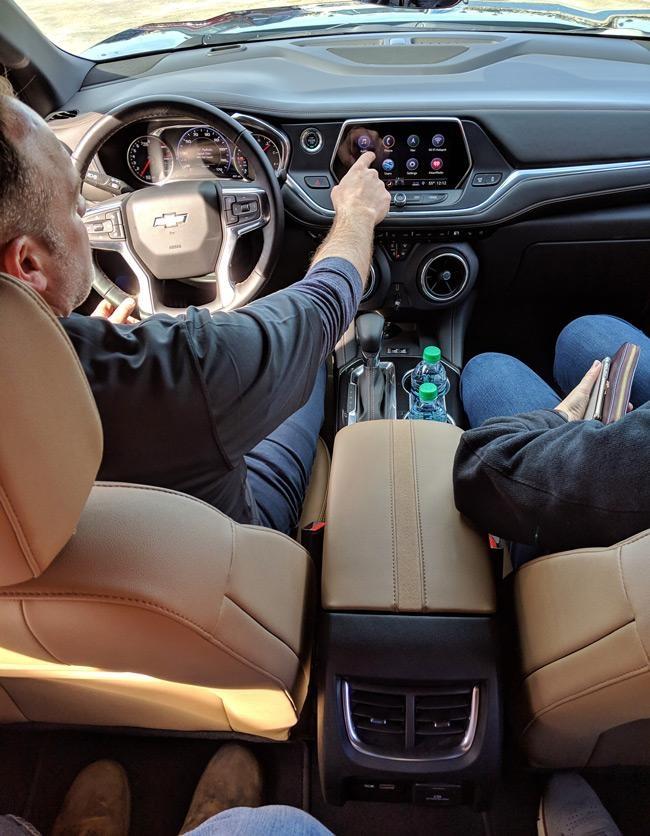 Chevy Blazer Premier interior design
At 76.70" wide and 191.40" long and a 112.70" wheelbase, the Blazer sits between the 2-row Equinox and 3-row Traverse. This provides ample interior space with phenomenal rear-seat legroom as you can see in the shot above. Additionally, the rear seat slides forward or back to allow for extra cargo room as well.
Chevrolet has broken the Blazer down into three "personalities" - Blazer, Blazer RS (sport), and Blazer Premier (luxury). Pricing starts at $29,995 for the Blazer L with a 2.5L 4-cylinder engine, $41,795 for RS with a 3.6L 6-cylinder engine, and $43,895 for Premier. All models feature a 9-speed automatic transmission and AWD capability with variable drive modes is available too.
Of the three models that we tested, I found that the Blazer RS had the best balance of looks, performance, and price. However, at $43,500 as equipped it's a lot of money. However, I haven't experienced anything in its class that was as fun to drive, as comfortable to ride in, and as sharp in styling. Plus, with up to 4,500 pounds of towing ability it means that you can take your toys with you on the road too.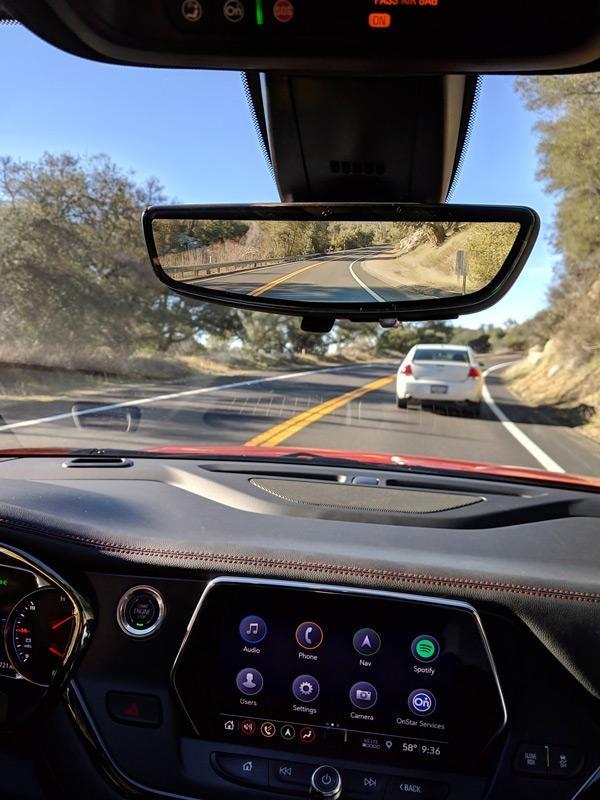 Rear Camera Mirror in Chevy Blazer
Blazer comes complete with all of the technology options you could want including a Rear Camera Mirror, Adaptive Cruise Control, Apple Carplay / Android Auto, HD Surround Vision, and the latest version of Chevy's Infotainment system displayed on an 8-inch display. There's lots of little touches that I hadn't noticed in other versions of the display too. For instance, when you use the available wireless charging pad - the phone symbol on the display shows a lightning bolt and to access WiFi Hotspot settings you don't need to hunt for the configuration menu. Instead, simply tap on the antenna meter and it will open the screen showing the hotspot details including password etc.
The only feature missing here is that I'd have liked them to include an option for a HUD. However, I'm very happy with how complete the safety technology is here including: Follow Distance Indicator, Forward Automatic Braking, Forward Collision Alert, Front Pedestrian Braking, and that the HD Rear Vision Camera is standard on all models.
Comfort wise, options are available for Heated and Ventilated front seats, heated steering wheel, and heated rear seats as well.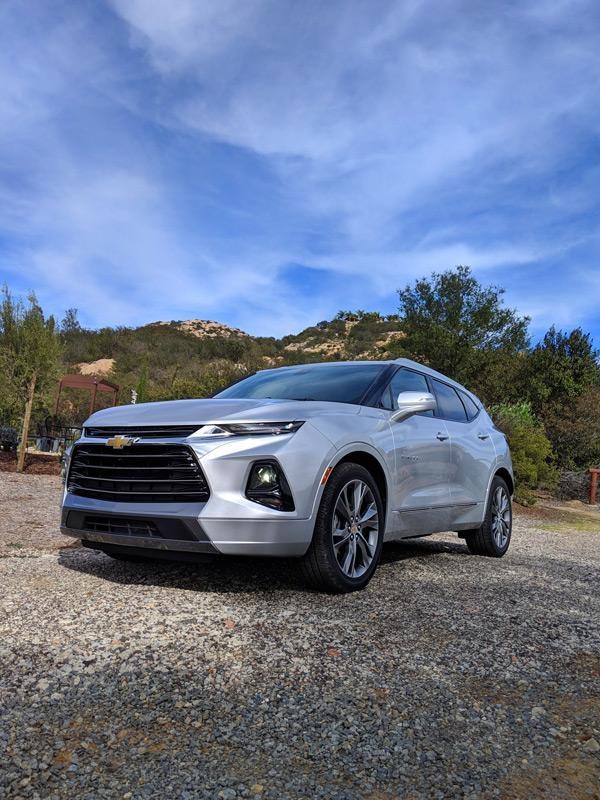 Chevy Blazer Premier features chrome accents and a more luxury tuned suspension
To get the full experience promised by the external looks of the Blazer, you really need to invest in the 3.6L v6 and either the RS or Premier personalities. While the 2.5L base model is still peppy and was a fun drive, it paled in comparison to the sheer joy felt slinging the RS around corners.
However, if price and fuel economy are primary factors motivating your purchase then it's a good option since it is considerably less expensive and gains 3 mpg vs RS and Premier.
The 3.6L V6 provides 305 hp at 6600 RPM with 269 lb-ft of torque at 5000 RPM. This is the same 3.6L V6 found on Camaro, so I'd expect that you will quickly see the emergence of turbo kits fairly quickly. This presents a very interesting opportunity since with the wide wheelbase, good AWD traction control, and sporty look and feel, the opportunity to move that needle up from a fun 305 hp to 400+ would open an entirely new level of excitement.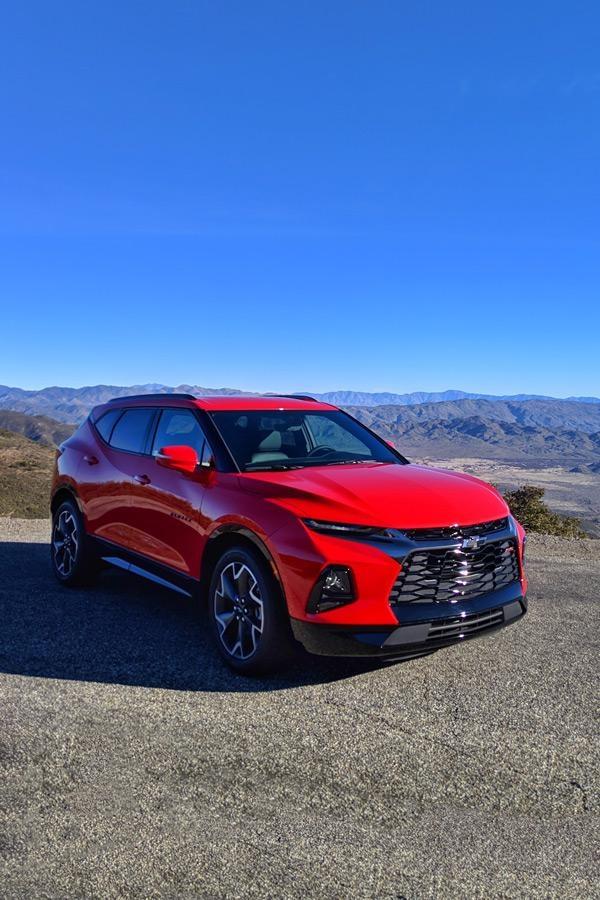 Chevy Blazer RS sport tuned crossover
I had a phenomenal time driving the Chevy Blazer RS.
Driving the all-new 2019 Chevy Blazer was way more fun than I ever dreamed that I could have in a midsize SUV. From slinging it around corners to zooming up and down twisty mountain roads it gave me everything I asked it to lay down. Plus it was easy to park and the adaptive cruise handled well in traffic. Ultimately, this is a car for the family that is tired of being told that they can't have fun together and seeks to recapture the thrill of driving.