So many people visit Las Vegas and never venture outside of the strip ... they don't even know what they are missing. On the other hand, I visit the city several times each year and have wondered what adventures the mountains might have in store. On this trip, I hooked up with my friends at Trail Trek Tour who had some Toyota TRD Pro trucks ready for some adventure. Unlike most of my off road trips that take place at very low altitudes and cruising through sandy, scorching hot, sun-bleached desert, this time we were headed up to a very windy 7,700 feet on a mountain trail with trees and rocks.
Trail Trek Tour is an organization founded by a friend of mine, Phil from Gunaxin.com who is working to create more opportunities to get media excited about off-road driving. This is the second of his campaigns and it was a lot of fun to have a bunch of new and old friends join up for an adventure with some awesome trucks. While there are many social groups you can join to explore trails together, seldom is there an opportunity to check out a bunch of different vehicles and that's what this group offers. We had the chance to drive as well as ride in the TRD Pro Tacoma, Tundra, and my favorite, the 4Runner.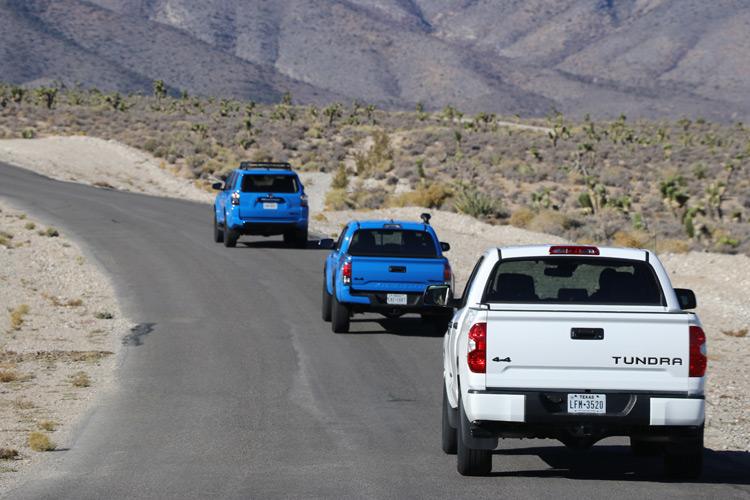 The start of Wheeler Pass Road is located about an hour outside of Las Vegas in Cold Creek, NV and the complete trail will drop you off on the other side of the mountain in Pahrump, NV.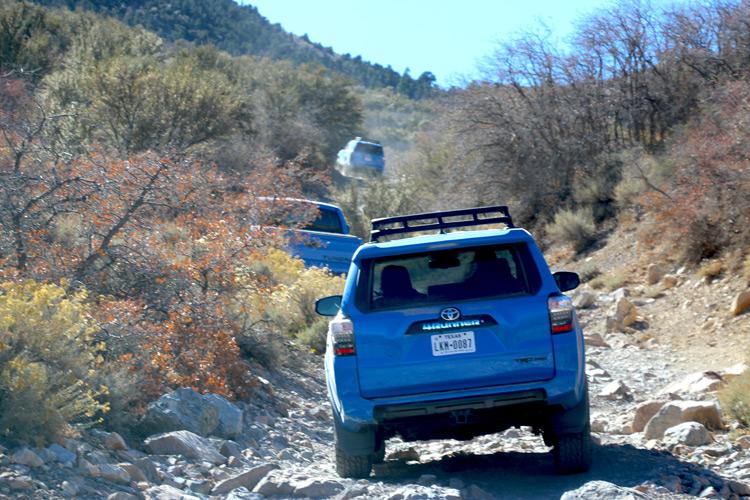 Due to heavy rains this year, there were some areas that are a bit rougher than they would normally be. Despite that all of the vehicles we drove (stock equipment including tires) handled the obstacles very well. However, the other consequence of the rain was that the brush can be thick in some parts and so pinstripes were prevalent - especially on the wider Tundra TRD Pro.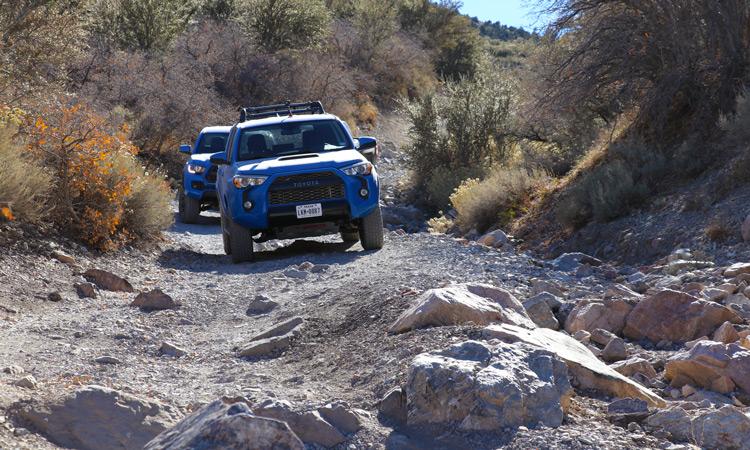 Having had a chance to drive all three vehicles several times, my preference absolutely leans towards the 4Runner.
While the new Tacoma is a spectacular truck with some great technology, the roof is lower than I'd prefer and I appreciate a little bit of extra room. Even with the various extended cab options on the Tacoma, the 4Runner is where you want to be if you are doing a roadtrip with some buddies. It's got plenty of room for people as well as gear.
On the other hand, the Tundra is big and beefy and drives great on the road but it's just too big to really be effective in off-road situations. The extra width and length causes it to get stuck on obstacles or brush that the other two can avoid.
In many ways it's like Goldilocks and the Three Bears. Which one is right for you is ultimately going to depend on your personality and the task at hand.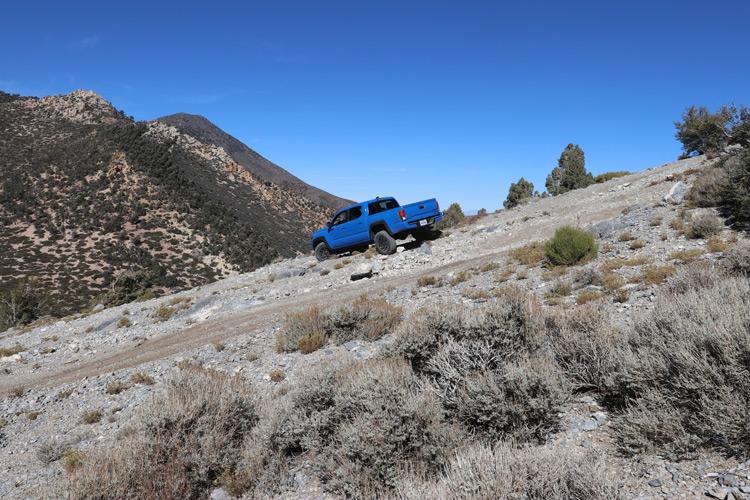 One feature that is probably under-utilized by most drivers is Crawl Control. However, it's actually quite a cool feature that has made obstacles much easier to pass - both on this trail as well as others.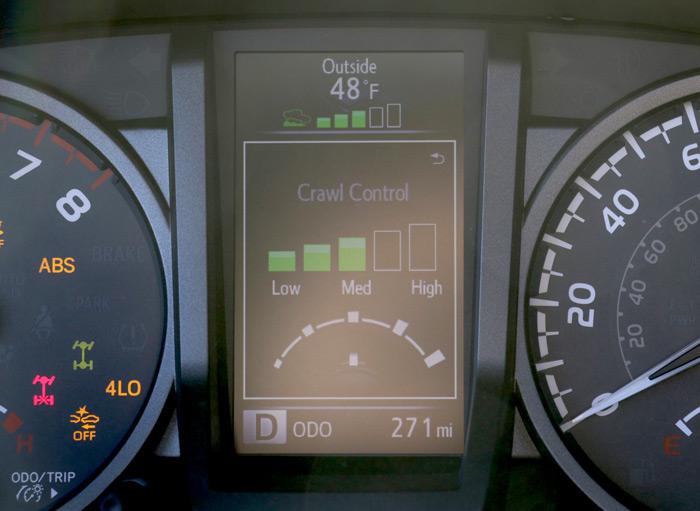 The simple premise here is that while a human can feather the gas just the right way to do small movements or maintain a steady pace going up a hill so as to avoid slipping - a computer can do it better.
Where I've found this very useful is with escaping from obstacles. For instance when you are stuck behind a rock and need to crawl over it, it can be challenging to apply just the right amount of gas to go up and over ... but not put yourself out of position once clear. By applying crawl control it maintains just the right of power and breaking. This is currently available on the Tacoma and 4Runner but not Tundra. It's a good system and also works when going down hill too.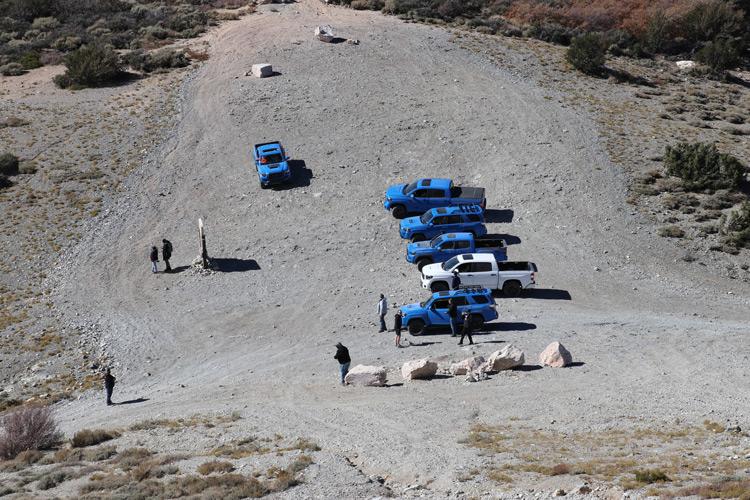 Similar to how it works going up the hill to avoid slipping - it does the same going down the hill.
This also frees the driver up to be more attentive to the surroundings and plan 2 or 3 moves ahead.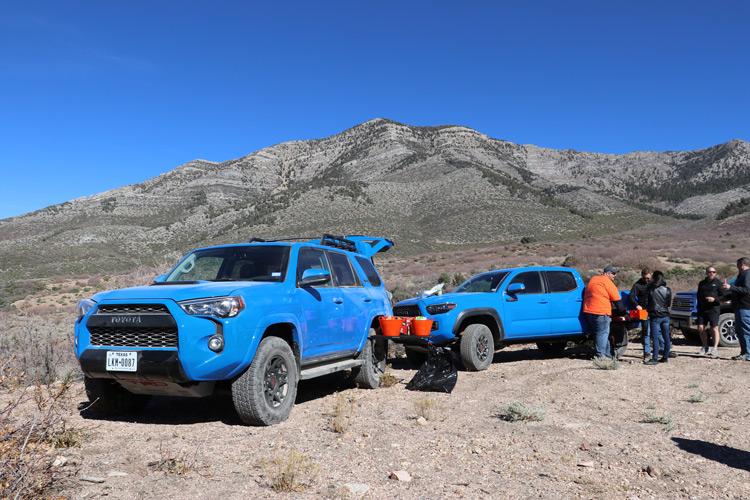 On this trip to Wheeler Pass, we didn't go all the way. Instead, we stopped for lunch just past the summit.
If we had continued on, it would have passed by remnants of an old kiln and some interesting rock formations before dropping us into Pahrump.