It's no secret that the Chevrolet Colorado ZR2 is my absolute favorite off road truck right now. This truck is the Goldilocks of trucks designed for off road adventurers looking for a an OEM experience that can deliver style and performance as well as still performing well on-road as well as off. Our previous adventure with the ZR2 though ended up getting preempted by a freak snowstorm as we were traveling through the mojave desert. This time though would be different. Instead of freezing temperatures in the mountains, we were braving 120+ temperatures at near sea level near Ocotillo, California. In retrospect, a jet black truck in the bright sun with those temperatures might not have been the best idea. Luckily this was more than just an ordinary truck and it stayed nice and cool with the AC blasting!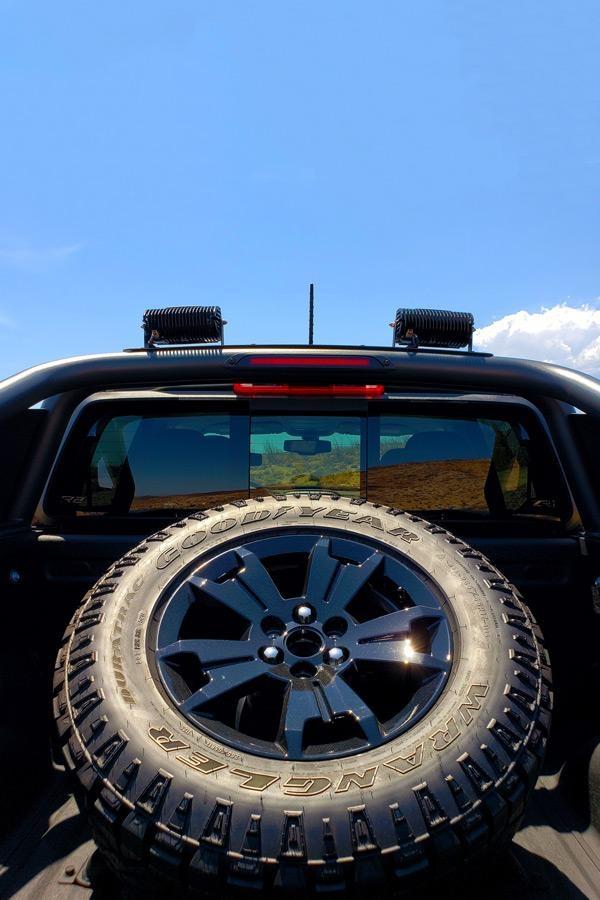 The Chevrolet Colorado ZR2 invites comparisons with the Ford Raptor and while I also love the Raptor, I'm a fan of mid-sized trucks. The reason for this is that I live in an urban area and quite frankly full-sized trucks just aren't practical for tight parking spaces or crowded streets. In the past, my only option was the Jeep Wrangler for a true adventure vehicle that was as fun on the road around town as it was on the trail.
The nice thing about all three is that it makes a statement.
With the addition of the Midnight Edition trim level on Chevy's Colorado ZR2, it gives you an option to make the already aggressive truck a bit more striking.
While it's mostly just a color scheme and the addition of lights on the roof, it looks hot rolling down the road.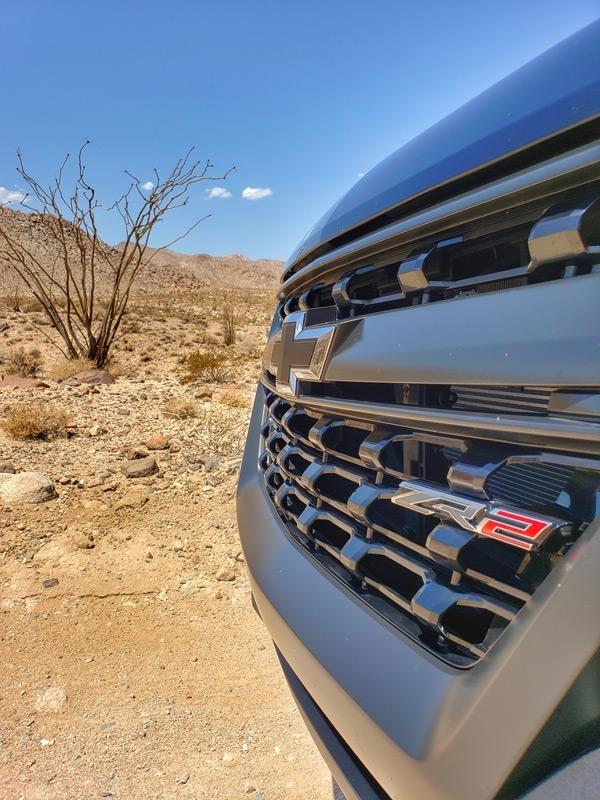 In fact, the truck is pretty striking to look at. The only pop of color (aside from taillights) is the ZR2 badge. Even the Chevy bowtie is blacked out!
Chevy Colorado Important Specs:
While specs aren't the only story here, it's important to be able to put these into comparison. Ultimately it's how things fit together and complement your driving style too.
Engine and Transmission:
3.6L V6 308 hp @ 6800 (as tested); 2.8L Duramax Turbo-Diesel 4 cylinder, available
8-speed automatic
Gas Mileage: 16/18 gasoline; 19/22 diesel
21 gallon tank
Off Road Performance Features:
Multimatic Dynamic Suspensions Spool Valve (DSSV) damper
Locking Front and Rear Differential
17" wheels with 31" Goodyear Wrangler Duratrac Tires
Undercarriage Protection:
Ground Clearance: 8.9"
Front Skid Plate
Off-Road Rocker Protection
Transfer Case Shield
Trailering and Payload:
Max Conventional Trailering: 7,600 lbs
Max Payload: 1,580 lbs
GVWR: 6,000 lbs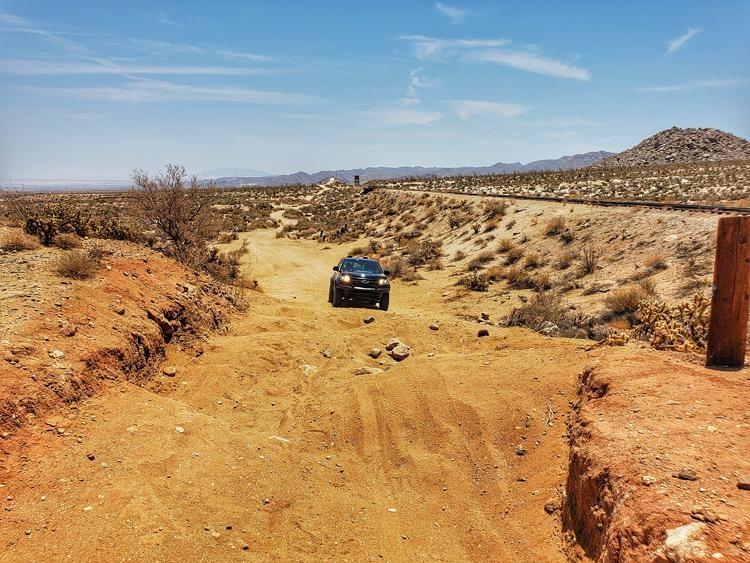 You should never fully test your abilities without having a buddy following to help out if something goes wrong. Unfortunately we didn't have that on this trip so we didn't go crazy and take the "hard way" in a couple different instances. However for short instances where it would be easy to recover, the truck performed as "as well as a Wrangler" on technical terrain but was able to run at high speed through sandy trails like a Raptor. Considering the truck comes with good tires compared to the stock ones on the standard Wrangler it performed MUCH better in certain areas.
For instance, while the trail above might look easy, the deep ruts and very soft sand would prove very challenging to a standard 4x4 truck. The ZR2 though cleared this section without even breaking a sweat. There was no slippage or clearance issues at all.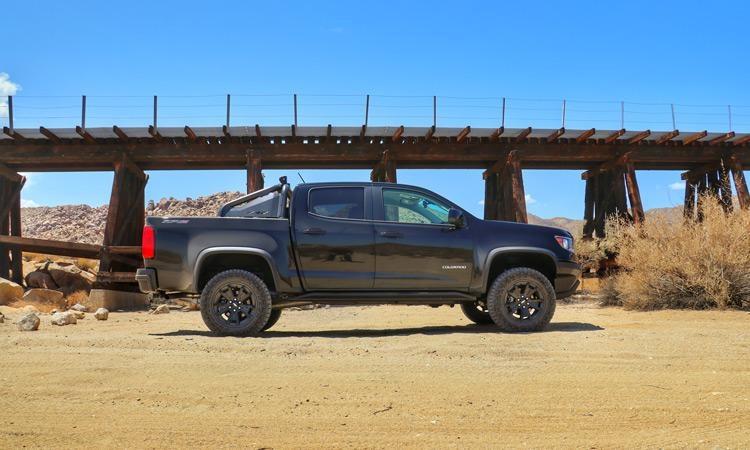 In another section requiring us to step up and then down over a series of moderate sized boulders, the ZR2 also performed well.
Plus, though it is has a longer and wider wheelbase than the standard Colorado, it's compact size, higher clearance, and fantastic approach/departure angles allowed it to go through tight spots a larger truck couldn't.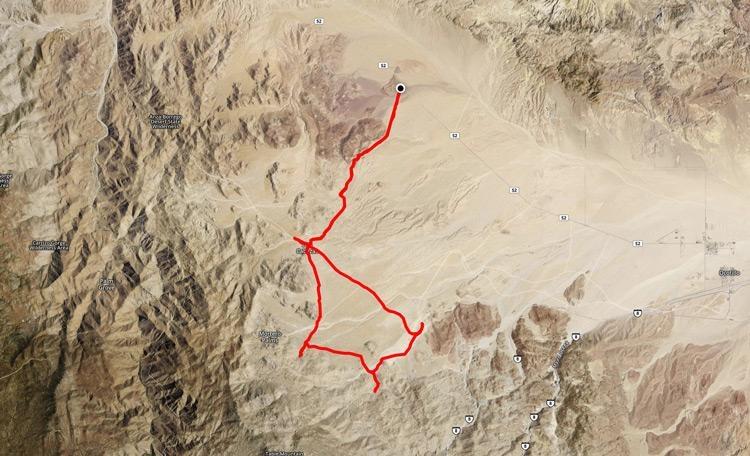 Exploring Mortero Wash in Ocotillo Wells, California
NOTE: If you do choose to go off road exploring by yourself, (as we did) make sure to tell a friend exactly where you are going, when you expect to be back, and chose areas where you'll have reliable mobile phone signal. It's also a good idea to bring a friend with you to help spotting
The trail we chose for this trip was perfect for this since despite the fact that it is rugged hostile dessert, the area isn't far from the Interstate if we had to walk. It also has relatively good cell phone reception.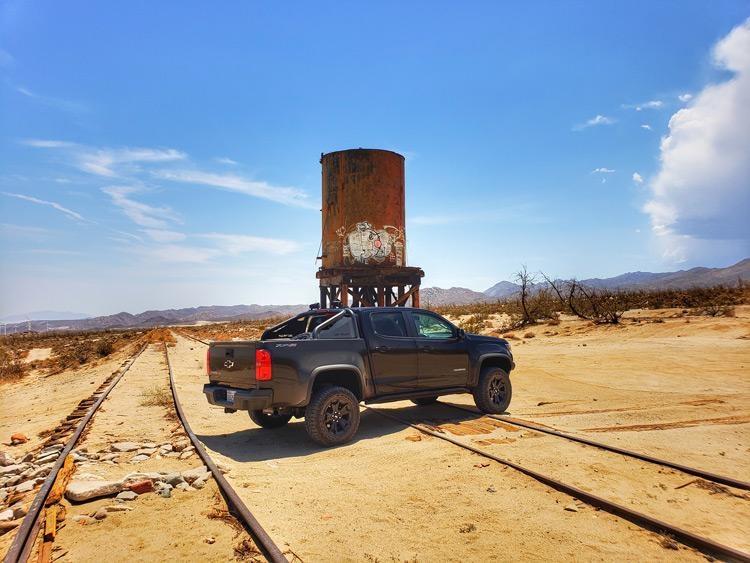 Mortero Wash is located about 90 minutes from downtown San Diego and provides all the terrain elements that off road truck lovers crave. We had deep sand, long trails to get good speed going, rocks to crawl over, an abandoned train station, and surprisingly - abundant wildlife and plants.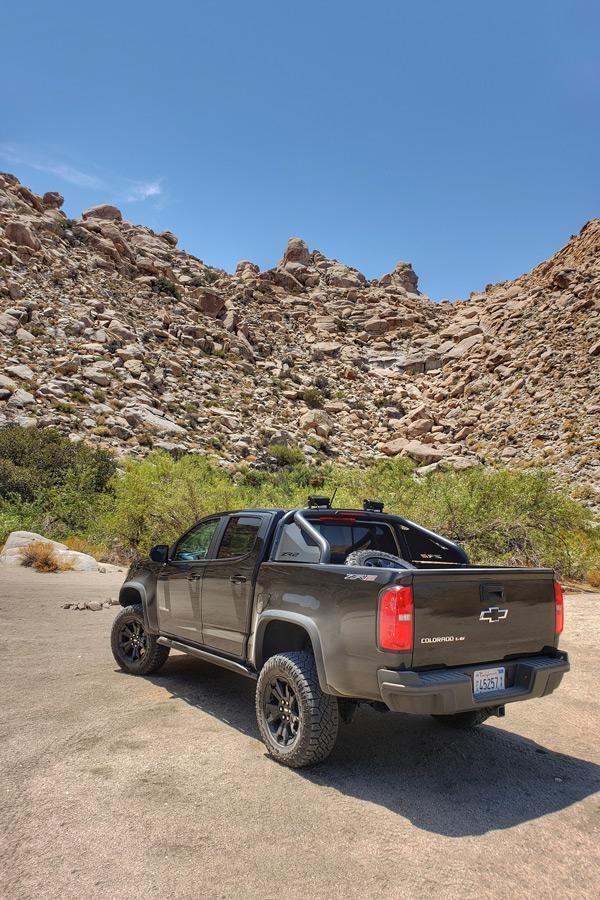 This is one of my favorite areas in the spring since the thousands of ocotillos will be in bloom. In the summer though, the base of the mountains helps to capture pockets of water. These springs (along with the cooler elevation) allows plants to grow and animals to seek shelter. This includes small animals like mice and rabbits as well as coyotes waiting to dine on those other animals as they approach the water here.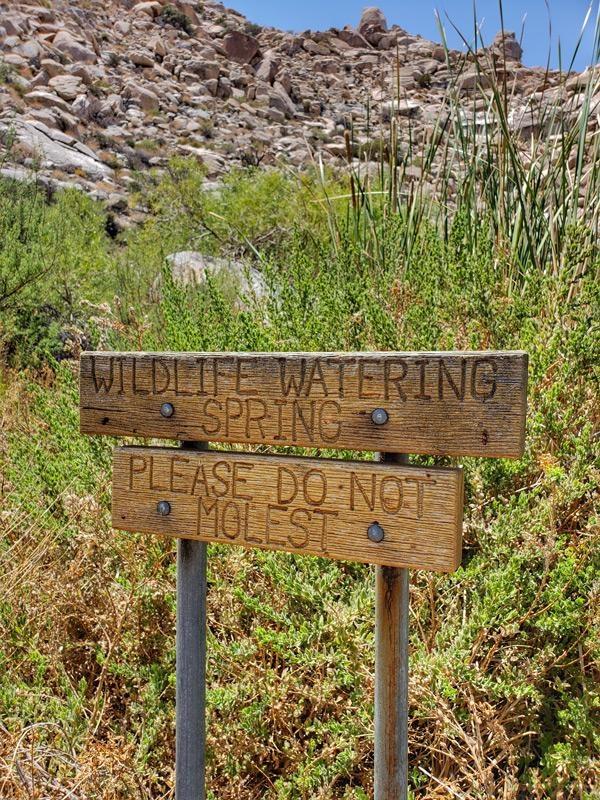 In fact, as we approached this oasis area, we startled one coyote who ran across the trail and noticed two others watching us from beneath the brush. Since it was well over 110 degrees at this spot, we decided to heed the signs and not stress any animals by exploring further.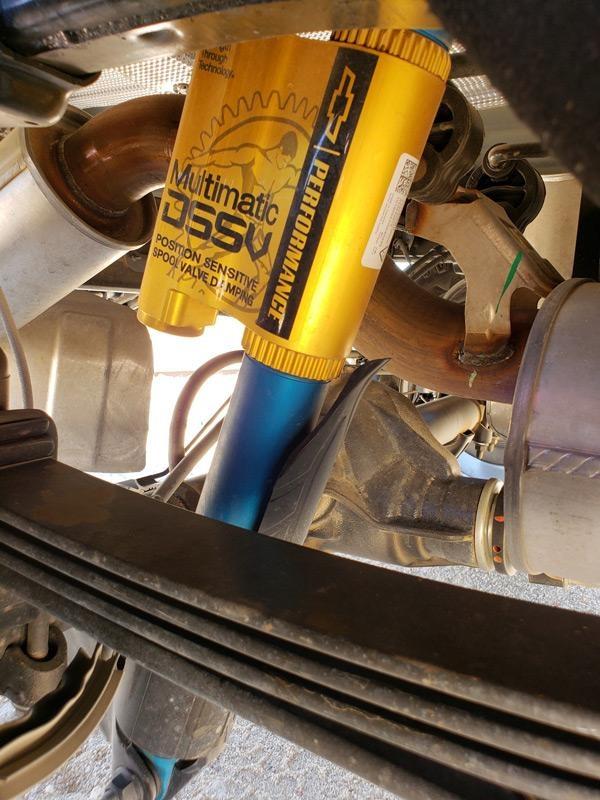 Back on the trail, it was time for some desert running to test out the performance of the DSSV suspension. While typically you have a single or double cylinder with a piston that compresses under pressure, this DSSV works differently. It was originally developed for the motorsports industry and featured on CART series as well as other racing series. It then made its way to sports cars including the Camaro Z/28, Aston Martin Vulcan, Mercedes AMG-GT, and the Ford GT. Now it's here on the Colorado ZR2.
Essentially, instead of having a single stiffness, it has a spring-loaded valve that can be adjusted dynamically making it softer or firmer depending on the amount of force being thrown at it.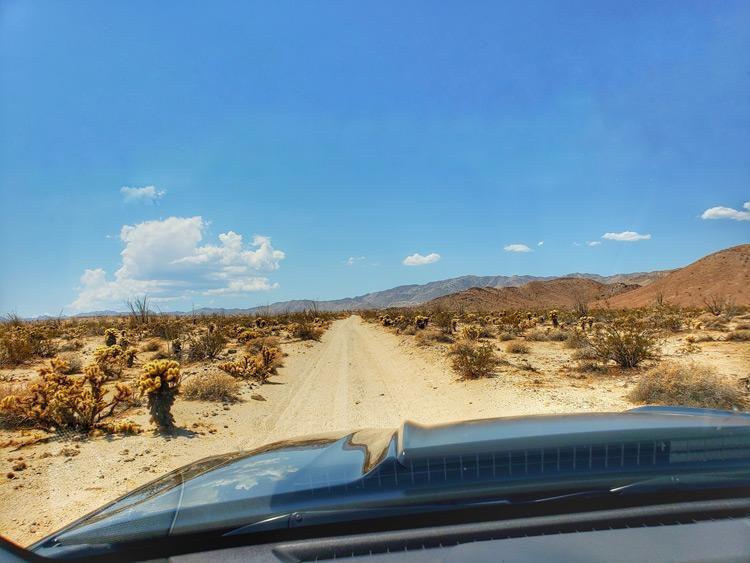 Truck Trend did a great overview of the technology behind DSSV suspension, but the end result is that on the Colorado ZR2 the suspension can adjust dynamically to feel "right" on the road as well as the trail. This contributes to one of the things that I love about this truck compared to others like a Wrangler or Raptor. While those other trucks are awesome - and I love driving them - the Colorado ZR2 is simply better for my style of adventure.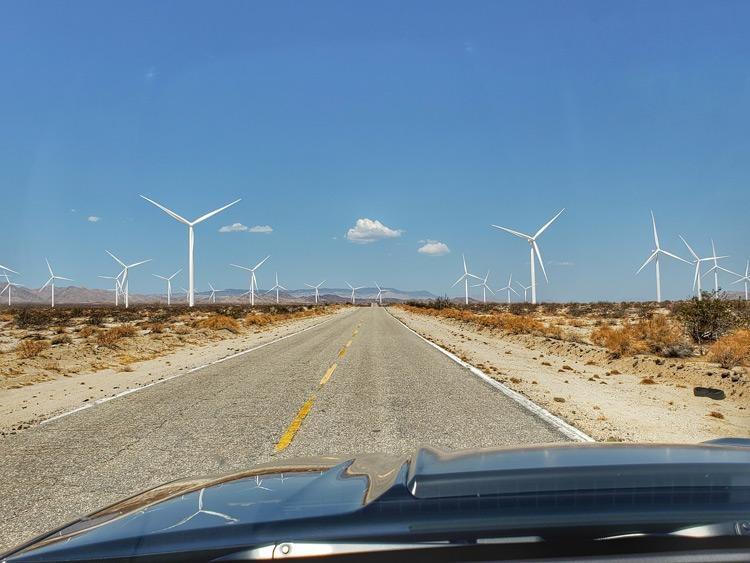 Gasoline or Diesel - That's The Big Question ...
On my previous adventure with the Colorado ZR2, I had the diesel version and this time I had the gasoline powered V6. Fundamentally, the two trucks are the same except for the engine and transmission, but it will make a big difference for how you want to use the truck.
Ultimately it comes down to personal preference. However, from a raw adrenaline perspective I feel like the V6 is more exciting. It accelerates faster, it's more explosive through sandy washes and it doesn't have the "diesel clicking noise".
On the other hand, diesel engines tend to last longer, it's going to provide a significant amount more torque, and it gets 19 / 22 mpg vs 16/18 mpg. If most of your driving is going to be on highways and you do long road trips, that extra 4 mpg on the highway is not significant.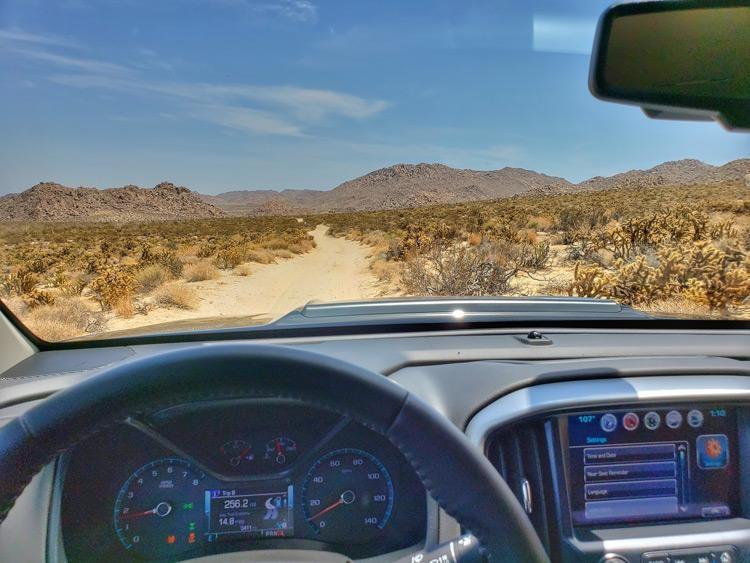 Similarly, for me - gas is preferred since I like to cruise through sandy trails at high speed and play in the mud when I can find some. However, for those of you looking to crawl rocks or climbing mountains where low-end power is needed, then the improved torque provided by diesel may be preferable.
Regardless of what version you pick, the Chevrolet Colorado ZR2 remains our favorite off road truck and I can't wait to spend time in the 2019 version soon!