Joshua Tree National Park is an absolutely stunning natural reserve with wide open spaces, amazing colors, and terrain ranging from sharp cliffs to sandy plains. It's a fantastic place to explore on foot though it can get extremely hot during the summer, so I find it much more enjoyable to use one of the off road trails and explore it's hidden spaces that way. We did this recently with the 2017 Jeep Cherokee Overland 4x4 and were completely impressed with how capable it was.
On this trip, we left from the Hard Rock Hotel Palm Springs and it took us approximately 45 minutes to get to the start of Berdoo Trail.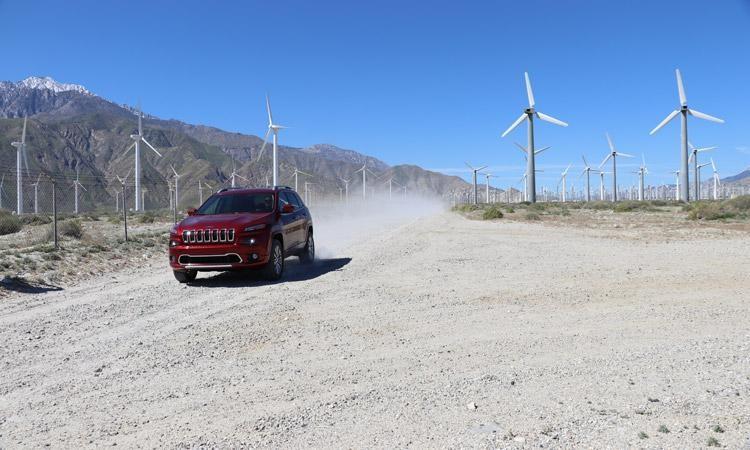 The 2017 Cherokee Overland is a phenomenal vehicle and the folks at Jeep should absolutely be proud of it. This particular trim - Overland - sits at the top of the line, with luxury features such as a leather wrapped dashboard, virtually every electronic safety gadget imaginable, and a great sound system. For many people, the experience of driving off road means getting back to nature and "roughing it" but that's not me. There's something satisfying about being able to roll down a trail when it's nearly a 100 degrees outside, but still be able to sit comfortably inside keeping your butt cool with ventilated seats.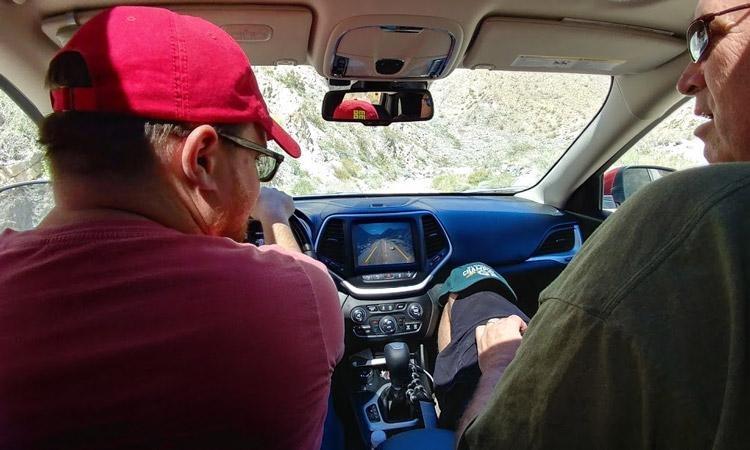 Additionally what we discovered was that features such as blind spot monitoring, backup cameras, and Jeep's parking assistance features actually helped us avoid obstacles in ways we didn't expect ... but came to love. For instance, while navigating a narrow part of the trail, the car started to beep and reminded us that there was a rock very near to the side of the car. While backing up to try a second attempt through a line, the backup camera and parking sensors were similarly handy to help us avoid obstacles.
What we found though throughout the experience was that even though this isn't the Trailhawk, it was able to overcome obstacles that other CUVs simply wouldn't have been able to successfully. On top of that, it was still comfortable for four adult men to share the space during our drive that day. Even me, as a big guy was comfortable in the rear seat.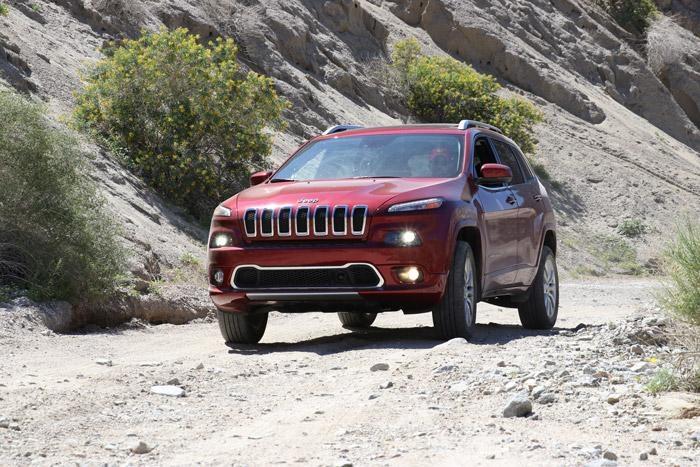 Berdoo Trail - the Back Way Into Joshua Tree
Depending on who you ask, this trail is rated moderate or dificult. Our experience with it was that it absolutely requires a 4x4 with better than average clearance and skid plates to pass successfully. The Cherokee has 8.7 inches of clearance and in all but two spots we had no problem clearing obstacles. However, we did make sure to pick a line that avoided the most challenging parts and that did require us to backtrack in one part.
As you head north into the park from Indio Hils, the trail begins as a paved road and quickly deteriorates to the point where going off road is actually the less challenging line to take. For instance, in one part the pavement suddenly drops off as it was likely washed out from the recent rains in the area and was completely impassible. However, by backing up and finding a new line we were able to continue.
Over the course of 6.7 miles, you will climb approximately 1,117 feet, ultimately transitioning from the hot desert of the Coachella Valley to the cooler elevated plain inside Joshua Tree National Park. You will also notice that the terrain changes from rocks and coarse sand to a much finer sand at the end of the trail.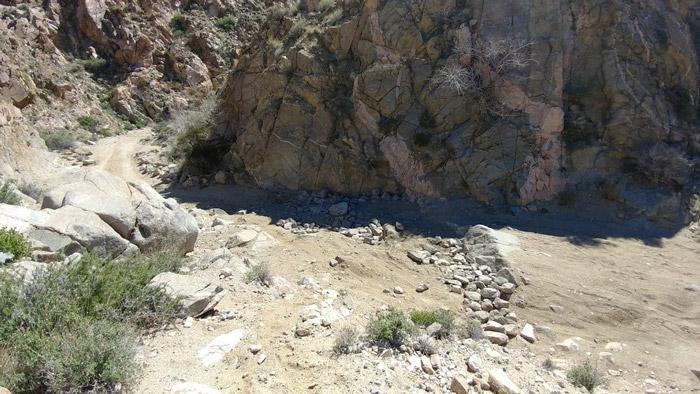 At one point, spotting was required for us as there was a section with large rocks and ruts to avoid. With the exception of some slippage due to the stock Cherokee Overland's tires being more designed for all-weather driving than trails, we passed successfully. However, as we watched others it became clear that even a Jeep Patriot with only 8.1" vs our 8.7" of clearance struggled to make it through. This trail is absolutely one that you should NOT attempt in a standard CUV as you will damage the vehicle.
Once you emerge from the hills, it immediately connects you to Geology Trail for a very easy tour through the park.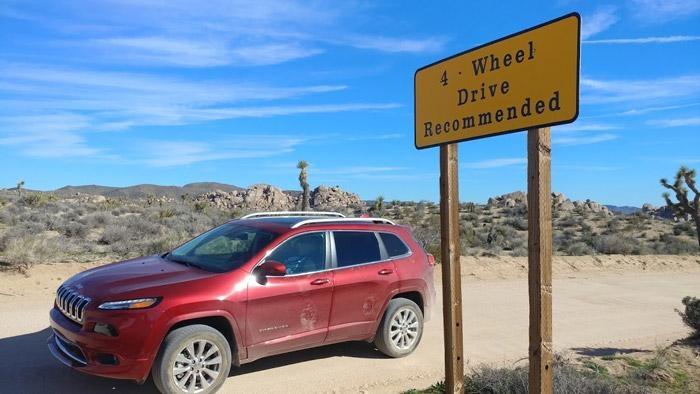 Geology Trail - See the Best Parts of the Park Without Crowds
Joshua Tree National Park's Geology Trail is set up to give people an opportunity to explore the park's various natural wonders and it is extremely well maintained. While there were parts of the trail containing sand drifts and ruts from the rain, you will be fine exploring this trail in virtually any CUV / SUV that has AWD or 4x4 capabilities. However, that being said parts of it that had become washboard would have been very uncomfortable in some vehicles. Though it was just fine for us.
This is an 18-mile trail with 16 different stops and the park even provides an interpretive brochure to help guide you.
While you can absolutely cruise through here simply enjoying a beautiful day as the landscape unfolds before you, being able to learn why certain features look that way is a really cool opportunity. This brochure is generally available at the ranger station by the North Entrance to the park, or you can download it and bring it with you.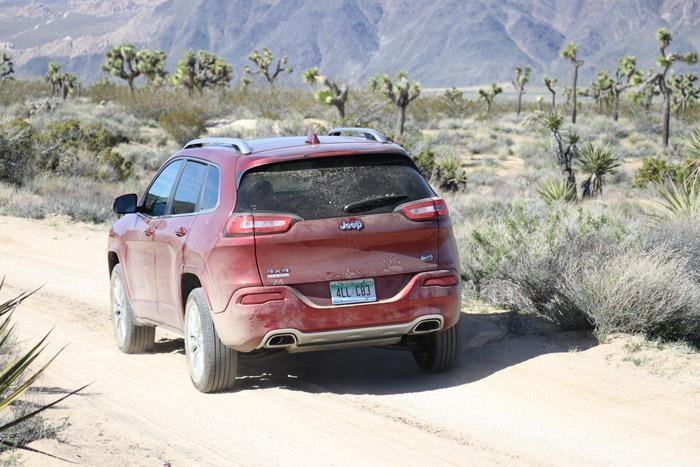 Like any off road experience, you can go fast or slow with plenty of stopping for pictures or even short hikes and we found that these two trails took us the better part of the day to explore. During parts of our drive it was exhilarating to simply stop the vehicle, get out and listen to the sound of silence.
Despite the comfort that the Jeep Cherokee Overland provided to us while driving, it's the destination that makes the experience matter. For someone who lives in a busy city, being able to escape that constant noise and just look out over the wide open landscape and take a deep breath of fresh air makes all the difference.