One of the things I love about living in San Diego isn't just the pretty awesome weather all year round but rather the hot dusty playground located just on the other side of the mountains from where I live downtown. This is area, the Anza Borrego Desert, is an incredibly playground with a mixture of terrain ranging from insanely tough to perfect for novice riders. You guys know how much I love the Colorado ZR2 and so when we got the chance to take it's big brother then Silverado ZR2 for a spin ... well ... you know I jumped at the opportunity!
As you would expect, the Silverado ZR2 shares a lot with it's little brother in terms of design theory. This is the top dog when it comes to off-road trucks from Chevy and like it's cousin the AT4X it is tuned more for crawling and practical off-road use rather than some of it's much more expensive competitors like the Raptor-R and Ram TRX. Though frankly, while I never once felt the Silverado ZR2 was lacking in power ... there were times while running down sandy washes that I wish we had extra. To be fair, I felt the same way about the regular Ford Raptor and they ultimately listened to their fans so maybe there's an opportunity for something silly to come later.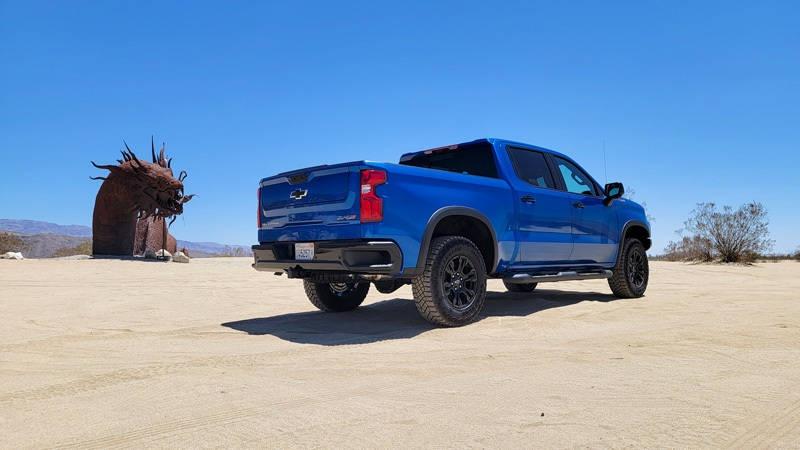 I doubt that though since this current generation seems to be the last hurrah for big V8 engines and without a doubt Chevy will do an off-road version of the upcoming Silverado EV which already comes with 660 hp and is a close cousin to the Hummer EV which will deliver up to 1,000 hp.
For now though, I'm going to take my auto media hat off and swap it for the practical garb of a hard-working Chevy Silverado customer .. the ones who are going to actually buy this thing instead of simply ogling pics of it on the web.
This is a fantastic truck that updates what we already love about the current generation of Silverado and updates the things that were lacking compared to it's competition - better infotainment screen, more tech, better interior with more comfortable seats and finer materials, and with this ZR2 trim ... better off-road performance.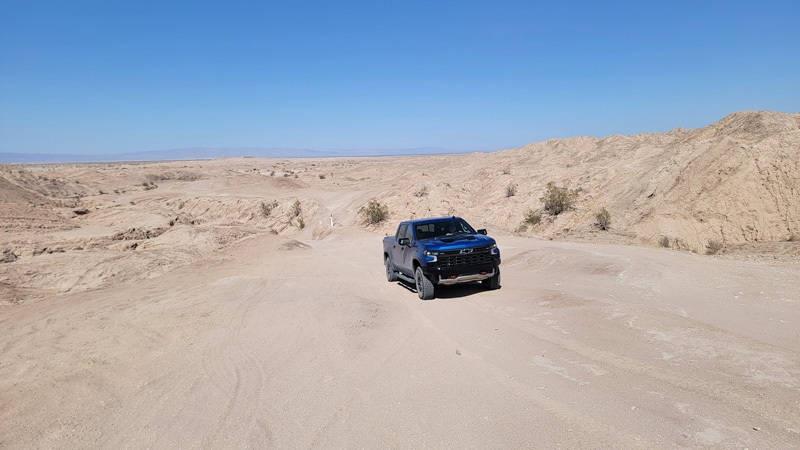 To test it out, we decided to visit some of our favorite places near Ocotillo Wells and Borrego Springs, including: Font's Point Wash, Truck Haven 4x4 Training Area, The Pumpkin Patch, and finally Shell Reef. Not only does this area offer a great variety of terrain but it is also home to some very well marked trails, regular patrols by rangers, and good cell coverage.
I know many people don't think about things like this when they go off-roading but if you are driving new equipment or have just done some upgrades and aren't 100% familiar with the nuances of the new performance profile, having a backup is always a good idea.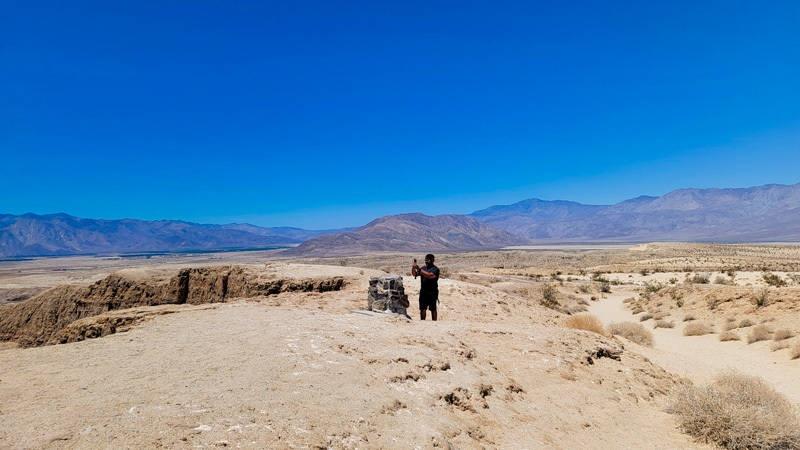 Font's Point Wash
Font's Point is an easy trail that is sometimes much more challenging and the day we visited was one of those. This was earlier in the summer and a dust storm had been blowing for a few days before our visit. As a result, the normally well defined "hard" vs "soft" areas of the trail were pretty much completely covered. As a result, while you would normally be able to do this trail with any 4x4 truck, I'm glad we had the 33" off-road tires and Multimatic 40mm DSSV spool-valve dampers that allowed us to sail through the sand and bounce over some hidden obstacles.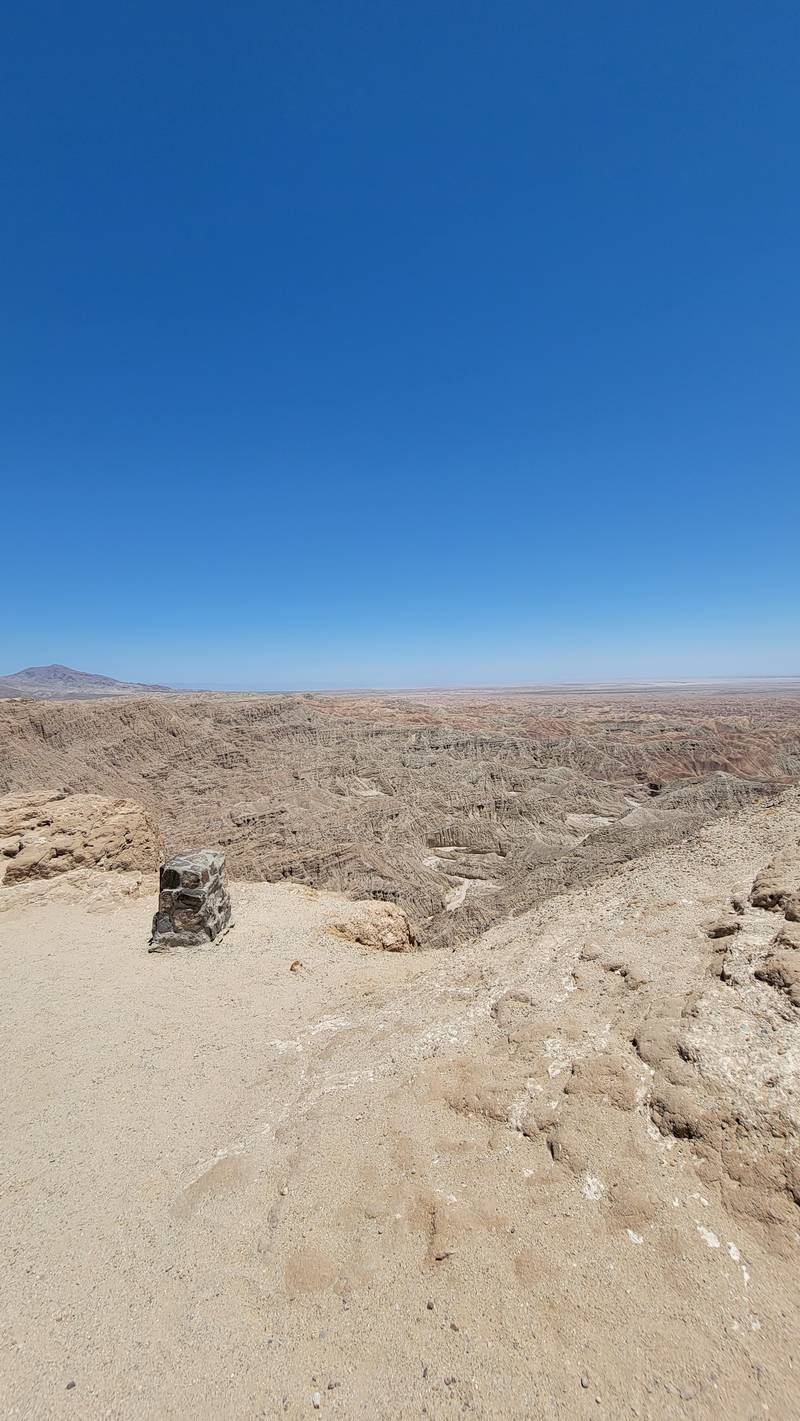 If you've never been to this spot, it is also the perfect location to look out over the desert as you plan your route of discovery by looking out of the miles of wide-open badlands below you.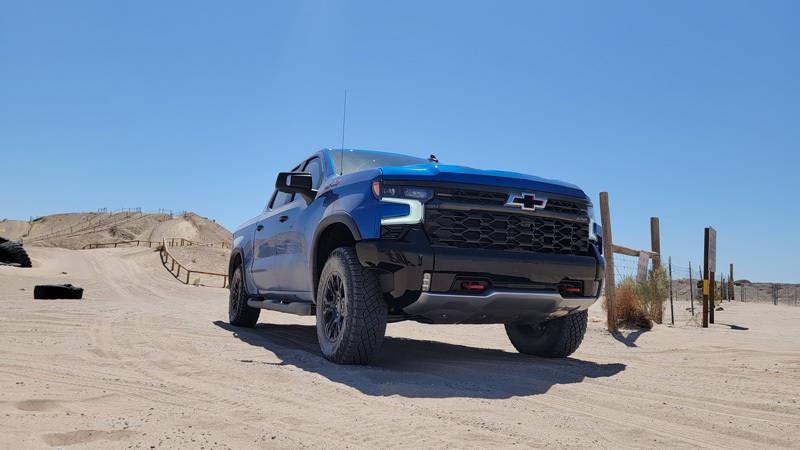 Truck Haven 4x4 Training Area
Our next stop is a much more technical destination where I enjoy playing with various obstacles in a safe and controlled area. On this visit though, I was specifically asked by Chevy's fleet people to not do anything that might damage the vehicle and so we didn't push it as hard as I'd like. However, anyone who has a truck (or SUV) and would like to get a better understanding for what their vehicle can do, should come here and experiment in terms of approach and departure angles.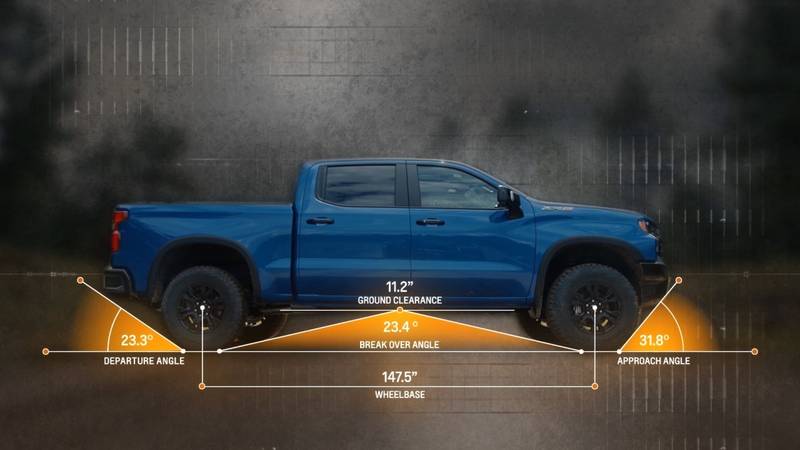 Most people learn things things by hitting a rock or ripping the bumper off their rig, but here you can go slow in a controlled fashion and try obstacles such as concrete steps, steep ascents and sharp drops as well.
Initially I went here because the obstacles were "cool" but now I can much better appreciate the difference between say the 22.8° approach angle of the Titan pro-4x and the 31.8° on the Silverado ZR2. Both trucks might look cool and have off-road badges but this is where you start to realize what a truly premium off-road truck offers beyond just good looks and HP stats.
It is MUCH better to discover that in an environment like the 4x4 training area than out on the trail where a mistake could mean a LONG walk back through the hot sand!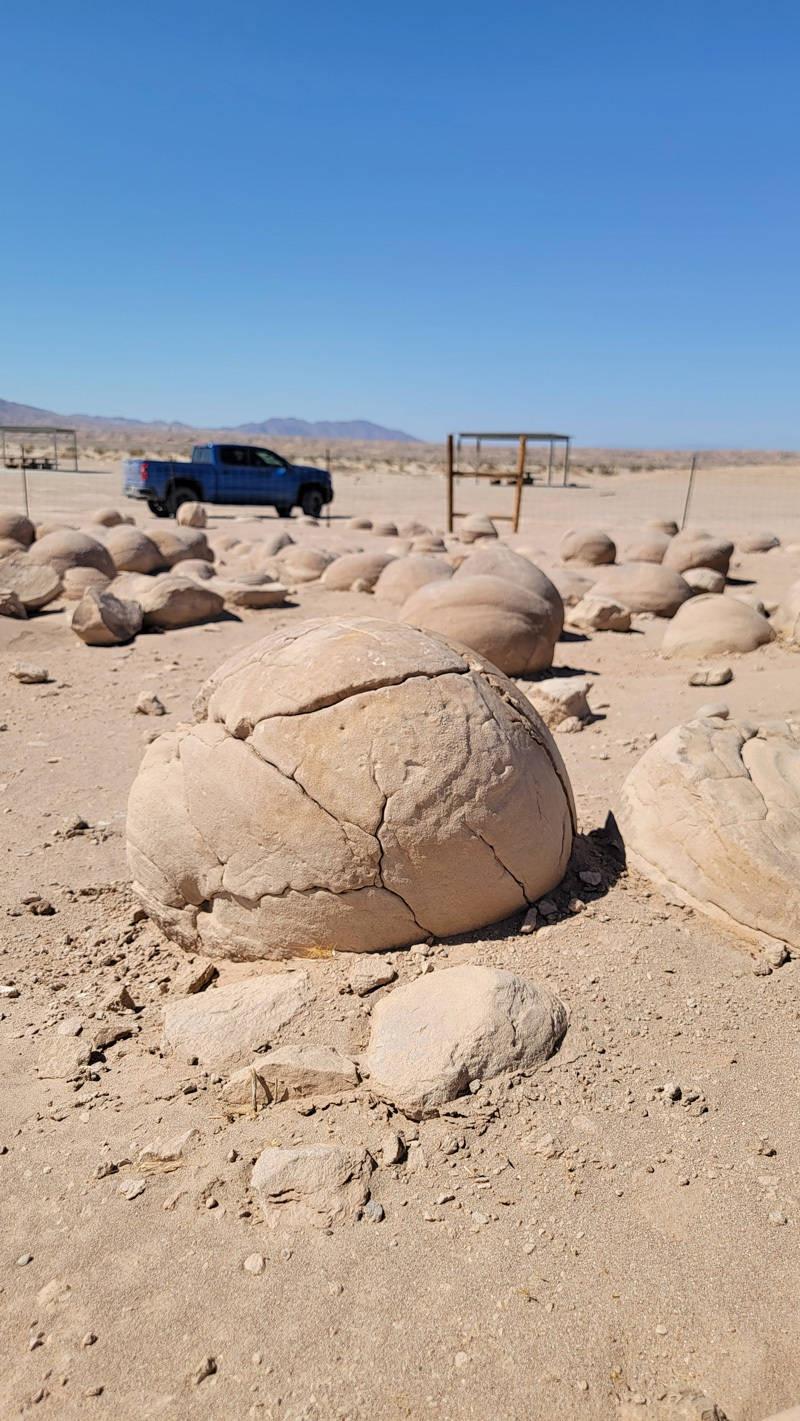 The Pumpkin Patch
The Pumpkin Patch is located in the middle of the Ocotillo Wells SVRA and is easy to get to (despite Google Maps not showing the road, the trails are well marked and maintained by the Rangers and you can download a pdf of the Ocotillo Wells trails here).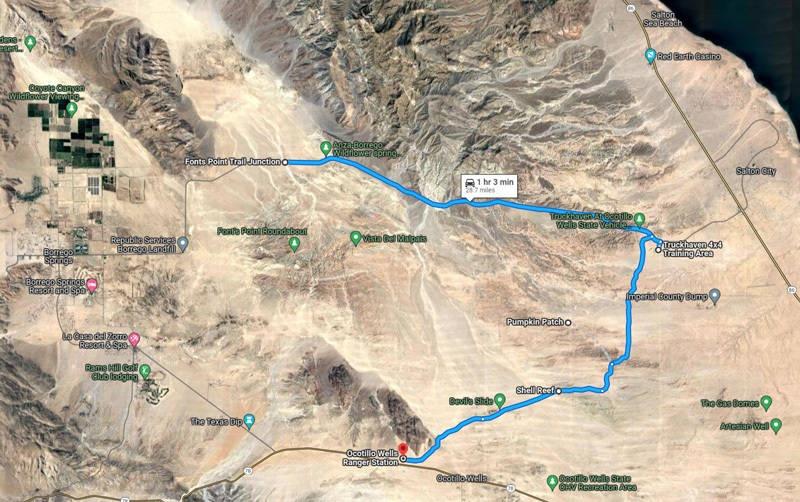 This, and the next spot we visited, are both great reminders that while this is a seemingly barren and lifeless desert - just a few million years ago this was all underwater and a very dynamic environment that created these round "pumpkins" and then covered them up only to have them now revealed again through erosion of the sand and mud around them.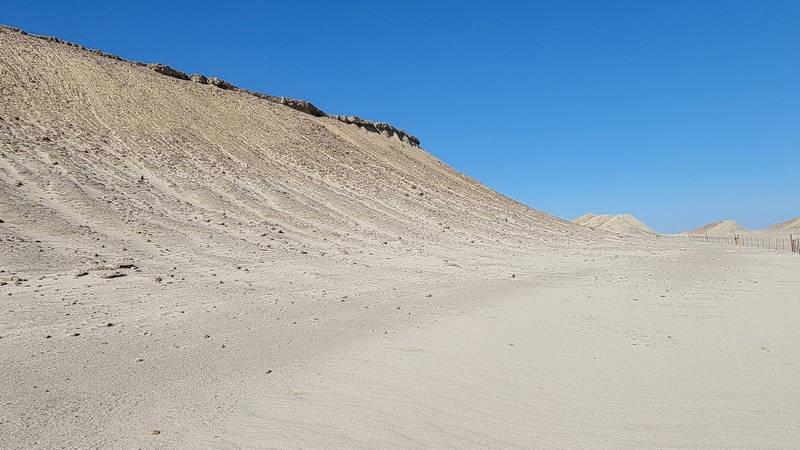 Shell Reef
Shell Reef by itself isn't a challenging spot so much as a landmark between the north and south edges of the park. It, like the pumpkin patch though is also a reminder of how quickly things can change in the environment. 4.5 million years ago this land was all underwater and there are fossilized sea creatures that you can find in the rocks throughout this area. As you can imagine, that also led to prospectors looking for oil and I find it fascinating that in the early 1900's when this area was named "Ocotillo Wells" it wasn't because of a spring pushing water to the surface ... it was named after all the oil wells that dotted the landscape that gave this desert outpost it's name!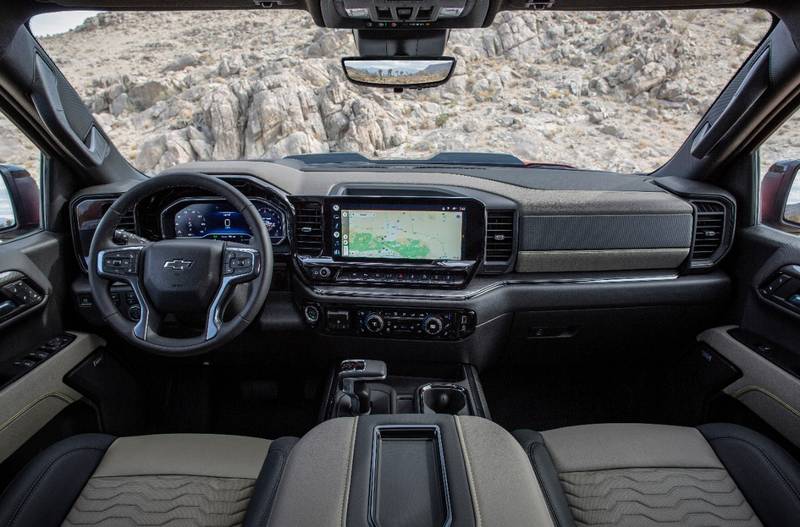 Ok So How About On-Road Performance?
It would be unfair to compare the on-road performance of the 2022 Silverado ZR2 to a normal Silverado or Tahoe since the elements that make this a fantastic off-roader tend to be detriments to things like noise and fuel economy.
That being said though, just as we said with the GMC Sierra AT4X, it handles far better than expected on twisty roads as well as at highway speeds on the interstate. Along with the suspension handling well, the inside of the truck is a much needed improvement over what the previous generation looked and felt like.
I think the biggest shift that I've noticed in the current generation is that trucks are no longer strictly utility vehicles where you are willing to accept things like tiny infotainment panels or basic seats. While Chevrolet still has those options in base-level trucks, the Silverado ZR2 matches or exceeds anything in a similarly priced off-road truck and that is a very good thing.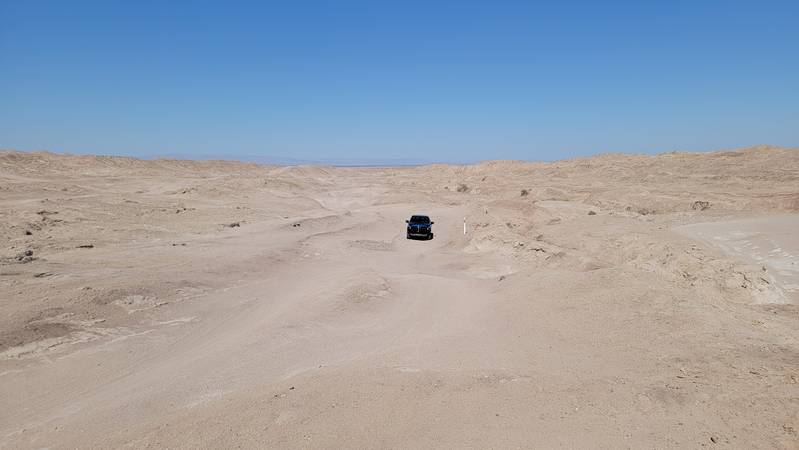 Is It A Raptor Killer?
No, but it doesn't need to be.
While the starting prices are nearly identical, once you start to add options the Raptor starts to be much more expensive. On the other hand, Silverado ZR2 with an estimated starting price of around $70,000 this is certainly not a cheap truck to buy. However, it fits a very good niche since a comparably equipped Ford Raptor comes in several thousand dollars more and is lacking a V8 engine and has smaller wheels.
Despite that though, the Silverado falls short in terms of specs vs the Ford Raptor across the board.
However, I am not sure that's really a huge deal and like most things in the automotive world, these differences - 420 hp from Chevy's 6.2L V8 vs 450 from Ford's 3.5L V6 are nearly irrelevant in actual real world performance. While Raptor also bests the ZR2 in angles, once again for all but the most aggressive situations those are irrelevant too.
In our experience driving it over a variety of terrain the Silverado ZR2 was very confident and I knew exactly where the corners of the vehicle were at all times. That is something to not be dismissed since ultimately that's the difference between transiting you way through a tight spot on a trail with the paint intact and earning a battle wound on your beautiful new truck.
It all comes down to Coke vs Pepsi. If you're a Chevy guy who wants a badass truck then the ZR2 is the one to pick. Not only is it slightly cheaper and dimensionally much better when it comes to parking and maneuvering around town but frankly I think it also handles better as a truck during daily driving than something that is even further down the spectrum towards off-road machine.
Ultimately it is up to you and it is wonderful to have so many options like this today!