The Ford Explorer is one of my absolute favorite SUVs since it first debuted in 1991. It has represented a sense of American style and freedom as the ultimate road trip vehicle able to adeptly transverse paved and unpaved roads. Now in it's sixth generation the Ford Explorer has added a new version to the line - the Ford Explorer ST. A performance version that we had the opportunity to spend a few hours with last week in Park City, Utah.
Earlier this year we were invited to the unveiling of the new Ford Explorer and I was immediately excited. The SUV space has gotten sorta boring recently. Everyone is chasing fuel economy numbers and fighting to be the most mass market vehicle. In contrast to this, the all new 2020 Ford Explorer ST has actually become more aggressive while still generally maintaining the exterior styling cues of the previous generation. The differences are subtle but you'll notice a more aggressive nose and other visual styling differences. Under the hood though, it's a whole new vehicle with the engine being rotated 90 degrees, transitioning the Explorer to a RWD / AWD vehicle and with the 3.0-liter EcoBoost engine it is able to pump out 400 horsepower and 415 lb-ft of torque allowing the Explorer ST to reach a top track speed of more than 140 mph!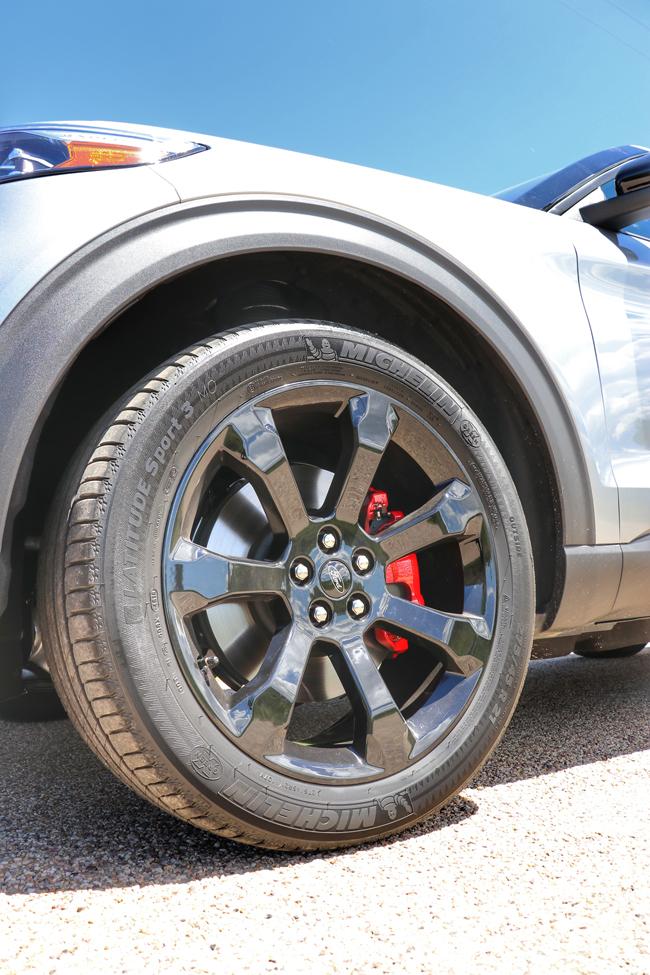 It's not all about raw speed though. The Ford Explorer ST we drove included the optional Michelin Latitude Sport 3 tires (same OEM tire as Porsche Macan S) and standard 10-speed automatic transmission. I found the Explorer to have low road noise and be very quick off the line. It also was very stable with limited roll and virtually no slip while taking on curvy mountain roads in the Wasatch Mountains. While we didn't get a chance to tow, the 2020 Explorer ST can tow up to 5,600 pounds, an upgrade over the previous generation.
Inside the cockpit, the driver is surrounded by technology that not only makes the ride more comfortable but safer for long road trips as well. For instance, the 10.1 portrait-mounted infotainment screen, all digital instrument cluster, and Ford Co-Pilot360. Initially I was skeptical of the giant screen. It looked awkward and sort of "tacked on as an after thought". After a few minutes of driving I became hooked. While I wish there was a more discreet place for it - such as a HUD maybe. The large screen helped tremendously with being able to see the information quickly with just a glance. Typically the driver might have to glance at the screen multiple times to register where they are on the map or what the next turn might be. However it was easy to see on this screen.
The Ford Co-Pilot360 system includes adaptive cruise control as well as lane centering. I tested this out on a very twisty portion of highway and it worked fabulously. On long road trips there's often times when the driver simply needs to relax and that's where this comes into play. As an extension of the adaptive cruise control system it uses cameras to monitor the edge of the lane you are traveling in and it stays between the lines. This is not a hands free system but allows the driver to take quick stretches as well as hold the wheel lightly with one hand and not worry about losing control.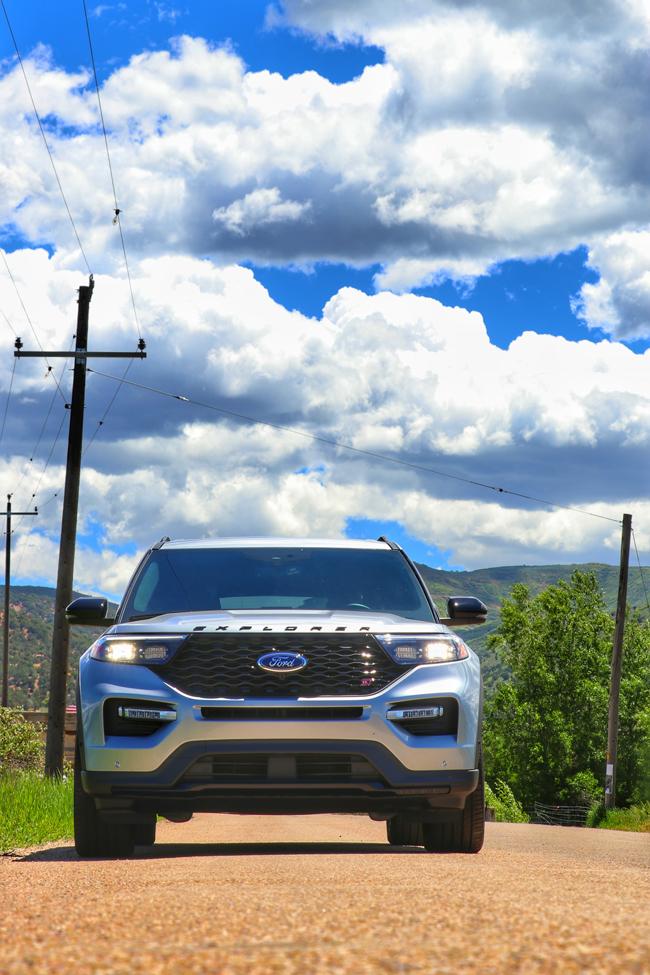 With regards to the Ford Explorer ST trim specifically, it is designed a six seater performance vehicle and starts at $54,740 with the the 3.0L EcoBoost engine featuring twin turbos, twin-panel moonroof, and leather interior. For those looking for a sportier ride, the ST adds a sport mode to the drive mode dial that tightens the steering system, gas pedal responds more aggressively, gears hold longer, and shifting is quicker. They've also tuned the noise to allow the performance sound to better enter the cabin for the complete experience.
Overall, the experience of driving the Ford Explorer ST was a thrill. It handles WAY BETTER than I expected from a three-row SUV staring just under $60,000 and it has more technology than I'd have expected too.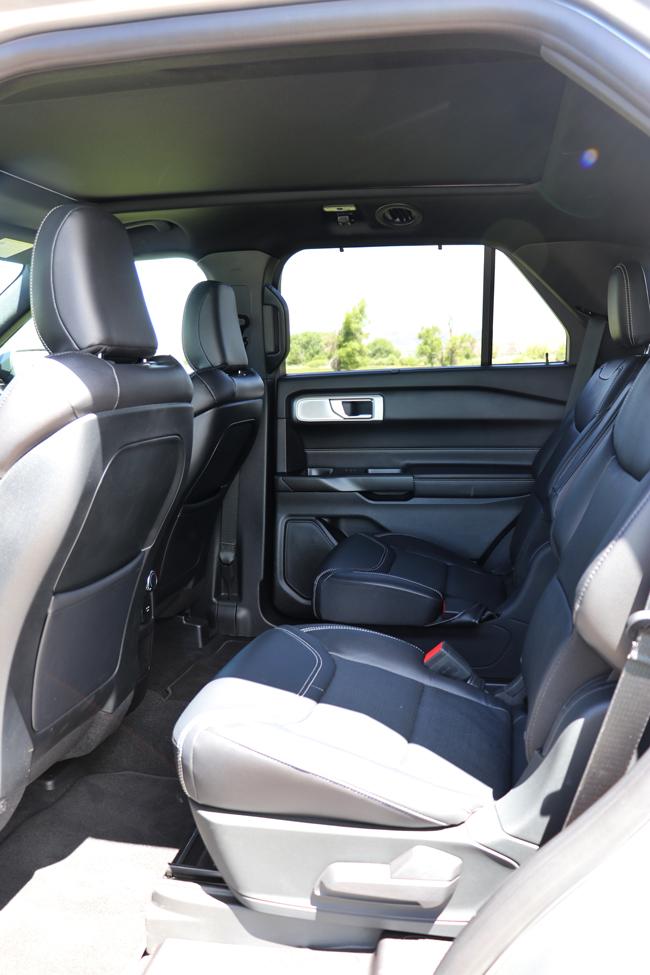 When it comes to driver and passenger comfort, the vehicle we had came complete with heated, ventilated, and massaging front seats. The second row has standard bucket seats, and a third row that interestingly has been configured for two vs three people. Headroom is excellent in all three rows, as is storage space and climate control ventilation comes from the ceiling to allow for a consistent cabin environment rather than other systems that can trap heat or cool air at the floor.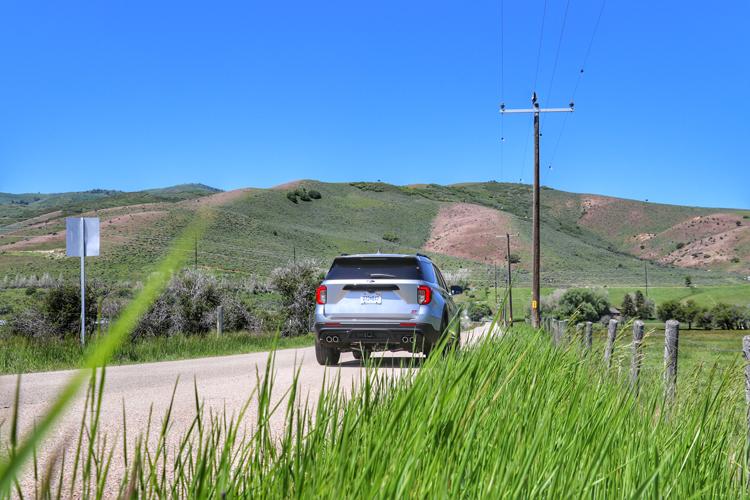 While I generally am drawn more to SUV's with off-road chops. This is a thrilling addition to the market for anyone who needs a great family hauler but doesn't want to sacrifice the ability to feel sporty. As an added benefit of it being part of the ST family, owners will have access to attend the Ford Performance ST SUV Experience driving school when they begin offering Explorer ST sessions in 2020. We attended one with the Ford Edge ST and while that was a lot of fun ... the Ford Explorer ST takes the ST SUV family to a whole new level of performance and refinement.
I can't wait to spend more time with the all new 2020 Ford Explorer ST sometime soon!