Chevy's Tahoe SUV is historically one of the favorite full-sized SUVs. When you lump it together with stablemate GMC Yukon these brothers are absolutely my favorites. While the industry has brought a huge amount of innovation to the world of 3-row family haulers, nothing can touch the poise and presence of these two truck-based SUV giants. When Chevrolet invited me to be among the first to drive the 2021 Tahoe Z71 this month I was thrilled for the opportunity. Here are my thoughts ...
In the past, launch events like this typically feature invites to exotic locations, top-shelf drinks, hanging out with friends, and generally speaking, the car is almost secondary to the experience. This year is different though. Instead of a planned route, Chevy sent me a Z71 trim Tahoe and said "have at it". This was a sense of freedom that I really enjoyed since it allowed me to take it on a short adventure that matches my personality and probably a lot of you guys too. Our route consisted of some light offroading along the Mexican border followed by a trip to the beach before heading back home to the city to see how it felt in stop and go traffic. This allowed us to not only drive around the suburbs, where most of you will enjoy it, but also the wide-open roads and trails that a vehicle like this aspires to explore.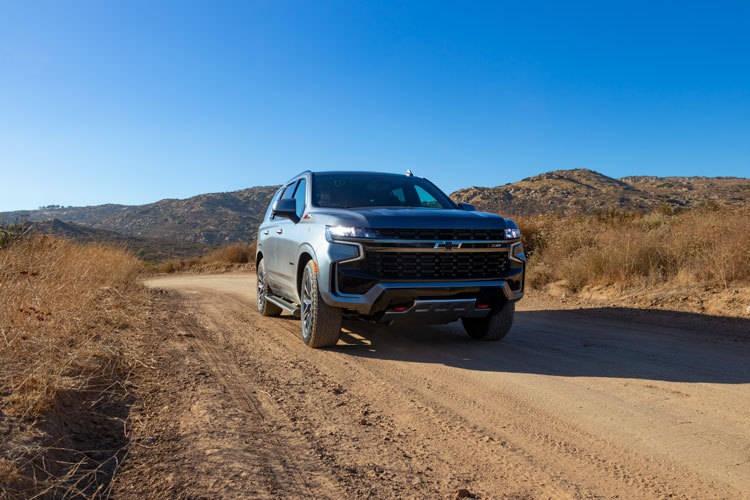 While most buyers of the Tahoe will never take it offroad, many want to feel like they could and that's the market that the Z71 Tahoe targets.
As such, you'll find things like bright red tow hooks, and a plastic "skid plate" upfront to make it appear aggressive. On the sides you'll see textured running boards that almost look like rock rails that add to this rugged feeling that inspires you to, well ... Find New Roads. The tires also contribute to this feeling and thankfully, the Goodyear Wrangler TrailRunner AT tires are sufficient for light off-road action. The Tahoe Z71 trim comes standard with 4W. However, it really isn't as sporty as it might look at first glance. Unfortunately, this model lacks the more powerful engine, a 6.2-liter V8 that is only available on the High Country trim. While the 5.3-liter V8 is "not bad" ... I found myself mashing the accelerator at stoplights, entrance ramps, and going around corners in the desert and being frankly disappointed. Other reviewers I spoke with considered it "sufficient".
It is highly possible that other engine options will become available in the future as we have seen with Silverado. This includes the 3.0-liter diesel though that is intended more as fuel economy play than something to add extra power. Hopefully, the 6.2 or something even better is offered later as well.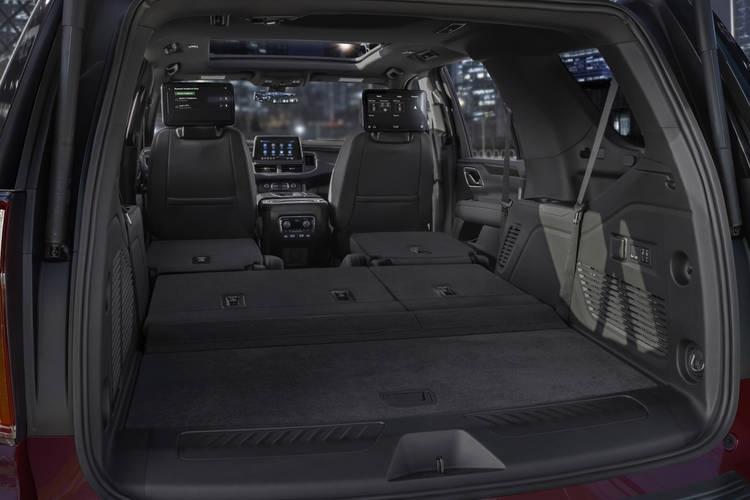 That all being said, Chevy's engineers and marketing team tell me that their objective for the launch was to have as few variations as possible. This also helps reduce customer confusion by streamlining the ordering process and maximizes Chevrolet's ability to deliver inventory to dealers as quickly as possible. Realistically, while I appreciate that I would like to have that extra power as an option. However, most people don't need it. With the 5.3-liter V8, max towing for the Z71 with the trailering package is still 7,700 or 8,200 pounds with the max trailering package, so again ... that's more than most people will need to haul a boat, camper, or toys for a weekend getaway.
With this engine, you get 355hp and 383 lb-ft of torque paired to a 10-speed automatic transmission and 15 / 19 mpg fuel economy rating. On the other hand, the 6.2-liter offers 420 hp and 460 lb-ft of torque. I look forward to testing that out on the High Country trim this fall to compare the difference. With a 24-gallon fuel tank, that's more than 400 miles range or the ability to drive from Los Angeles to San Francisco without refueling.
From a driving perspective, there is no illusion that the Tahoe is anything but a big SUV. However, the ride is much smoother than the Silverado platform it is based on in part due to the available four-corner air ride adaptive suspension. However, the more aggressive tires found on the Z71 do contribute to a stiffer feel over bumps than what you might expect in the High Country (based on feedback from other reviewers), which has been tuned for maximum comfort. One of the really cool things that Chevy has added for 2021 is that not only is the suspension able to adjust to the terrain from a comfort and performance perspective, but the vehicle itself can raise and lower as needed. This includes being able to lower while parked so that it is easier to enter and exit the vehicle as well as offering additional clearance on rough terrain or perhaps when traveling through snow.
On twisty mountain roads Tahoe offered a smooth ride despite its curb weight of 5,815 pounds and on the highway at speed, the ride was extremely comfortable and quiet with minimal noise or buffeting at high speed.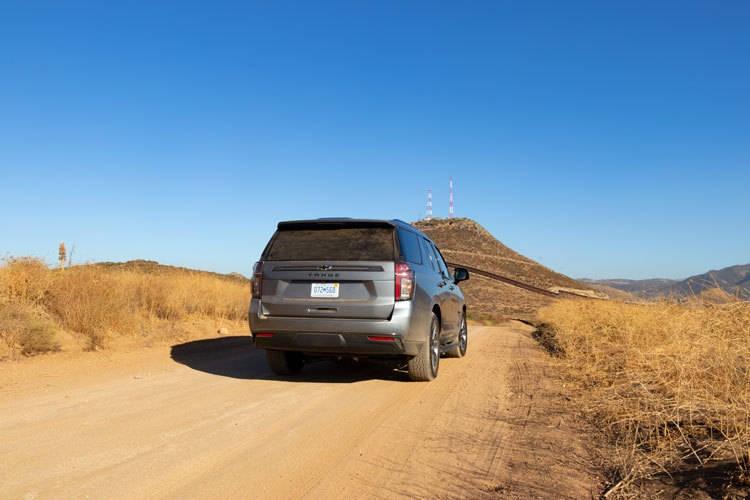 For me though, I just had to get the tires dirty and while this isn't a Colorado ZR2 or a Silverado Trailboss designed to take a rough beating, it was a lot of fun. The Goodyear Wrangler TrailRunner AT tires did a good job in light sand and loose dust on the trail. Also, while the front of the skidplate is plastic, below/behind that is a metal skidplate to help avoid damage when going over obstacles.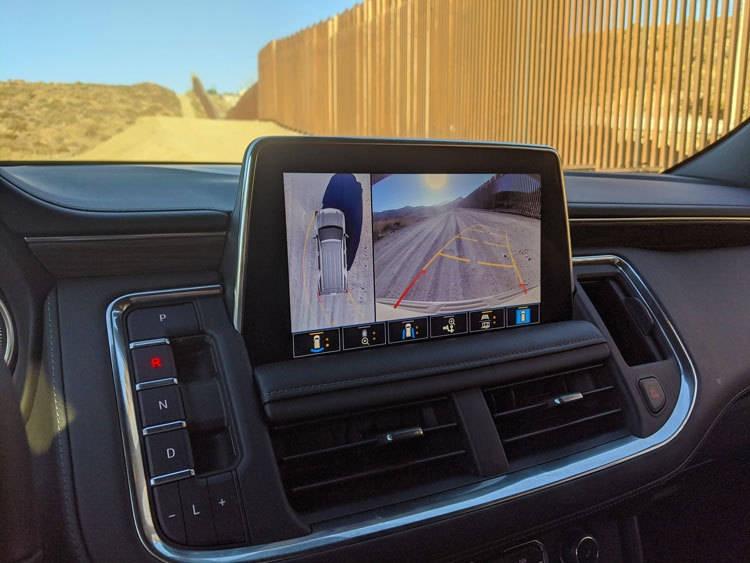 While we didn't try anything aggressive, the suspension felt absolutely fantastic while cruising at high speeds down the trails and while the camera system is really intended to help you park and maneuver around other vehicles, it also served us well in navigating some obstacles on the trail too.
Inside the cabin, the Tahoe has a ton of really nice additions that show that the engineers and designers took a look at how people actually use their cars.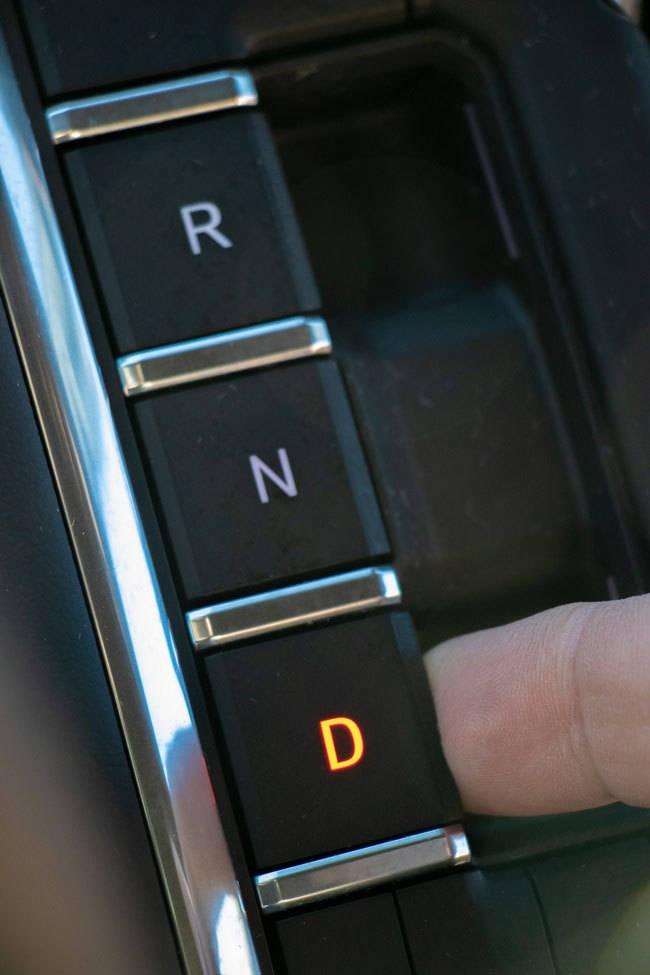 The biggest change you will notice immediately is that there's no gear shift. Instead, Chevy has adopted a push / pull button transmission. While some other manufacturers have a "push button" system, Chevy has designed theirs to push for Park and Neutral but pull for Reverse and Drive. Not only does this make things easier to use, but it frees up the center console to do some other cool stuff.
This includes the fact that the entire center console area has been redesigned. Not only is it reconfigured but it can even slide back with a push of a button, to allow for a large area between the seats for a cooler, camera gear, or in the case of my wife - her purse. However, not only does this provide additional space but when extended, the cupholders and controls for entertainment, climate, and USB-C charging ports are more accessible to those sitting in the second row. Additionally, there are USB-C plugs accessible to every seat in the vehicle and that was a very welcome discovery.
It was clear that whoever designed this car knew what parents were looking for to keep kids quiet and happy in the back.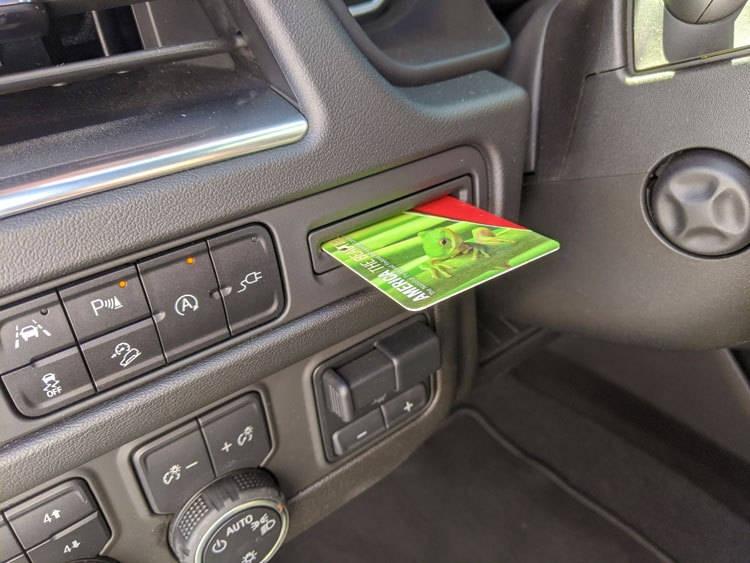 Another nice thing they have added to the dash is a "cardholder" where you can put your hotel room key, parking ticket, or maybe an ID card so that it is easily accessible to the driver. When Heather and I travel, inevitably there's the fight over "where's the room key so I can open the parking gate" and this is an easy solution to help avoid that.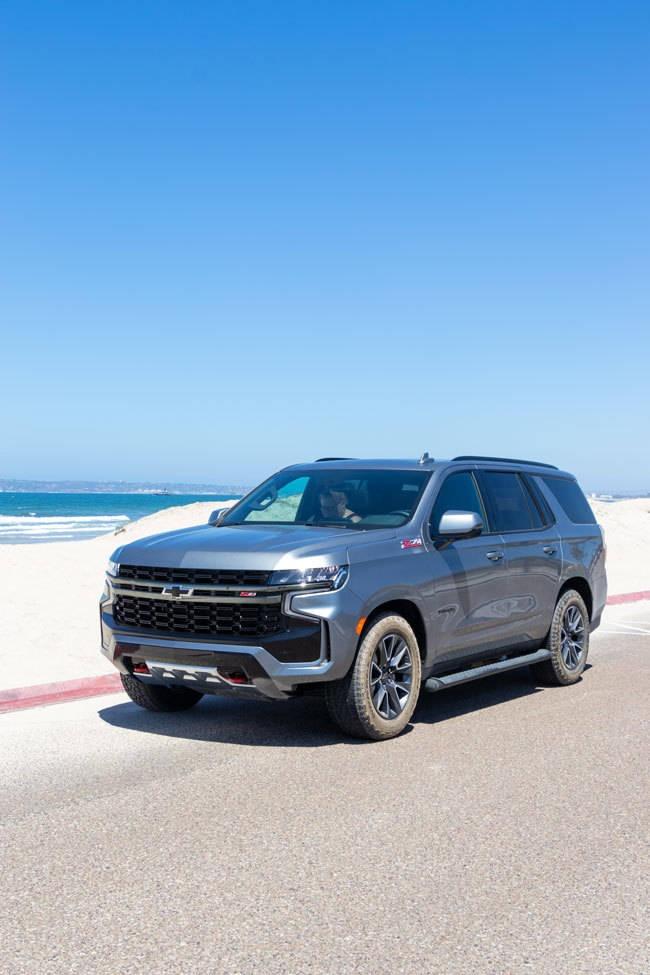 Finally, as someone who looks at the Tahoe not only as a "family hauler" - there are loads of those - but as a vehicle perfect for taking a group of guys on a road trip, the 3rd row is important to be fully usable by adult men. I'm happy to share that it is. In fact, the 3rd-row legroom has been improved by 40% compared to the previous generation and the headroom is also comfortable, even for a big guy like myself. While I'm sure the Suburban would be even better ... Tahoe would be very comfortable for six full-sized adults to go on a road trip together.
I can't wait to spend more time than my quick one-day-experience with the 2021 Tahoe Z71 but I'm already a fan of this new generation. Inventory is available on dealer lots now, with starting price of $59,200.