Summer is over and that probably means you haven't spent much time inside. Don't worry though, fall is here and winter is just around the corner. That means it's time to head back inside and retreat to your man cave and all the fun stuff found within. Games, comfy chairs, maybe even a beer fridge and memorabilia. Here's some tips to get your man cave up and ready for the winter holidays and ultimately - prepared to be the destination where all your buddies want to hang out for March Madness!
Man Cave Design Basics:
To even register your personal space as a manctuary, you need three things ...
Television. Positive points for slow-motion playback. Negative points for tube TVs. As a rule of thumb, you should be seated one foot from the screen for every eight inches of screen diagonal width. For example, if you own an 80-inch TV, you should be seated 10 feet away. You can scoot closer if you own an HDTV or Ultra HDTV.
Food & Drinks. Preferably fun finger foods and treats that your wife won't let you eat in other parts of the house. I'm looking at you Mr Hotwings Fingers!
Manly Paraphernalia and Memorabelia. Taxidermy animals, sports trophies, posters, whoopee cushions, and movie collectables to name just a few ideas.
But you're up against stiff competition. It's tougher than New Year's Eve or Super Bowl Sunday. Everyone wants to host a March Madness party, and your latest TV and Barcalounger might not cut it.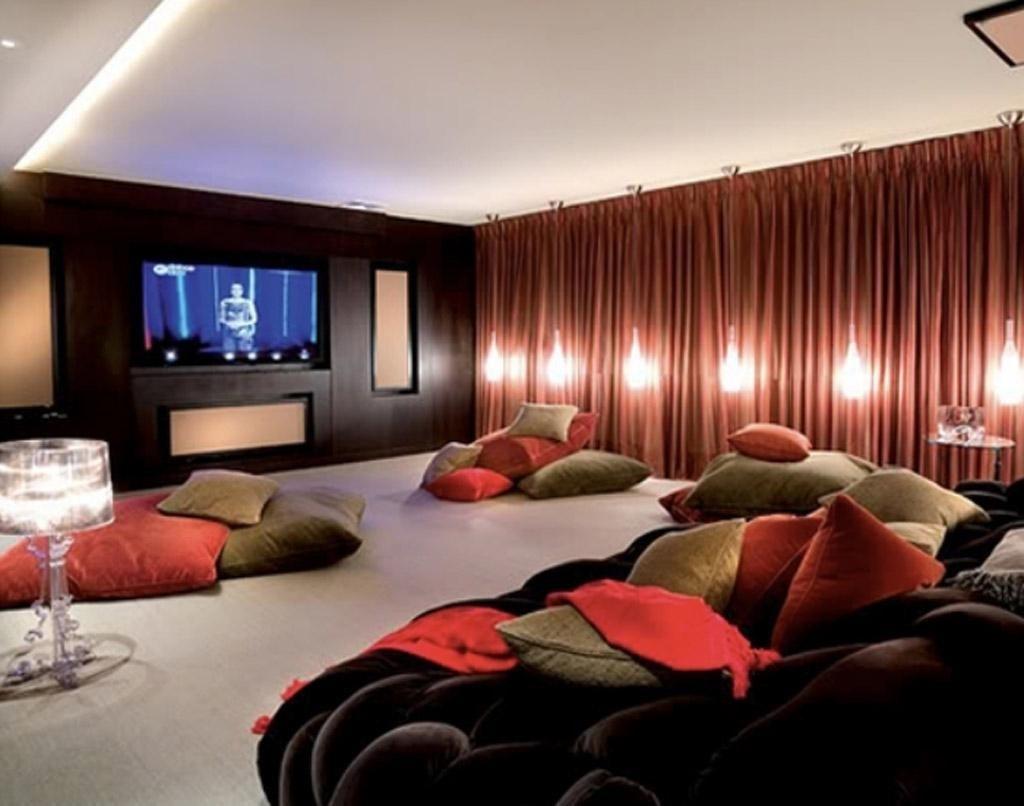 Easy-Clean Furniture A dirty man cave is an open invitation to mice, mold and dust mites. And, let's face it, men don't clean. So choose easy-clean furniture like a microfiber sofa, leather lounger or vinyl loveseat. Cover old furniture with slipcovers. Swap out deep-pile carpet for a carpet tile mosaic. Mount tables on casters. Purchase your wife a robotic vacuum cleaner for Christmas, and then repurpose it.
This room almost did away with furniture altogether. Occupying the floor are Manhattan-sized pillows, which can be arranged around the television or a board game. Surround-Sound Stereo System A flat-panel television and high-quality stereo system can teleport you and your buds into the front row of the Final Four games.
Turn Up The Sound to 11!
Choose a high-amp stereo system to handle volume surges.
Form an equilateral triangle between the audience, left speaker and right speaker.
Invest in a power conditioner and high-quality cables.
If you're building from scratch, fill your interior walls with sound-deadening insulation (usually R-11 or R-13 batts) and use metal studs.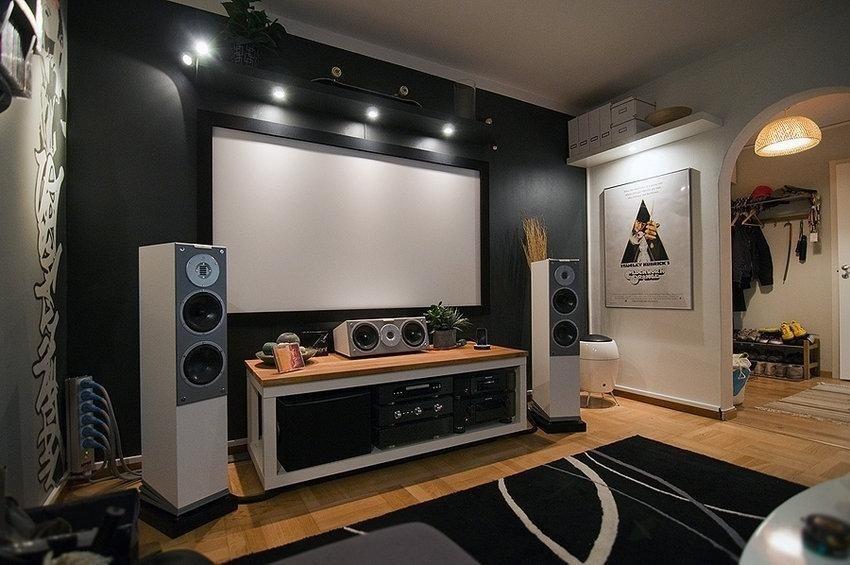 Step Up Your Bar Game!
Home Bar or Kitchenette Go beyond the Wal-Mart six-pack. Beer and billiards are the time-tested cement of male friendship. So make your own home bar room.
A contemporary waterfall countertop with a trio of stainless steel stools.
A Texas-style wooden countertop with low-back chairs accented by dry-stack masonry.
A tribute to sports: decoupage countertop, glass trophy wall, alcoholic Hall of Fame, etc.
While beer on tap - or even a gun for soda and liquor is probably already on your mind - take things a step further. Consider adding in some useful man-friendly kitchen gadgets like a margarita machine, hot dog roller, or an air fryer.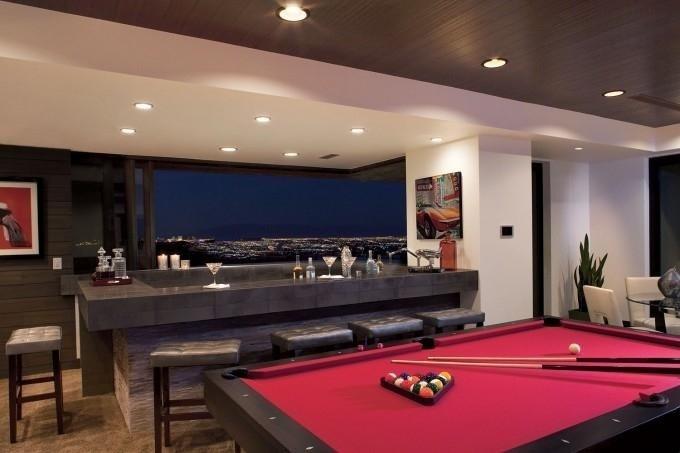 Games ... Lots of Games!
This is going to be highly dependent on how big of a space you are working with but you've got to have your favorite games. This is your chance to unleash your competitive spirit with ping pong, poker or a pool table. Why stop there though. While I enjoy those as much as the next guy, I'm a child of the '80s and I love my video games too.
Classic arcade games like PacMan or Ms. Pacman are never a bad choice but you can also find favorites from your childhood days too that will bring your personality into the room.
Classic video game systems like Nintendo / Sega etc. also make great additions.
Sports games such as a shooting game or even a golf simulator.
If you can't find - or can't afford to buy the actual arcade and video game systems there are tons of emulators out there including MAME that will allow you to play arcade games on the TV or in a multi-game arcade system to save on space.
With plenty of games added to your man cave though, don't forget about getting a whiteboard or something to record brackets and high-scores too!