There's a lot of options in the market for off road-trucks right now but most focus on ulta-ruggedness, while others are honestly more of an appearance package than anything else. With the launch of the GMC Sierra AT4 though, there's a new option for those that want to spend time trail riding in comfort and style, but still have great capability including a 2" lift, off-road tuned Rancho shocks, locking rear differential, skid plates, and more. To test test it out, GMC invited us to join them on a trail ride in San Diego and we had a blast.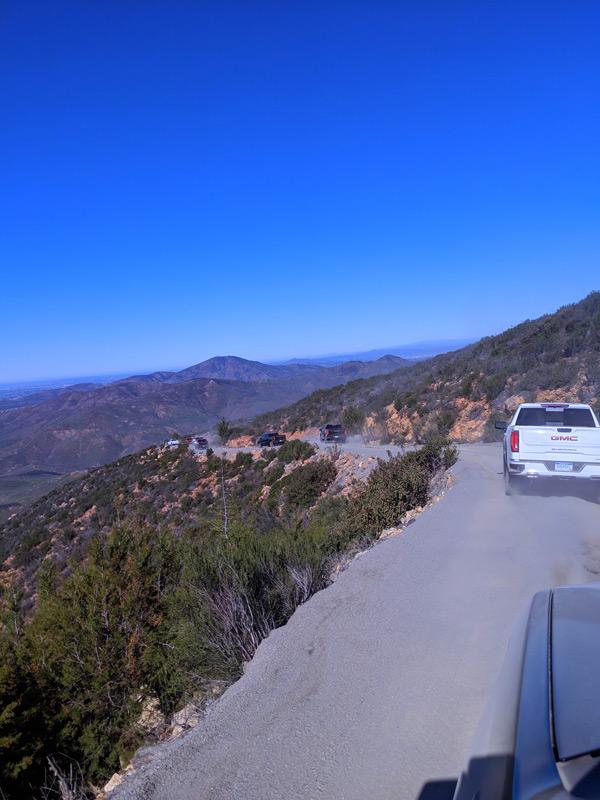 Our ride took us to two different areas. The first was Otay Mesa Truck Trail, a popular local spot that is maintained by the US Customs and Border Patrol and from 3,566' has a fantastic view of the Mexican border as well as San Diego and the Pacific Ocean. We started by Engineer Springs and the South Bay Rod and Gun Club, but you can take the trail in either direction. Though watch out for Border Patrol trucks and be prepared to back down to a spot where two trucks can pass.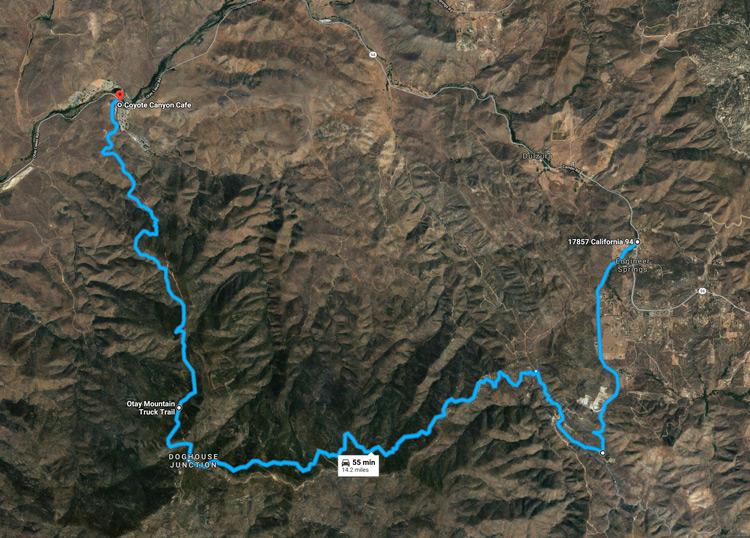 While the trail is generally easy, the fact that it's a two-direction trail but only one truck wide can make it a challenge. However, it's a lot of fun with great views consisting mostly of shelf roads with steep drops on one side and sharp rocks on the other. I've done it several times with smaller trucks, so it was an interesting experience in a truck as large as the Sierra AT4. However, just as I've found it very maneuverable in urban locations, the Sierra AT4 performed well here too.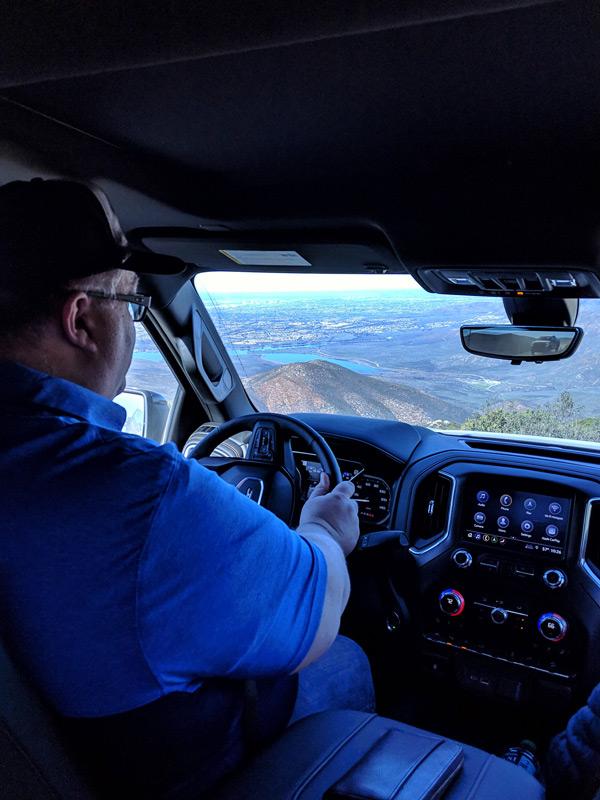 One of the things I absolutely love about this truck is that it features tons of electronics to help you navigate space with precision.
This includes a HUD that not only displays speed and directions but also feature an inclinometer and off-road specific details. With the inclusion of 15 different camera modes it also allowed us to navigate some tight spots where recent rains had left ruts in the trail. No matter how you slice it, this is a big vehicle and without electronic helpers like that, you'd otherwise have to get out and have a spotter help. Otherwise, we'd have no idea how deep a rut is or how far a rock is sticking out into the trail. That made it a much easier experience than I would have otherwise expected.
Similarly, while this truck is really more designed for crawling off road - it performed very well in terms of stability and comfort when speeding up the smoother parts of this trail. While there were loose spots with sand and gravel we managed corners easily and the Rancho shocks took the brunt of the impact on rough spots on the road.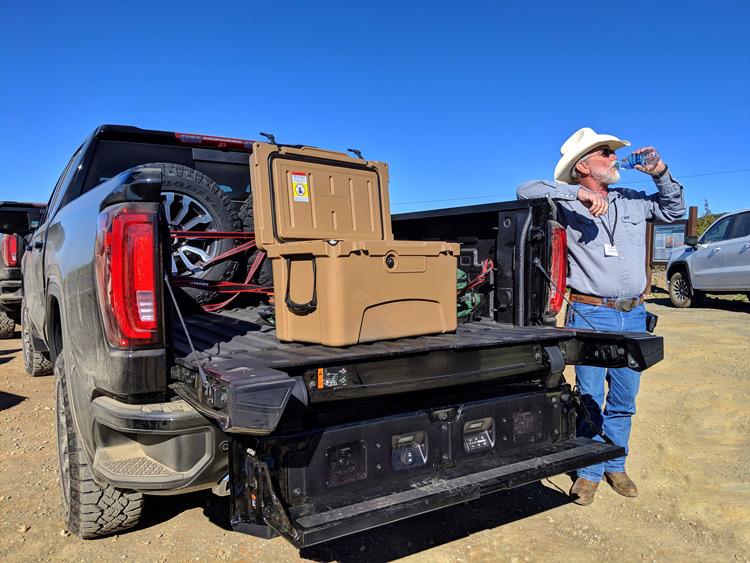 At the top of the trail we took a break for water and to stretch our legs a bit while getting a chance to check out the MultiPro Tailgate that is now standard on AT4 and Denali Sierra models for 2019. There are a couple different configurations here but when deployed as you see above, it has a set of speakers to enjoy some tunes, a step to make it super easy to access the bed. Plus, despite the lift, the side walls of the bed are at a great height to hang your shoulder.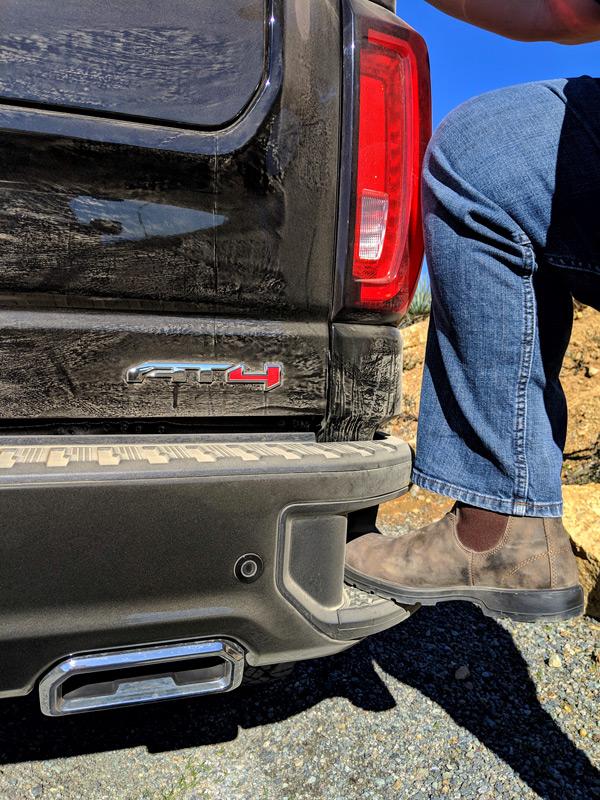 Even without the MultiPro Tailgate deployed though, the bumper corner step makes for a great toe hold as well as an easy step up into the bed to grab your gear.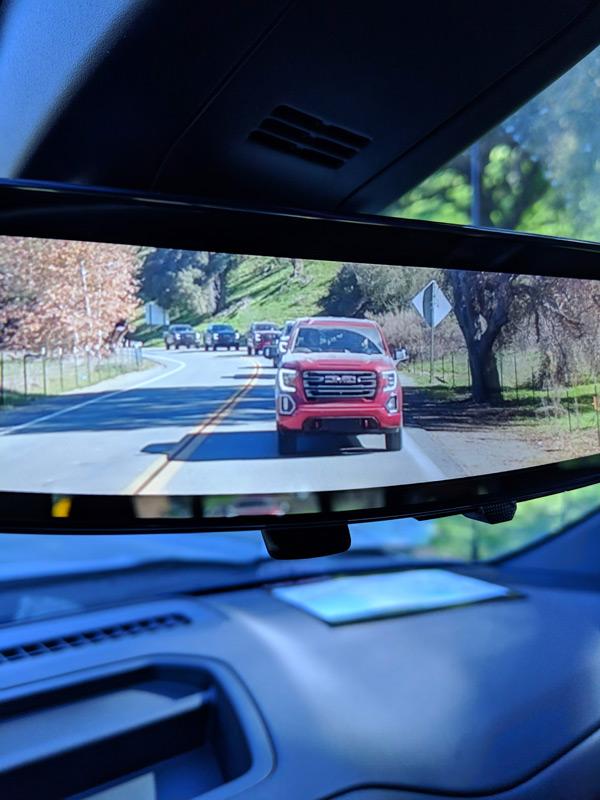 Back on the road, it was time to head over to the course that GMC had set up for us to have a bit of fun driving over obstacles and challenging terrain. During this time on road, it gave us a chance to appreciate the on-road performance of the truck. For instance, I'm absolutely in love with the Rear Camera Mirror since it makes the view of what's behind you much easier than a mirror that might be obstructed by rear passengers and payload.
The Sierra AT4 also features a full suite of safety features including: Surround Vision, Lane Change Alert with Side Blind Zone Alert, Front Pedestrian Braking and Low Speed Forward Automatic Braking.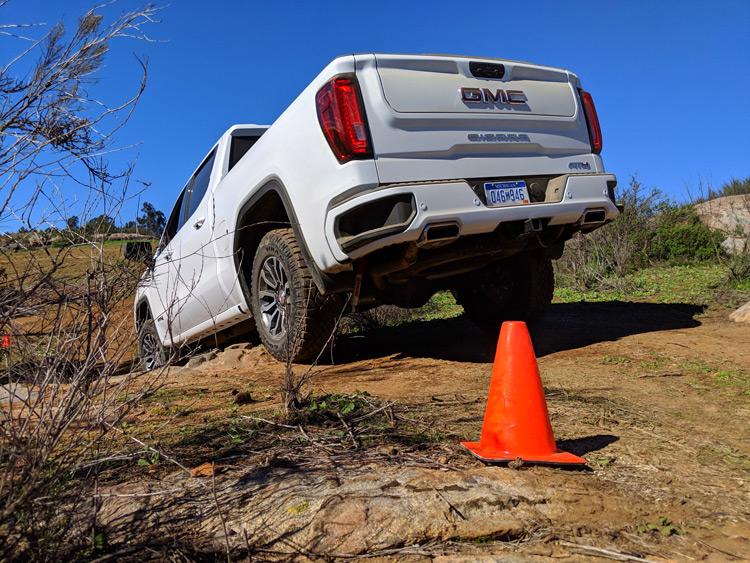 Throughout the experience, the Sierra AT4 impressed me with all the stuff I enjoyed about the Denali but tweaked to make it better suited for off-road performance.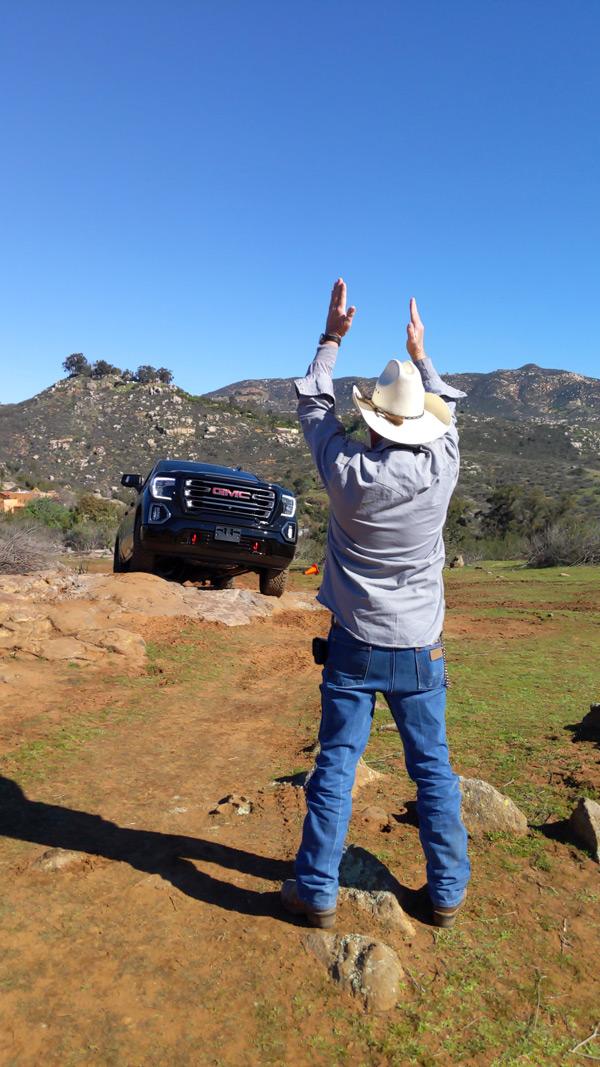 Multiple engine options are available, including the standard 5.3L V-8 engine as well as the 6.2L EcoTec3 V8 that we tested it with. The 6.2L engine features 420 hp at 5600 rpm and 460 lb-ft of torque at 4100 rpm and is paired with a 10-speed automatic. Fuel economy is rated at 15/20 and towing is an impressive 9,600 pounds (vs 9,600 on Denali and 12,200 on other Sierra trims). Unlike some off road trucks that sacrifice towing ability for off-road performance, GMC is focused on towing. We'll be talking a bit more about that in our review of the Sierra Denali coming soon.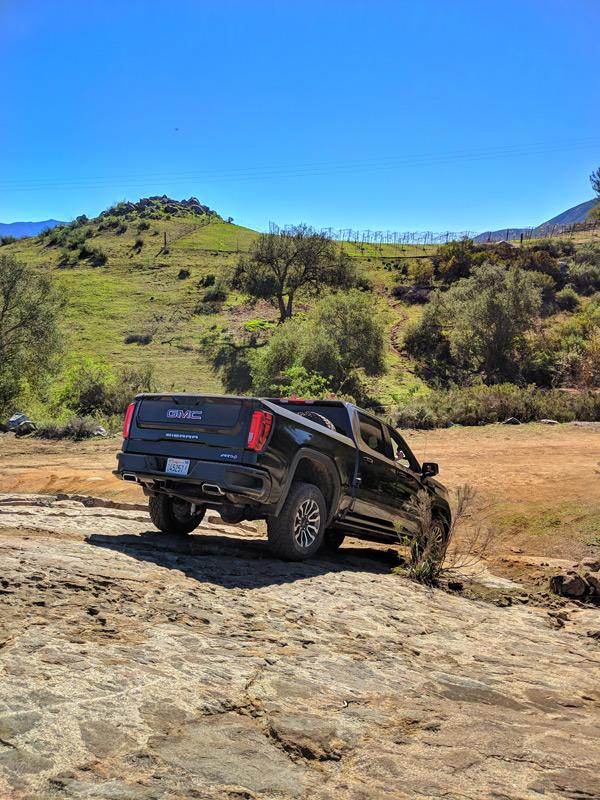 Overall, we were very impressed by the 2019 Sierra At4. It's a great truck that offers comfort, style, and confidence when going off road. However, we wish the interior was more modern, specifically with a larger infotainment display to match the otherwise great technology in the truck. Despite that, the Sierra AT4 one that we'd be very happy to have in our garage.
The 2019 GMC Sierra AT4 starts $50,800 and the version we drove was priced at