I'm going through the process of moving to a state with one of the highest per-capita boating populations in the country as well as thousands of miles of coastline along the great lakes and abundant amounts of smaller lakes that are fabulous for boating as well. Simply put, in addition to getting a truck ... I'm saving up for a new boat too. Unfortunately, that's not as easy of a decision as you might think. For instance, in St Joseph where our new condo is - I can get a used pontoon boat and cruise the river and possibly the lake on a calm day but to go out and have fun fishing on Lake Michigan, I'd need a completely different type of vessel.
Fortunately, thanks to the internet, there are plenty of resources to learn about different types of boats and talk with enthusiasts and current boat owners to get their advice too. Plus, because of this open market, boats are more affordable and attainable than ever before. To ensure you get the boat of your dreams at a reasonable price, this boat-buying guide should help.
For the purposes of this guide on how to buy the right boat, we're going to specifically focus on power boats since sailboats and manually propelled watercraft such as kayaks and canoes are completely different categories with their own unique requirements.
Are You Ready To Become A Boat Owner?
Being a boat owner is a big responsibility and that's certainly true if you live in an area where boating isn't a year-round activity. For instance, in Michigan boating is huge during the summer but that season only lasts from April to September at most and then for the rest of the year you need to take the boat out of the water and store it somewhere safe. This means even when you aren't able to enjoy your boat ... you are still paying for the privilage of boat ownership.
What Boat Owners Should Consider Before Buying A Boat
Buying a boat is a significant investment and there are several factors a prospective boat owner should consider before making a purchase.
Type of Boat:
There are many types of boats, including fishing boats, sailboats, speed boats, yachts, pontoon boats, cabin cruisers, etc. The choice of the perfect boat depends on what you plan to use it for. Do you want it for fishing, water sports, cruising, sailing, or long-distance traveling? Understanding your needs and desires will help you narrow down your choices.
New or Used:
Buying a new boat comes with warranties and the assurance that everything is in top shape, but it can be quite expensive. Used boats are less costly but might require more maintenance, and there's the risk of hidden problems. It's crucial to thoroughly inspect any used boat before purchase.
Size of the Boat:
The size of the boat should match its intended use and the number of people who will frequently use it. Larger boats offer more amenities and space but are harder to maneuver and maintain. Smaller boats may be easier to handle and cheaper to run and maintain.
Cost and Budget:
The initial cost of the boat is just the beginning. Consider the cost of boat insurance, mooring or other boat storage, fees, maintenance, fuel, and equipment. Remember that certain types of boats, like sailboats and yachts, can have significant operating costs.
Maintenance and Upkeep:
Boats require regular maintenance to stay in good shape. This includes engine maintenance, hull cleaning, and protection against corrosion for metal parts. If you're not willing or able to invest time and money into maintenance, a boat might not be the right choice for you.
Storage:
Consider where you will store your boat when it's not in use. If you live near the water, you might moor it at a dock. If you live further inland, you'll need to consider trailer storage and potentially a vehicle capable of your size boat and towing it.
Insurance:
Boat insurance is essential to protect your investment. The cost of insurance will depend on the boat's value, size, type, and how you intend to use it.
Training and Licensing:
Depending on where you live, you may need a license or take a boating safety course to operate a boat. Even if it's not required, such training can be invaluable for safety on the water.
Accessories and Equipment:
Boats require safety and navigation equipment like life jackets, fire extinguishers, radios, GPS, etc. Additionally there are many different boat accessories that you will want to add to your vessel both of safety and comfort. Consider these costs as well.
Resale Value:
Like cars, boats depreciate over time, but some brands and types of boats hold their value better than others. If you plan to sell your boat eventually, you might want to consider its potential resale value before buying a used boat.
By carefully considering all these factors, you can make an informed decision and find a boat that's right for you.
What Type of Boat Is Right For You?
Boats come in all shapes and sizes, different types of boats are used for different activities. Depending on what your interest are, this will vary what kind of boat you should purchase. Therefore, before you start investigating makes, models, and prices, you should know what type of boat is right for you. Here are a few of the most common types and how boats are best put to use:
Runabout. Considered entry-level vessels, these boats lack any cabin space, but they are fun for casual days on the water.
Bass. Another type for fishing, bass boats are slim, ideal for shallow freshwater regions.
Bowrider. Built to allow for maximum seating, these are boats for entertainment. Usually, they can pick up enough speed to pull wakeboards, but they might also have swimming platforms for stationary water fun.
Pontoon & TriToons. These were once simply referred to as deck boats since they consisted of a wide open deck placed on top of two or three hollow aluminum pontoons. While mostly used on calm lakes and rivers, newer tritoon boats are designed for moderate chop and can operate safely close to shore in ocean and Great Lakes marine environments.
Cuddy cabins. Acceptable for fishing, water sports, yachting, and sailing, these small boats offer a little of everything.
Center-console. These boats are configured to help sport fishers in offshore waterways.
Houseboat. These boats can range widely in the amount of amenities and luxury they offer, but all provide sufficient overnight accommodations for travel or holiday living.
Cabin cruiser. More compact than houseboats and more ideal for saltwater, these boats are often used for long-term, long-distance travel.
Motor yacht. Large and powerful, these boats are exhilarating to ride while offering luxurious and spacious quarters. However, they also tend to be expensive.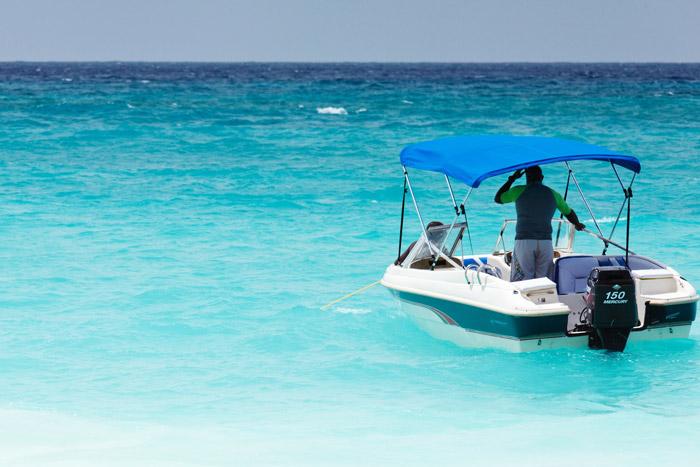 New Or Used Boat
While presenting a brand-new boat to your man might seem more romantic, the truth is new boats aren't great investments. Like cars, boats depreciate quickly, so paying top dollar to pull your vessel off the lot is a major waste. Meanwhile, the used boat market is booming, and you can find like-new vessels in a variety of locations. Because modern boats are made from materials like fiberglass and aluminum, most used boats you buy will last just as long as a new one would — provided you maintains it properly. Plus, if you style your purchase with a good wash and a big bow, your man will hardly be able to tell the difference between used and new.
Is Boat Ownership The Right Option For Your Lifestyle?
Making the decision to purchase a boat can significantly impact one's lifestyle and should therefore be carefully considered. Initially, you need to determine your core motivation for owning a boat. This includes thinking about the activities you enjoys - are you an avid fisherman, do you love water sports, or envision leisurely days cruising on the water? The type of boating activities you are passionate about will determine the kind of boat that should be considered.
Next, you should assess whether boat size and your lifestyle realistically. A boat requires time - time to enjoy it and time for upkeep. Does your current schedule allow for regular outings to justify the cost of a boat? Do you have the time and the willingness to deal with the maintenance that comes with boat ownership, or does your budget allow for professional upkeep? The answers to these questions will reveal whether a boat will be a well-utilized asset or a source of stress.
Your location also plays a key role. If you live near a body of water, it's easier to justify the purchase. If you live far from water, you'll need to consider the logistics of transporting the boat and whether you're willing to travel to use it. Moreover, you must think about where the boat will be stored when not in use, whether it's mooring at a local marina or storing it at home.
Financial considerations are another crucial aspect of boat shopping. Apart from the initial purchase cost, owning a boat comes with ongoing expenses such as insurance, maintenance, storage or docking fees, fuel, and equipment costs. You should consider whether your budget can comfortably accommodate these expenses.
Lastly, safety and training are essential. You will need to be prepared to invest in proper safety equipment and training courses to ensure the safe handling of the boat.
Boat Buying Options
Now That you are ready to buy that fabulous boat of your dreams, it is time to start shopping. Most boating communities have marinas with listings of new and used boats for sale and there will be boat brokers in those communities as well as dealers where you can browse inventory just like at a car lot - though they can also order a boat from the manufacturer as well since generally the lot sizes are small compared to your local Chevy dealer for instance. Additionally, fishing and outdoor stores like Bass Pro Shops will also have smaller boats, specially those designed for bass fishing for example.
Those are all great resources if you are trying to familiarize yourself with the market and get a better understanding for what type of boat is right for you.
However, if you are willing to spend less and devote more time to finding the perfect craft, the web offers dozens of listing sites for you to peruse. Here are a few worthwhile places to start:
EBay. The long-lived auction site is actually one of the best resources for boat buyers. The eBay boats section is filled with vessels of all types, ages, and prices, so you can find one that suits your needs.
Boat websites. Boats.com, YachtWorld, Boat Trader, and other boat enthusiast websites boast listings. Plus, because they are boat-specific, these sites make it easier to customize your search with length, model and your exact interests, such as motor boats, used fishing boats, pontoon boats etc.
Craigslist. Though you should always be wary of expensive items for sale on Craigslist, you might be able to find a deal on a used boat in your area through this site.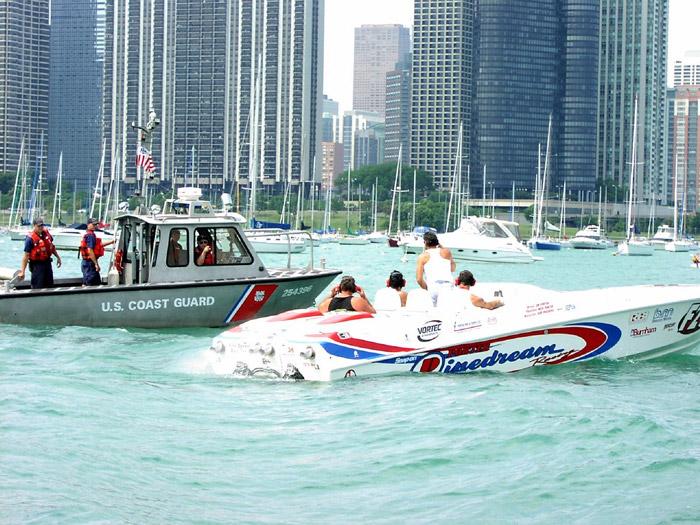 Understanding The Boat Buying Process
Buying a boat and buying a car have similarities, but there are also significant differences due to the nature of the vehicles and how they're used.
Just like with cars, when purchasing a boat you start by researching what type of vehicle you need based on your intended use and budget. If you're looking at new boats, you'll probably visit boat dealerships, similar to car dealerships. If you're interested in used boats, you might look at listings from private sellers, online marketplaces, or used boat dealers, similar to used car buying.
Here's where the processes start to diverge:
Testing: sea trial - Test drives are common for both cars and boats. However, for boats, these are often called sea trials (though that term is mostly used for larger boats), and they are more involved because a boat operates in a more complex environment - the water. Sea trials allow the buyer to see how the boat handles in different conditions and to ensure the boat's systems are working properly.
Inspection: Just as with used cars, it's crucial to get a used boat inspected before purchase. However, boat inspections are often more complex and are done by a marine surveyor. They will check the boat's structure, systems, and equipment for any damage or issues that could become costly repairs in the future. They will also inspect any safety and navigation requirements such as ensuring that lights are operating as expected.
Financing and Insurance: Boat loans and insurance policies can be different from car loans and insurance. They may have different terms, requirements, and rates, largely due to the fact that boating carries different risks and maintenance requirements compared to driving.
Registration and Titling: Similar to a car, a boat needs to be registered, and proof of ownership needs to be established, which varies by state and country. But unlike cars, boats may also need to be documented with the federal government, particularly if they are larger vessels or if they will be used for certain purposes, like commercial fishing.
Maintenance and Storage: While cars require maintenance and a place to park, boat maintenance can be more complex and costly. In addition, unless the owner lives on the waterfront, boats often need to be transported to the water and then stored when not in use, which can involve significant costs and logistics.
In conclusion, while there are similarities in the buying process of a car and a boat, the complexities of owning and operating a boat introduce additional steps and considerations that a potential buyer pre owned boat should be prepared for.
Inspection Tips
Because boats are big and expensive, sellers stand to gain much by leaving out information or exaggerating certain benefits. While you are shopping online, you should be wary of red flags that might mean the boat is wrong for you. For example, you should consult manufacturers' images of makes and models while viewing boat listings to discern whether used boats are missing any important features. You should also compare highlights between boat listings to identify boats that offer less than average. Finally, you should survey a dealer's other offerings, if they have any, to determine if the boat dealer itself is respectable.
When you have narrowed your options down to a few, you should try to see the boats in person. This might require visiting a new boat lot or a boat show and walking around new models, or you might be able to schedule a visit with the purchasable vessel. In either case, you should run through an inspection checklist to ensure you are getting what you need from the actual boat itself — and to certain your man won't receive an inferior gift.
So, Is Boat Ownership Right For You Or Are Other Options Better?
Boat ownership is not the only way to enjoy time on the water, and there are several alternatives that can offer the benefits of boating without the responsibilities and expenses of ownership.
One option is joining a boat club, such as Freedom Boat Club. These clubs operate much like a gym membership - members pay monthly or annual fees for access to a fleet of boats. This means you can enjoy a day on the water whenever you like without worrying about maintenance, storage, or insurance. The club takes care of all that. Plus, many boat clubs offer a range of boat types, so you can choose the particular boat that that suits your activity for the day, be it fishing, water sports, or cruising.
Yacht club memberships are another option. These clubs often provide access to a selection of boats, and they also offer a social component, hosting races, regattas, and social events for members. Yacht clubs can offer a sense of community among fellow boaters, and some even offer reciprocal privileges with other yacht clubs around the world.
Boat rentals are another viable choice for those who only plan on boating occasionally. With this option, you can rent different types of boats by the hour or day from a marina or boat rental agency. It's a good way to experience boating without the long-term commitment, and you can try out different types of boats to see which you prefer.
Lastly, having a friend or making a new friend who owns a boat is another option. You could offer to share some of the expenses or help with maintenance in exchange for time on the boat. This can be a win-win situation, giving you access to a boat and helping the owner with costs and upkeep their own boat.
Each of these options has its own advantages and potential downsides, and the right choice depends on the person's budget, how often they plan to boat, and their willingness to deal with the responsibilities of boat ownership. By considering all these alternatives, anyone looking to spend time boating can find an option that suits their lifestyle and budget.