While the weather might be getting colder and those of you in northern climates are probably looking at a snow-covered backyard instead of one with crisp green grass, that doesn't mean the time is over for outdoor entertaining. In fact, with these Bluetooth outdoor speakers from iLive it is pretty much ready to go whenever you are because they are both waterproof and solar powered.
Even if you are done with outdoor entertaining for the season, don't worry - these work great when used indoors as well. Just place it near a window and you'll be able to keep them charged or potentially consider placing them in your car where they can get direct sunlight on the charging panels and this is a great accessory for bringing to your next tailgate.
This package comes with two speakers as well as a removable stake so you can either place them upright on a table, shelf, or wall as well as planting them in the ground. Since you have two speakers this allows you to spread the music out without jacking up the sound levels to the point where they would be uncomfortable sitting near the speaker. However, you should know that this does not function as a repeater so the farthest speaker will still need to be within the 33-foot range of your phone or other Bluetooth audio device.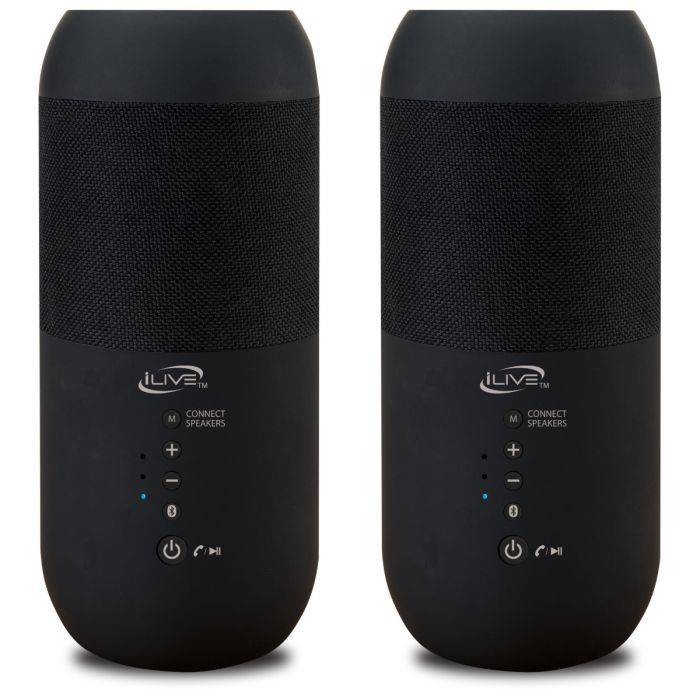 Official specifications cite that it offers 20 hours of battery life at 50% volume but as with all Bluetooth speakers like this, your mileage may vary and if you have them pumped up rocking out to some classic rock hits then you will get FAR LESS life and unfortunately the solar panel isn't robust enough to charge it faster that it is depleted by playing music.
One of the nice features here is that with Party Plus Mode you only have to pair your phone to a single speaker but the audio will play on both. This is especially good if you perhaps are on the patio grilling but want to be able to listen to the music inside as well.
At $69.99 these iLive Solar Powered Outdoor Speakers make for a great stocking stuffer gift as well.