At first glance, the 2017 Jeep Grand Cherokee Trailhawk doesn't look much different than it's brothers in the lineup, but once you begin to look deeper it becomes more intriguing. There are bold red tow hooks popping out on the front, a black stripe covering the hood, better off road tires, and it rides a bit higher. Inside though are all the things I liked about the Grand Cherokee that we reviewed previously. What Jeep has done is created the Grand Cherokee that it should have made before ... and I loved driving it for the week that they let me borrow it. For this trip, we set out to the Miramonte Resort in Indian Wells - part of greater Palm Springs for an epic adventure on and off the road.
Palm Springs is an interesting destination that is defined by it's unique mixture of mid-century luxury and modern golf resorts but it's surrounded by miles and miles of desert terrain that is perfect for exploring. Quite literally it is an oasis in the middle of the desert.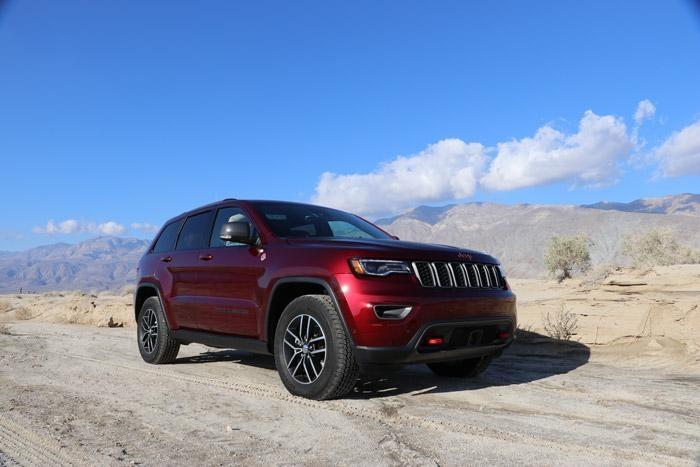 After doing a series of Jeep reviews last fall, I had the feeling that "one of these things does not belong". Sure, it still had those bold features that Jeep is known for but it felt like something designed more for driving around the suburbs where you might occasionally need something capable to get the kids to school in the snow and ice, rather than a Jeep ready to cruise through the snow or climb a mountain. Just by looking at the Grand Cherokee Trailhawk though, I knew this was going to be a fun car to play with.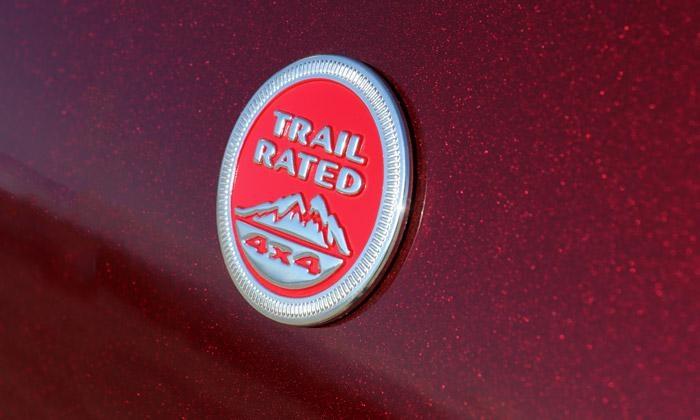 That's where the "Trail Rated" Trailhawk comes in. Simply put, the core vehicle has been tweaked to be suitable for off-road duty by adding better tires, raising it up, adding tow hooks, adapting the Quadra-Lift air suspension for off road and adding the Quadra-Drive II 4WD system. It also makes the car look more bad ass by adding "Trailhawk" and "Trail Rated" badges to the body as well as embroidering it on the seats to create the look an feel of something special.
Specifically this also includes offering up to 10.8 inches of ground clearance and 29.8 degrees of approach angle or 36.1 when the lower fascia is removed - allowing for even more aggressive off-road action. It also includes Goodyear Adventure off-road tires reinforced with Kevlar, and the anti-glare black hood striping.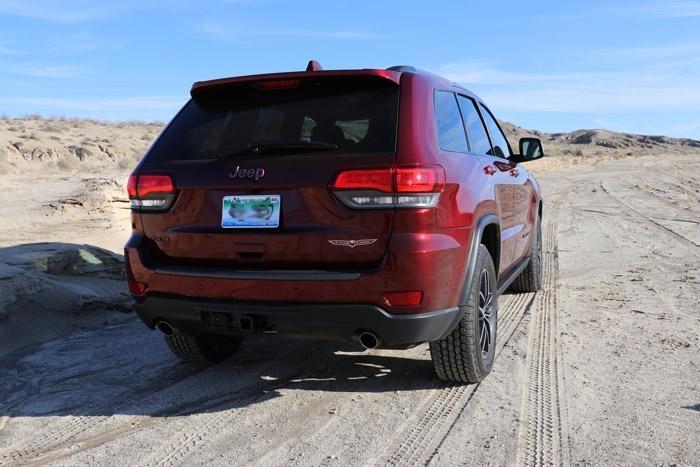 On our drive through the desert, we stopped at a couple different points to play in the sand and we had a blast. It's a unique experience migrating from high speed pavement with the Grand Cherokee Trailhawk lowered for efficiency and then switching to 4x4 mode and having the car raise up. As we did, the 8.4" Uconnect screen also kicked into off-road mode displaying the suspension height and 4x4 Selec-Terrain mode being engaged.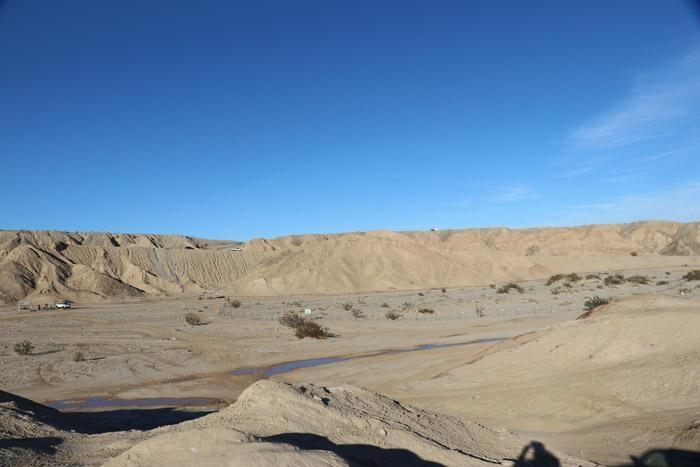 A bit farther down the Borego Salton Seaway, almost to Salton City, we stopped at Truckhaven. This is an off-road park set up to test your skills on a variety of terrain and the nice part is that it was located right off the highway. While there weren't many people there this day, the nice thing about parks like this is that it's the perfect spot to learn by trying as well as watching other people and how they cut a line. Unlike the flat, sandy washes we were just at, we had a chance to climb some hills with the Grand Cherokee Trailhawk here. Even better was that we found some puddles to splash in!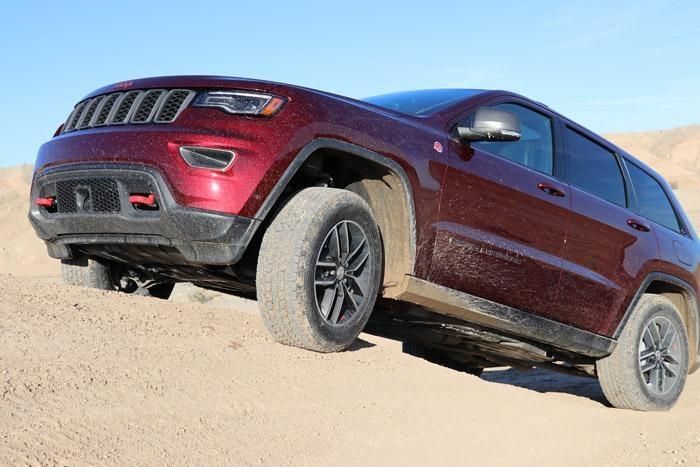 The Grand Cherokee Trailhawk is way more capable than what we tested it on, but the key here is that I wouldn't have even dared to climb hills or go on terrain that wasn't generally smooth in the other Overland trim we tested previously. Would it have performed just fine - yeah probably, but the Trailhawk is designed for this and more. Starting at $43,05, this is a fantastic choice for anyone who doesn't want to buy two cars but needs something super comfortable and luxurious for five days a week where they dream of getting it dirty on the weekends.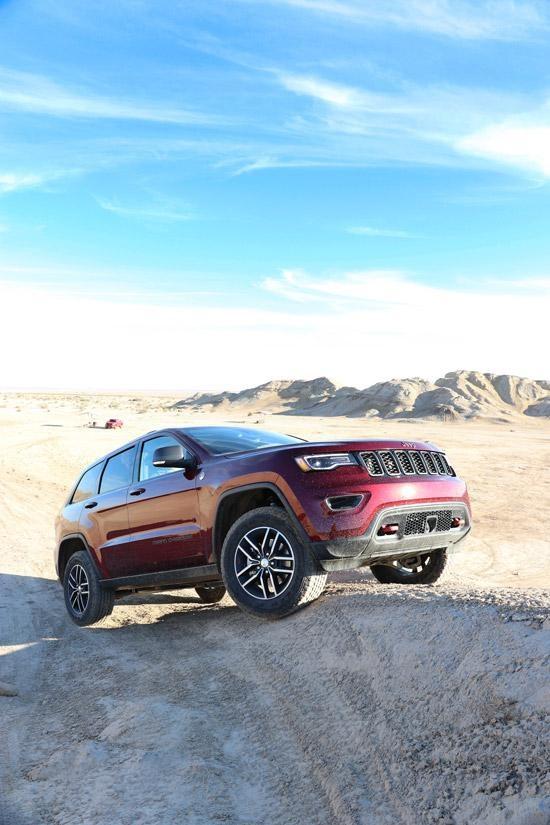 With other vehicles in the Jeep lineup, things tend to be a compromise and frankly, we're OK with that ... we just love awesome stuff to play with! For instance, while the Wrangler is obviously an off-road beast. However, even the top trims really aren't that comfortable compared to other vehicles but that's ok and it's not meant to be a luxury vehicle, it's meant to be a Wrangler. The Cherokee and the Renegade are both too compact for many people and certainly not something you are going to pack full of guys with golf clubs, skis and other equipment though they are great for a weekend getaway with your wife. Even other manufacturers that offer mid-sized SUVs with AWD or 4x4 capabilities have tuned those more for snow and ice rather than actually going off-road for fun. So, it was extremely fun and exciting to spend a little bit of time with the Grand Cherokee Trailhawk since it does both very well.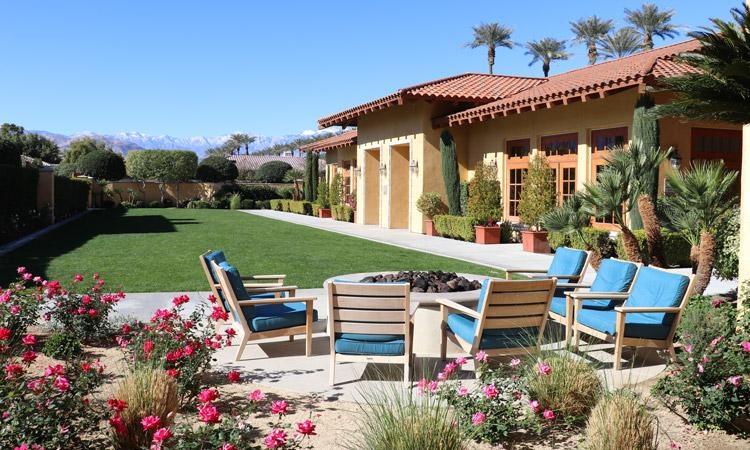 I can't wait to spend more time with the 2017 Jeep Grand Cherokee Trailhawk. It is the perfect blend off off road prowess with a luxury ride to and from Miramonte resort and didn't look out of place sitting next to Mercedes and BMW SUVs, except one difference. After a few hours at Truckhaven, mine was covered with dried mud splatters, while they probably don't want to get theirs dirty.
This Jeep didn't mind though and that's what I love about it!