When people ask me why I like minivans so much for road trips the answer is easy - they are practical, drive nicely, and park easily. I'm not always looking for the most stylish and technology filled solution when my objective is getting from here to there with a bunch of bags and people. On a recent road trip through the Eastern part of Florida's Everglades with the all-new 2022 Kia Carnival I was extraordinarily impressed since not only did it have everything I expected from a minivan ... it also looked great and had plenty of creature comforts too.
The big weakness for minivans in the past few decades has been that moms didn't want them and dads didn't care since they had a car for commuting to work that was "theirs". Minivans signaled a slump into practical family life and that the fun people mom and dad used to be was put on pause for the next few decades. In their place, the market responded with 3-row SUVs and crossovers designed to evoke a sense of cool and rugged capability.
Even Kia continues to pretend this isn't a minivan by referring to it as an "MPV" the same way they did with the Sedona that Carnival replaces.
Unfortunately, those vehicles were never as practical as the minivans they replaced.
Thankfully that seems to be changing and in fact, the Kia Carnival is a welcome addition that hopefully will encourage other manufacturers to reconsider as well.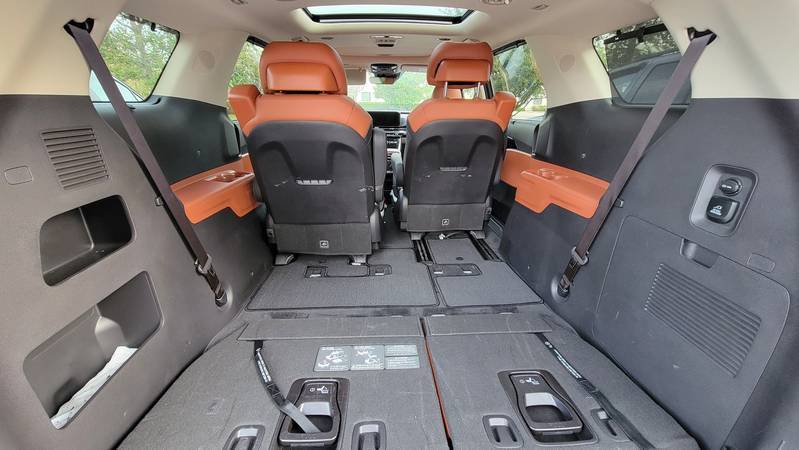 We took the Carnival on a drive through Everglades National Park in South Florida last fall between two different cruises out of Miami. Even though it was just two of us, our requirement was that we needed space for a lot of bags and it had to get good gas mileage. Heather and I were traveling for 5 weeks in the state and that mean a ton of luggage.
It also was nice to spread out and relax ourselves.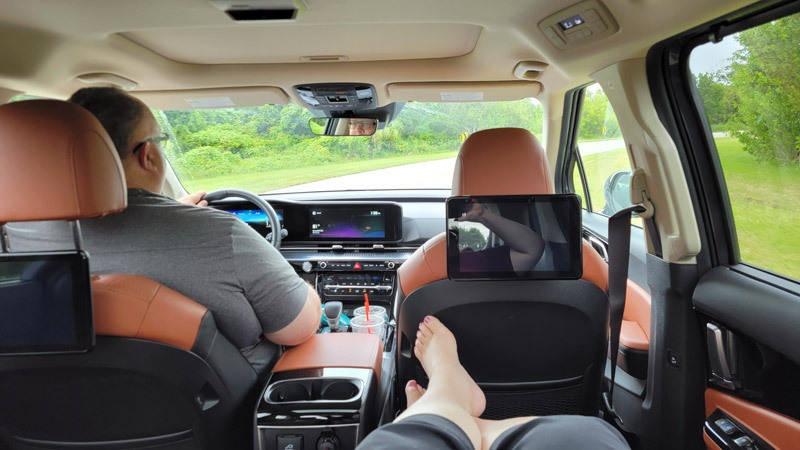 In fact, Carnival offers Best-in-class 168.2 cubic feet of passenger room and Best-in-class 145.1 cubic feet of cargo room (behind first row) in LX, EX, SX trims. The middle seats even slide sideways to allow for multiple configurations with seating for up to eight passengers.
In our case, it also allowed Heather to kick back and relax in comfort and style, almost flat and with comforts such as heated and ventilated second-row VIP Lounge Seating with power controls, wing-out headrests and leg extensions.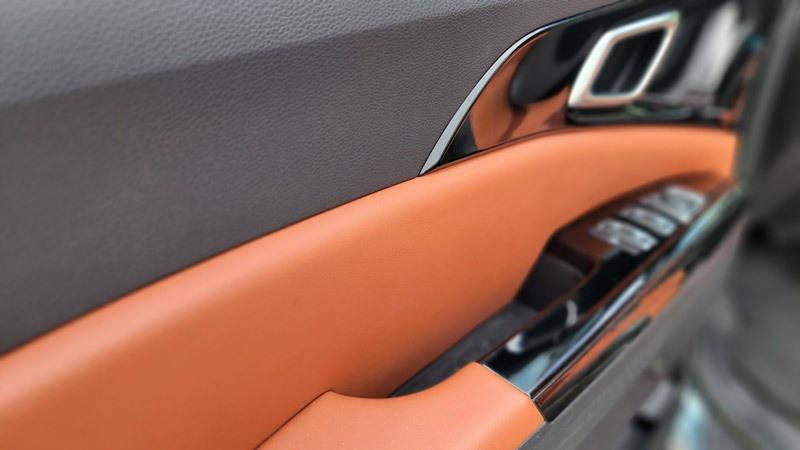 Interior styling is remarkable because it is both bold with colors and layout that gives it a luxurious feel with a touch of sport. It's hard to place it in either bucket but along with the exterior styling, Carnival comes off extremely confident and something that is a pleasure to drive.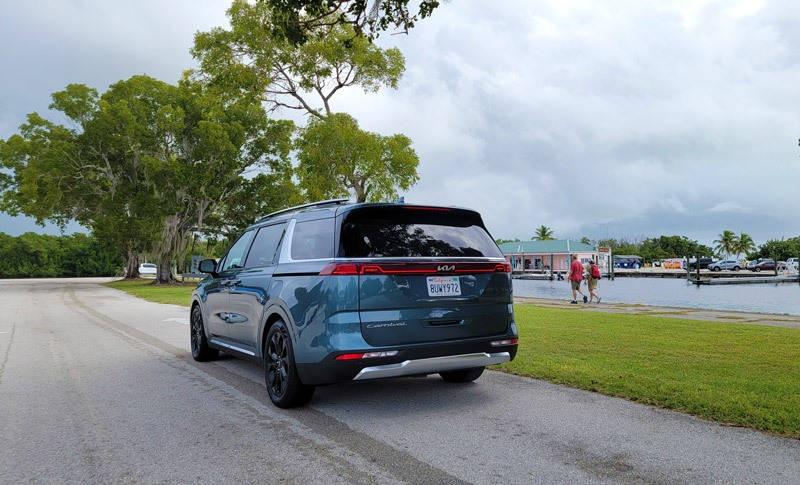 Frankly the Carnival brings the absolute best of both SUVs/Crossovers and Minivans to the market and that's a welcome addition to the market.
Styling isn't the only trick it offers though, Carnival is PACKED with technology to make this the ultimate family vehicle.
For instance, the Rear Occupant Alert (ROA) uses ultrasonic sensors engineered to detect child or pet movement in the second and third rows after the doors have been locked. It then can notify the driver and surrounding area by sounding the horn, illuminating the hazard lamps. Vehicles equipped with UVO link (EX and above) will also receive notifications on their mobile phone through the UVO link app
The Safe Exit Assist (SEA) system Audibly alerts the driver or passengers opening their door not to exit the vehicle when the system detects approaching traffic. The system can intervene to lock the rear doors when the vehicle is equipped with available Power Child Lock
There's even a Rear Passenger View Camera with zoom and night vision to keep an eye on children in the back seat, even after dark (standard on EX, SX, SX-Prestige) as well as a Passenger Talk cabin intercom system for clear communication between passengers up front and in the rear (standard on EX, SX, SX-Prestige).
Passenger Voice Recognition even allows second row occupants to control numerous in-vehicle functions through voice commands by pushing a button mounted on the ceiling (standard on EX SX, SX-Prestige)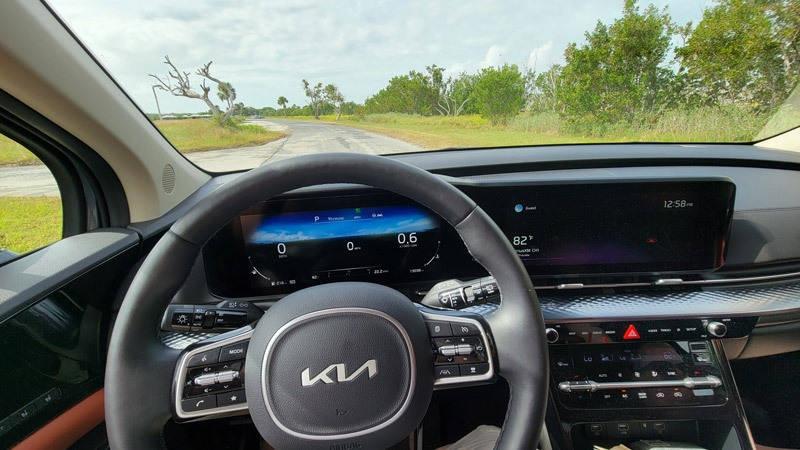 Upfront, you have all of the safety tech that you'd expect from Kia, including 12 standard Advanced Driver Assistance System (ADAS) features - the most comprehensive standard ADAS suite in segment – and available segment exclusive Blind-Spot View Monitor.
The only bad thing we noticed was all the glossy black surfaces attracted a ton of dust and fingerprints. However, the selection of materials throughout the cabin ultimately draws your eye away nicely.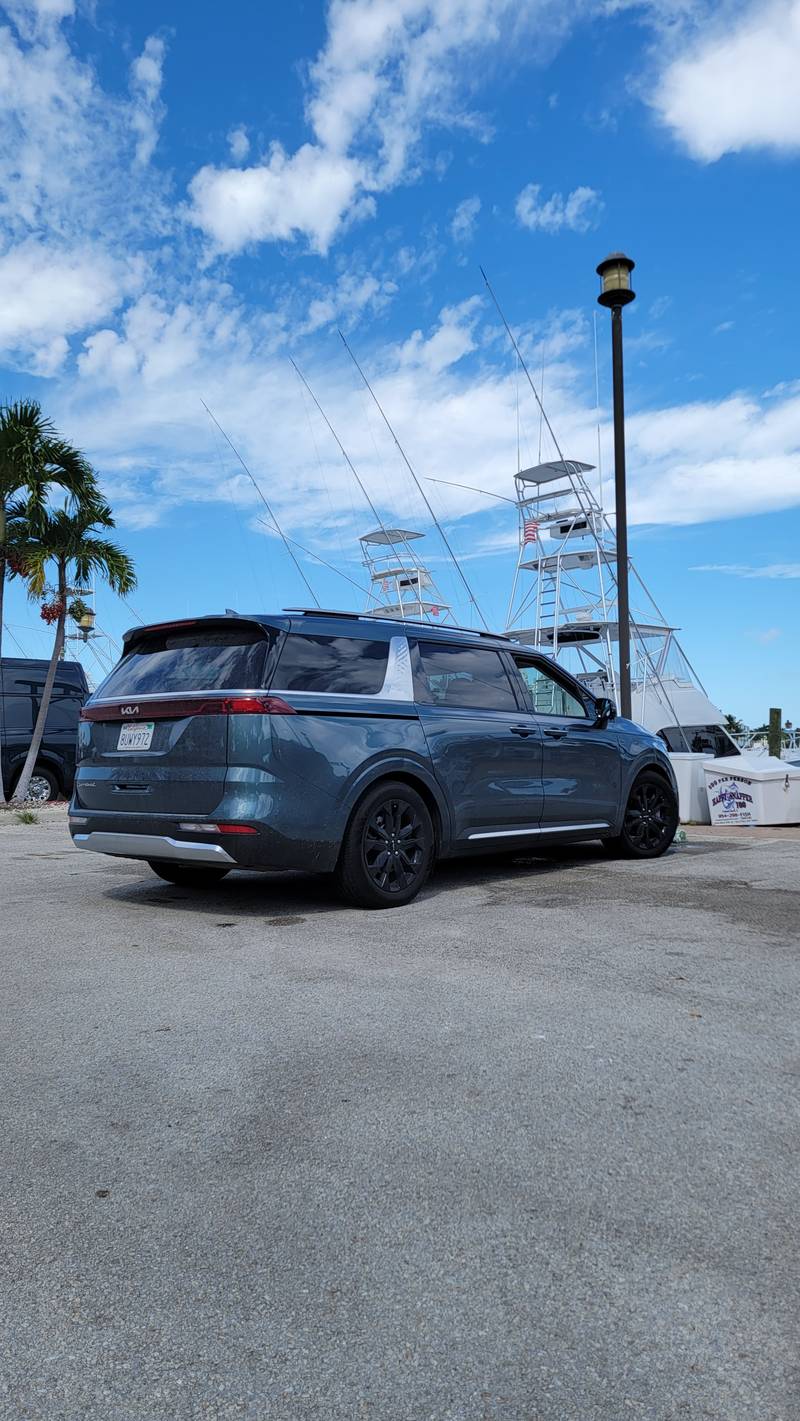 Carnival offers best-in-class horsepower as well. It's 3.5L V6 provides 290 hp and 262 lb-ft of torque and 3,500 lbs. of towing capacity. Gas mileage is rated as 19 / 26.
While we think this might be the best minivan out there in terms of style and handling, it is conspicuously missing two essential features that might make it a deal killer depending on where you live.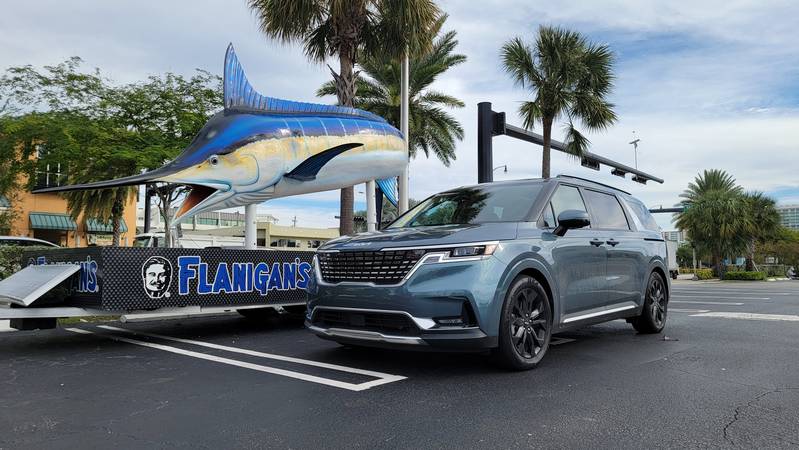 The first is that despite Kia pushing hybrid and EV technology as hard as it has recently, Carnival only offers a V6 as standard with no current electrification options as are found in Chrysler's Pacifica and the Toyota Sienna.
Second, it is FWD only. While this isn't uncommon for other minivans, especially historically, if you are ultimately competing with 3-row SUVs then this is something I think a lot of folks in colder climates will have to think about before making a purchase.
That being said, we are VERY impressed with this vehicle and no matter if it is called a MPV or a minivan, those of you looking for a family hauler should add it to your list and take it for a spin!
Prices start at $32,300 and tops out just over $50,000 for the SX Prestige package.