Right now is a great time to upgrade your entertainment center. With the holidays coming up, football games, hockey, basketball and of course all those awesome new video games coming out. Your living room is going to be getting a workout and so it your TV. For me, over the past few years I've had the same entertainment center that I did when I had a 24" then a 27" and now a 42" TV so I was totally due for an upgrade. Plus this new entertainment center has tons more space for stuff like DVDs, books, and even shelf speakers so that's a big plus too.
Assembly of the Mainstays Cube Entertainment Center was pretty straight forward. The unit ships as three individual flat pack boxes and the instructions are very easy to follow. It uses a standard combination of wooden pegs, metal posts, and bolts to hold everything together. The wood itself is pretty sturdy as well and includes 94% particle board, 4% iron (floor brackets), and 2% MDF.
The TV stand includes eight cubes - four with open back for wires and four with closed backs and can support 100 pounds on the top shelf.
The curio cabinets that flank the TV stand include five closed back cubs that can each hold up to 11 pounds.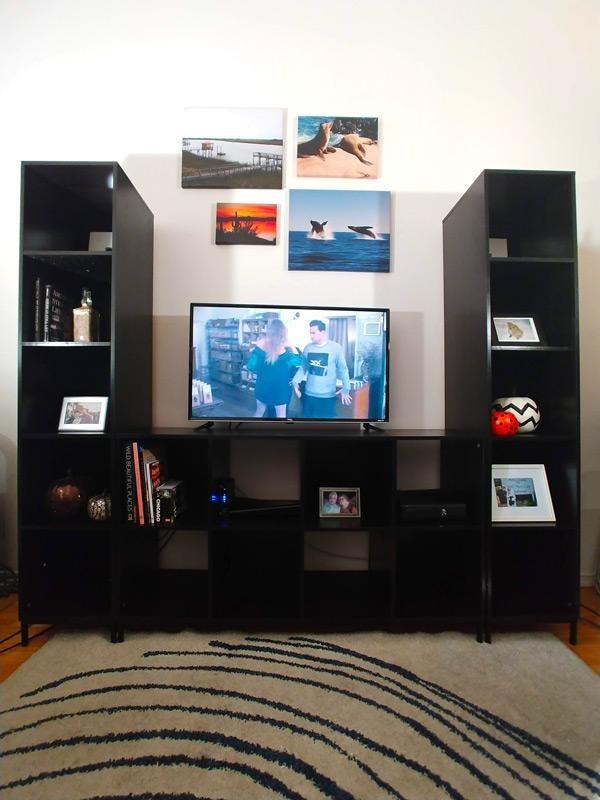 It's hard to tell from the photos but one of the things that I liked about this unit is that despite the price it has a more premium feel than I was expecting. For instance, while some units might leave the bolts exposed, Mainstays included little stickers to cover the metal bolts giving the unit a more seamless look. Similarly, instead of doing a simple black look it has a textured wood "Espresso" look to it it that helps make it softer than the bookcase I have in my living room that is just plain black.
The unit is designed to work with baskets, but you can also just place books, DVDs, photos or other items in the cubes. Walmart does sell baskets for the unit as well if you are interested.
Pricing at the time is $139.00 and includes free shipping or free in-store pickup. Personally, I'd plan to just order it for delivery since the unit is three heavy boxes and why stress your back with transporting it when someone else can do that part!