It's Mardi Gras season again and that means it's time to get your party going. While this gear guide is designed for guys headed to New Orleans (or one of the other awesome cities that have Mardi Gras Celebrations!), you can use this guide to help create the ultimate Mardi Gras experience in your own home.
The people in New Orleans know how to party and that's why I love to visit that amazing city as often as I can. Even outside of Mardi Gras season, it's a great place to visit and the party almost never stops. While I've covered advice for visiting Mardi Gras previously, here's our suggestions of gear to get into the carnival spirit as well as bring the excitement to your very own home.

Mardi Gras Decorations For the Ultimate Party
While watching Mardi Gras parades from the street is a thrill, having a balcony overlooking St Charles Ave or Bourbon Street is the ultimate experience. The following are some of my favorite Mardi Gras decorations so you can have the ultimate party.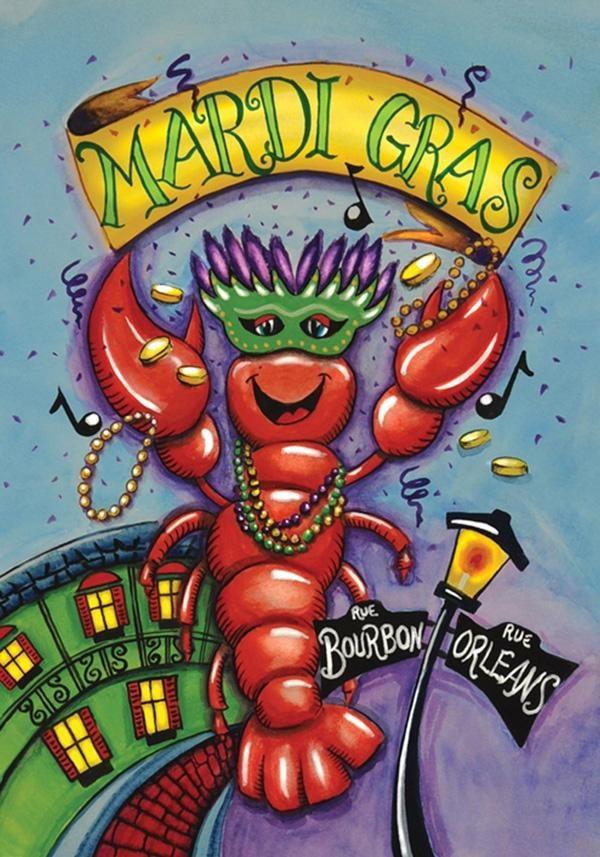 Mardi Gras Decorations for Decorating a Home Party
Mam Papaul's King Cake Mix - make your own King Cake, this box comes complete with praline filling, mardi gras beads and "the baby".
Mardi Gras Fringe Curtains - perfect for separating your kitchen from the rest of the party, without needing a door.
Fleur de Lis Disposable Plates and Napkins - get into the party spirit without having to worry about washing dishes.
Mardi Gras Tablecloth - cover your table in an easy to wipe and easier to throw away disposable tablecloth.
New Orleans Mardi Gras Party Garden Flag - this crawfish welcomes in the Mardi Gras spirit to your home!
Mardi Gras Disposable Cups (16oz) - why settle for plain old red or blue cups when you can get these that keep you in the Mardi Gras spirit.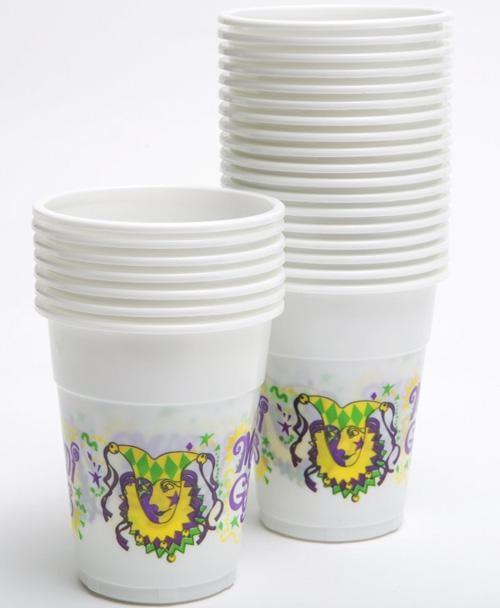 Mardi Gras Decorations for Decorating a Balcony Party
There are special things to take into consideration when decorating your Mardi Gras balcony. This includes wrapping the wrought iron railings as well as having decorations that are visible from the street. You will also want to make sure to have proper party supplies to keep your drinks cold!
Solar Powered Mardi Gras Multi-Colored LED Lights - these are perfect for wrapping around your balcony railings and posts since you can simply mount the solar panel and not have to worry about finding a power plug.
Fabric Bunting in Mardi Gras Colors - this bunting is perfect for attaching to the outside of your balcony to make sure you include the gold, green, and purple colors for the season.
Note: While open containers are generally allowed, you must keep coolers (and grills, ladders, etc.) at least six feet back from the parade route. However, for those of us on a balcony you can keep your drinks cold and close to you still!
Folding / Collapsible Tailgate Table and Cooler - This is the ultimate item for tailgating and it's perfect for Mardi Gras balcony parties too since it will travel easily and folds down just like a camp chair. It has a bowel for chips on top and a cooler for beers on the bottom as well as spots for four bottles on top as well.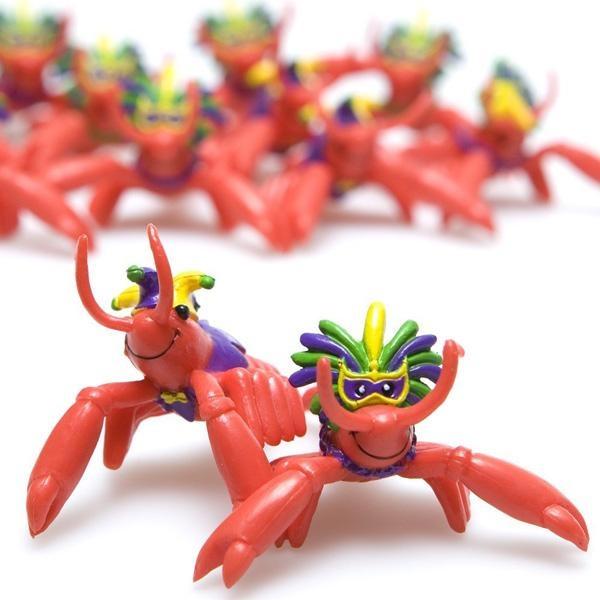 Mardi Gras Throws and Trinkets
While "throw beads" are by far the most popular Mard Gras throws, everyone loves something special. Here are some fun throws, toys, and trinkets to share with friends and guests to your Mardi Gras party.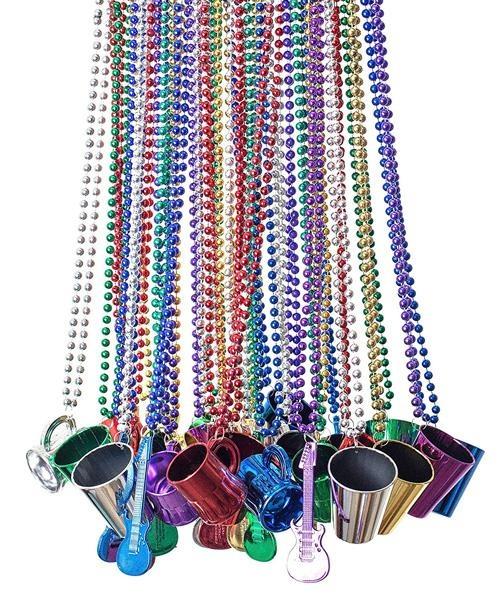 Novelty Mardi Gras Beads
One of the greatest parts of Mardi Gras is decorating with beads and sharing the wealth with others. While some beads are designed to be so cheap you don't think anything of tossing them from your balcony or sharing with a random person on the street, others are more special. Those special beads give party people an opportunity to express their individuality and can range from "safe" family friendly themes to ones that are for adults only.
100 count Assorted Mardi Gras Throw Beads - these beads are designed to be bright and colorful in gold, yellow, and purple but cheap enough that you can throw them to anyone you want and not worry about the cost.
36 count Pack of Beads With Charms including shot glasses, guitars, and mugs - these beads are a great middle ground between premium beads and the ultra cheap throw beads and they make perfect Mardi Gras party favors!
12 count of Purple and Gold Football Beads - love football? Here's the perfect beads to combine the two.
Lightup Flashing LED Old Fashioned Christmas Bulb Beads - designed to look like the old style big Christmas lights bulbs but in Mardi Gras colors.
NFL Football Mardi Gras Beads with Team Medalion - pick your favorite team and wear them proudly around your neck while you party.
Jumbo Mardi Gras Bead Necklace - got big balls?
Pirate Mermaid Mardi Gras Beads - watch out, this mermaid has a sword!
Crawfish Boil Mardi Gras Beads - we're makin' some gumbo tonight!
Green Fuzzy Dice Mardi Gras Bead Necklace - feeling lucky tonight?
Oktoberfest Pretzel Mardi Gras Beads - who says Germans can't enjoy Mardi Gras?
Jumbo Mardi Gras Disco Ball Beads - who says that disco is dead?
Mardi Gras Chicken Beads - who's chicken?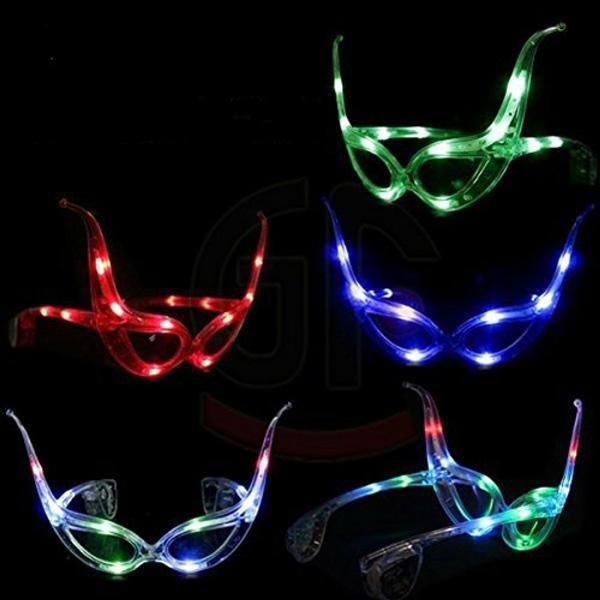 Mardi Gras Light Up Accessories
Most of the best Mardi Gras activities happen at night, so light up and blinking party accessories will make you stand out as the life of the party.
LED Flashing Mardi Gras Party Masks - these masks glow and flash with multiple colors of LEDs.
Light Up Party Dreads - green, yellow, and purple Mardi Gras colored dreads that light up and blink.
LED Mardi Gras King Crown Hat - it's good to be the king!
Fluer de Lis LED Charm Lights - celebrate the season with a blinking Fleur de Lis around your neck.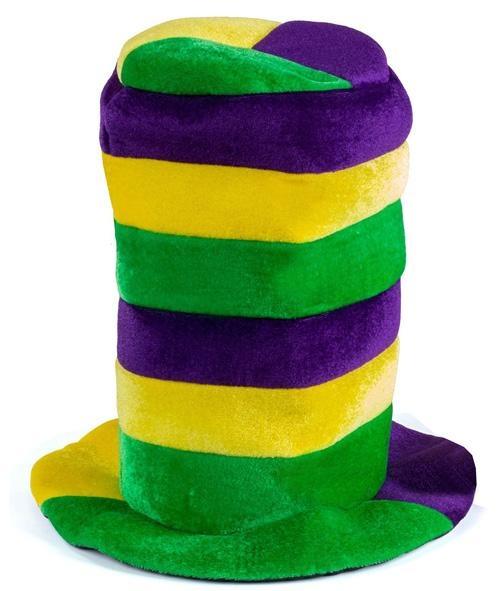 Mardi Gras Costume Pieces and Party Accessories
Feather Boa - beads aren't the only thing that you can wear around your neck!
Mardi Gras Stovepipe Top Hat - just what the Cat in the Hat would wear if he was celebrating Mardi Gras