If you are looking for the ultimate TV for cord-cutters then look no further, this TCL Roku TV is a fantastic product at a fabulous price. And so are it's bigger brothers and sisters if you need something larger than 40" with 4K support. For just under $300 though, you really can't go wrong with this TCL Roku TV (model 40FS3800). I'm an active user of both Chromecast and Amazon Fire TV, but frankly speaking Roku has them beat.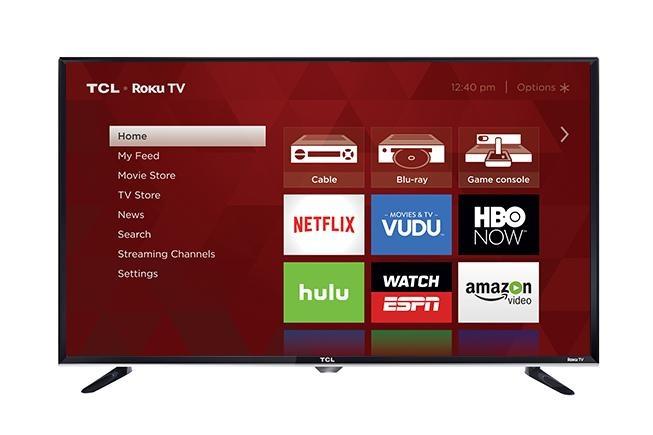 Setting up the TV was a very quick task with the hardest part being screwing on the legs. Once you power it on for the first time, there's a quick setup process where you create an account and begin pre-loading some apps and then you are ready to stream content from one of their many channels or from your own cable box. One of the first things that I noticed though was that even though my existing TV was also a 40" model - this one dwarfed it. Initially I thought maybe I got a 32" instead - but what it was is that this TCL Roku TV has incredibly tiny bezels which is really nice since the TV now fits into my living room much better.
I've been a long time fan of the Roku brand since I got my first Roku device to review as part of a gift guide about six years ago. Back then, it pretty much had two purposes - play movies off netflix and I could put my sd card in it and look at photos from my camera. It was an interesting device but wow have things changed.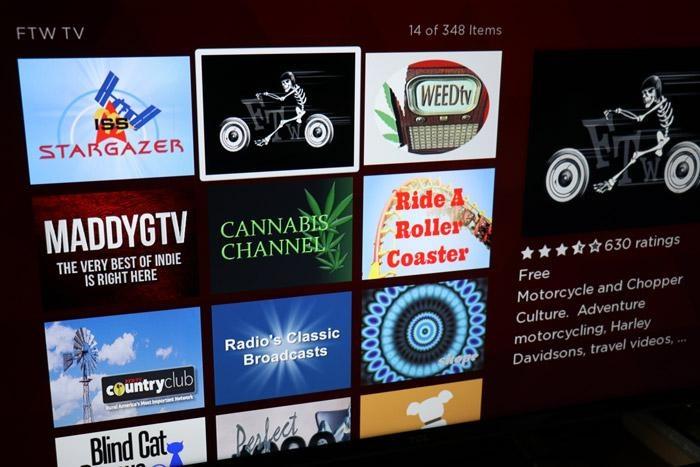 Today, the Roku company has a huge assortment of products from a $29.99 streaming stick all the way up to fully integrated TVs. What's really remarkable about Roku today though is that there is a huge amount of content available that is fairly unique to it vs Fire or Chromecast.
Roku is organized into "channels" (apps that you can install). These range from those you'd expect like Amazon Prime, Netflix, and VUDU as well as those for major networks such as CBS and HBO. However it's the unique stuff that intrigued me and ultimately would be one of the big reasons to buy a Roku TV. Currently, there are more than 3,000 of these channels and along side those mentioned above, you'll find WeedTV, FTW TV, a channel with nothing but music designed to relax your dog, and yes ... a channel entirely dedicated to episodes of Bob Ross The Joy of Painting!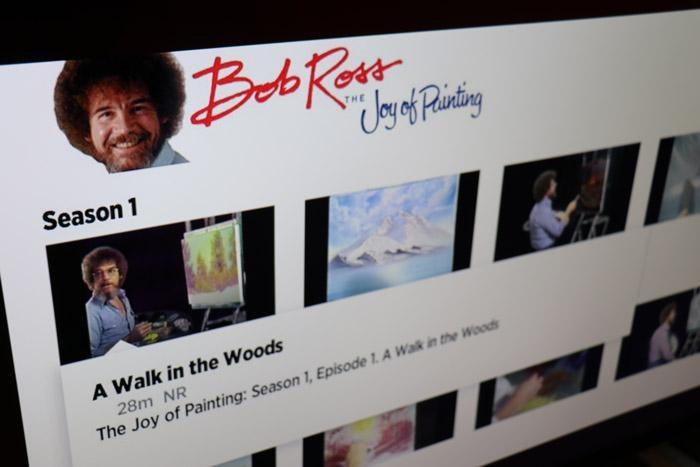 After watching a few episodes of Bob Ross though, I felt it was time to get some adrenaline going and Kurt Russell is one of my favorite action film stars. So, I went into the Roku dashboard and searched for him. It gave me the option to follow him and get alerts when movies come on featuring him. It asl gave me a list of his movies and where to watch them.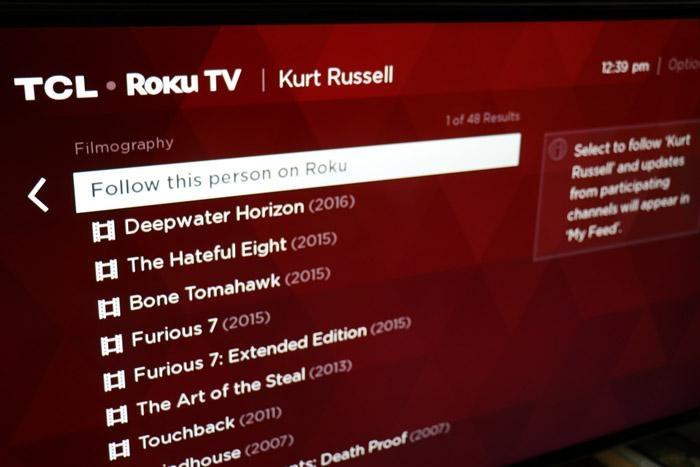 The great thing about this is that it happened all on the TV without having to swtich back and forth between apps and stuff. It also gave me the opportunity to decide what source I wanted to stream the movie from and what the associated prices would be. Unlike Chromecast and Fire TV, Roku TV seems to be fairly agnostic and focused on the user experience. (Though I'm sure they have deals in place to get a cut when users make a purchase.)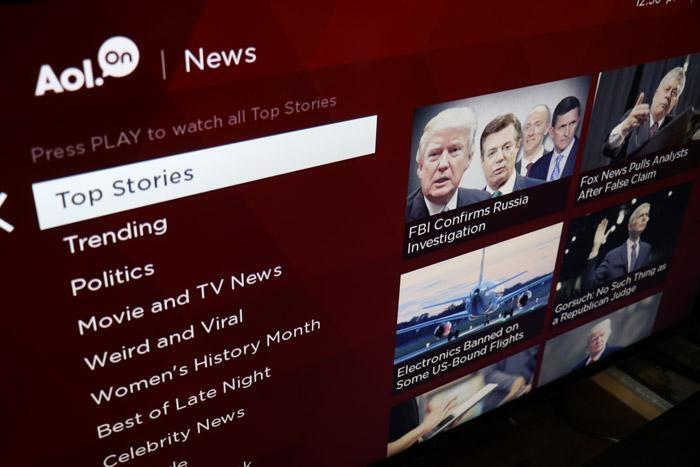 In addition to TV and movie content, you can also check out trending news provided by AOL.
Additionally, similar to Chromecast, you can also cast movies from your mobile device to the Roku TV using R-Cast, as well as a screen mirroring function to display the contents of your device on the TV. You can also play content such as movies and photos off your local network via a DLNA server like PLEX as well as share photos to the TV directly via the mobile app itself.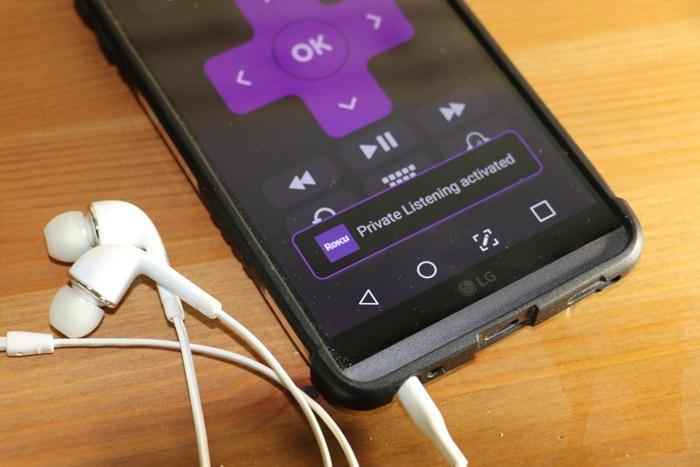 The real killer feature as far as I'm concerned though is Private Listening mode. This is a feature that is enabled directly on the remotes included in the higher-end streaming box Roku devices, but it is also available directly through the app.
Imagine this, it's Saturday night late and your wife and kids have gone to bed already but you want to watch a game streaming from MLB.TV or your favorite movie. In the past, that would require you turning the volume down super low so as to not disturb everyone. Now though, you can listen directly through the app itself while the video plays on the screen.
Unfortunately, this only works for streaming content and not for cable TV or Xbox games played through the TV but this is potentially a marriage saver. I live in a loft with no walls between the living room and bedroom (separated by a curtain). Because of this, it is virtually impossible not to wake someone if you get up early and want to watch TV.
Luckily, Roku sent me a Roku Ultimate as well, so we now have that attached to the bedroom TV so it's possible for Heather and I to enjoy two different programs at the same time, without having a volume battle!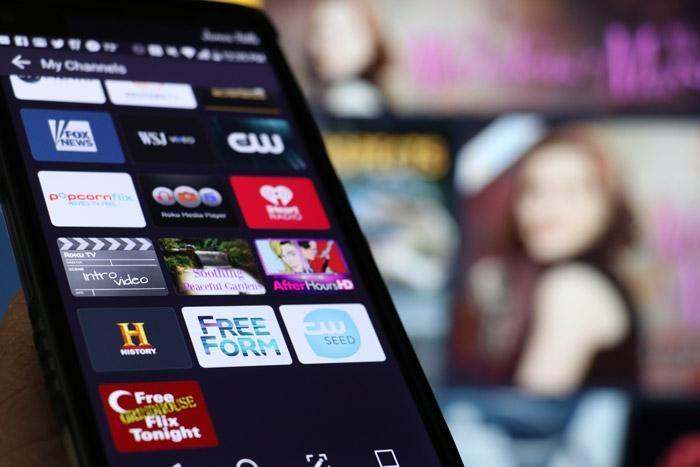 At the end of the day, most of these features are pretty similar across the family of Roku products, but the thing I really like about the Roku TV they sent is that everything is in one place. There's no worrying about connecting the streaming box or the extra cords that go along with that. Plus, since it's the TV, cable flows through it and you don't have to switch back and forth. It's also extremely responsive when starting and stopping a program then going back to the main dashboard.
At this point though, it's hard to recommend anything less than a 4K TV when you can get those for not much more than the 1080p model (Walmart had the 4K 55" TCL Roku TV for only $345 the day I checked, compared to $294.36.) While there's not much 4K content available yet, I'd strongly recommend that you spend the extra cash for that model so that you are prepared as more channels move in that direction.