Every occasion challenges us to find the best gift idea for our relatives, and friends. Finding a good gift for men is even more challenging. What to speak about car lovers since we have so many stereotypes about them in our heads. And of course, there is no one ideal solution for all but if you're thinking about something useful – you should think about gadgets that should be in every car.
OBDeleven – is one of them. This is an intelligent automotive diagnostic device that allows BMW and Volkswagen group vehicle drivers to diagnose, customize and unlock many features without any coding knowledge, only using a smartphone.
Imagine you would love to have some additional features in your car but cannot turn on them without visiting a workshop or contacting a dealership. Pre-made coding functions so-called One-Click Apps in OBDeleven saves you time and money because with a single button tap you can enable hidden features and turn on or off various comfort or driving-related functions. All drivers know how annoying some features could be, so OBDeleven lets customize your car based on your needs, for example:
Deactivate the START/STOP function.
Enable Video in Motion for the passenger to watch while the car is moving.
Change the dashboard theme or multimedia animation.
Most of us – daily drivers have experienced situations seeing warning lights on the dashboard. Having OBDeleven in your car will save you time running diagnostics and scanning your car faults by yourself instead of hurrying to a workshop. Sometimes there is no critical fault, which would be displayed on the dashboard, so a full scan can reveal any potential issues you might have that could turn critical sooner rather than later.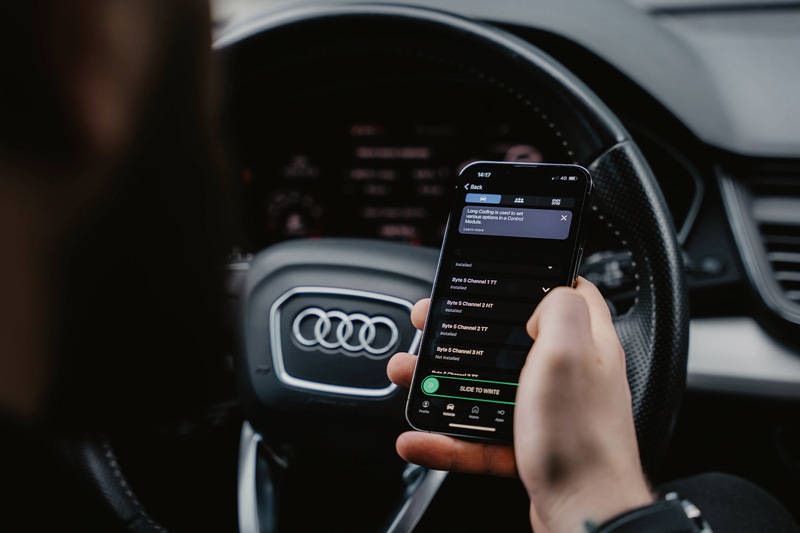 If there are some faults you will be able to read about the fault and receive the exact code, which will help you find out more about the issue and what kind of parts you would need to investigate to solve the problem without spending time and money on consultation at the dealership.
You still wondering if this is enough for a good gift idea for your man, brother, father or another car-loving relative? With OBDeleven you can get the most information about your connected cars like Vehicle Identification Number (VIN), the model of the car you have plugged the OBD-II device in, the year or the year range when the vehicle was built, as well as information about the control units present on the automobile. In the application, you will also view what kind of modification you can do by yourself.
Covering easy coding, diagnostic, and scanning tool, the capability to get information about your connected vehicles, and being a small and compact device makes OBDeleven a must-have gift, which will not be left dusty in a drawer.
Make daily driving easier and safer. Check out more OBDeleven features.
OBDeleven is officially licensed by the Volkswagen Group (VAG) and the BMW Group. Application features are available for the following models:
BMW (F and G-Series)
MINI (F-series)
Rolls-Royce (from 2013)
Volkswagen
Audi
Škoda
Seat
Lamborghini
Bentley