One of the things I absolutely love about Joshua Tree National Park is that it is a near perfect spot for people to learn how to drive off road vehicles. You can dip your toes in the sand rolling along Geology Trail or get the adrenaline going in the Old Dale Mining District and still have a great time. This park is your place to advance skills at a pace that you are comfortable with and that matches personal experience and technical abilities of your vehicle. Over the years I've done exactly that, first having explored trails with a Jeep Cherokee and now, earlier this month I returned with the Jeep Gladiator Rubicon.
Each time I visit this park, I discover new things and that's what I love about it here. For folks who have never been to the desert, they might not realize just how dynamic it can be. For instance, on one trip I was sweating in 120 degree heat, another time I was trying to outrun a wall of rain, and this time it was snowing. Yes, that's right ... it snows in Joshua Tree National park at the higher elevation parts of the park. While this snow isn't anything like what you might think of in Colorado, it is remarkable just how different the park can be from one month to the next.
It is also a reminder that you should always pay attention to the weather and plan accordingly. No matter how good the machine is that you are driving, the danger posed by wet, slippery rocks and potential flash flooding should never be ignored.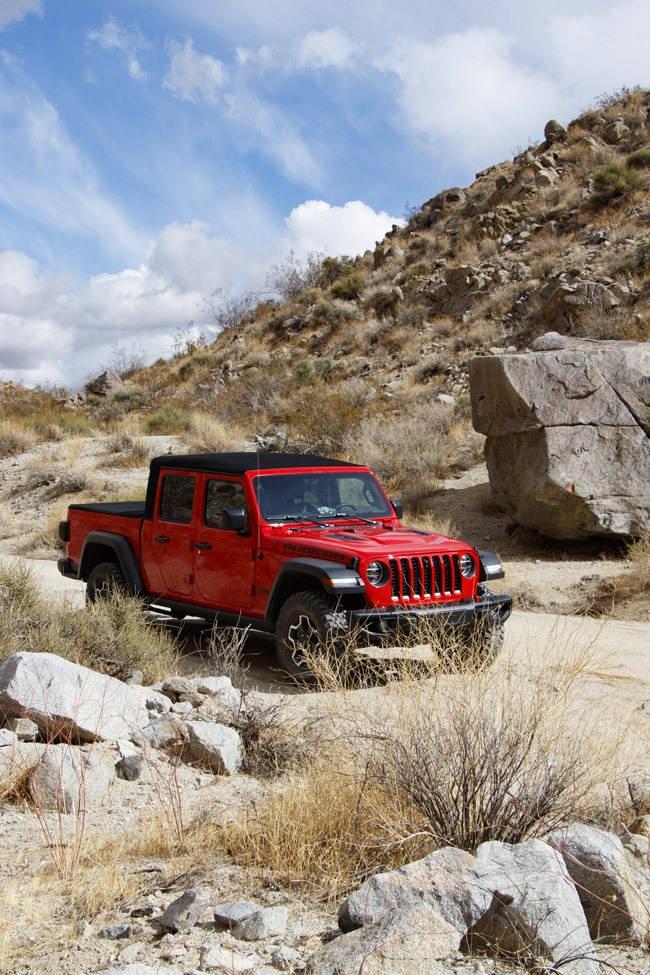 Our vehicle for this trip is the Jeep Gladiator Rubicon with a soft top. Despite improvements over the past few generations, the Wrangler has never really been a high-way friendly road trip vehicle. The Gladiator is essentially a Wrangler 4-door with a truck bed on the back and so I was curious as to how well this vehicle would perform on highways getting to the adventure. What we found was that the Zipperless Sunrider Soft Top was MUCH better in terms of road noise than previous generations of soft tops but because of the hands free microphone placement, calls to friends were virtually impossible. A friend who had the same vehicle a few weeks earlier - but with a hard top - said that his experience was very good though, and comparable to a standard truck in terms of road noise.
Stability and comfort on the road though was slightly better than the current generation Wrangler and WAY better than what you might remember from previous generations. The 2-3 hour drive was more than manageable without having that "OMG are we there yet?!" feeling.
At the end of the day, this is a vehicle that is a compromise. There's no getting around the fact that big knobby tires found on the Rubicon trim as well as the general boxy shape of the Gladiator are anything but aerodynamic. This does lead to a bit of wandering and buffeting by the wind, as well as ambient road and wind noise. The important thing for me is that you can get to the trails in a safe and relatively comfortable way and then conquer whatever is in front of you. That's what the Gladiator does though we experienced a few drawbacks of the longer wheelbase compared to the Wrangler. We'll get into that below.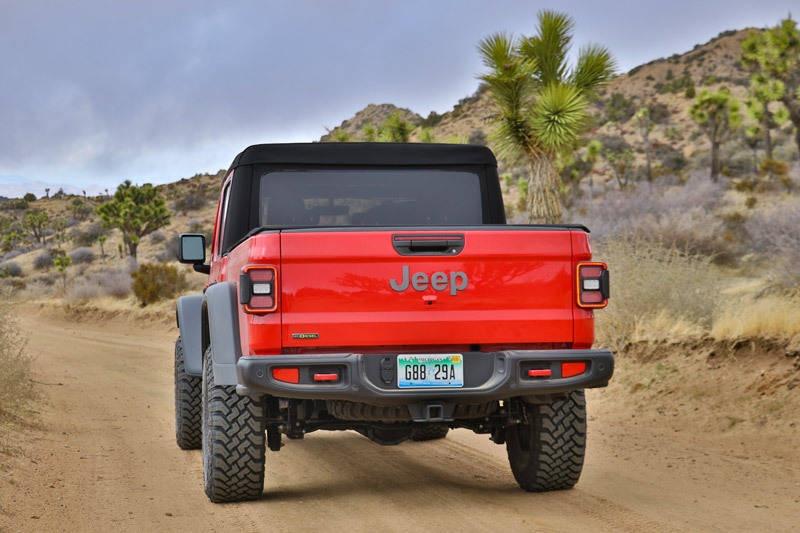 Before we go to far, I want to mention that TRUE off road driving is absolutely prohibited inside of Joshua Tree National Park. This means that you MUST stay on marked trails while inside the boundaries of the park. However, there are certain areas such as Old Dale Mining District and the lower part of Berdoo Canyon that fall outside of the park and are part of BLM land. We still encourage responsible use in these areas as well though there are opportunities to explore more than the marked trail. However, do this with caution as the roads are not maintained and you could find yourself stuck in very deep sand, mud, or an old mining road that has been washed out.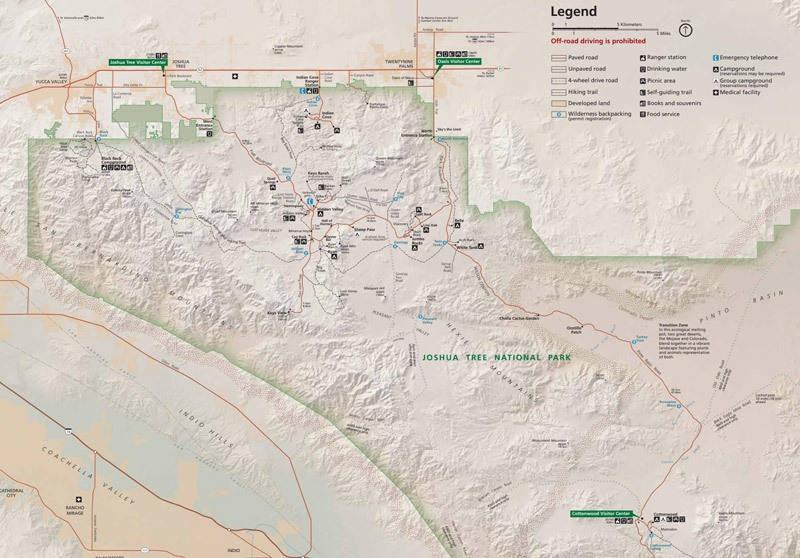 Joshua Tree National Park Map - download the full PDF map here.
Regardless of where you are, please also respect both the wildlife as well as plants that you may find here. This can range from foxes, bunnies, coyotes, sheep, snakes, and the desert tortoise to of course the iconic Joshua trees themselves.

Queen Valley Road
Queen valley Road, along with Bighorn Pass Road and O'Dell Road are among the easiest and most scenic off road trails in Joshua Tree National Park. These are well graded, flat, hard sand roads that are limited to 25 mph and will take you through some Joshua Tree groves in the center of the park. You can travel here in a standard 2WD vehicle but it is a good starting space if you have never driven off pavement before and simply want to get some dust on the tires.
These roads are approximately 2-3 miles long.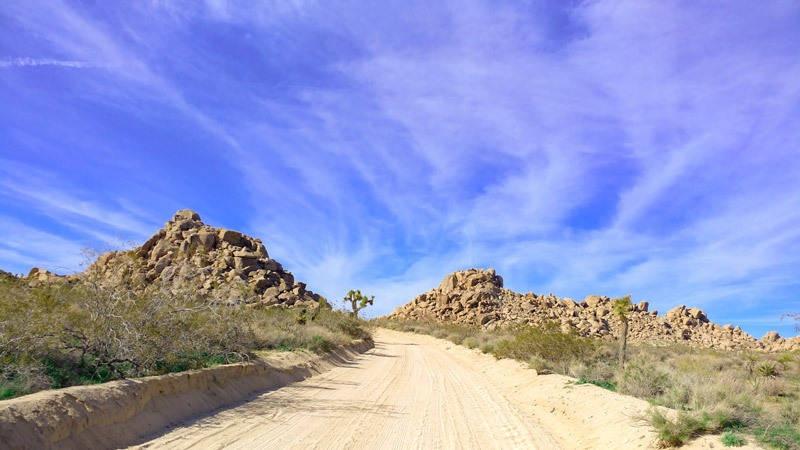 Geology Tour Road
Geology Tour Road is similar to the areas above in that it is generally well maintained in most parts. However, it is a bit more advanced and I've occasionally found areas with loose sand, mud puddles, and runs. While you could likely do most of this trail in a 2WD vehicle designed primarily for on pavement use, I would recommend an AWD SUV at least. Always watch for signs and warnings that might have been erected by the rangers warning of obstacles. There are parts of this trail where you may want to engage 4x4 either to drive faster (up to 25mph) or to drive through an obstacle rather than around it. Again, this is an ideal "first experience" if you have never driven off road before and want a taste of what it feels like to engage the technical abilities of you vehicle.
This trail is an 18-mil journey through some of the more exciting landscapes found in Joshua Tree National Park and includes 16 different stops to learn about how the national wonders around you came to be. It will take approximately 2 hours to complete the loop though you can stretch that significantly by stopping to take photos or enjoy a picnic lunch.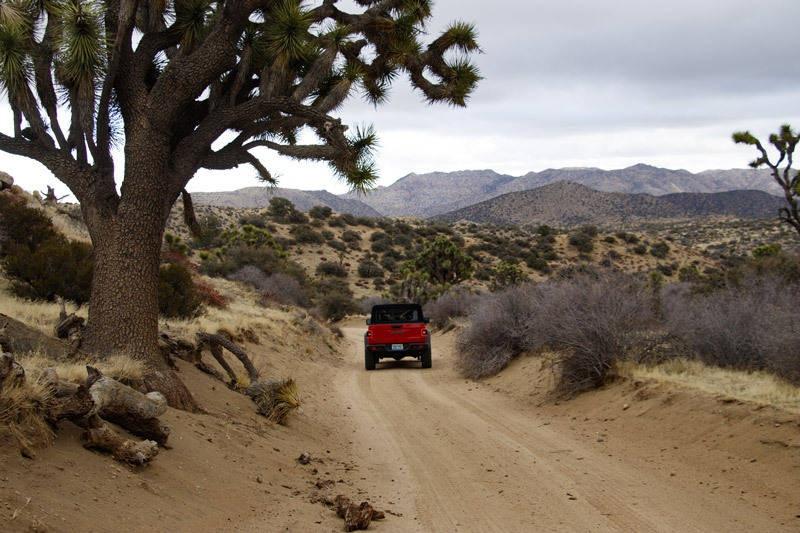 Covington Flats and Eureka Peak
I discovered this area on my most recent visit since it is outside the main part of the park and not connected to the rest of the paved roads. However, it is an absolutely phenominal area to explore with some of the largest Joshua trees anywhere in the park as well as other trees that you generally won't find normally, including junipers and pinyon pines. Like Geology Tour Road, Covington Flats is relatively well maintained but I would recomend an AWD or 4x4 vehicle at least since the public road getting to the park is fairly well rutted and has soft sand where you might get stuck if not careful.
At the very end of this trail, headed up to Eureka Peak, there is a 3.8 mile trail where you will want to have a 4x4 with higher clearance because of sand, incline, ruts, and an occasional rock. Most of these obstacles can be easily avoided but it is more more enjoyable if you can simply go over or through them instead of navigating around.
At the top of the mountain, you will have a fantastic view of the San Andreas Fault Line area and Palm Springs Springs as well as the surrounding mountains.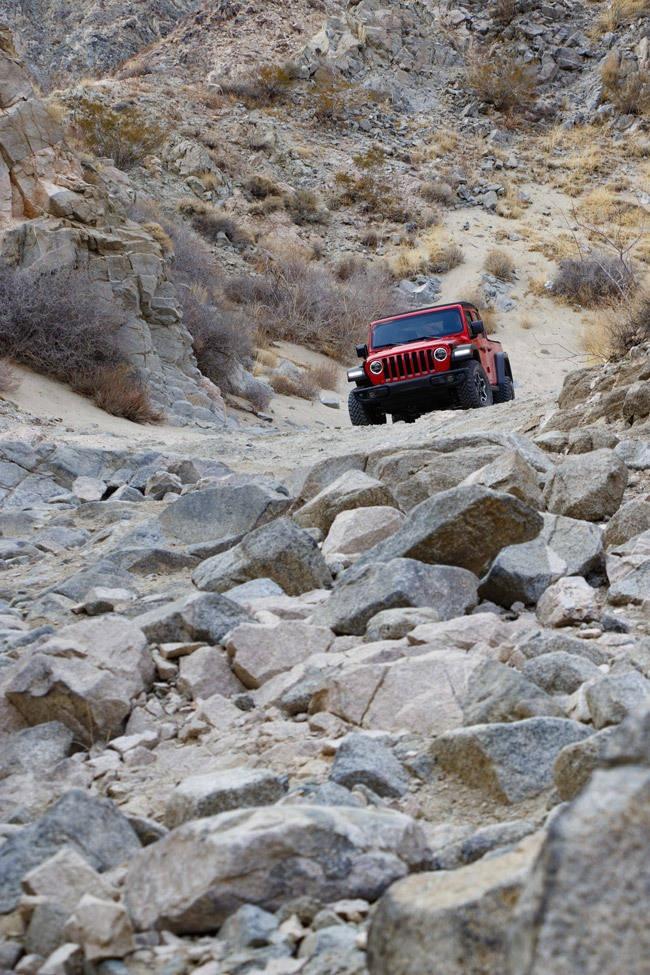 Berdoo Canyon Trail
This is where things start to get challenging.
Berdoo Canyon Trail is 24.3 miles long, with half of it overlapping Geology Tour Trail on one end and the continues outside of the park through rough BLM land at the South West edge of the park. In the past, there was an unmarked junction point where if you went right you could continue on to the moderately difficult portion of that trail or if you went left then you continued on to Berdoo Canyon. Today though, there is a VERY intimidating sign that will make even experienced explorers like myself stop to take notice. This is a good thing though because Berdoo Canyon Trail would often entice people who frankly shouldn't be there and I have observed several stock SUVs be damaged on the trail.
For all but a handful of sections on this trail it is pretty easy if you are in a 4x4 truck, SUV, or Jeep with good clearance. For us in the Gladiator Rubicon, there were only a handful of spots that were challenging. However, most of these can be done in easier or more challenging lines. This is true for the above where you could go all the way to the side of the trail and it is relatively easy for a Jeep. However, if you do the other side there is a substantial rock that requires caution. What I discovered here is the one significant weakness of the Gladiator. The beauty of the Wrangler is that it has a short wheel base. This means that it is often fairly easy to go through rutted areas or over rocks since the rear tires will keep the chassis high enough to pass the obstacle in many cases. Here though, I got embarrassingly hung up on the rock. Luckily, this was not a challenging obstacle for this vehicle and so I quickly recovered and moved on.
However, situations like that are something that anyone who's familiar with exploring in a Wrangler should take into consideration when spotting on a trail or picking the line through a dip.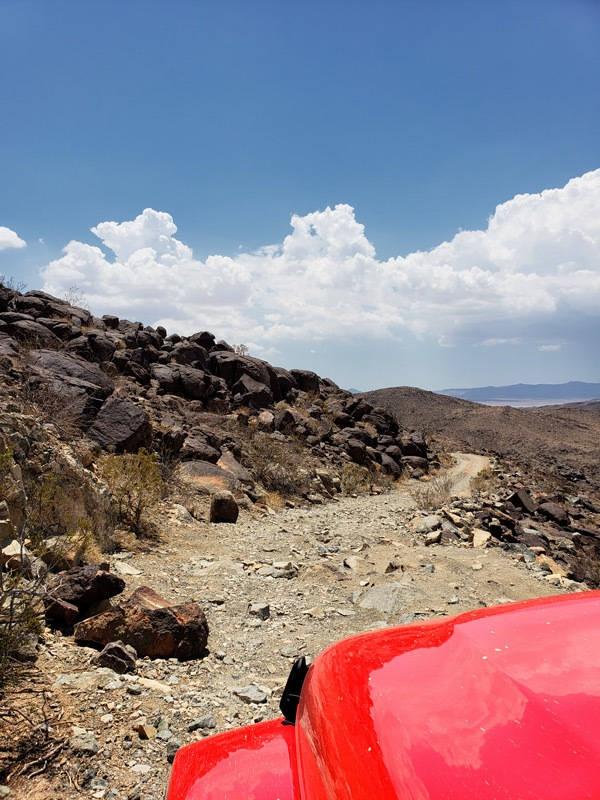 Old Dale Mining District
This is the most exciting and challenging area for off road driving in Joshua Tree National Park. However, technically, just as with Berdoo Canyon above, the most challenging areas aren't exactly inside the park boundaries. Old Dale Road runs approximately 26 miles from Pinto Basin Road inside the park to RT 62, just east of 29 Palms. The first 12.5 miles is inside the park and is a sandy basin road that is typically passable in most AWD SUVs. You will have to watch out for weather conditions including recent storms because this is a very low point in the park where water likes to collect and that can make the road impassable. I was lucky once, while trying to outrun a rain storm I could see a few miles off and was forced to drive a Wrangler through a large mud puddle here but you do not want to do that and I was lucky to not have gotten stuck.
At about the 12 mile mark, you will start to see some ruins from mining activity and at 13 miles you will exit the park. This is where the trail gets both exciting and challenging. While there are official routes through here, following mining and off road driving trails, the area is wide open and you can sometimes find yourself on the wrong side of a wash and be forced to turn around and backtrack to continue. Additionally, since this is BLM land and not maintained the way National Park land is, you will find debris from mines as well as trash brought in by various people and this can be dangerous if you aren't watching where you drive.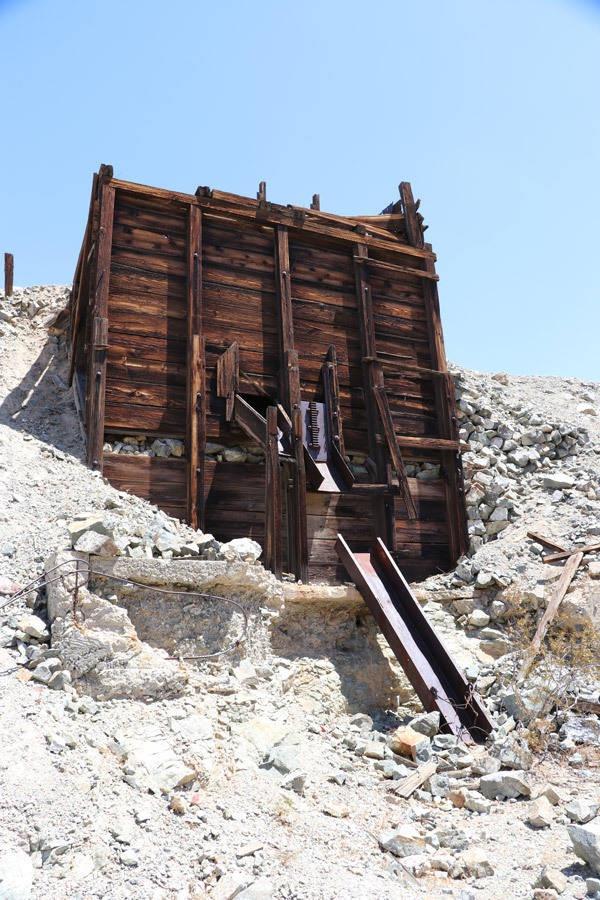 Despite this, Old Dale Road through the mining district area of Joshua Tree is an absolutely fabulous area to explore. While there is a straight path through the area, you will almost certainly want to explore other parts of this area including gold mines and machinery left over from the miners. As a word of caution, watch out when exploring near mine shafts. Some of these shafts are held up by timber that is decades or in sometimes a century old. This part of California can also be seismically active and so no matter how much you'd like to explore the mines ... I encourage you to avoid going too far without knowing exactly what you are doing and with proper precautions.
I really enjoyed our experience exploring these trails in Joshua Tree National Park in the Gladiator. While the capabilities offered by this machine weren't needed in most instances, it made obstacles that were challenging in other vehicles easy to pass. This confidence and peace of mind is ultimately why most people will purchase the Rubicon trim level and that desire to feel confident is important.
While I didn't get a chance to put the top down while we were exploring because frankly it was pretty darn cold during our visit, I did test it out in San Diego. The new zipperless sunrider soft top is very easy to fold back and makes for a great option. While it took us a few moments to figure it out the first time, there is absolutely something special about being able to explore off road trails with the top down.
I can't wait to explore some more trails in the Jeep Gladiator again sometime soon!