I'm a devoted evangelist for the Owala Freesip cup but I find not that the reason there are so many different varieties out there is because there are a lot of different folks drinking their favorite beverages in a lot of different ways. That's why I was excited when Trove Brands decided to send us some water bottles and cups to check out from Owala as well as Blender Bottle and they also included their EcoBrite cleaning tablets so we can keep things clean!
As many of you know, my Father-in-Law Jim has been struggling to recover from some health issues that he sustained back in March and with the absolutely staggeringly complex cocktail of pills he's on it has been almost a full time job making sure that he's well hydrated - not just with pop but plain ole water to help flush those toxins from his system and keep kidney and urinary systems functioning properly.
He's cheap ... really cheap ... it balances me out a bit and so that's been a good experience but in certain instances like water bottles for instance, there really is a big difference between that cheap plastic water bottle from Walmart or the Dollar Store and something like the bottle he ultimately selected - the 40oz Owala Tumbler, which comes in at $37.99.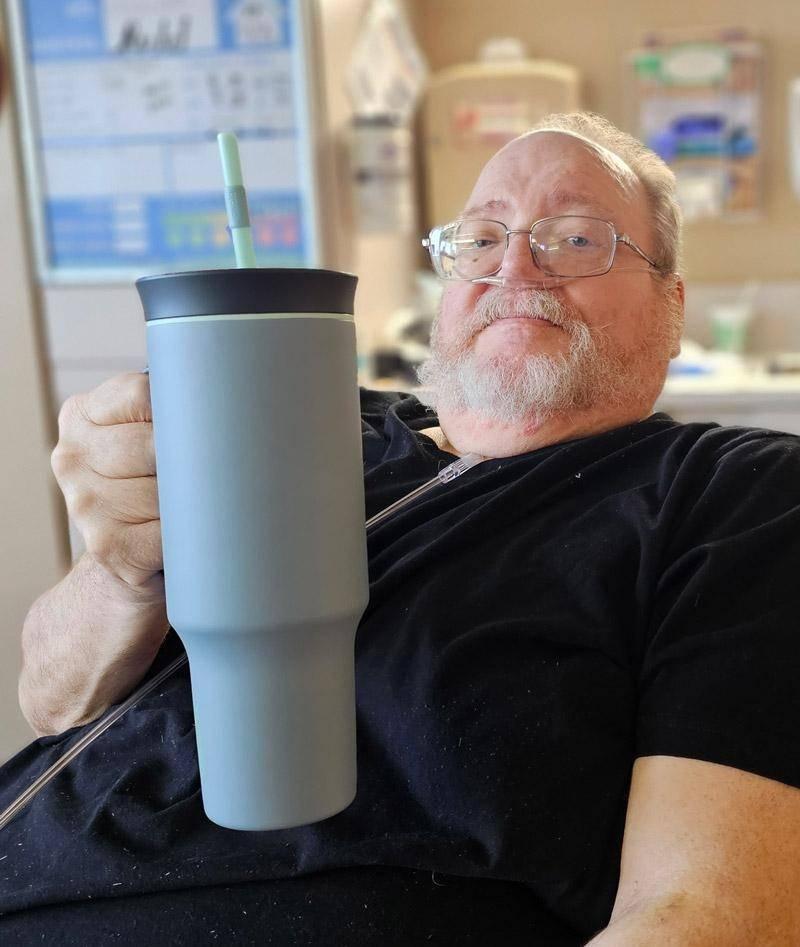 What Jim and I Liked About This Owala Tubler:
Awesome build quality! It just feels firm in the hand and while a bit heavy fully topped off, it's good for his therapy when practicing lifting things.
Virtually spill proof! Right now, Jim is still mostly confined to a hospital bed and / or wheel chair so it is frequent that a cup gets knocked over. Various cheaper bottles and cups he's tried have either leaked or even cracked but not here. It also has a 2-in-1 lid that can be used with a straw (where even when it is inserted is still somehow spill-proof) or for just sipping tea from the lid like normal.
Keeps his water cold all day long! As a standard routine, his nurse now fills the tumbler up with ice and water every morning and tops it off throughout the day. While previous bottles would melt completely after a few hours, because this one stays ice cold it helps make it easier to continue drinking the water he knows he needs to consume to stay healthy and recover fully.
Other Water Bottles They Sent To Try Out
Trove Brands - specifically Blender Bottle and Owala are two of my absolutely favorite companies for water bottles and cups. I've been consistently impressed with the quality as well as innovations like Freesip.
Owala FreeSip - now in 40oz size, I earmarked this for myself and was prepared to fight him for it. I have the 28oz version right now as my constant companion but the bigger bottle allows for more ice and water so it lasts longer at my desk without needing refills. While out on off-road trips and on the water this is also another big advantage of the classic FreeSip design since the straw tucks away and stays clean and is also virtually spill-proof when you pull down the carry handle to lock everything in place.
Owala Tumbler 24oz - while it offers most of the benefits of the 40oz tumbler that Jim and I both love, this one is far more backpack friendly since there's no bulky handle on the side. However, it too offers that straw that we both liked and it resists spilling even when dropped on the floor or knocked over on his hospital tray.
Blender Bottle Shaker Cup Strada - this is one of those - if you need it you love it - products and right now neither of us "needed it". However, I know Jim is looking at taking some supplements for muscle recovery once he shifts from "getting healthy" to "getting fit" again. Since March, he's lost over 100 pounds and is looking forward to building some of that muscle mass back up again. This bottle is one of the best for that and I'm sure he will find it useful for shaking up some protein shakes before his PT appointments coming up soon!
What makes Blender Bottle special is that it has a whisky ball that when you shake the bottle - allows you to whip up your protein shake to the proper consistency.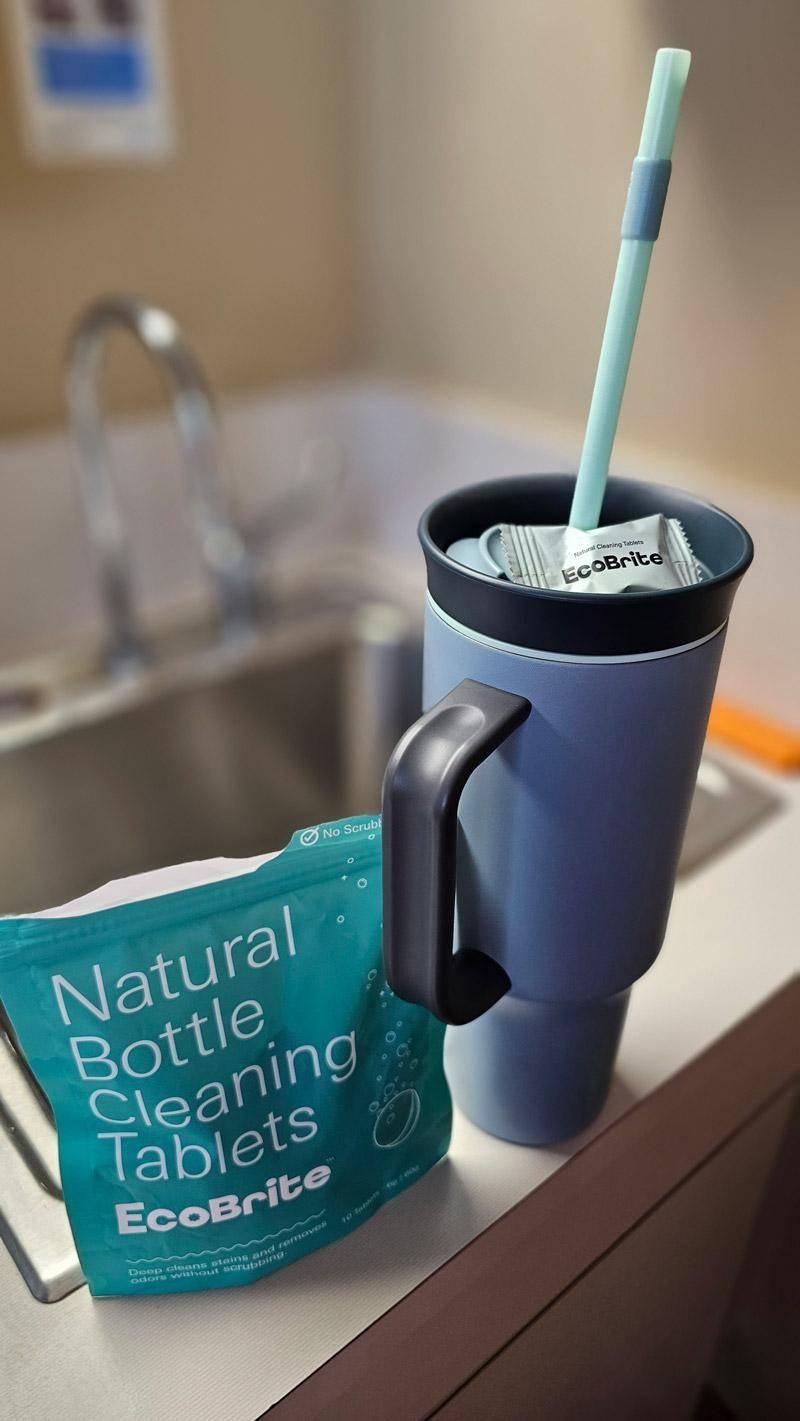 Keeping It All Nice And Clean!
Alongside proper hydration, Jim's also been working to do everything he can to avoid infections and that includes not just washing hands but keeping his cups clean too. This isn't always the easiest thing to do in a hospital environment since despite the sanitary nature of everything around him - it's not like he has a dishwasher handy in the room for him to use.
These EcoBrite tablets from Trove Brands work to make things easy to clean your favorite drinkware though.
Simply place one of the tablets in your favorite cup, add some hot water, let it sit for a few min and rinse. It's that easy - though for straws you will want to get a straw-cleaner and soap to wash it out.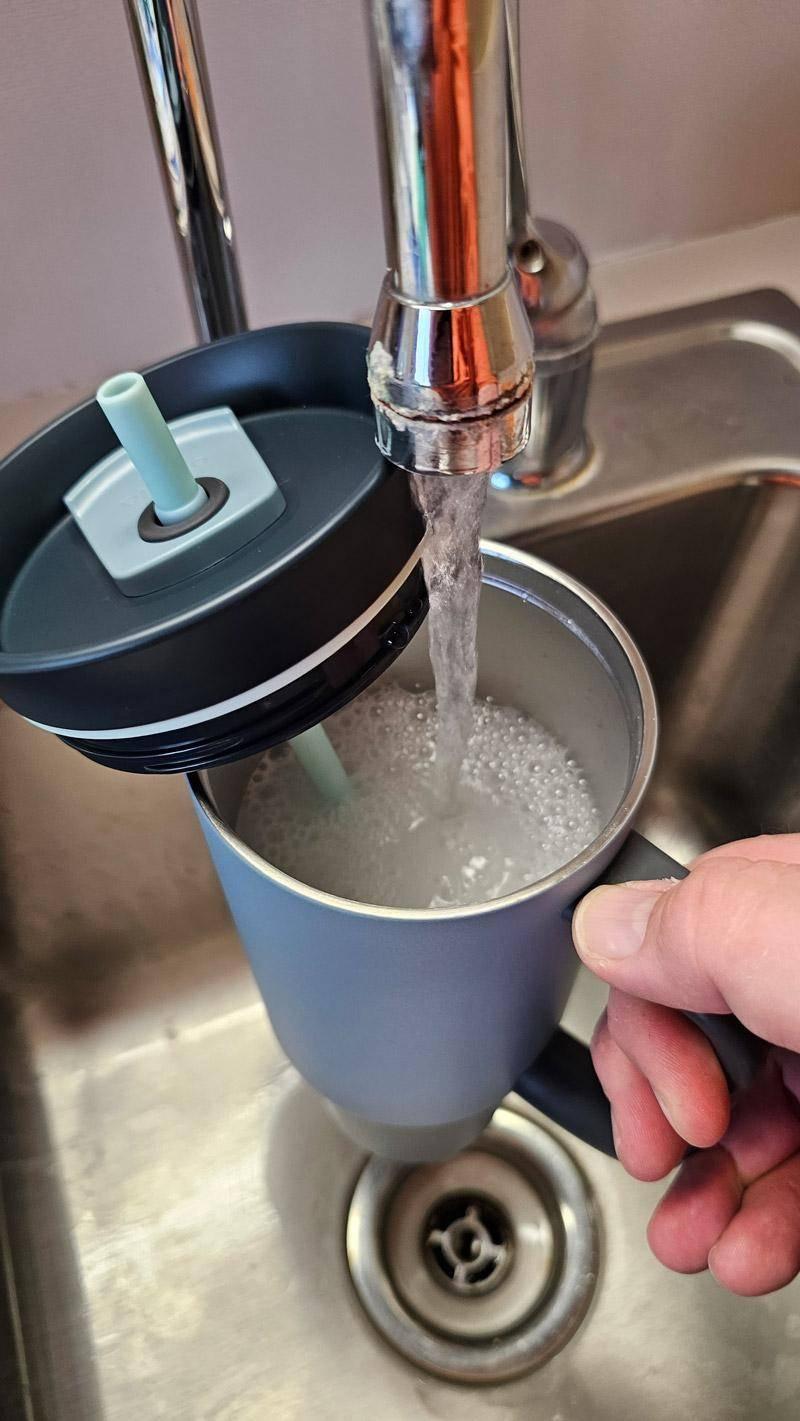 Jim and I had a blast going through these cups and even more than just that one moment in time, it's fun seeing him happy to use them even weeks later ... knocking the Owala cup over to show me that it doesn't leak :)