We came, we learned, we plowed. That was pretty much the order of events when Chevrolet teamed up with Boss Snowplow and hosted us for a truck-n-plow event on the very frozen tundra of Marquette, MI at Marquette County's (MI) Sawyer International Airport. Chevrolet brought a small fleet of 2020 Silverado HD 6.6-liter Duramax diesels in LTZ trim and several of their new Alaskan trimmed models.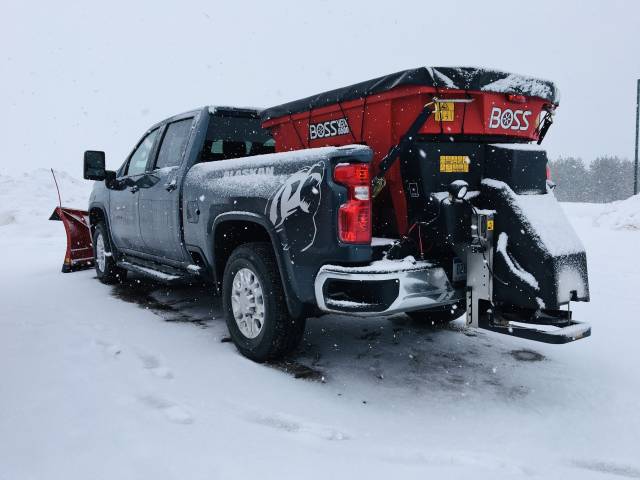 If you buy a Silverado 2500 with a diesel, you're purchasing it to do some work. Chevrolet lightly revised their 6.6L diesel engines and mated them to an all-new GM/Allison 10L1000 10-speed automatic. The 6.6Ls still have 445 hp. at 2,800 rpm and 910 lb.-ft. torque at 1,600 rpm but, chassis and powertrain revisions jack the max tow rating up 52 percent to a 2020 model year best-in-class 35,500 pounds.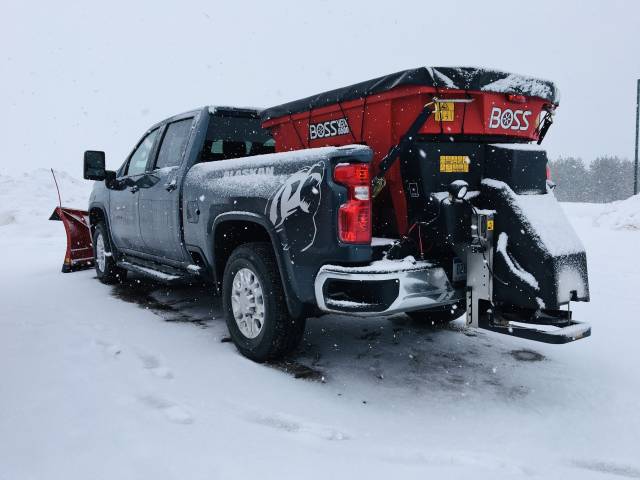 As a follow up to Silverado's launch, Chevrolet made the HD trucks easier to live/work with and easier to load, trailer and drive. This year customer-friendly work features include a power-up and-down tailgate, new BedSteps at the front sides of the bed and yes, they can handle my size-12 s#*& kickers and the weight of a 500-pound person.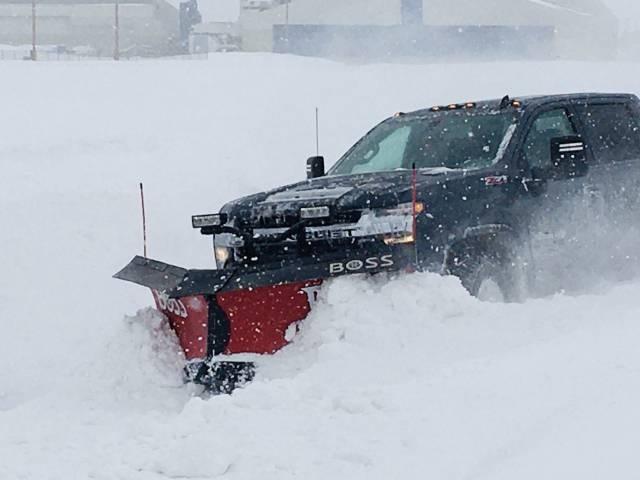 Chevrolet indicated that 90 percent of HD buyers tow so, how about an Advanced Trailering System using accessory cameras that connect via dedicated coaxial cables? Well, Chevrolet developed one that uses up to 15 camera views, 360-degree surround view, and a very cool "bull-view" that gives the illusion you have a drone hovering in front of/above the hood. It can also show bed views, bumper hitch, and close-ups of a front tire approaching a curb, and views of the trailer tires when turning. The ultimate "magic trick" with cameras attached to a "learned" trailer, provides views of the inside of the trailer and a "transparent trailer" view that "erases" the trailer behind the truck and is shown on the smallish center console screen.
Chevrolet came up with a great lower front-end plow connection option that features a removable air-dam and plow mounting points so you don't have to drill into the bumper and scar your new truck with corrosion friendly holes. An optional block heater plug comes integrated into the driver side bumper, behind a cover, protected from slush/ice when not use.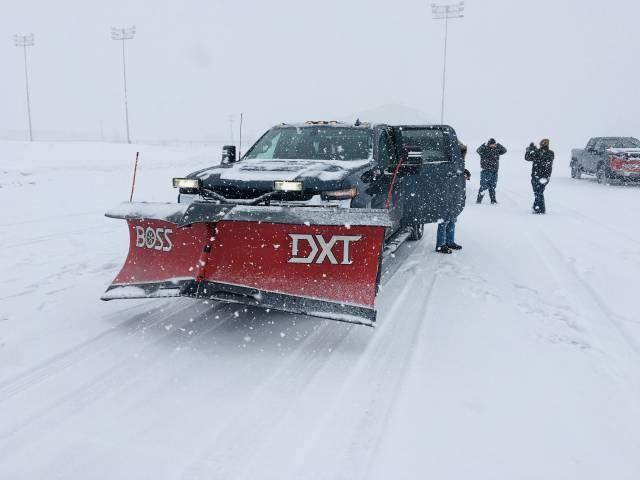 This was a fun day of work. Well, I'm sure the professionals who do this for a living don't really feel that way, especially after 12 hours straight and in 15-degree (and lower) temperatures. The UP has a reputation for being the snow capital of the Midwest and we were not disappointed as it turned from a dusting to a blizzard with minimal visibility as our parade of Silverado HDs approached the airport.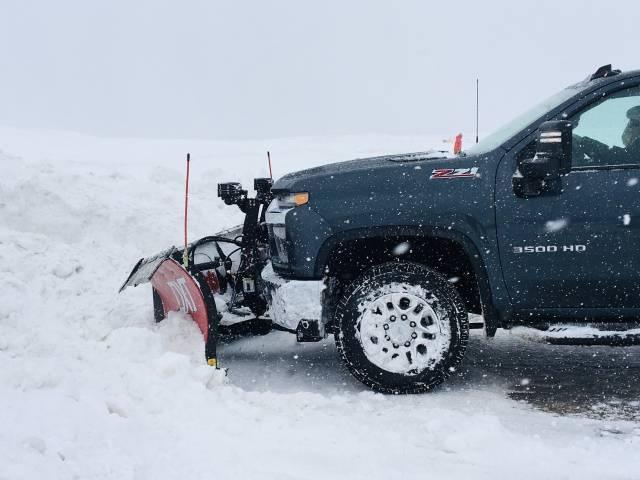 BOSS has put a lot of thought and resources into developing "scraping edge" snow removal/maintenance equipment. Surprisingly, it only took this novice a few passes to get comfortable behind the BOSS DXT plow moving the snow around on the large taxiway and parking areas.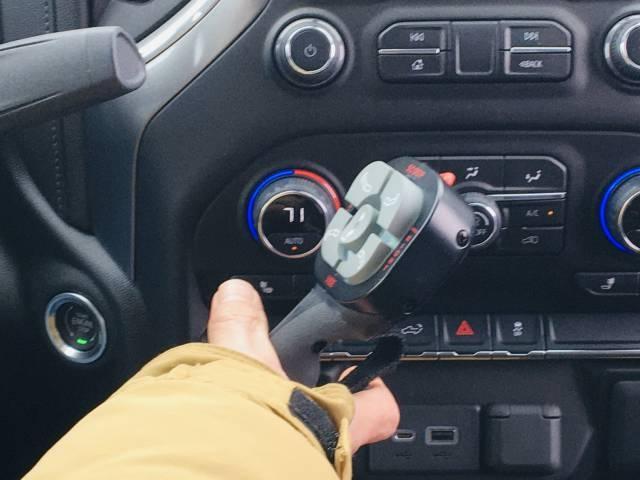 All of our BOSS Snowplow-equipped Silverados came with a compact, five-buttoned "hairbrush" handle looking controller wired through the truck's firewall into the cabin. With it, you open and close, raise and lower, or extend and retract areas of the blade. The push-button operation reduced questions and really gives the operation a modern look and feel. Tip: get the optional Boss holder for the controller to keep it off the floor or hanging on the shift lever, I was not comfortable with either spot.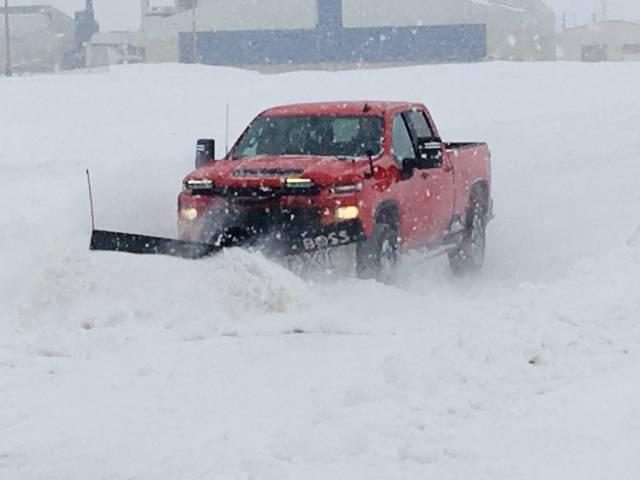 My biggest anxiety was how the plow would react when it hit a rise in the concrete or other pavement anomaly. Yes, airports have smooth surfaces, but the BOSS DXT handles the street with heavy-duty lower trip-edge and full moldboard trip technologies for high and low trip protection when striking obstacles like frozen snowbanks, manhole covers, and curbs. The adjustable springs on the plow also reduce kickback. BOSS DXT plows have a flared wing design that is split in the middle. You can keep it straight or angle/raise it independently from the other half for enhanced curl throw snow to maximize removal. The entire BOSS plow line consists of EXT straight plows DXT and XT V-Plows. Pricing varies by model, operational features and the materials used to construct the plows. Expect a range of $6,800 to over $11,000.
While I picked up plowing in the airport's straight/wide-open sections fairly quickly, it would be a whole new hockey game with manhole covers, curbs, speed bumps, gas meters, and driveway drop-offs. Boss Plows are durable but, garage doors, basement windows, and landscaping are not.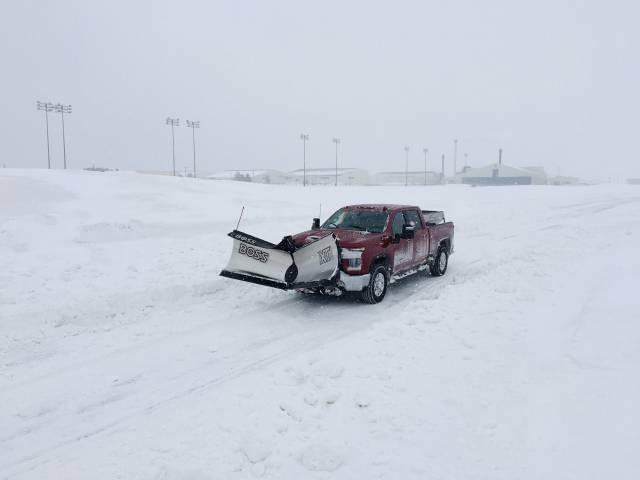 The combination of a 2020 Chevrolet Silverado HD and a BOSS plow makes for a formidable team up to tackle old man winter.