Usually I'm pretty cool with any truck, car, or SUV that I get to review and as they say ... there's an ass for every saddle. That's true for 2500 trucks too. They are designed to haul, they are work trucks, and there is a segment of guys who just simply want the biggest truck they can find to showcase their superiority over all other men on the highway. That's how I felt while driving the 2023 RAM 2500 Rebel around Toledo and North West Ohio for a week. While it checks all the boxes that an HD truck needs to have ... the personality was just a complete miss-match for me and my wife's style.
That's part of the fun of our "Truck Buying Journey" that we're doing over the next few months. Quite frankly I've been blessed with a lot of different vehicles to test out over the years but I've never really thought of them in terms of "what's right for me to buy".
Fundamentally, our needs fall into the following areas:
Road Trips
Hauling Stuff
Winter Driving
Price
While each of us will have slightly different perspectives on these factors, I think a lot of you guys will identify with the same areas that I've identified. If you want to read more about the full project, make sure to check out My Truck Buying Journey.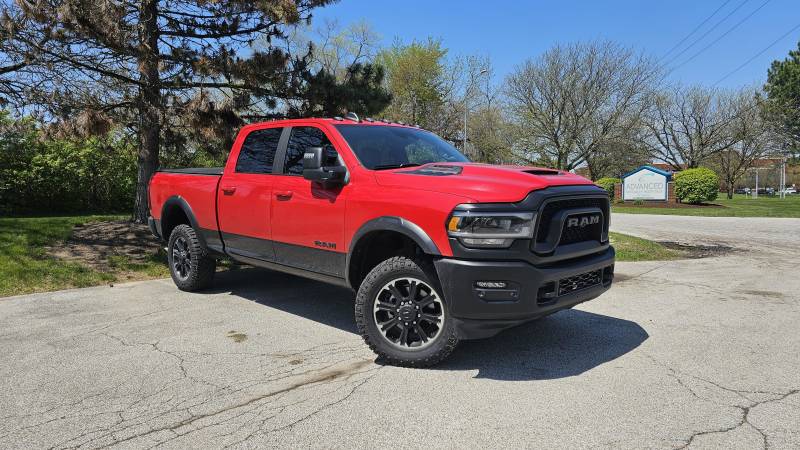 High Level View Of The Ram 2500 Rebel
Simply the name "Rebel" sets the tone here - just as it's brother - "Power Wagon" does. Both trims are big, beefy, Heavy Duty Trucks that are prefect for any truck guy that wants something that matches his outgoing, fists up and ready to brawl attitude. While the Power Wagon is considered a bit more capable off-road, the Rebel is designed to be better on-road and superior for towing.
However, unlike a pure work truck experience that you might see in a fleet vehicle - the Rebel is designed for fun as well (even though - at least in the trim that we had - it lacks many of the tech features that were available in the 1,500 Rebel we'll be talking about next).
Road Trips
Road trip comfort was not an issue here, though the vehicle's size and weight are clear when maneuvering through urban areas on our drives through Toledo, OH. On the Turnpike though, it was smooth and enjoyable with plenty of space for four adult men and probably you could even put three comfortably across the back if you wanted.
Gas mileage really isn't something we're going to judge here but our only real nit was that my wife needed to use a step-ladder to get into the cab and on a couple occasions where I parked on the edge of something or the downward slope, it was a beast to get back into the cab without rock rails or something to step on.
Unsurprisingly, the 6.4L V8 HD HEMI with 410 max HP and 850 lb-ft of torque provided plenty of power for acceleration and passing but I wish it had more to make this a more sporty feeling truck. I suppose that's what the TRX is all about though.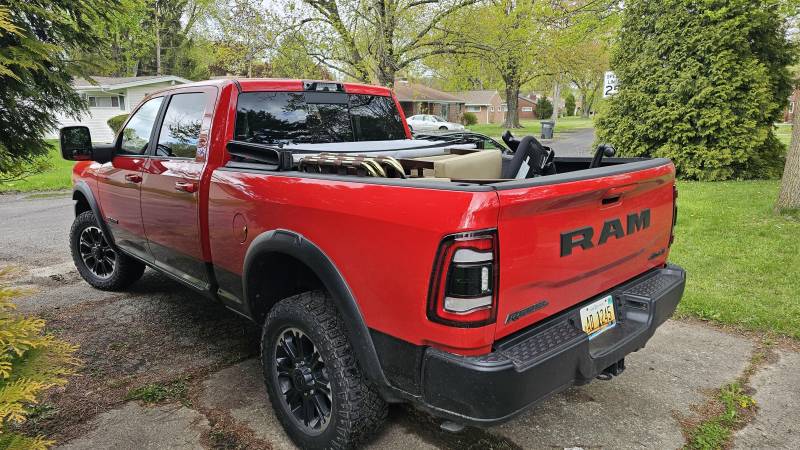 Hauling Stuff
If you are needing a giant truck to tow and haul - RAM has your back. The 16,780 lb Max towing (when properly equipped) and it has a max payload capacity of 1,980 pounds which as mentioned above is actually greater than the fabled Power Wagon 10,530 lb / 1,730 lb.
Winter Driving and Off Roading
We're going to skip over the winter driving portion here since there's no reason to think that a 4x4 truck with excellent tires will do anything but excel in snow and icy when led by a skilled driver. Likewise, this truck should do just fine for off-roading though I personally prefer more nimble trucks when going off pavement.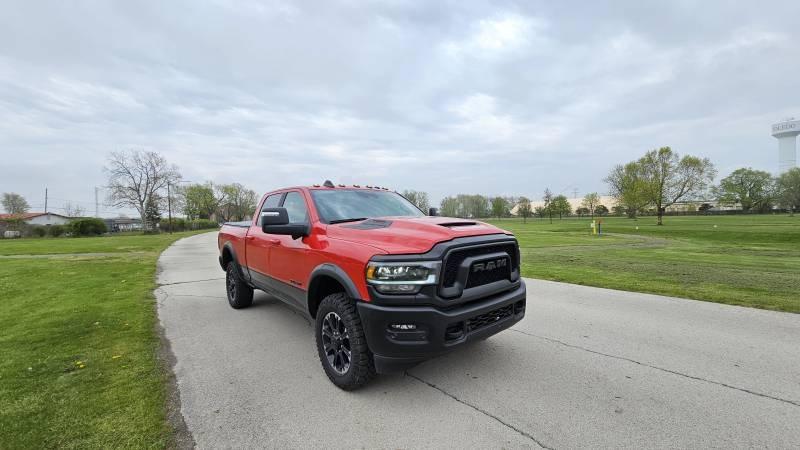 Price
The 2023 RAM 2500 Rebel Crew Cab 4x4 with a 6'4" bed has an MSRP starting price of $69,425 but the price quickly goes up to about $83k as tested.
So, Would I Buy It?
Simply put - no this truck isn't for me or my needs.
However, if I lived on a farm, had an RV to haul, or just simply had to have one of the coolest looking stock-OEM trucks in the parking lot ... sure. RAM makes some great trucks and they've earned their spot on the podium.
In the mean time though ... I've enjoyed using it to explore some of the numerous unique hot dog and ice cream stands in Toledo. While it may be far from the tacos I'm used to back in San Diego, trucks and cars are about the freedom to explore and we certainly enjoyed our time with the 2023 Ram Rebel 2500!