The race is on for ultra-high capacity power banks with AC plugs on them and we're really impressed with the latest product from Omars Electronics, the Novoo AC Power Bank. Featuring a whopping 20,100 mAh battery and three outlets including: USB-C, USB, and 60w AC it's also packaged in a unique cylindrical design.
To many people, the concept of a battery pack this massive is simply crazy. Why have something that can charge the typical phone more than six times? It's bulkier and heavier than your typical "pocket power bank" and significantly more expensive too. That might be true, but anyone who travels with more than just their phone quickly realizes that you'll end up searching frantically for a power outlet at some point. That smaller, cheaper, less powerful power bank suddenly isn't as great as you had hoped.
Plus, can those charge your DSLR, drone, or laptop batteries? I think not!
That's why I love the Novoo AC Power Bank.
You can buy it on Amazon and we've got a Coupon Code NOVOOESS - so you can save 15%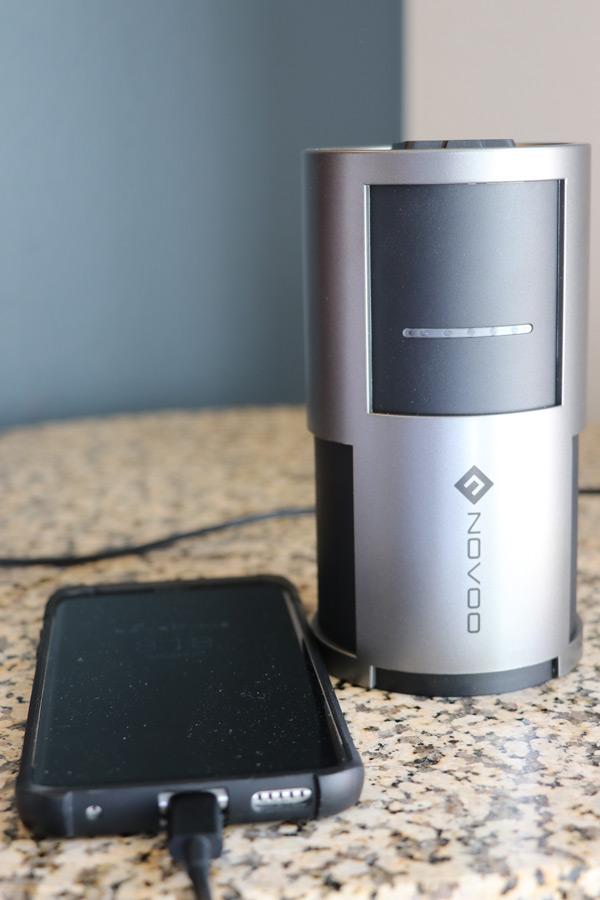 How I use Mine and Why You Need A Novoo AC Power Bank Too
Charge Multiple Devices at Once: I'm an easy sell - I've been using high-capacity power banks for years since I regularly travel with at least two phones and depending on where I'm going a tablet and camera. Now I can charge all of them at once, without worrying about finding AC plugs or the adapters.
You Just Need One International Power Adapter: When I went to Europe last year, I needed to bring with me several power adapters to use the wall sockets in Ukraine. If I needed to charge my phone or camera it meant finding not just one wall outlet but multiple of them. Not if I had this with me! Even when visiting a country like Mexico where they use the same AC power as we do, it can be difficult to find wall plugs so a large capacity power bank like this comes in handy there too.
Long Flights: Despite the fact that most major airports are FINALLY adding extra power outlets in the boarding area, not all planes have power at the seat. For instance, I took a 6 our flight back from Kona, Hawaii last week and even in first class there was no power outlet! Luckily, I had the Novoo with me and I was able to keep my phone charged as well as letting Heather charge her's too.
Even when not traveling, I find that the Novoo gets a lot of use just sitting on my couch since I want to charge my phone or tablet while watching TV - but I want it handy, not tethered to the wall.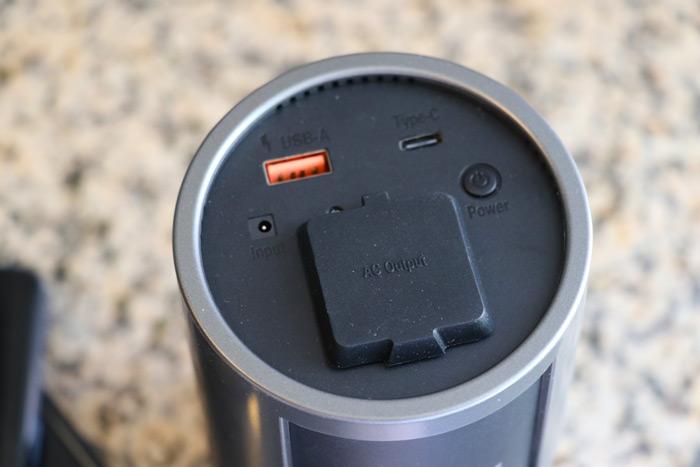 Omars Electronics makes a variety of other gear that's great for power users like me. This includes the 10-Port Hub (use Coupon Code OMARS10P for 15% off) and the Omars Beast - a crazy huge capacity 26,800 90 watt AC Power Bank (use Coupon Code NOVOOTPB for 10% off).
One of the few things that disappoints me with the Novoo AC Power Bank is that it only has 1 USB-A plug and one USB-C plug. I'd love it if there were at least two USB-A plugs but in most situations that's not an issue.
Tech Specs of the Novoo AC Power Bank:
Plugs: 1x USB-A (quickcharge 3.0 ), 1x USB-C (fast charging), and 1 AC 60w
Battery Capacity: 201,100 mAh
Size: 80mm x 80mm x 155mm
Weight: 2.12 pounds
Input: Novoo includes a standalone power adapter with a 19V/1.6A adapter that charges the unit from 0-100% in a 3-4 hours.
Win Your Own Novoo AC Power Bank!
Win an Omars Electronics 20,100 mAh AC Power Bank