Cooking the perfect steak or burger isn't easy. You need to get the temperature just right, and that can be a challenge. That's why I'm excited to review the INKBIRD IBT-26S 5GHz WiFi Meat Thermometer.
This is a professional-grade thermometer that allows you to monitor your cooking on your phone or tablet from anywhere in your home. It has plenty of features for grilling, smoking and even baking, so you can rest assured that your food will come out perfect every time! In this review, I'll be taking a look at how this high-tech device works and what advantages it offers over other wireless stick meat thermometers.
Why The Right Temperature Is Critical To Grilling
Grilling the perfect steak is all about getting that internal temperature just right - a few degrees too hot or cold can mean the difference between juicy perfection and an overcooked disaster! It's important to have the right thermometer for this job so you can monitor your steak's temperature accurately. That's why I love the INKBIRD IBT-26S 5GHz WiFi Meat Thermometer. With its multi-probe design (up to five cooking probes + one for ambient temperature), precise temperature readings, and smartphone app compatibility, it helps me reach my grilling goals with ease.
Common "Done" Temperatures For The Grill
Chicken: 165°F
Sausage: 160°F
Steak: 145°F

Rare - 120°F
Medium Rare - 130-135°F
Well Done - 140-145°F+

Fish: 145°F
Burgers: 160°F
Potatoes: 205°F
Onions: 210°F
Cauliflower: 185°F
The INKBIRD IBT-26S thermometer gives me an accurate reading of both food and oven temperatures, allowing me to adjust cooking times easily if needed - even when cooking different items. Plus, its wide range of probes help me check on multiple steaks at once without hassle.
This has been an issue in the past since I like Medium Rare steaks and Heather likes her's substantially more cooked. By having multiple probes I can monitor each steak individually and even position mine to cook slower in a cooler area of the grill while her's receives full heat.
By doing this, it has allowed me to finally master my grilling technique and get those delicious restaurant-quality results each time! As they say … happy wife … happy life!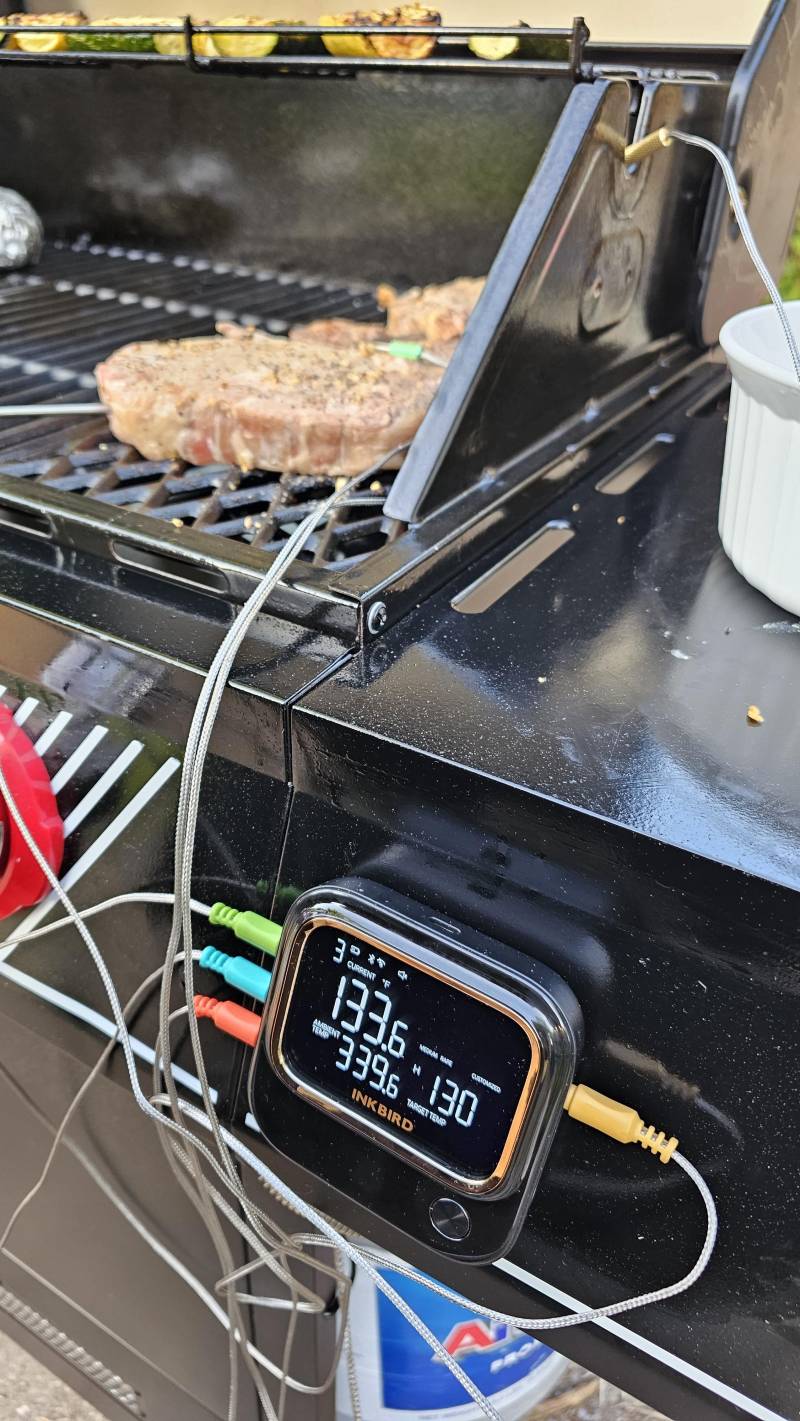 About the INKBIRD IBT-26S 5GHz
With 4 different color food-grade probes and a backlit LCD screen, you can easily monitor your grilling progress from anywhere with this deluxe thermometer.
The thermometer also supports both 5GHz WiFi, or Bluetooth 5.1 for remote monitoring from anywhere in the world as well as a powerful Smart App for real-time monitoring and temperature graph history data download capability. Plus, its compact design includes a built-in magnet and foldable stand making it easy to clean and store between uses.
Product Specs:
Temperature range: -22℉~572℉ (-30℃~300℃) for short-term temperature measurement and -20℉~250℉ (-4℃~482℃) for sustained measurement over long periods of time.
Temperature accuracy: 0.9℉/0.5℃
Calibration range: -12.6℉~+12.6℉(-7℃~+7℃ )
Battery life: at least 32 hours after a 3 .5 hours type - C cable full charge
Probe capacity: four temperature probes are included but the INKBIRD IBT-26S supports up to five plus a sixth probe ports designed for ambient temperature measurement.
Connection options: 5 GHz WiFi, Bluetooth 5 .1, and Bluetooth
I also like that the app supports 29 types of USDA meat presets but you can also add your own. For instance, I tested it out with potatoes recently and they came out perfectly roasted without being overcooked and gummy as they sometimes can be when left on the grill too long.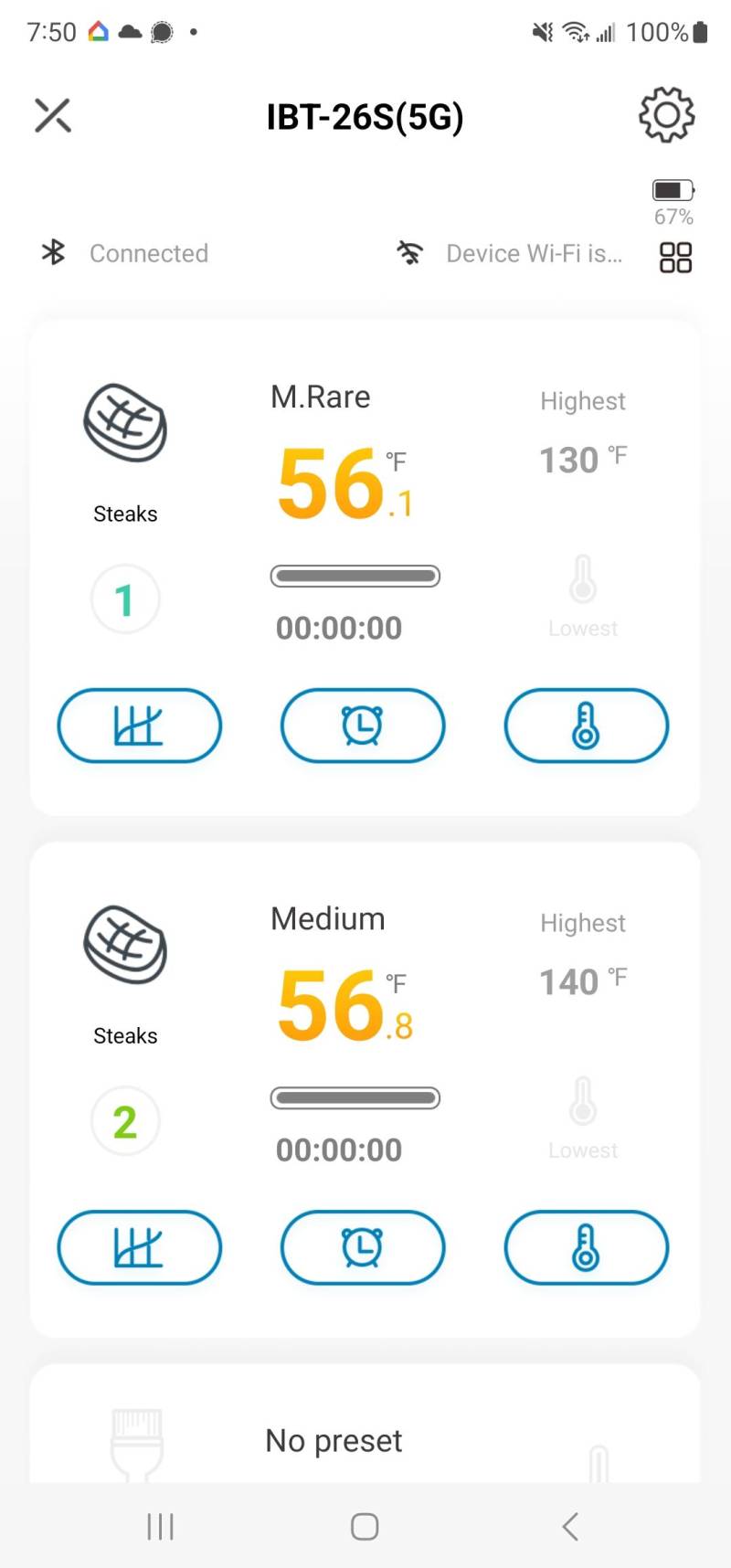 More Than Just For Grilling
The INKBIRD IBT-26S 5G meat thermometer is more than just for grilling – it's also perfect for smokers, melting candy or chocolate in the kitchen, and precise cooking in the oven or even frying. With its 5GHz WiFi connection and high-temperature rating of up to 572℉, this thermometer offers a range of features that make it an invaluable tool in any kitchen.
Whether you're a novice cook or an experienced chef, the INKBIRD IBT-26S 5GHz WiFi Meat Thermometer is sure to become an indispensable part of your kitchen. This thermometer allows you to be confident that your meals will come out perfect every time.
How To Check The Temperature Calibration
One element that I hadn't seen in other meat thermometers was the option to calibrate it for optimum precision. However, this is a pretty important feature if you are serious about grilling and want to ensure your food is cooked to perfection.
With the INKBIRD IBT-26S 5GHz WiFi Meat Thermometer, this process is quite simple to adjust the temperature and I learned a quick and easy hack from a chef friend of mine on how to make sure you calibrate a thermometer properly!
Use A Cup Of Ice To Guarantee A Standard Temperature
All you need to do is fill a container with ice and dip the meat thermometer in it. A working thermometer will show a reading of 32˚ F (0˚C). If you get these numbers, then your thermometer is working properly and can be used for whatever else you need to measure.
In addition, if you're ever unsure about the accuracy of your readings, you can always use another device like an oven or stovetop thermometer to double-check them. This way, you'll know without a doubt that your food is being cooked at the correct temperature no matter what type of cooking method you use.
Advantages of INKBIRD IBT-26S 5GHz Thermometer vs Wireless Stick Meat Thermometers
The grilling thermometer space is pretty exciting right now and I feel like this product from INKBIRD IBT-26S stands out for a few significant reasons - the first is that it uses a 5GHz WiFi but also that the probes are far smaller than the more wireless "Stick" competitors.
Specifically, when I'm cooking a pork chop or thin steak, putting a thick probe inside can sorta wreck the meat. Sure if you have a thick-cut pork chop that might not be an issue but I don't want to plan my dinner around the tools.
Additionally, I like the fact that while INKBIRD IBT-26S has a very nice mobile app, I can cook without having to look at my phone the whole time in order to monitor the temperature of my food.
Conclusion
Grilling requires precision and accuracy - two traits that the INKBIRD does well in their IBT-26S 5ghz wifi meat thermometer offers. Not only does it provide an excellent way to monitor your grilling, but it also has a wide range of other uses. With its easy-to-use app and precise calibration, you can trust that your food is cooked to perfection each time.