If you're planning on traveling in a campervan or RV, you've likely got a packing list with your most basic essentials and necessities. While there are essentials that everyone must have, let's take things to the next level and build out an RV that your friends and neighbors in the RV park will look at with envy!
You've also probably checked some important to-do lists off your travel itinerary, like mapping out your route, investing in a Good Sam RV Extended Warranty, or planning your on-road budget. Chances are, the last thing on your mind aren't some of the better comforts you're accustomed to at home. However, there are ways you can infuse at-home comforts to your trip on the road. Here are seven ways to do so:
Portable Beer Tap
With the explosion of the craft beer movement, this is a comfort item that will likely make more of an appearance in mobile homes. The TrailKeg Gallon portable beer tap allows you to attach this keg to the back of the camper or RV, fill it with your favorite beer, and it will stay perfectly cool and carbonated throughout your trip. It has a CO2 regulation system that helps maintain carbonation for weeks at a time. Initially launched on Kickstarter, these systems hold a gallon of beer and are available for $90 and $199.
RV Friendly Grill
Ultimately almost everyone who has an RV already has a grill but there's a big difference between a cheap portable charcoal grill and that fancy outdoor kitchen you have at home. Don't worry though, there are some great grill options for RV owners out there that are easy to move, fast to clean and put away when you are done and are perfect for cooking up that nice juicy steak.
An Outdoor Projector
For late movie nights—whether it's a romantic on-the-road date night under the stars with your partner or an evening BBQ with your buddies—an outdoor projector can work magic. For starters, if you're on the road for a while, it's easy to miss some of the comforts of home, like relaxing with a funny TV show or film. After a while, viewing your favorite episodes from a small screen can become tiresome. Fortunately, putting a projector on your campervan is fairly easy.
A Hammock
Nothing says comfort camping quite like a cozy hammock. In fact, the only thing difficult thing about hammocks is choosing the best one for you. At its most basic level, you can find an inexpensive hammock in the sporting goods section at your local department store. These range in quality, but get the same job done: they hang from one tree to the next, creating a cocoon-like bed for you and other travelers to relax on. Before you purchase, pay attention to how many people can fit in the hammock, as well as how much weight it can hold.
Additionally, there are both day and nighttime hammocks to choose from. Daytime hammocks cater to relaxation, while nighttime hammocks typically zip or strap at the top, turning it into a floating tent. For a cross between both, take a look at this Netted Cocoon Hammock, which has the traditional comforts of a day hammock combined with a netted cover for ultimate relaxation—especially in insect-ridden and tropical areas.
Pocket Shower
If you've ever traveled in an RV or camper, then you know taking showers can be quite the task. Of course, in many cases, your RV or camper will have a full bathroom with shower. However, this isn't always the case. Sometimes, you'll have to be a little more creative and flexible, stopping at RV campgrounds or hotels for quick showers. There's also a nifty invention called the Sea to Summit Pocket Shower is a high-performance, portable leak-proof bag that can be filled with water, and attached to any overhead mechanism to create a quick shower. It keeps cold water cold, and hot water hot. It holds 10 liters, which creates enough water for a 7-minute shower. You can control the water pressure as well.
Portable Washing Machine
When it comes to comfort, clean clothes are at the top of the list. Only the most high-tech, pricey RVs come equipped with washing and drying machines. In situations where you don't have one, you'll need to find a laundromat or laundry cleaning service in the nearest area. However, that's not always convenient.
The Scrubba is a portable, pocket-sized wash bag that puts a modern spin on an old-fashioned washboard. It contains hundreds of internal proprietary "nodules" that create high-quality washes within six simple steps (and, according to the company, is twice as effective as hand washing).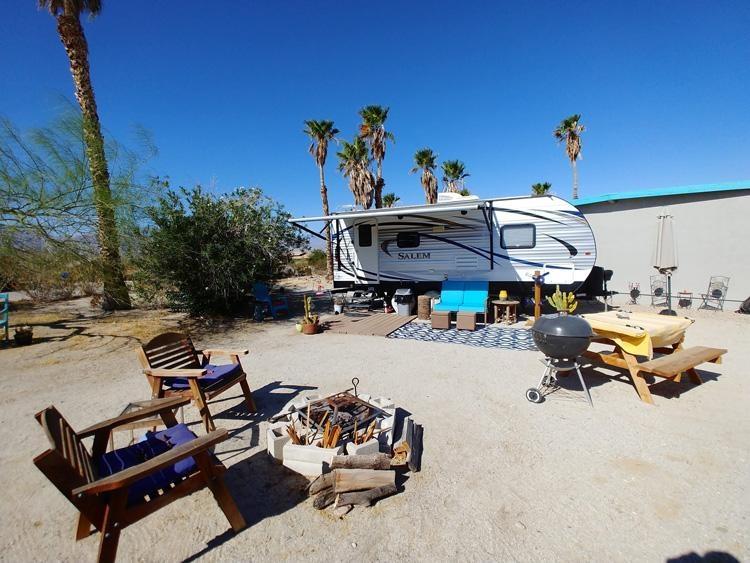 BBQ Equipment
A nice BBQ in warm weather is one of the best pieces of comfort equipment you can add to your RV or camper. After all, if you enjoy a great cookout at home, you'll probably want to apply that same comfort and "hangout" atmosphere on the road. Fortunately, there are plenty of portable BBQ systems designed for travel in a camper. From the Weber Q 2200 to the Coleman Roadtrip Propane Portable Grill, there are many worthy options for you to choose from.
Solar Panels
Solar panels can be a great addition to your RV. Simply put, RV solar panels convert sunlight into electricity, and you'll definitely take advantage of this on the road. This is a cost-effective way to access power and a great addition to a portable gasoline generator since it won't make noise or exhaust fumes. Even during the winter months or during cloudy days, you're still likely to get some sunlight to charge your batteries and power some electricity. And once they're set up, they're set up, they're essentially maintenance-free, giving you the comforting power of home during the day, and easier sleep at night.