A convertible is something special that almost begs to be driven somewhere special. That's what we did recently when Buick dropped off their new Cascada and said "have at it!". The following are some of our favorite road trips in San Diego that are perfect for enjoying with the top down.
In a world where "what did you think of that car?" distills down to a bulleted list of safety features, hauling capacity, or storage space, it's always refreshing to borrow a convertible and take it for a spin. The 2017 Buick Cascada is no different. That's not to say that it wasn't an enjoyable ride - it was. However, it's just that it wasn't the fastest, best handling, most feature packed, or more spacious car out there. It doesn't have to be though - it's a convertible, and probable one of the best rounded ones out there.
With a 200-hp engine getting 27 mpg highway on it's 20-inch wheels, the Cascada is a solid car sitting in a unique position. As a big guy, I'm often cramped in convertibles - but willing to sacrifice comfort. With the Cascada though, it offers very comfortable seats, a luxury feel, good safety features, and some unexpected features as well. For instance, the top can go up/down at up to 30 mph in 17 seconds, so there's no need stop completely. What's even nicer is that with the top up the car has a noise level comparable to a non-convertible and that makes it a great year-round vehicle that's always fun to drive.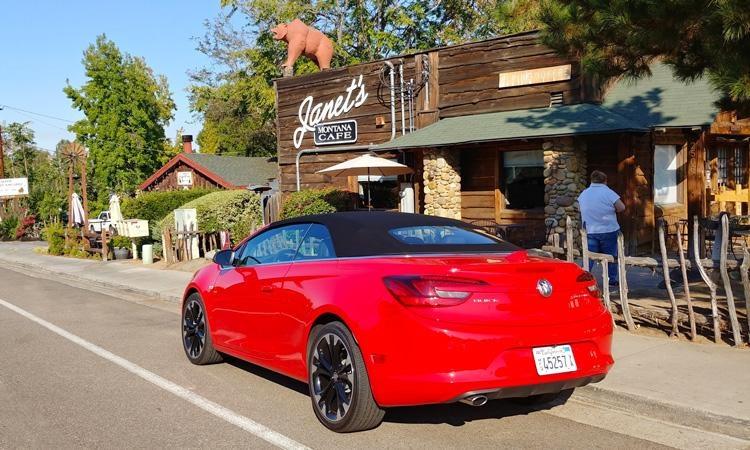 I love to drive in San Diego. There's so much to explore, but there are certain routes that are even more fun with the top down. For simplicity sake, all of these routes start from downtown but feel free to adapt as you prefer.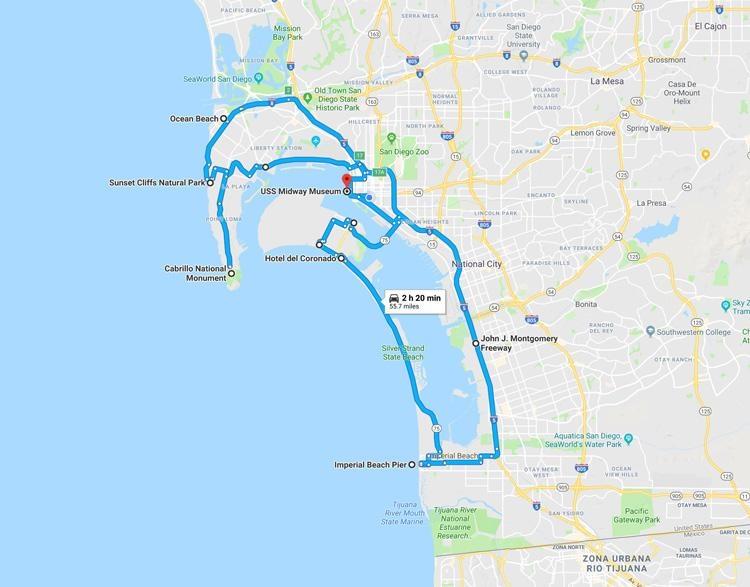 San Diego Bay Loop
San Diego Bay has a rich history going all the way back to Spanish conquistadors and continuing to today with some of the most powerful military machines in the world. This loop starts downtown and takes you across the Coronado Bridge so make sure to hold on to your hat since it gets windy there. Without stops, this is about a 2.5 hour route spanning just under 60 miles but with stops, a solid four hours or more.
USS Midway Museum - between the Midway and the adjacent San Diego Maritime Museum, this is a great opportunity to get up close and familiar with San Diego's maritime history.
Coronado Bridge - this bridge can be fun to drive, but make sure to keep your eyes on the road. Your passenger though will love being able to see a fantastic view of downtown San Diego from one side and the shipyards from the other.
San Diego Ferry Landing - just after the bridge, you'll want to make a jog to the right for some fantastic views of downtown. I LOVE doing this at night since you can see the skyline all lit up, but it's great any time of day.
Coronado Beach - next, you're going to want to head to the beach and while it's up to you if you get out or not this is a great place to breath deeply and inhale the fresh sea air since there's no roof keeping it out!
Hotel Del Coronado - This is a great place to stop for a quick snack and walk on the beach! The hotel has a fantastic history and makes for a great photo op, even if you just drive through.
Silver Strand Beach - as you drive south from the "Hotel Del" you'll pass a long strand of beach where you can often see Navy Seals practicing, but at the south end it opens up to a public Beach with far fewer people than up by the northern end of the island.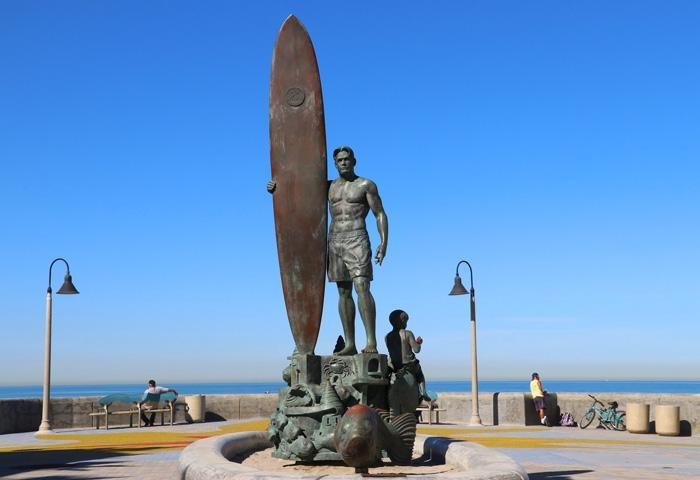 Imperial Beach Pier - Imperial Beach is just a couple miles north of the Mexican border and has a great beach as well.
Cabrillo National Monument - After Imperial Beach, it's time to get back on the highway and head up to Point Loma and ultimately the bluffs overlooking San Diego bay. This is where the Spanish originally discovered San Diego and is a fantastic vantage point to watch Navy ships leaving the harbor as well as fighter jets landing at North Island. While there, make sure to also visit the west side of the park where you can explore tidepools or simply relax with the top down and catch some rays while listening to some tunes.
Sunset Cliffs - you should time your road trip to end up here at just before sunset since this is the icing on your cake! Sunset cliffs is one of the best places in San Diego to watch the sunset over the Pacific Ocean. While we would normally say you could relax with the top down, you might take this opportunity to get out and walk around a bit instead.
Ocean Beach - After sunset, head over to Ocean Beach and enjoy one of the many bars, craft breweries, or grab a burger at Hodads before heading back home.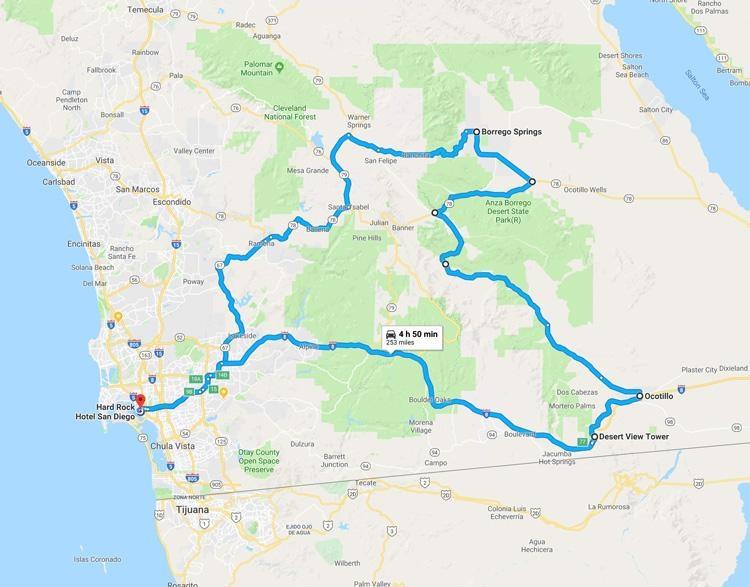 San Diego Desert Exploration
While our first road trip was a long series of stops with short drives between them, this is a full day trip with as few stops as you want. Instead, it's all about the sheer fun of driving through some technically challenging roads and experiencing diverse terrain. The trip is going to take you about 5 hours with no stops, and spans nearly 300 miles. The thing I like about this route is that it plays to the strengths of the Casacada including it's comfort during a long drive - something that other convertibles I've driven can't boast. Similarly, while it's NOT a nimble roadster, it still handles well on mountain roads and fast, flat desert straightwayas.
Ramona - As you leave downtown, you'll notice the terrain begins to change from dense urban and relatively green to more desert like. Once you get to Ramona you'll have an opportunity to do some wine tasting (passenger only please!) or at least check out some vinyards as you drive by.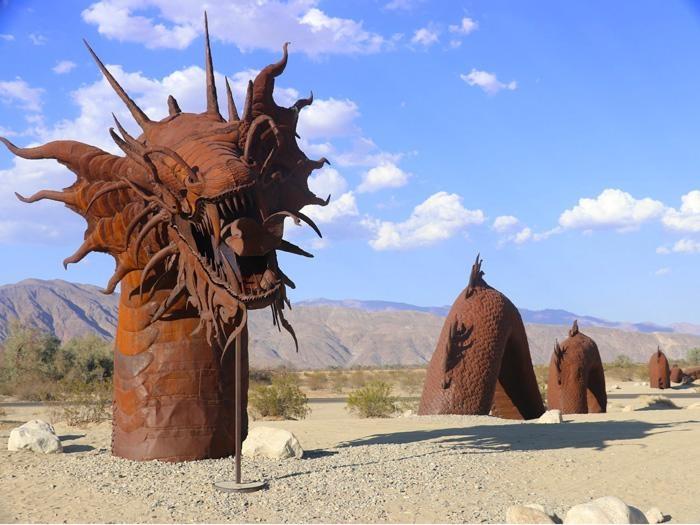 Borrego Springs - Between Ramona and Borrego Springs, you'll be passing over the mountains and making the full transition from green to desert brush. When you arive in Borrego Springs, make sure to check out some of the sculptures in Galetta Meadows. There are hundreds of them that are just off the road here and while you always want to be careful, the Cascada can handle packed sand.
Overland Stage Route of 1849 - We're going to jog a bit back into the mountains here before heading out to the desert again for a chance to roll along one of the first highways in the western United States. The Overland Stage Route of 1849 actually dates back to the late 1700's when it was a dusty trail used by the Spanish and in 1826 it served as a Mexican mail route. Today, this is your chance to drive through the desert along a trail where legends like Kit Carson and Mark Twain once road and imagine imagine what it must have been like hundreds of years ago with no air conditioning!
Desert View Tower - After your arive back in Ocotillo and hit the 8 again, it's time for one last stop at Desert View Tower before heading back to town. Desert View Tower is perched on the top of the eastern edge of mountains at 3,000 feet above sea level and offers a stunning view of the desert and surrounding mountains.
Heading back on the 8, you can put the top back up and enjoy max a bit more speed and quiet or keep it down. That's the fun of this car and even as high as 70 mph it was still comfortable (though the wind noise makes conversation tough).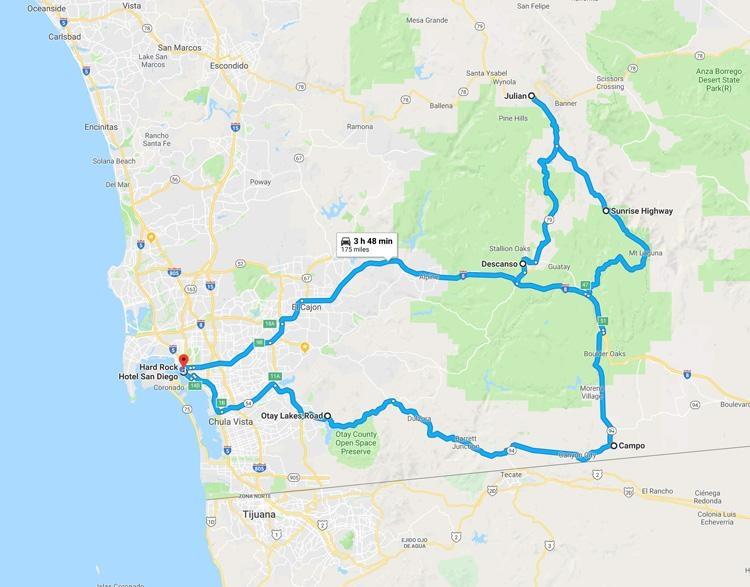 San Diego Mountains and Valleys
Similar to the previous road trip, we're headed back to the mountains but this time we're going to be focusing on some of the best turns and views in all of San Diego. While we can go fast ... that's not the point. Instead, we're going to drop the top, enjoy the sunshine and pull that fresh air into our lungs while driving through some of the most beautiful landscape imaginable. This route takes just under four hours and just short of 200 miles, though while you can stop for photos the focus here isn't on going from spot to spot - it's about the pure experience of driving a convertible.
Our journey begins downtown and we're going to head out on the 8, headed to Julian via the 79.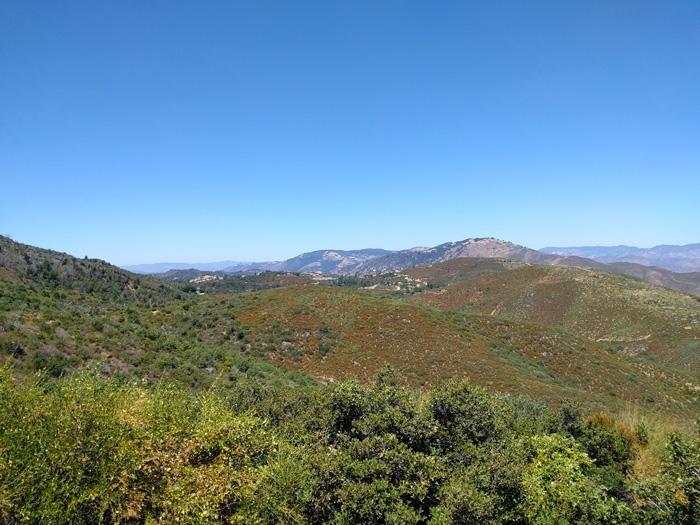 Julian - this mountain town makes for a great road trip destination and even though it's famous for "Julian Apple Pie", sadly most of the apples used here for pie and cider are actually imported from other states. Even so, it makes for a great stop and Julian Pie Company makes some great pies (make sure to try yours with a slice of Cheddar Cheese - just trust me)
Mt Laguna and Sunrise Highway - from Julian, we're going to head south along the edge of the mountain and this is a great opportunity to witness the impact of a "Rain Shadow". You'll notice that on the Eastern side of the mountain it's dead, brown, and desert but just on the other side of the road you'll see green grasses and trees. This is because moisture coming off the Pacific Ocean rises when it hits the mountains here and rain falls to the west - leaving the eastern slope dry.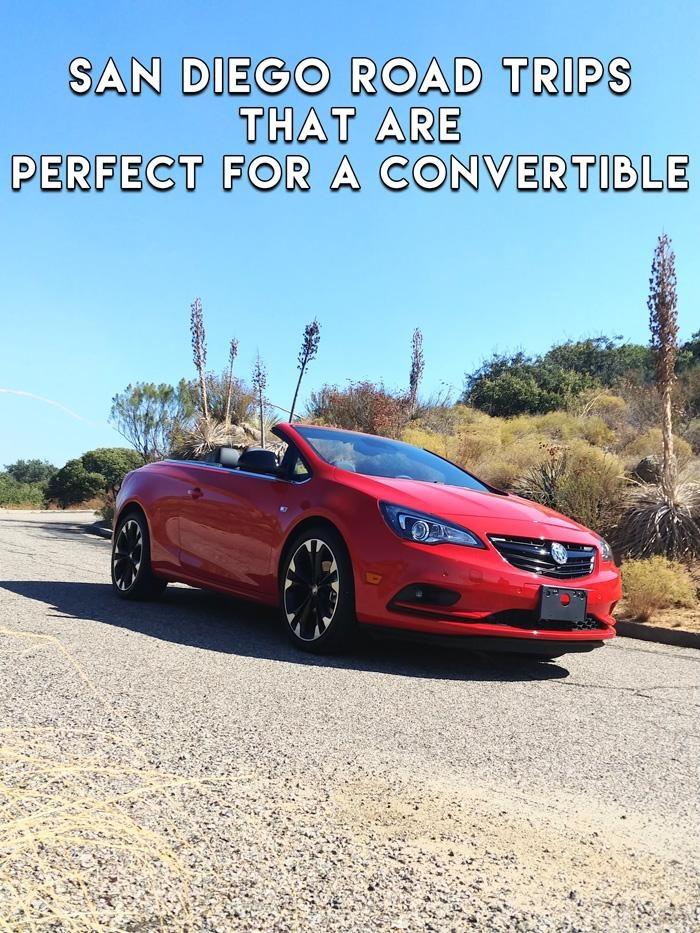 As we head south out of the mountains and down to Campo, the route will begin to curve westward again and for a few moments you'll be almost on the border with Mexico before winding your way back through the valleys towards town. Along the way, you'll pass by Otay Lakes and the Olympic Training center where you can sometimes see young athelets performing.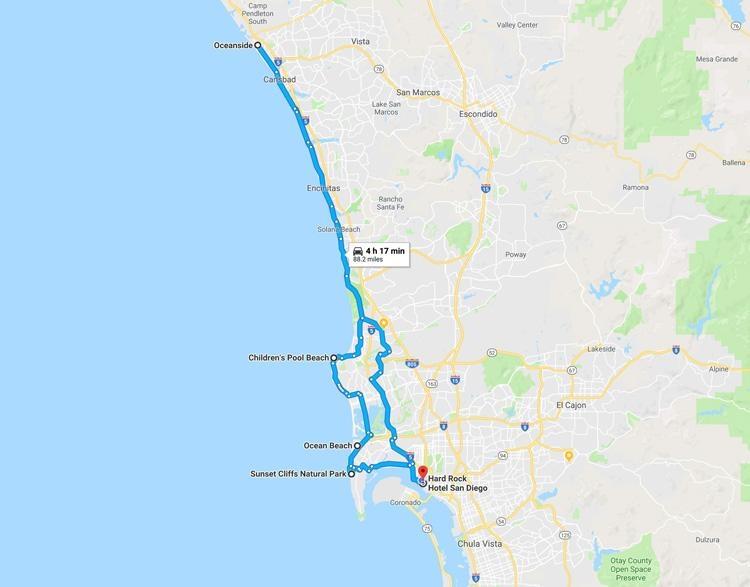 San Diego Beach Towns
Of course, no roundup of San Diego roadtrip routes would be complete without a drive along the shore. This route is going to be a long one at nearly five hours (and potentially MUCH longer with traffic and stops), but it's worth it because this is where a convertible shines and in particular the Cascada is such a pleasure to drive. When you are stuck in traffic here, don't worry - just push back in your seat, stretch your arms up high and relax because you're soaking up the sun and fresh ocean air.
For this route, we're going to first head north to Oceanside. You Can cut some time off the schedule by taking the 5 north and making your way back along the coast - or you can meander the whole way.
Once in Oceanside, you're going to get on California's famous Highway 1 and head south through some of the most iconic Southern California beach towns imaginable including: Carlsbad, Encinitas, Solana Beach, La Jolla, Pacific Beach, Mission Beach, and finally ending up in Ocean Beach.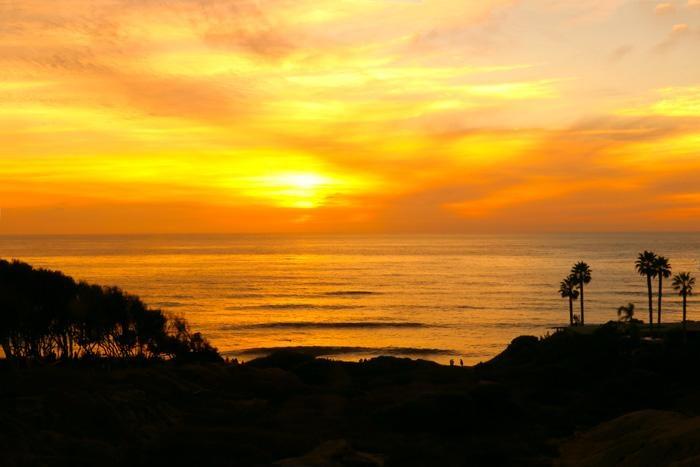 From there, I recomend spending a few moments at Sunset Cliffs and enjoy the natural beauty here.