Navigating the world of self-care can be a daunting task for many men. A 2018 study revealed that incorporating daily self-care practices significantly improves mental well-being but that shouldn't be a surprise to anyone. Hard work isn't enough - you need to take some me time too so that your body and mind can catch up. This blog post will guide you through essential bedroom gear tailored specifically to enhance your relaxation, rejuvenation, and overall wellness at home.
So, are you ready to transform your bedroom into a sanctuary of self-care? Let's dive in!
Quick Recommendation
For a speedy recommendation, be sure to take a look at our quick product list, or keep scrolling for more in-depth reviews.
Cozy earth Bamboo Sheet Set
Luxurious comfort for a blissful night's sleep.
Highlights
Made from premium quality, eco - friendly viscose from bamboo material
Breathable and temperature - regulating for a comfortable night's sleep in any season
Zipper closure for easy bed - making and secure fit on the mattress
Includes a fitted sheet, perfect for hassle - free bedding setup
Stylish traditional design in a neutral gray color to match any bedroom decor
Available in King, Queen, and other standard sizes, providing ample coverage and comfort
The Cozy Earth Bamboo Sheet Set promises comfort, style, and functionality in one package. Designed to feel like the perfect temperature each time you use it, these sheets are made from premium 100% viscive from bamboo fabric that is both luxurious and gentle on sensitive skin. The light grey color gives a sophisticated look to any bedroom decor while providing a calming effect usually associated with neutral colors. It's more than just visual appeal though - the material quality ensures its tactile experience is second-to-none.
What makes the Cozy Earth set stand out is its unparalleled softness, making it our top choice of all sheet sets on the market today. Every piece in this set including the flat sheet, fitted sheet and pillowcases share this unique attribute thanks to their shared composition of bamboo-derived viscose. What's even better for men who value practicality along with comfort? They're easy to maintain over time without compromising on their initially plush feel or looks!
Finally, this Gray King Sheet Set includes 2 pillowcases aside from your standard 1 flat and fitted sheet combo – an additional feature that highlights Cozy Earth's holistic approach towards ensuring customer satisfaction by catering to all possible needs in one go. So if you're seeking excellent craftsmanship combined with exceptional comfort nightly – choose nothing but Cozy Earth's Bamboo Sheet Set.
The Cozy Earth Bamboo Sheet Set is ideal for those who value a luxurious sleep experience and crave the feeling of perfect temperature. If you're looking for ultimate comfort, this sheet set is your ticket to dreamland!
IQAir HealthPro Plus Air Purifier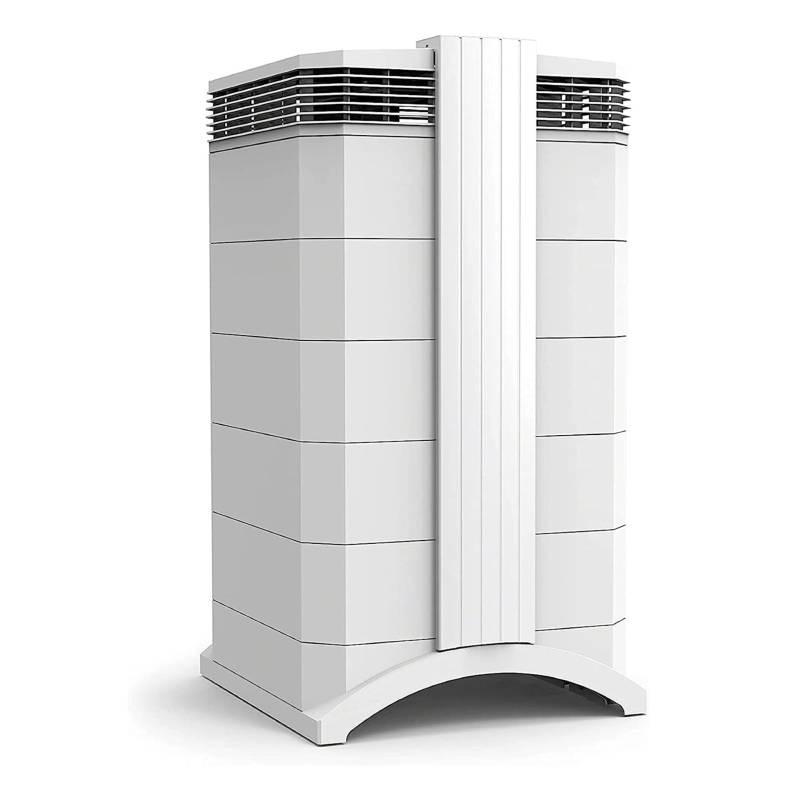 Breathe Cleaner Air: The Ultimate Protection Against Airborne Contaminants
Highlights
Imported from Switzerland for superior quality
10 - year Limited Warranty for peace of mind
Powerful 160 - watt motor ensures optimal performance
Advanced HEPA filtration technology captures particles as small as 0.003 microns
Covers a large area of up to 1125 square feet
Whisper - quiet operation at only 69 dB noise level
The IQAir HealthPro Plus Air Purifier is an unrivaled choice when it comes to air purification. This Swiss made air cleaner has a powerful motor encased in doubled-walled housing, making it ultra-quiet and efficient - ideal for home offices or bedrooms. Its fan-in-center design not only minimizes sound but also promotes energy conservation, operating on as much electricity as a conventional light bulb. The device's 320-degree EvenFlow Diffuser ensures superior airflow, filtering the air in large rooms multiple times an hour.
This purifier showcases its thoroughness with three different filters targeting various pollutants: Pre-filter for coarse particles, Activated Carbon Adsorption for odors and gasses, and HyperHEPA for fine and ultrafine particles. These long-lasting filters (lasting up to four years) are cost-efficient saving you money over time while being eco-friendly too! Most significantly, the Medical Grade H14 HyperHEPA Filter guarantees removal of 99.995% of all airborne particles down to 0.003 microns – that means bacteria, mold, dust mites allergies or even smoke from wildfires are no match against this powerhouse of clean air technology!
We ranked the IQAir HealthPro Plus Air Purifier at the top of our list because it offers spectacular efficiency without causing noise disturbances or consuming too much power. It offers protection against almost all types of common indoor pollutants sans any downtime while ensuring considerable savings in the long run due to its durable components and low-energy consumption.
The IQAir HealthPro Plus Air Purifier is the ideal product for health conscious people who want to protect their family from asthma triggers, smoke, bacteria, viruses and other airborne particles. Practicing mindful breathing is a big part of of self care and how are you supposed to do that if you have dirty air around?Now you can experience medical grade air purification in the comfort of your home with this powerful air purifier - try it today!
3. BedJet Cooling and Heating Air System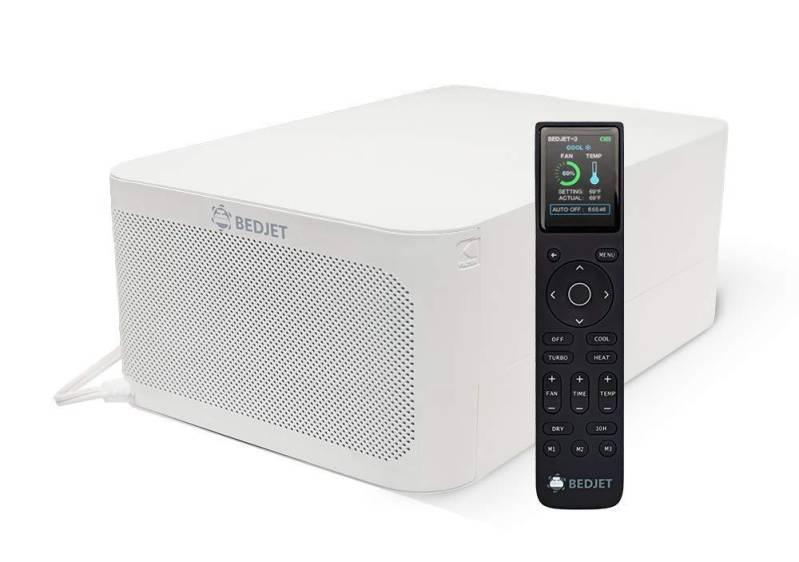 Customizable climate control for a dreamy night's sleep.
Highlights
Remote control for easy and convenient adjustment
Dual function: cooling and heating to maintain the perfect sleep temperature
Corded electric power source for consistent and reliable operation
Adjustable settings to provide personalized comfort levels
White color matches any bedroom decor seamlessly
Low noise level of 43 dB ensures a peaceful night's sleep
Experience unparalleled climate comfort right in your bed with the new and improved BedJet 3 system - it's revolutionizing bedtime routines for men across America. Despite being 30% smaller than its V2 predecessor, its prowess remains uncompromised. This device provides both cooling and heating air elements that adapt to any size of bed or mattress. The advanced remote control offers an effortless configuration with a color LCD screen and back-lit keys. Undeniably, the BedJet creates a personalized sleep environment tailored to one's preference.
One standout feature is the biorhythm sleep technology that allows automated smart temperature control.
You can program different temperatures for each hour of the night, ensuring you wake up rejuvenated without breaking a sweat or shivering from cold at ungodly hours! If you are prone to cold feet or legs during winter nights, then let this serve as your solution; heating mode providing sauna-like warmth in mere seconds much safer and more efficient than any electric blanket would do.
We've selected this product for our list of gear guys need for great self care, because a comfortable bed is probably one of the most important elements of a peaceful sleep experience. This BedJet supports that goal - requiring nothing more but simple set-up procedures makes it an excellent pick if convenience tops your priority list over price matters.
The BedJet Cooling and Heating Air System is perfect for hot and cold sleepers alike, providing comfort and convenience with on-demand cooling, warming and sweat drying. Enjoy the deep sauna like warmth in seconds or quickly wick away body heat and moisture all night long – it's the best solution for a comfortable night's rest. Try it now - you won't be disappointed!
BALOOM Stretching Massager Mat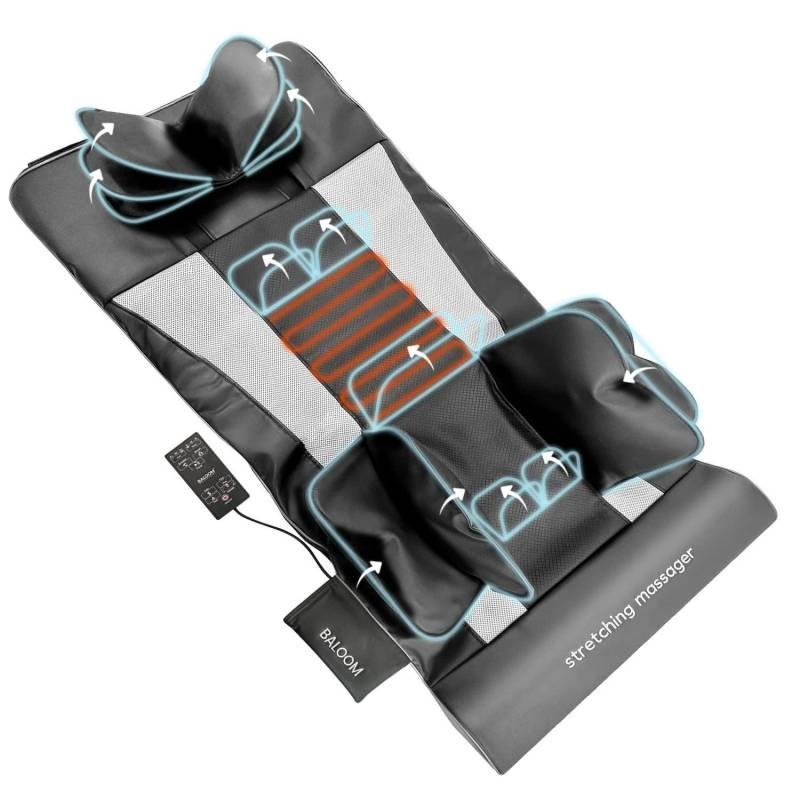 Ultimate Pain Relief and Relaxation for Active Lifestyles.
Highlights
Innovative stretching massager mat for targeted back pain relief
Made with high - quality leather material for durability and comfort
Powered by a corded electric source for consistent and reliable use
Designed specifically for effective back stretching exercises
Provides deep tissue massage to help alleviate muscle tension
Sleek black color adds a touch of sophistication to your home gym or therapy space
In the modern man's life full of pressures and physical exertion, relaxation has become an absolute necessity. In an ideal world, we'd all be able to spend an hour getting a massage every day but part of what I preach about self care is making time to do things that matter. The BALOOM Stretching Massager Mat provides a highly efficient solution for this issue and all in the convenience of your bedroom.
It is designed to cater to all your body needs from the neck down to releasing back pain, ensuring you get a comprehensive soothing experience with deep acupressure relief. Your post-workout recoveries can be significantly improved with this mat, which aids in relieving muscle tension and heightening blood circulation.
The BALOOM Mat doesn't just stop at effective massaging. One of its standout features includes the heat function that delivers warmth across your shoulders and back while you enjoy your massage session — ideal after a long day or rigorous workout regime like yoga or exercise sessions. Not forgetting about flexibility and convenience, it's easily foldable making storage effortless while also being perfect for travel use with its portable design feature.
By adjusting programs & intensity according to individual requirements, users can customize their relaxation process on this workout gear turned comfort haven. Having adjustable chambers for neck and shoulder further ensures tailored care regardless of your height or size—talk about personalized self-care! With such high-end performance wrapped up in sleek synthetic leather finish makes the BALOOM Stretching Massager Mat not only useful but stylish as well - an essential accessory for every health-conscious man out there.
The BALOOM Stretching Massager Mat is ideal for anyone looking to make their busy day a bit better. Suited especially for athletes, this massager mat can be used at home or on-the-go - relieving tension with adjustable programs and intensity levels that support deep acupressure. Get your back in shape today!
Rosetta Star Projector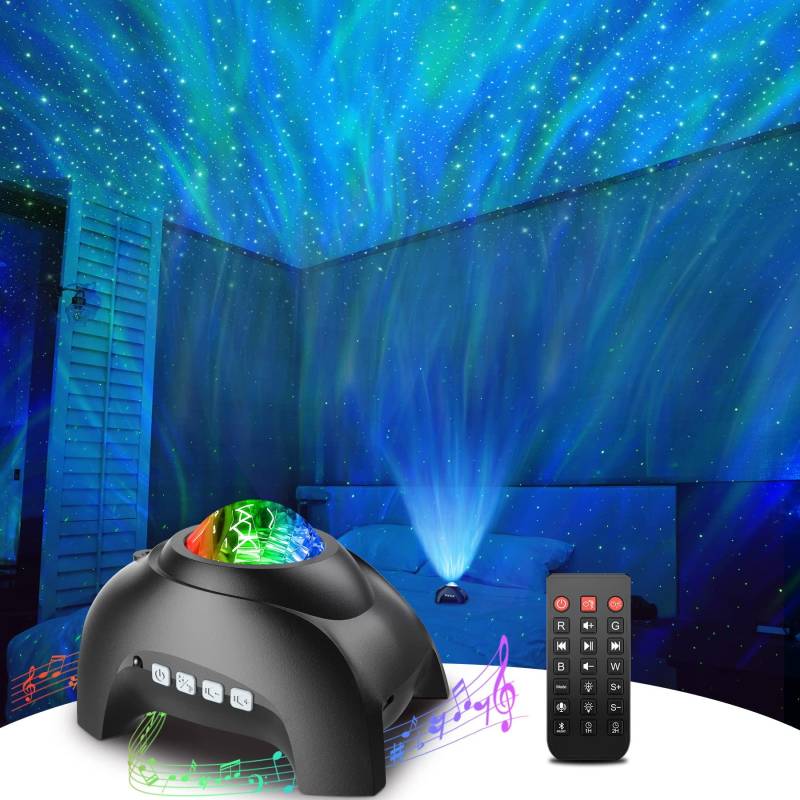 Create a Relaxing Galaxy Atmosphere with Music and White Noise.
Highlights
Creates a stunning galaxy projection on walls and ceilings
Features built - in white noise for a soothing sleep environment
Includes Bluetooth speaker for wireless music streaming
Remote control allows easy customization of lighting effects
No assembly required, ready to use out of the box
Comes with a 1 - year limited warranty for peace of mind.
Aiming to relax and just chill out after a demanding day at work but want to avoid watching TV?
Now you can sit back and immerse yourself in the serene ambience created by the Rosetta Star Projector. This 3-in-1 tech marvel serves as an aurora projector, Bluetooth speaker, and white noise machine all rolled into one sleek device. The dual projection lens offers a captivating visual display of northern lights effect with 16 colors intermixed with lively star-lit skies. Just sync your favorite tunes via Bluetooth to watch these calming lights modulate rhythmically along with your music, transporting you straight into nature's lap.
Designed keeping user-centricity in mind, this galaxy projector boasts an extremely useful auto-off timer function which allows you to set it up for sleep without worrying about leaving it on - just what every busy man needs! In addition, it pre-installs eight soothing white noise sounds including calm ocean waves and tranquil bird chirps that not only aid quality sleep but also mitigate stress levels effectively. When not using it to meditate during a self care session, the sound activation feature - coupled with the built-in music speaker - can be used to bring life to your parties by syncing the light projections dynamically with changing beats.
This Rossetta Star Projector is perfect for anyone looking to create an aesthetically pleasing and tranquil atmosphere in their home. With its 16 color LED projection, built-in music speaker, remote control options and white noise machine functions, it will transform any room into a cozy galaxy of stars and aurora lights. If you are looking for a unique decorative piece to make your home stand out from the rest, this versatile star projector won't let you down!
Tivoli Audio Revive Bluetooth Speaker With Wireless Charging Pad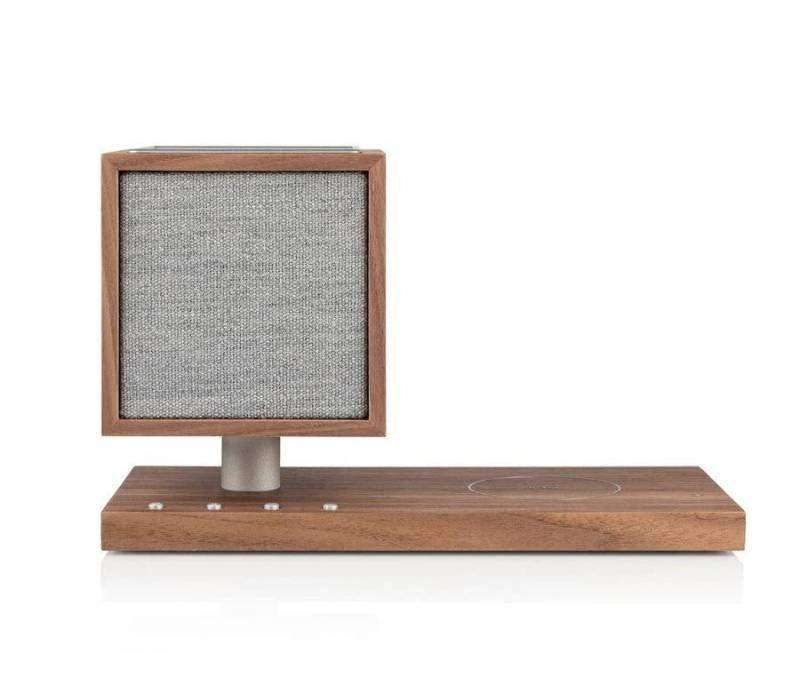 Effortless convenience with wireless audio, charging, and adjustable lighting.
Highlights
Seamless wireless connectivity through Bluetooth, auxiliary, and USB options
Powerful sound with a tweeter speaker type and maximum output power of 25 watts
Innovative wireless charging pad for convenient charging of compatible devices
Sleek design by Tivoli Audio that enhances any space with its stylish presence
Compact and portable, weighing only 1.45 kilograms for easy transportability
Versatile usage for various settings including home audio systems or on-the-go entertainment
We've been fans of Tivoli Audio for years and in fact, we featured them in one of our first gift guides more than a decade ago. Now they have a new product that we're just as excited about. The Tivoli Audio Revive Bluetooth Speaker With Wireless Charging Pad truly caters to an all-in-one experience. The speaker's head pivots, allowing you to direct high-quality audio wherever you need it most. Its sleek design, especially the elegant walnut finish, makes it not just an essential gadget but also a sophisticated addition to any man's den or workspace.
For those gadgets that don't support wireless charging yet, Tivoli has thoughtfully added a USB port as well – showing their understanding of seamless tech integration in contemporary lifestyles.
In summary, what sets the Tivoli Audio Revive apart is how it combines practicality and style beautifully- delivering quality audio performance, convenient wireless charging function and ambient lighting wrapped in tasteful modern aesthetics.
The Tivoli Audio Revive Bluetooth Speaker with Wireless Charging Pad and Lamp is perfect for tech-savvy people who want to keep their lifestyle convenient and efficient. While technology is endemic to our modern lives, natural wood and simplicity can help set the tone for relaxation.
VegeBox Mini Hydroponic Growing System
The Perfect Indoor Growing System for Green Thumbs and Beginners
Highlights
Compact and portable hydroponic growing system
Ideal for small spaces like apartments, kitchens, and offices
Allows you to grow fresh vegetables all year round
Easy to use with automated watering and lighting system
No soil required, making it mess - free and low maintenance
Comes with a variety of seeds to get you started on your gardening journey
Exercising your green thumb has never been easier with the VegeBox Mini Hydroponic Growing System. This sleek and innovative product brings home gardening to your fingertips, offering an accessible way for everyone - from novices to seasoned hobbyists - to cultivate their favorite flowers and herbs, all at the comfort of their kitchen or living room. What sets this system apart is its DIY feature which can be both educational and fun, especially for kids who are just beginning to learn about plant life.
The user-friendly design coupled with a powerful full-spectrum LED lighting system ensures that regardless of weather conditions or climate changes, you're guaranteed a thriving indoor garden year-round. The touch button conveniently allows brightness adjustments promoting healthy growth rates while saving energy—a testament to its environmentally-conscious ethos. The package comes complete with essential tools including sponges and tweezers but leaves out soil and seeds giving users complete freedom over what they wish to grow.
Moreover, gifting this unique kit would certainly set you apart amongst friends—it's aesthetically pleasing enough as a decorative piece for any office or living area, without even mentioning the joy planting brings!
As much as it provides aesthetic appeal though, benefits extend beyond; nurturing plants have proven therapeutic effects helping cope with stress — a suitable gift idea for every hardworking man seeking respite from daily hustle bustle.
This VegeBox Mini Hydroponic Growing System is the perfect gift for green thumbs and gardening enthusiasts that value self care. With its easy-to-use design, it's a great way to bring nature indoors, whether you're growing plants for decoration or as a food source. For those who are just starting out in planting, this product is an ideal choice since it allows anyone to get started with hydroponic farming and enjoy the joys of gardening at their own pace.
Creating a Serene and Personalized Space
Declutter and organize your bedroom for a calming atmosphere. Personalize it with decorations, soothing colors, plants, and natural elements to create a tranquil oasis. Read on to discover more tips for transforming your bedroom into the perfect self-care retreat.
Decluttering and Organizing
Embracing the art of decluttering and organizing transforms your bedroom into a serene, personalized space that promotes well-being. Research indicates a messy room can disrupt your sleep, impacting overall health.
By tackling clutter and embracing tidiness, you're not only shaping up your physical environment but also reducing visual interruptions linked to stress and unrest. Whether it's clearing out unnecessary items or streamlining your wardrobe to lessen decision fatigue, these intentional actions carve out tranquility in the chaos of everyday life.
Even if the task seems daunting at first glance, break it down into feasible steps instead of trying to accomplish everything at once. The psychological benefits are immense - a cleaner space fosters clarity and focus while boosting accomplishment feelings resulting from ticking tasks off your to-do list.
Incorporating principles of feng shui by creating balance contributes to harmony in your sanctuary too. So grab that checklist, start small today - because every piece cleared is a step towards mindfulness confirmed for tomorrow!
Personal Touches and Decorations
Dive into the world of personalized home decor to create a serene bedroom that genuinely reflects your personality. Start with treasured objects, such as framed photographs of loved ones or art pieces you adore - they add a satisfying personal touch.
Spark joy by decluttering and organizing to create a calming atmosphere in your sanctuary. Don't shy away from exploring resources like Pinterest or Instagram for bedroom decorating ideas that align with your style and preferences.
Color plays an influential role in setting the tone for self care. By selecting soothing color schemes can enhance not just the aesthetic appeal but also the vibe of your space, promoting relaxation after stressful days.
A relaxing environment is crucial for self-care; make it worthwhile by including elements that foster tranquility such as soft lighting or an indoor plant adding natural beauty to the room layout without overwhelming the space.
Soothing Color Scheme
Transforming your bedroom into a serene sleep oasis begins with choosing the right color scheme. Soft, muted hues like lavender and sage green create a tranquil ambiance to unwind after a hectic day, making you feel relaxed.
Light blues and pinks are also proven calming colors for sleep. They're not only pleasing to the eye but have impact on mood enhancement as well. Steer clear from vibrant shades like reds and oranges that tend to energize rather than soothe.
The psychology behind these soothing color choices promotes better sleep hygiene, mental health benefits, and anxiety relief – all crucial elements of self-care for men in today's fast-paced world.
Plants and Natural Elements
Incorporating plants and natural elements into your bedroom can create a serene and personalized space for self-care. Adding indoor greenery not only brings in a touch of nature but also helps to purify the air, creating a healthier environment for relaxation.
The calming effects of plants have been proven to reduce stress levels and promote feelings of tranquility. Along with plants, other natural elements such as wooden furniture or decor can enhance the overall aesthetic appeal of your room while promoting a sense of harmony and balance.
By bringing the outdoors inside, you can transform your bedroom into a relaxing oasis where you can unwind and rejuvenate both body and mind.
Establishing and Maintaining Self Care Habits
Establish healthy nighttime routines, prioritize good sleep hygiene, incorporate self-care activities into your daily regimen, and set boundaries for technology and work to establish and maintain self-care habits in your bedroom.
Nighttime Routine
Establishing a solid nighttime routine is essential for practicing self-care and improving sleep quality, which has numerous benefits for your mental clarity, productivity, motivation, and overall well-being.
A consistent bedtime routine helps signal to your body that it's time to wind down and prepares you for restful sleep. Incorporating self-care activities into this routine is vital for maintaining good mental health and promoting overall wellness.
Experts advise including practices such as reading a book, journaling, meditating, or engaging in relaxation exercises before bed to enhance your self-care experience. By prioritizing these habits consistently, you can create a peaceful and rejuvenating atmosphere in your bedroom while taking care of yourself at the same time.
Good Sleep Hygiene
Maintaining good sleep hygiene is essential for men to establish and maintain healthy sleep habits. It involves adopting a regular sleep schedule, creating a comfortable sleep environment, and practicing bedtime habits that promote restful sleep.
Consistency is key when it comes to sleep routine - going to bed and waking up at the same time every day helps regulate your body's internal clock. Avoiding caffeine, nicotine, and alcohol close to bedtime can also improve the quality of your sleep.
Additionally, keeping your bedroom cool, dark, and quiet can minimize disturbances that may disrupt your slumber. Prioritizing good sleep hygiene not only improves mental wellbeing but also contributes to increased athletic performance and overall physical health.
Incorporating Self Care Activities
Engaging in self-care activities is a vital part of maintaining overall well-being and promoting a healthy lifestyle. By incorporating self-care activities into your daily routine, you can prioritize your mental health and enhance your physical wellness.
From taking a walk outdoors to practicing mindfulness exercises, there are countless ways to incorporate self-care into your life. It's important to remember that self-care looks different for everyone, so find activities that bring you joy and relaxation.
Whether it's reading a book, listening to music, or enjoying a hobby, make sure to set aside time each day for these rejuvenating practices. Prioritizing self-care not only benefits you but also allows you to show up as the best version of yourself in all areas of life.
Incorporating essential oils into everyday routines is another simple yet effective way to practice self care. Essential oils have been used for centuries for their therapeutic properties and can help relax the mind and body.
From lavender for stress relief to peppermint for energy boost, incorporating these fragrant oils into your bedroom environment can create an atmosphere conducive to relaxation and well-being.
Setting Boundaries for Technology and Work
Setting boundaries for technology and work is crucial for maintaining a healthy work-life balance and prioritizing your mental health. With technology infiltrating every aspect of our lives, it's important to establish limits to prevent burnout and ensure you have time for self-care.
By setting boundaries around when and how much you engage with technology, such as designating "tech-free" zones or scheduling regular digital detoxes, you can create a healthier relationship with devices and reduce stress.
Similarly, establishing clear boundaries between work and personal life helps prevent overworking and allows you to focus on self-care activities that rejuvenate your mind and body.
Conclusion: Self Care Starts At Home
In conclusion, prioritizing self-care in the bedroom is essential for men to promote their overall well-being. By incorporating the recommended gear, such as the cozy earth Bamboo Sheet Set and IQAir HealthPro Plus Air Purifier, men can create a serene and personalized space that enhances relaxation and rejuvenation.
Investing in these high-quality products will not only improve sleep quality but also contribute to a healthier lifestyle. Don't wait any longer - upgrade your self-care game now!