SureFire contacted me a few weeks ago and invited me to check out one of their new products - the SureFire SideKick. This is their answer to those who are looking for something with the brand's legendary quality but in a super compact, always on your person form factor. It comes at a price but if you want possibly the best keychain flashlight available today then this is the one to get. Plus, don't worry - we've got a 50% off coupon at the end of the article to make it an even better time to buy one today.
Most of you are probably familiar with SureFire. It's a hardcore, battle-tested brand that has been making flashlights for decades used by military, police, and other first responders around the world. It's an American company and is trusted by hunters, extreme sports enthusiasts, and survivalists looking for rugged products that deliver high performance designed to last. Now they have a keychain flashlight that is is crossing over to the consumer market too.
Is the SureFire SideKick Worth $79.99?
I've got to admit, I was sticker-shocked when I first saw the MSRP of $79.99 for the samples that they sent me. SureFire is competing a market where virtually all of us have an LED flashlight on our phones that we think works well enough. Because of this, it took me a few minutes to let that price register and then take a look at why the price was so high. Luckily, we've got a coupon code mant that you can use on DiscoverSureFire.com to make that price a much more palatable $39.99. This special price will only last until June 18, 2018 or while supplies last, so don't wait. Even at that price though this is a super premium product, so what makes it worth that price?
SureFire SideKick Brightness Modes and Operation
One of the nice things about the SureFire SideKick is that it has three intensity modes - 300, 60, and 5 lumens. The battery is also rechargeable by standard USB plug (micro-B five pin on the flashlight and Type A to plug into a standard charger or PC). When fully charged, it provides 1.25 hours of illumination on high, 4 hours on medium, and 45 hours on low. The MaxVision Beam™ is designed to provide a useful range of more than 50 meters, so it's ideal for walking at night as well as searching for objects in your path. I'm also looking forward to testing this out more for some light painting.
While much attention is rightfully given to the high intensity mode - it's a LOT of light for such a small flashlight - I also really appreciate the low intensity 5 lumens mode. I found this ideal for using to look at camera settings in the dark or read a map in the car without disturbing the driver. For true night use though, you should obviously have a red or blue-green filter on to preserve your night vision if you are in tactical mode.
The polymer body is weather resistant and the build quality is as you'd expect from a SureFire product - excellent. While this is a product aimed at consumers, there were no compromises in the build quality.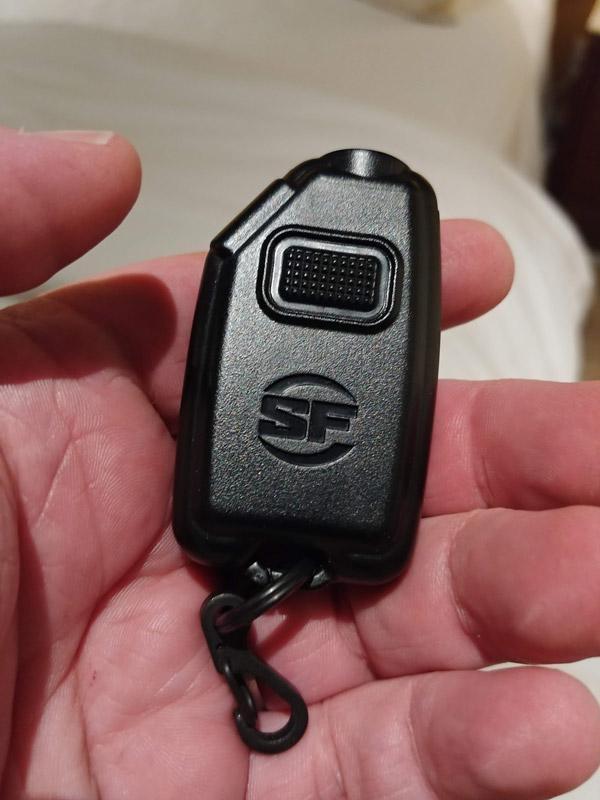 Comparing SureFire SideKick to Your Cell Phone Flashlight
The SureFire SideKick is rated at 300 lumens and has a tighter beam shape designed to help you navigate or investigate something. I really like the beam quality - while it has a wide enough beam to be be more than a spotlight, it still has enough focus to help illuminate what's right in front of you. Compare this to your cell phone flashlight with a typical brightness of 25-40 lumens (different models vary). Your phone flashlight is also designed to "flood" since it's primary purpose is as a flash to help you take better photos rather than as a true flashlight. In practical matters. This means that if you are trying to navigate a path in the dark that the SideKick will be able to penetrate the darkness farther and illuminate it far better without flooding the area with low level light. Anyone who has gone on a walk at night knows how frustrating this is when you follow someone with a cell phone flashlight since it disrupts your normal night vision significantly. While your eyes are still being exposed to light with the SideKick I feel like it is less disruptive since the beam is narrower.
Additionally and possibly most importantly - do you want to be fumbling with your cell phone at night when you already have your keys in your pocket?
Dropping your phone and cracking the screen is a mistake that will cost you hundreds of dollars while dropping the SideKick is unlikely to cause any damage other than getting it dirty.
Who Should Buy the SureFire SideKick
While all of us need the SureFire SideKick in our pocket, this is clearly a super premium product that isn't right for everyone, so let's take a look at who this product is probably best for ...
Photographers Looking for a Good Flashlight For Night Use: I really like the beam intensity for light painting but equally so I like the low intensity mode to use for checking camera settings without blowing out my eyes.
People Who Take Walks at Night: Cell phone lights are terrible for walking a path at night. With the SideKick it is much easier to navigate and clearly illuminate not just what's right in front of you ... but what's down the path too. This is true for use cases like hiking in the woods or navigating stairs to the beach but it is also true for walking in dimly lit urban areas too.
Guys Who Want The Best: There are cheaper options out there for someone who wants "just a flashlight", but if you need a gift for a guy that wants the best, this is a great choice. The SureFire brand is something that any hunter or law enforcement officer immediately recognizes. Now you can have one in your pocket ready for everyday use too.
Remember - between now and June 18, 2018 (while supplies last) - you can visit DiscoverSureFire.com and use the discount / coupon code mant and get the SureFire SideKick for only $39.99. Normally this keychain flashlight is listed for $79.99 so that's a great deal!