Trucks are awesomely powerful machines and the embodiment of testosterone in many ways ... they can be chic, smooth, and luxurious ... or they can be brutish and able to tackle any object in front of them. They can also be anything in between those two bookends and that's the message from Nissan. The Titan is one of my favorite trucks because while it isn't the biggest or the fanciest that doesn't matter. It's got a great platform, a smooth ride, and the seats are super comfortable even after hours on the road. I think that's why I really like the program that they've been doing over the past year or so with their "Titan Adventures" and the their "Lifestyle Concept" trucks (and SUVs). Their latest is the awesomely fun Titan Surf Camp, based on a Nissan Titan XD but designed to be the ULTIMATE beach truck. We've seen it a few times recently but they actually let me drive it around San Diego this time and we had a blast playing with it.
I really respect Nissan for marketing their trucks this way. For far too long, trucks have been just about "work" and as such, too often discussions about which truck is better devolve into sports-like statistic debates. Oh, this truck is better because it can haul 15,000 pounds vs 12,000 (Nissan Titan XD diesel)! But seriously, when was the last time you actually towed something even close to that size? Most people who love trucks will never even tow more than 10,000 pounds, so the "which truck is better" debate needs to get more broad than that.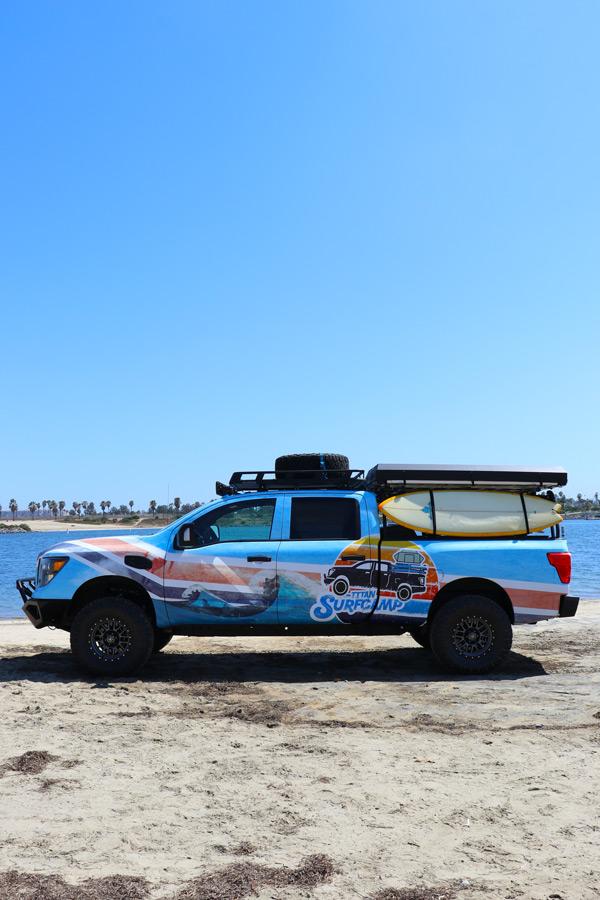 Instead, I like to focus on how does the truck handle on the road, is it comfortable, does it have the technology that I need, and do things like dashboard and controls design fit my style of driving. In most cases, the Titan and Titan XD are as good if not better than others out there.
By showcasing what the truck can do and become, it's an exciting promise since this is the ultimate opportunity for personalization. While aftermarket mods have been available for years and are certainly not unique to the Titan, projects like this are an inspiration to pique your imagination. It's about helping you find those adventures you've been dreaming of but didn't know how to make them reality. Your truck purchase can be your ultimate "Beach Truck" ready for camping, surfing, fishing - or just tearing up the sand. Or as they showed with Nissan Titan Basecamp, it can be your ultimate overlanding machine. They've even taken the Titan and turned it into the ultimate BBQ truck with the Smokin' Titan.
While few of us will spend that much money doing a fully custom vehicle, these trucks are exciting because they are fully SEMA "Concept Worthy" but completely practical and functional.
All of the parts they built it with can be purchased by you, right now! You can start small with just one piece or you can go "all in". All you need is a credit card, a good mechanic (or some good skills of your own), and time. If you do plan to do it yourself, don't worry - the Nissan Titan manuals are available for free download. You can also find out more about their services and guides online.
2018 Nissan TITAN Surfcamp Build Sheet

Exterior

Vehicle Wrap

IF Signs; inspired by Hot Wheels 1971 Datsun Bluebird Wagon nicknamed "JNC Surf Patrol"

Wheels

ICON Alloy Alpha Wheels

Tires

Nitto Ridge Grapplers 35/12.50/17

Front Bumper

Fab Four Vengeance Series

Lift Kit

ICON Stage 5, 3-inch lift

Auxiliary Lighting

· KC Hilites Pro 6 Lights

· Rigid Industries E-Series LED Light Bar

· Baja Designs XL9s

Gear Storage

Bed Rack

Leitner Designs Cargo Rack

Roof Rack

Rhino-Rack Cab Roof Rack

Storage Drawers

Decked bed drawer system

Recovery

Jack

Hi-Lift

Shovel

Rhino-Rack

Interior

Seat Covers

Wetskinz neoprene

Floor Mats

WeatherTech

Fishing Gear

Fishing Rod Holders

Custom surf rod mounts

Surf Gear

Paddle Board

DragonFly

Surf Boards

Chris Birch custom surf boards

Protection from the Elements

Tent

Freespirit Recreation Elite Series Automatic

Awning

Rhino-Rack Batwing Awning

Convenience

Coolers

Yeti 125 Hard Cooler

Shower

Road Shower 4 Solar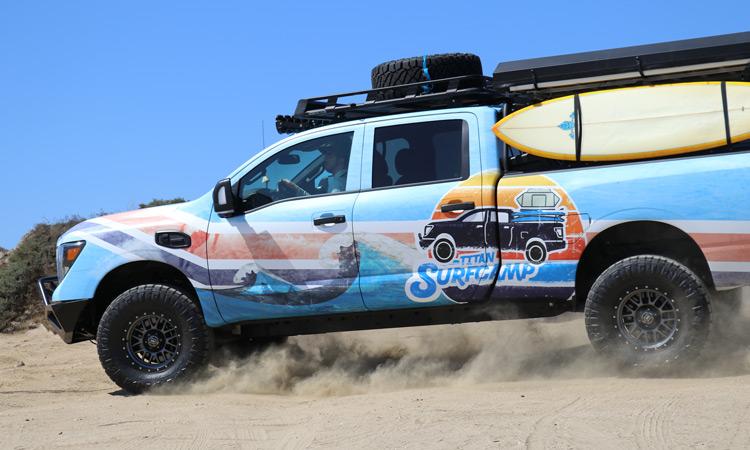 So, what would your ultimate "Lifestyle Concept" truck look like?