For those with trucks, tailgate parties and trail lunches are easy ... in fact, the entire act of tailgating sorta implies that you have a tailgate. What if you have an SUV or a car though? Setting stuff up in the trunk just isn't the same and that means you have to bring a big bulky table with you. Luckily, I've found a solution!
A few weeks ago the folks at Tailgater Tire Table reached out to me and offered to send us a unit to check out. As luck would have it, last week in Vegas with Trail Trek Tour we had the chance to have a trail lunch where it came in handy. In fact, even though we had a bunch of trucks I found that those tailgates served better as seats while this was the perfect solution for setting up food, drinks, and even tying the trash bag to so it wouldn't blow away.
Installing the Tailgater Tire Table is Easy
There's the main table part and that's braced against the tire by two small legs and a bracket that sits on the other side of the tire. You then have a long leg that can be extended to provide additional support.
While certainly not something you should sit or stand on, it is plenty strong to hold pretty much everything for your tailgate party except a fully-loaded cooler.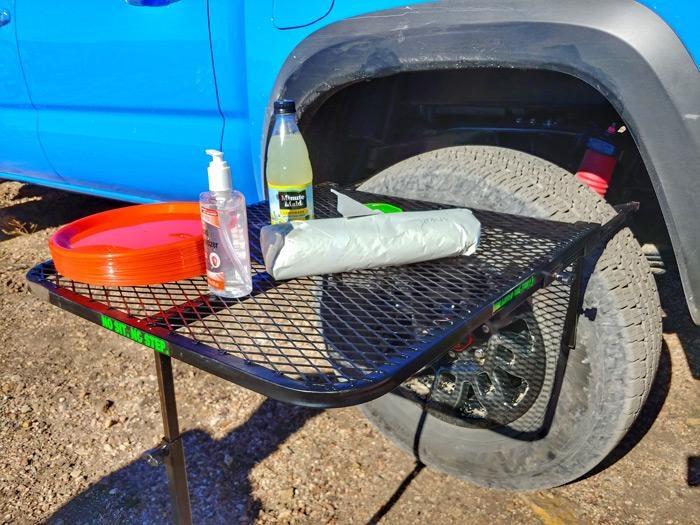 The Tailgater Tire Table dimensions are 23" W x 29" L x 1.5" thick and weighs just under 12 pounds. It is made of steel and very durable.
I found the powder-coated finish to be pretty high quality and able to resist dings as it is moved around and stored in your car or truck. While we mounted it on truck tires, it is designed to be adjustable from size 14" tires and up. However, you might find that if your wheel well and fenders are close to the wheel that it might not fit or installation may be awkward. Installation on the Toyota TRD Pro 4Runner and Tundra it was very easy though and no tools we required.
Overall it is a great option for anyone who enjoys tailgating at sporting events but also for trail lunches and even just kicking back for a moment after a day of skiing or fishing so you can set up your gear.
Tailgater Tire Table is available for purchase on Amazon or visit TailGaterTireTable.com for more info on this awesome tailgating table.