Minivans are perhaps the most divisive topic in the automotive scene, I don't get to drive them that often because they aren't exactly "masculine". Generally speaking, this is one category where women have decided that minivans are decidedly uncool. Despite this though, I have a soft spot in my heard for this category and when it comes down to practicality, it has always made sense. Until now though, most offerings were focused on utility over style but I was impressed with the 2021 Toyota Sienna and I think you will be too.
During the week that I spent driving the Sienna around town I had a chance to ask a few of my female friends what they thought about minivans and their answer was generally negative. This is a shame since when it comes to hauling kids around and parking in tight spaces where everyone needs to get out - including those in the 3rd row - minivans as a category simply kick ass compared to the typical 3-row SUV. In fact, while we've had some 3-row SUVs that I genuinely enjoyed driving, most offerings jus tend up being too long, too wide, too tall and generally too bulky. They look like someone took a mid-sized SUV and stretched it.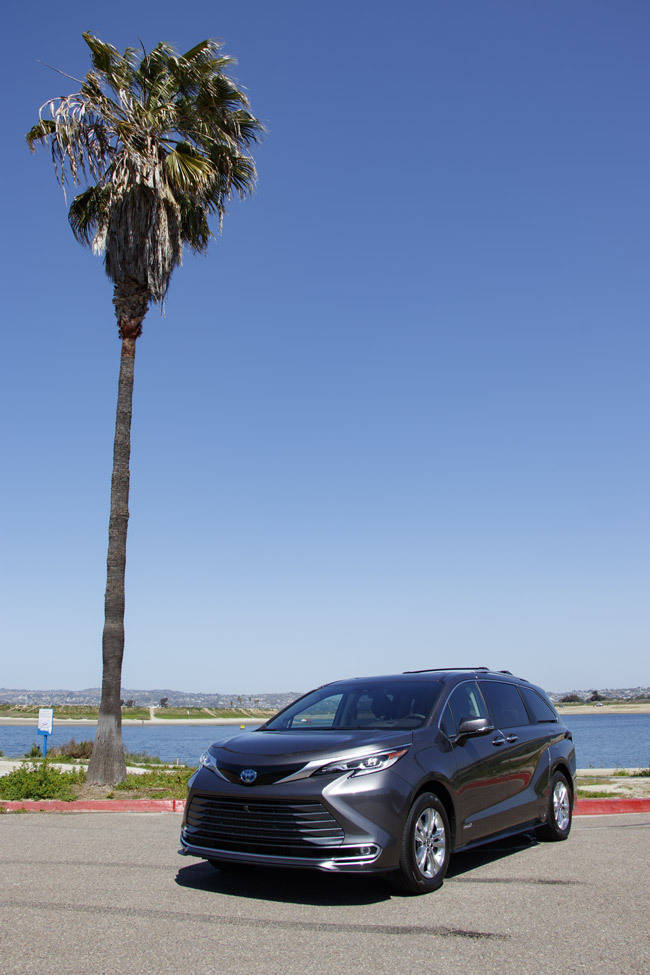 On the other hand, the 2021 Toyota Sienna just felt right. It was smooth, comfortable, and spacious. My only complaint about it was a Toyota thing in that I wish to god that they would put the same adjustable seat controls on the passenger side as they do for the driver. While Toyota's styling is subjective, I liked the lines.
I had Heather drive the vehicle for a bit and then asked her how she liked it. Her response was, "it drives like a car". That's exactly my impression too.
For those people who need a vehicle capable of hauling seven people, this is a great option. Beyond simply the format though, let's take a look at some of the things that made me fall in love with the Sienna.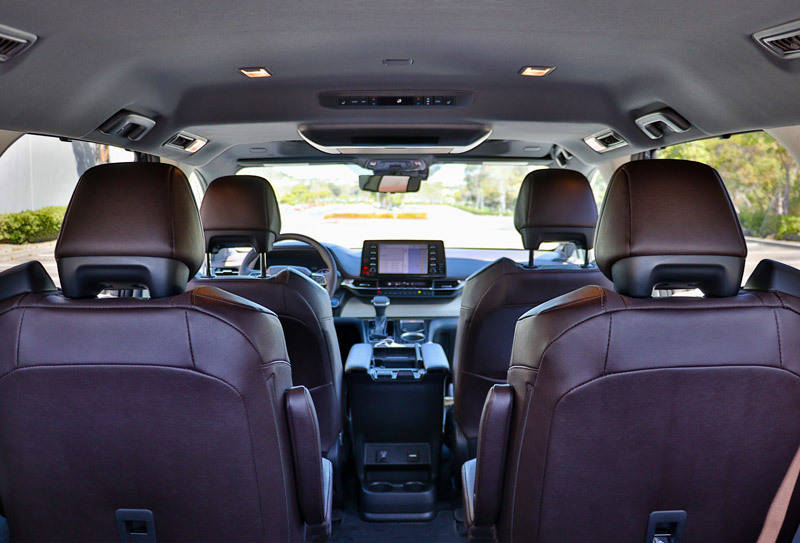 Practicality
Everything here is designed around being practical for a family . While there's not a lot revolutionary in the Sienna, it simply does everything better. For instance, no matter where in the vehicle you might be, there are USB outlets and cup holders easily accessible. This is true even for the rear occupants. In total, there are a whopping 18 cupholders in the Toyota Sienna!
On top of this, there are practical choices that I appreciated in other areas too. For instance, while seat-back video screens are a nice option ... it gets impractical if you want all four (or five) people in the back to be able to watch TV sicne that means taking up bulky space on the back of the seats as well as adding hundreds of extra dollars to the cost of the vehicle. Instead, Sienna has an 11.6" fold down screen mounted on the ceiling. Additionally, you'll notice that the rear climate controls are also mounted on the ceiling making it easier for you to simply reach up, rather than fumbling on the back of the center console to find the buttons.
Additionally, you'll notice in the image above that the center console cubby has an odd design with a split cushion where most SUVs will have a solid piece that flips open. Initially I didn't like this until I realized that if you flipped the lid up, that would make it impossible for someone in the second row to access stuff stored there. With this design though, kids - or even adult passengers - can easily each in to grab snacks, charging cables, or whatever else might be stored there.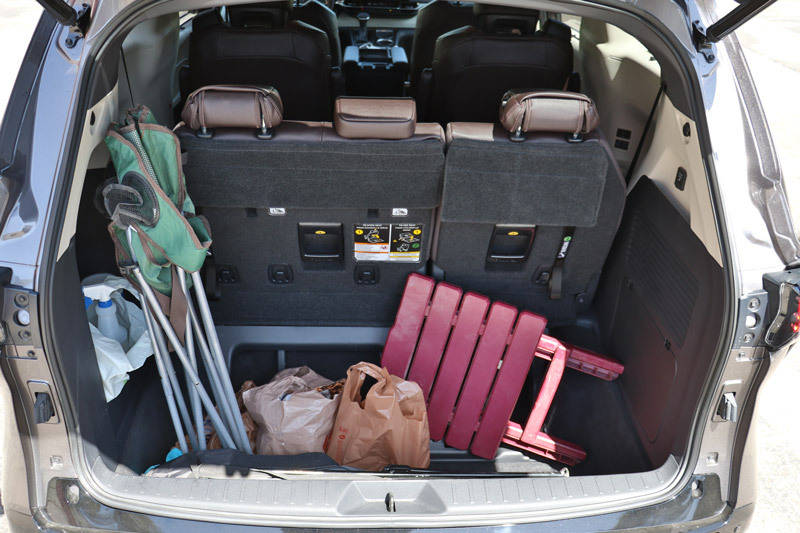 Storage And Cargo Space
I immediately appreciated the huge under console cubby because I could easily put my DSLR and keep it out of sight. That worked well until my wife saw it and kicked me out (luckily my gear fit easily in the armrest box!). The space was absolutely huge and easily could fit a small backpack. Throughout the vehicle there are various nooks and crannies to put small items but what blows me away is the massive cargo well behind the third row.
Toyota rates the Sienna as offering 33.5 cu.ft. behind the third row, 75.2 with the rear seats folded down, and a whopping 101 with the middle row folded down as well.
It is hard to tell what that actually means on a practical basis, so let's compare that to the 2021 Chevy Tahoe that offers only 25.5 cu. ft. though it beats the Sienna with all seats folded down, offering 122.9. When it comes to what you can store there, the cargo well feels almost endless. unlike an SUV where you have to lift stuff up, here you can place things down into the well and that means even tall objects are going to fit here. For instance, look at the folded camp chair on the left. It only comes up to the back of the 3rd-row headrest. Not only is there "room for more" but this allows those objects to avoid obstructing the driver's rear view.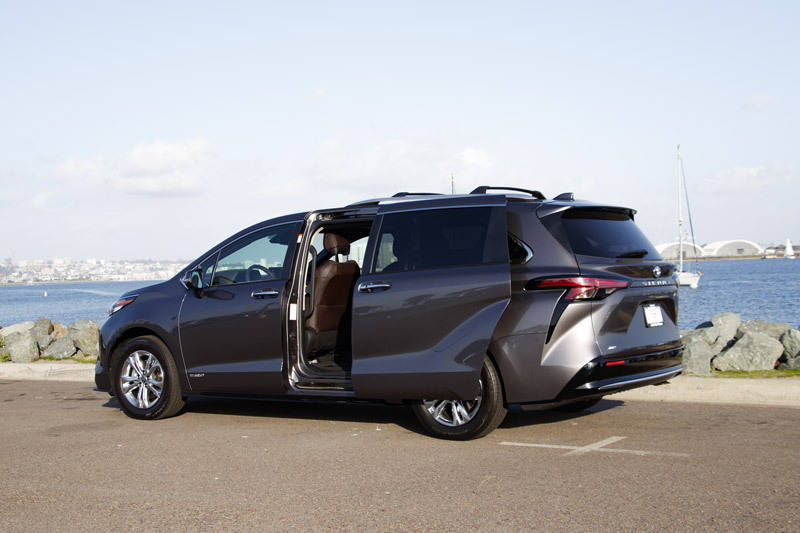 Cool Features That Will Make You Enjoy The Sienna ... even if it is a dreaded "Minivan"
While some major features I was looking forward to checking out have been delayed until "after launch", the Toyota Sienna is slated to offer some really cool features that take it above being simply practical. For instance, the Sienna is slated to get a Vacuum and Chill Box, both of those will be mounted in the center console so it is accessible to second row passengers. In the case of the vacuum, this means that kids can clean up their own damn mess before getting out of the car, rather than having to snake a hose from the trunk.
However, that doesn't mean there aren't some great features that are available right now (depending on the trim level)
Third row passengers have a wired headphone plug that they can use to listen to movies without bothering the driver or worrying about charging wireless headsets.
Second row captain's chairs that can slide back 25" and recline almost flat with leg rests to offer a fantastic option for taking naps on long drives.
"Kick Open" sliding doors like you have probably experienced on SUV tailgates but now this experience is available for the Sienna's sliding side doors too.
Sienna is the only minivan to offer all-wheel drive in a hybrid powertrain, offering as much as 80% of available torque to the rear axle.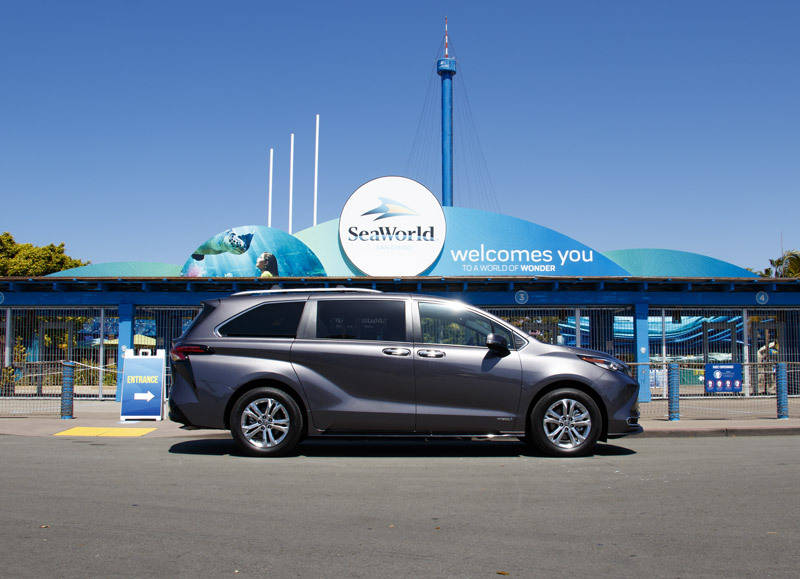 So What's The Bottom Line?
The bottom line here is that if you are looking for the ultimate platform for a long family road trip, a short trip to the mall, "dad's taxi" service, or anything aside from off road adventure, a minivan is hands down the best solution out there. In the past, practicality was so important that design, comfort, and features took the back seat. The 2021 Toyota Sienna changes that.
While the segment clearly has some work to overcome to convince women in their 30's and 40's to consider a minivan, I don't hear that same reluctance from guys. That might be because traditionally moms are tasked with shuttling kids around where as dads don't. Either way though, Sienna is a great option that will only get better once they bring the vacuum and chillbox features to production models. If you haven't checked out a minivan recently, head on over to your local Toyota dealer today!
We tested the 2021 Sienna Platinum with an approximate sticker price of $53,000 but the platform starts at a much more affordable $34,460. Sienna comes as hybrid-only, so even the base LE model still gets 36 mpg. Additionally, all trim levels incldue the Star Safety System, Toyota Safety Sense 2.0, Ten airbags, and 3-point seatbelts for all seating positions. While the platinum trim offers a fantastic option for extra comfort and some extra tech features, at $34,460, even the LE trim is a great option for folks looking for something more affordable.