Have you ever driven a big truck through a city? If so, then you know the pain and fear that I had a few weeks ago when I got off the plane in San Francisco and was told that the beginning of our test drive of the all-new 2023 Hummer SUV would be a jaunt through tight urban roads and through traffic across the Golden Gate bridge. Shockingly though, the experience was far easier and more manageable that I had expected and thankfully I managed to avoid scratching this beautiful $100,000 behemoth as we rolled north to our hotel in Napa.
Without even looking at the photos, you know that anything bearing the Hummer badge is going to be a beast. Hummer historically has represented a big F' You to environmentalism and any consideration of modesty, self-control, or respect for others. That's why it is interesting that GMC has chosen to bring the brand back from the dead and put it on its latest halo vehicle.
Initially, I wasn't sure what to expect since, honestly, I hated Hummers in the past. Despite the trucks looking cool from the POV of a boy seeing some buddies drive them in Iraq and favorite celebrities buying civilian versions. When I got my first few chances to sit in them, it was a terrible experience. The old Hummer trucks - from the H1 down to the H3 were uncomfortable, poorly designed, and noisy.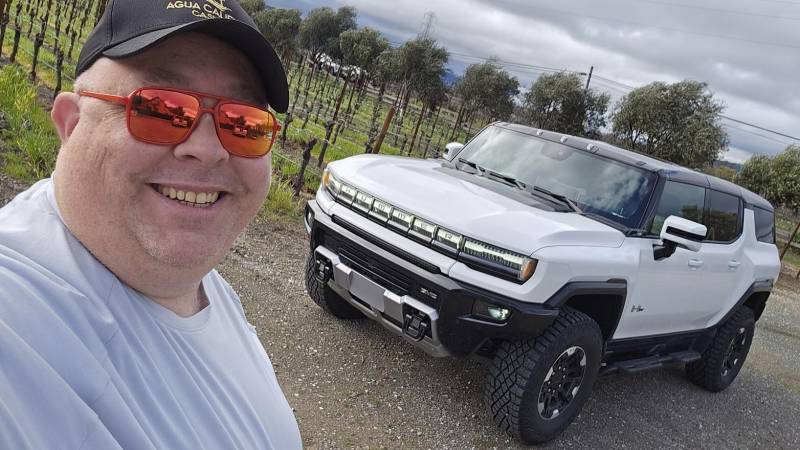 NONE of that is true for the new Hummer SUV though!
While I probably would have made some adjustments to the design to make it a bit more comfortable for the typical suburban SUV driver, it wouldn't be a Hummer anymore at that point. For instance - the rear cargo hatch is way too high for most folks that will be throwing suitcases in the back - though it might be ok for simple groceries or throwing a jacket and boots in.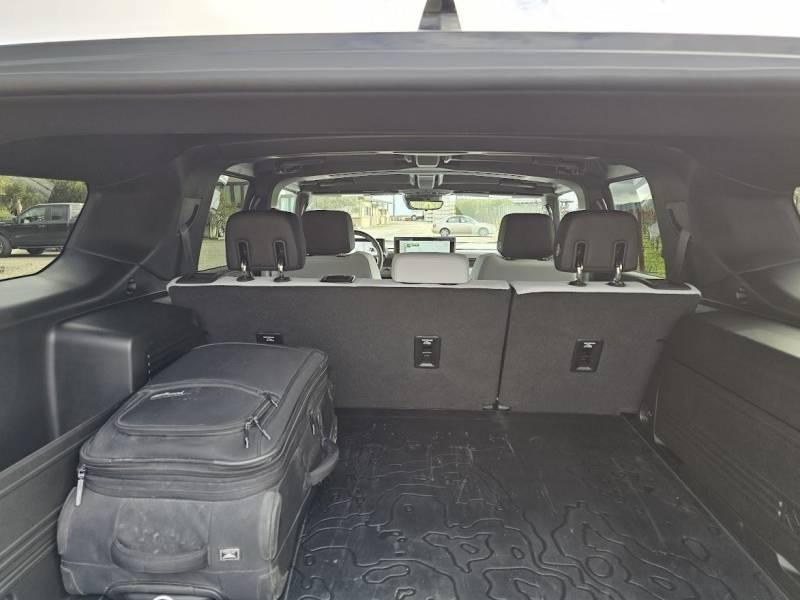 Despite that though, it was absolutely enormous. Perfectly sized for a group of guys going off on a fishing expedition or a cross-country road trip for the ultimate guys getaway road trip.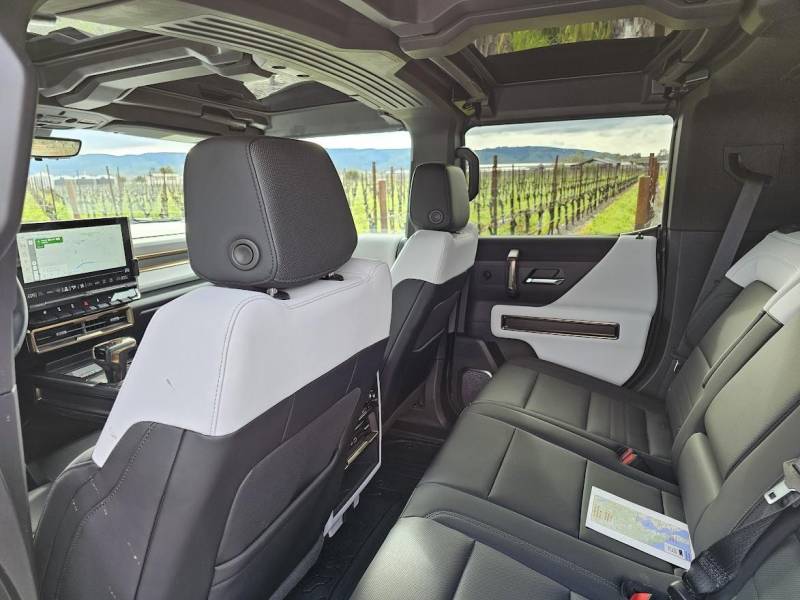 Similarly, it was disappointing for a vehicle this large that they couldn't have added a few extra inches of legroom for the rear seat occupants.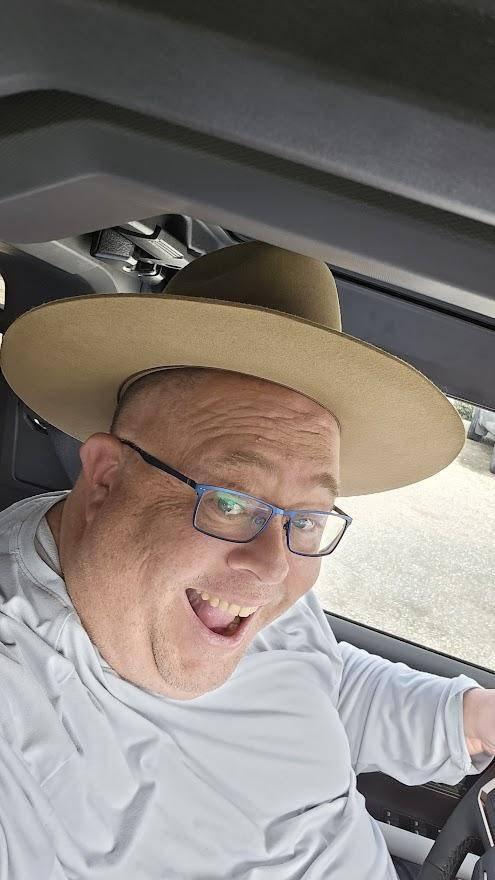 Upfront though, it was a joy to drive and as a 6-foot tall guy, I could even wear the cowboy hat I had brought from my previous trip.
Controls, visibility, and intuitive ability to know where things were inside the vehicle as well as where the corners were outside was extremely impressive. To be fair, this was in part due to the excellent GM camera system that continues to be one of the reasons why I favor GMC and Chevy trucks over all others out there.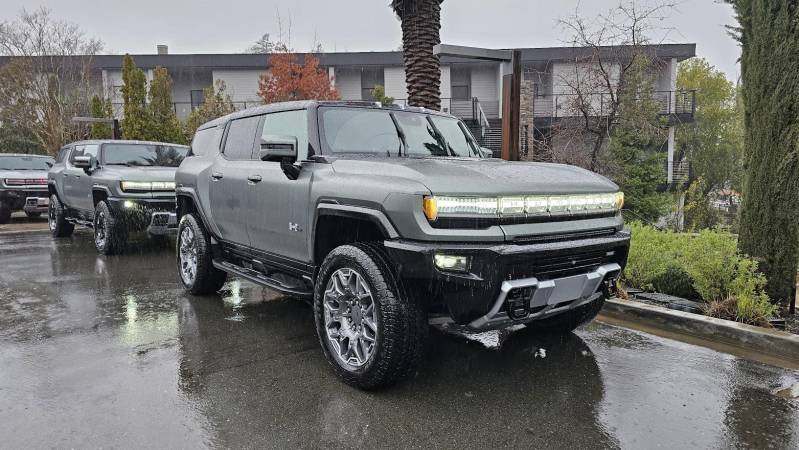 In a way, I feel bad for the folks at GMC since they had planned for a beautiful drive through one of the most scenic parts of California but the weather simply didn't cooperate. Instead of a gorgeous ride on dry roads ... we spent a couple hours dodging rain storms and subsequent stop and go traffic.
The reality here though is that why automotive launch events are generally a fantasy that the PR and brand marketing folks create for us auto media to set the tone and make sure that we write nice things about the vehicle ... putting us through a real world situation like this actually gives a far better opportunity to evaluate the vehicle.
In this case, everyone knows about stuff like Super Cruise and how it can make long road trips that much easier and more relaxed since you can drive hands free - except I don't trust automation in the rain.
Likewise, Hummer SUV has up to 830 hp and 11,500 lb-ft of torque - offering 0-60 mph springs in about 3.5 seconds when using the "Watts To Freedom" mode. But that isn't something you should ever do on wet pavement (so we didn't).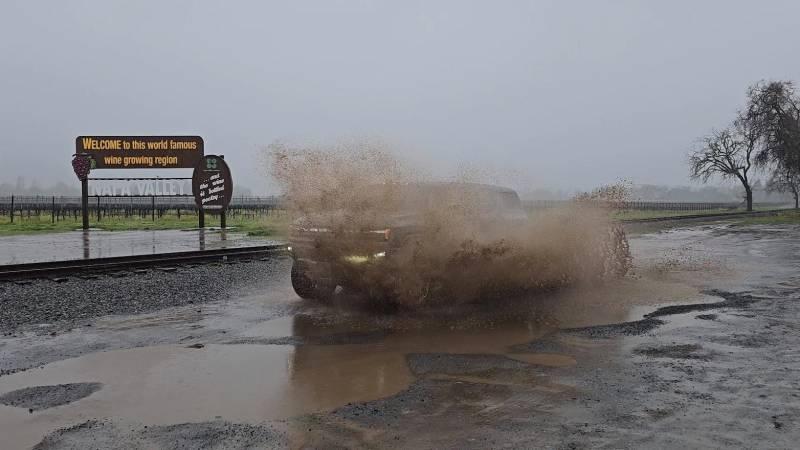 Additionally, I think we all know about its wicked cool offroad abilities as well since that's a core element to the brand. Unfortunately, the course that they designed to show off the off-road abilities specifically, was a litteral mud pit that they had to yank vehicles out of using construction equipment. So, unfortunately, it was closed by the time I arrived. Don't worry though ... if you put a group of media together in an area ... they will find a way to get into trouble and have some fun :)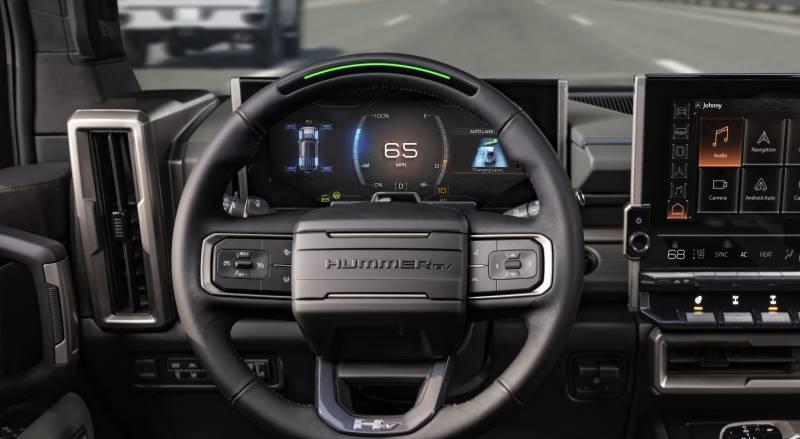 So, Why Am I So Impressed?
The simple reason why I am impressed with the 2023 GMC Hummer EV SUV is that when you drive it as someone who would actually purchase this vehicle ... it delivers the experience you would expect in a way that nothing else can!
Looks:
This is the most bad ass looking SUV on the market today. It is masculine enough to be the envy of any dude at the gun club, posh enough to make a statement when you roll up at a partner's office to close a deal, and yet I think there are many women who would love to drive this as well to be the ultimate suburban soccer mom. The alpha she-wolf if you will.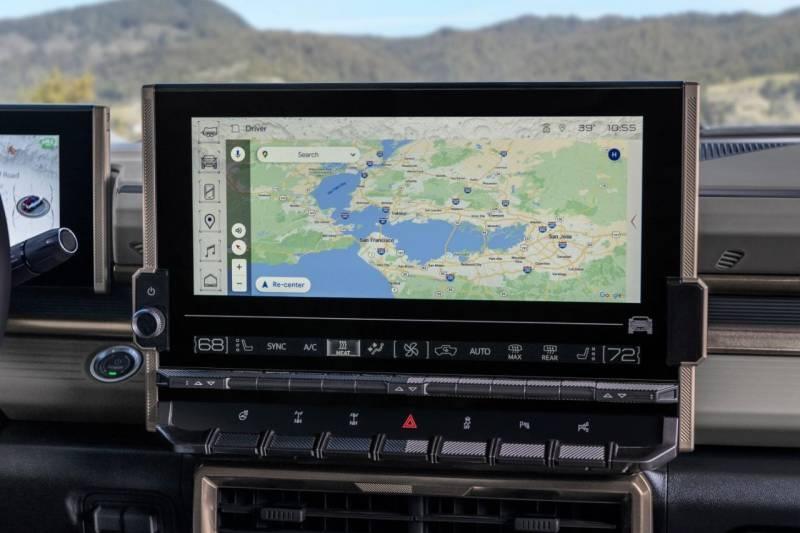 Range:
Different versions of the Hummer EV SUV will have different ranges but the 800v/300kW battery versions promise a 300+ mile range. While this clearly falls far short of the 500+ miles you could get on a similar gas-powered SUV, at 300+ miles you can do pretty much anything you might need to do except a super long road trip.
For instance, the 4.5-hour drive from Chicago to Detroit is only 280 miles and most people driving around town will never exceed even 100 miles in a single day of normal driving.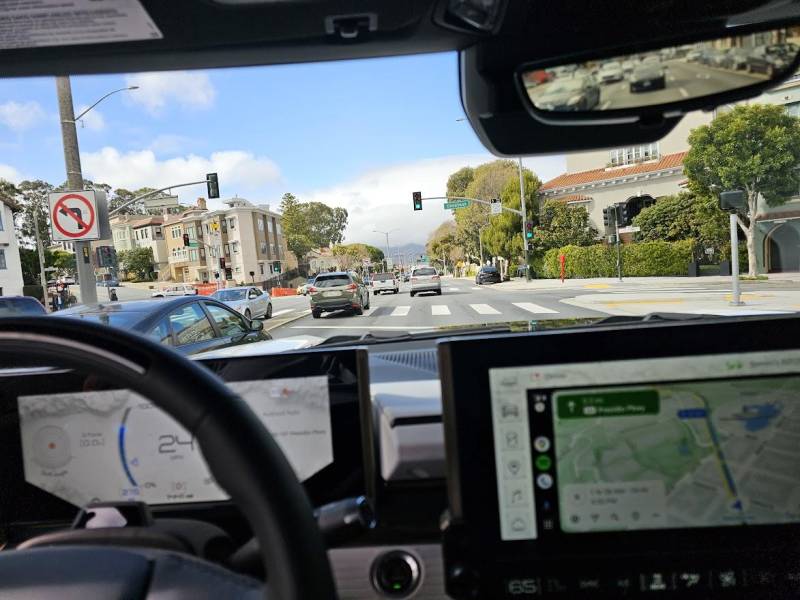 Maneuverability:
With 22-inch premium wheels (18" wheels with 35" tires on the Extreme Off-Road package that also includes underbody armor, rock sliders, front lockers, virtual rear lockers, and other features) and a 126.7" wheel base, you'd expect it to be tough to drive. Or, at best, you'd expect it to drive like any other big truck.
In fact, just two weeks later I drove the Ford Lightning (which, to be fair has a larger wheelbase at 145.5") but it was a stark comparison in terms of how maneuverable the two vehicles were in simple scenarios like going through a drive through, doing a U-Turn, or even navigating a parking space. Those aren't obstacle courses established by marketing folks and automotive engineers ... they are the basics of everyday life that every one of their customers faces on a daily basis.
This isn't a dig at any other truck - they are challenging to move in tight situations.
By leveraging things like its 4-wheel-steering, the Hummer EV SUV did these tasks in a way that quite frankly made me giggle since it was so smooth and unexpected for a big and bulky vehicle.
It's these things that are going to sell the SUV since you can't go bigger without making driving easier.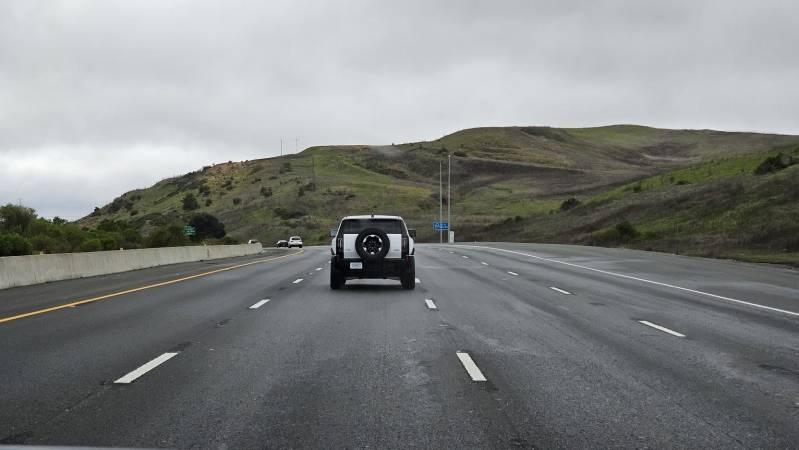 While I obviously can't wait to get the wheels muddy, test out all the bells and whistles that make this truck stand out on a sales sheet. However, from the perspective of someone looking to spend a $100,000 on an EV truck or SUV right now - this one has what you need in a way that nobody else can touch right now!