There's something special about Ford's F-150 pickup truck. While the big three play a game of one-upmanship every generation, for more than 75 years Ford has remained synonymous with trucks as a symbol of masculinity and the need to continue raising generations of hard working men. With the launch of the 2023 F-150 Heritage Edition, Ford presents a tribute to those generations of dads and grandfathers who have made the platform an American icon.
At it's core, this is predominately an appearance package that represents a throw-back to styling cues from the 70's and 80's two-toned paint job. Only available on the XLT series of F-150 trucks, the design represents a fresh interpretation of the classic A-B-A exterior paint pattern, with an A color encompassing roof and pillars, a B color for the midsection, then A repeating on bumpers, lower door and lower body.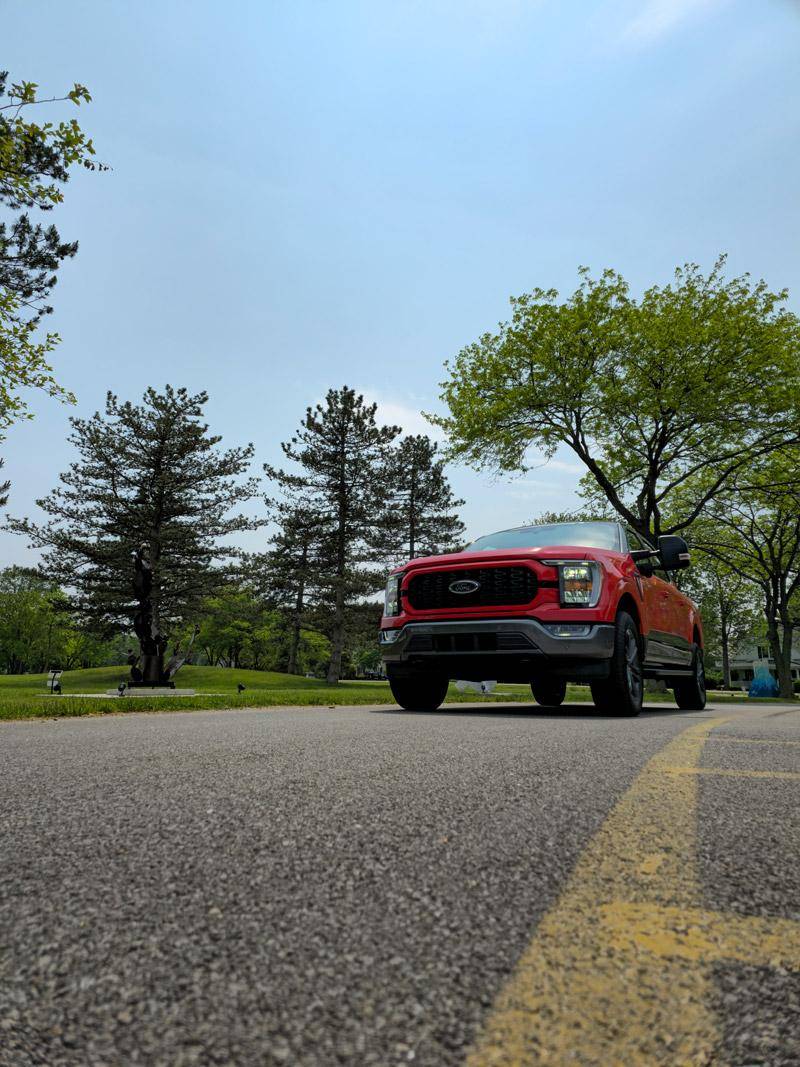 Five F-150 Heritage Edition Color Options Are Available:
Race Red midsection, with upper and lower Carbonized Gray
Atlas Blue midsection, with upper and lower Agate Black
Antimatter Blue midsection, with upper and lower Carbonized Gray
Avalanche midsection, with upper and lower Agate Black
Area 51 midsection, with upper and lower Agate Black
Inside you'd find other Heritage Edition updates based on either a slate gray or black color scheme. These include seat cover inserts and embossed console lid as well as the unique center console startup graphic animation.
Beyond that, it's a standard XLT series truck (with a bunch of options) and frankly I was pretty excited to test the truck out in a configuration that was honestly far more accessible to the bulk of men than some of the luxury or or sport trims like the Raptor R and F-150 Lightning. Now to be fair - and just so I don't get knocked off the list for being able to review those vehicles in the future - they have their place and for the well heeled buyer offer unparalleled experiences that I enjoy as much as the next guy.
However, as you know, right now I'm personally shopping for a new truck and so my attention has been focused more on what would fit into my actual budget and lifestyle instead of a hypothetical auto reviewer world where price doesn't factor into the review.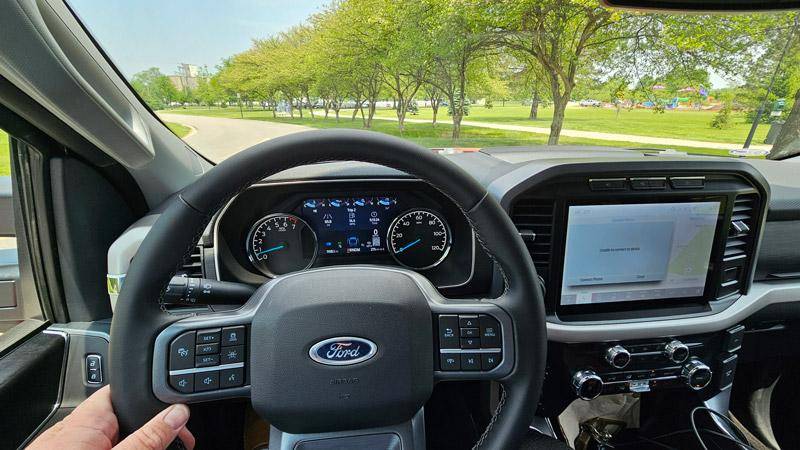 How The F-150 Heritage Edition Stacks Up ...
Well, as I mentioned the Heritage edition is a standard XLT Trim and so that means that it can have between 5,000-9,400 lbs of towing capacity based on engine and package configuration, with the optional 5.0L V8 delivering 400 hp and 410 lb-ft of torque. The 3.3L v6 gets 20/24 MPG while the more powerful V8 gets only 17/24. There is also a 3.5L V6 EcoBoost available that offers up to 400 hp and 500 lb-ft of torque.
Road Trips:
Comfort and visibility wise, the F-150 is one of our favorite vehicles for long road trips. I have zero complaints about it in terms of comfort while sitting in the driver seat for hours and the layout is easy to manage as well.
While I don't expect the higher-end tech on less expensive vehicles, once I do get into the 50-60k range I start dreaming of accessing features like BlueCruise (something we enjoyed greatly during our drive to Vegas in the F-150 Lightning). However, it's hard to knock the XLT trim level for not having an option that we enjoyed on a vehicle costing twice the price.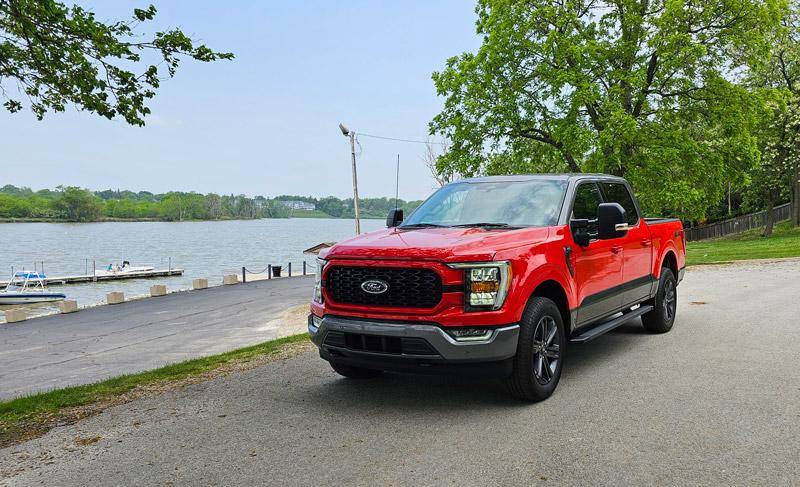 Moving Stuff:
Ford is the only company that offers a complete suite of trucks at the three different size points - Maverick, Ranger, and F-150 so in looking at the right size for our use it's a bit of a Goldilocks scenario. On one hand, the Maverick was nearly perfect for what I KNEW we needed and on the other hand, the F-150 just offers so much more flexibility for those scenarios where we "might" need to tow a trailer or load up the bed and take everything in one trip instead of three of them.
In the middle there is the Ranger, which while we haven't tried the all-new 2024 version, felt a little bit like the forgotten middle child previously since you might as well upgrade to the full-sized truck unless you were limited by size (which we were when living in an urban area) ... but now there's the much more affordable Maverick that fills that spot.
Anyhow, for us the towing capacity and carrying capacity of the F-150 XLT Heritage Edition even in the base V6 engine
Winter Driving:
While the Heritage Edition F-150 is decidedly an on-road trim package, any truck of this weight with 4x4 capability and outfitted with winter tires will offer excellent stability and control in winter weather.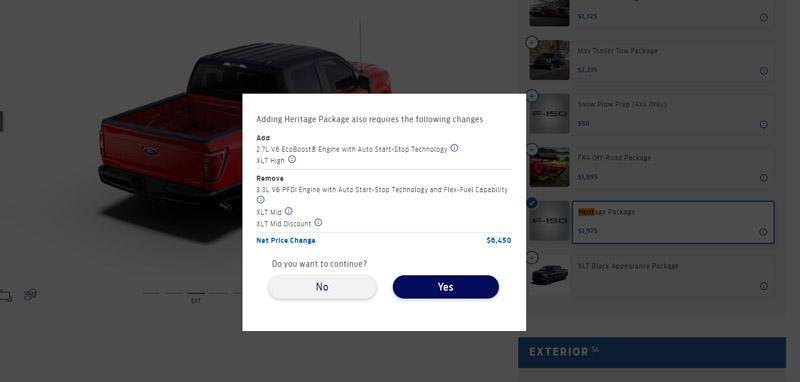 Price:
I'm going to address pricing from two different perspectives - the F-150 Heritage Edition and just the XLT trim level by itself. I think this is the only fair way to do things since the $1,970 for the Heritage Edition appearance package is more than I feel anyone short of a Ford Trucks mega fan would ever want ... but then to be forced into an equipment package and limited on what other configurations that you can do puts it out of my scope of interest.
However, as it stands - the XLT trim level offers a fabulous platform to build a truck that I'd absolutely consider buying. For instance, while some people don't care - I'd opt to spend my dollars on the $4,495 upgrade to the 3.5L Hybrid V6 engine, Max Towing, and Off-Road packages. Not only does that give me up to 430 hp and 570 lb-ft of torque but increases fuel economy ratings too.
Plus it allows me to have a pretty capable truck that at just under $70,000 can do everything I could possibly need it to. However, if I didn't need that "maybe I might" capabilities I can have a great truck with the safety features and tech that I "need" for only $56,000.
A very strong argument could be made that even $56,000 is way too high to spend on a truck but trucks have come a long way in 75 years and what you're getting in 2023 is a lot more than our grandpa ever dreamed of when he piled the family into the truck for those early road trips and that's a pretty important thing for us all to remember.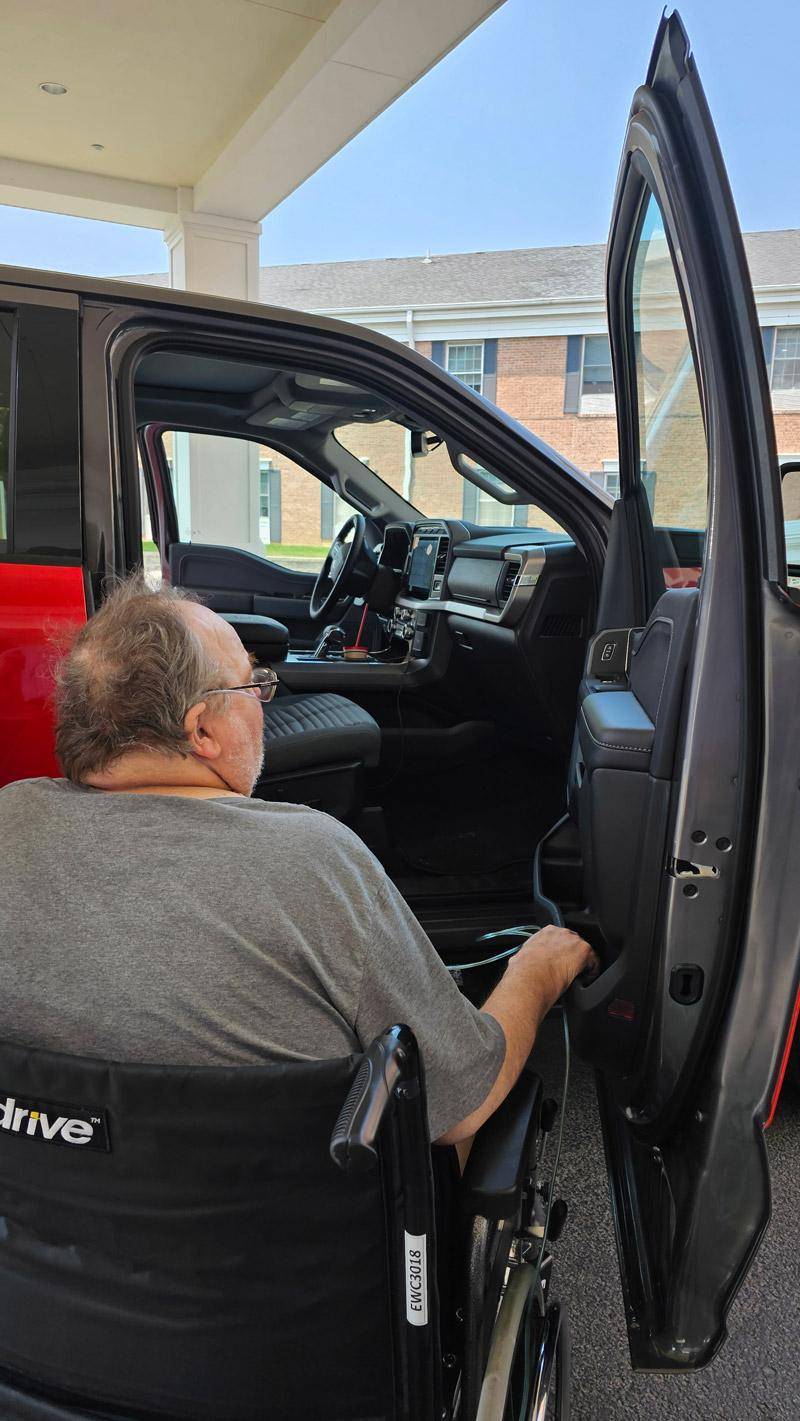 This is something that my Father-in-Law and I have had many spirited discussions about. He comes from an older generation of truck buyers for whom a truck was simply utilitarian. While his truck represents freedom, power, strength, and all those wonderful things that trucks have represented to men around the world ... the notion of fancy features and creature comforts that add complexity is something that he's just not interested in.
With that being said though - his eyes lit up when we took him for a brief journey out of his hospital room to check out this truck and he was in awe and it put a smile on his face to see how far the F-150 has come in his lifetime.