For the past decade, truck launches and truck comparisons have been as much about stats as they are actual functionality. This transition began with the introduction of the next-generation Ram a few years ago but Ford completes the transition with the new F-150. Where previously we were talking about incrementally boasting of more towing, more hauling, more power ... Ford has that, but what makes it special is everything else. I feel like we've gotten to the point where EVERYTHING tows more than most of us will ever need, so let's start focusing on a truck that delivers in other areas that can make our lives and livelihoods better.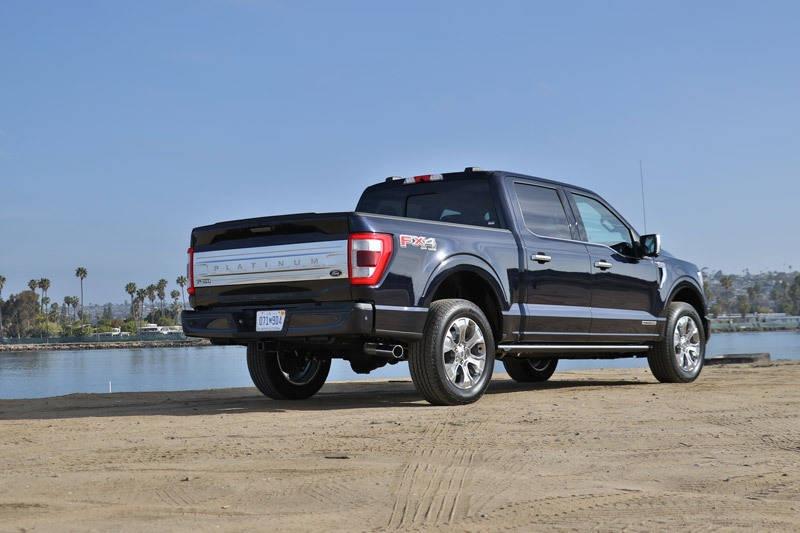 We had the chance to spend a week with the F-150 Platinum featuring the new 3.5-liter BowerBoost Full Hybrid V6. This was a completely different experience from anything I've ever experienced before since normally, anything less than a V8 is disappointing. Trucks, like performance cars can be as exciting to listen to as they are to operate. There's a thrill that you feel inside when a big naturally aspirated V8 turns over.
Instead of that throaty rumble, you get silence.
It's not till you begin to drive (or look at the stats) that you realize this is NOT a compromise. Instead, you're getting 430 hp at 6,000 rpm and 570 lb-ft of torque at 3,000 rpm. In comparison, the 5.0-liter Ti-VCT V8 offers 400 hp at 6,000 rpm and 410 lb-ft of torque at 4,250 rpm. When it comes to fuel economy, the Hybrid gets even more impressive. While the V8 offers 20 mpg (4x2) combined, you can get 25 mpg combined with the Hybrid. This number is a bit deceptive though since the number is almost equal - 24 vs 26 for highway, but for city driving ... that most people will probably be doing, the number is 25 vs 17 mpg!
The towing numbers get even more impressive, with the max towing topping out at 14,000 pounds (4x2 SuperCab). This is a beast of a truck but honestly at this point, unless you have a special case ... RAM and Chevy tow a crap ton too and we're just adding numbers.
As tested, this vehicle came in about $71,000 which frankly is a pretty fair price when you compare it to what you could get from RAM and GMC. We look forward to being able to do more with it in the future and test our the off-road handling as well as maybe take it camping.
The big improvements that make this truck something I'd love to have in my garage fall into four areas: Pro Power Onboard, Mobile Workspace, Technology.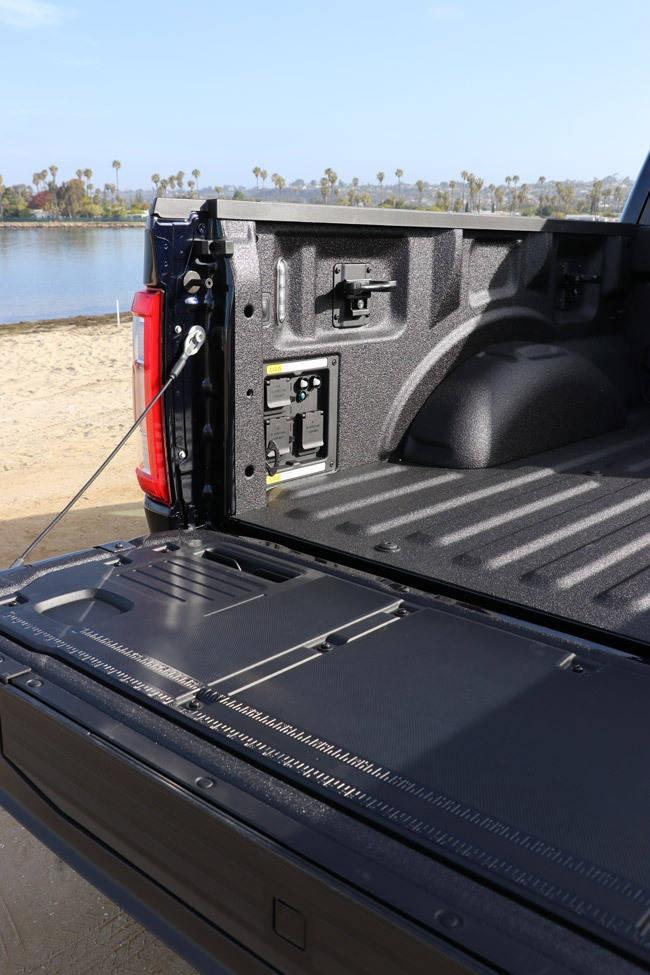 Pro Power Onboard
Trucks and SUVs have had 120V plugs in the cab for years now but the new F-150 takes things a step further. Not only does it have dual 120V 20A plugs, but they are designed for actual work (and as the ultimate tailgating truck on weekends). The truck quite literally functions as a mobile generator with up to 7. KW of power. This is an important distinction because many of you, like me, already have portable power stations that you can plug a TV into or charge your drone. When it comes to power tools, camping equipment, or toys such as an electric dirt bike, portable power stations just won't cut it.
The Pro Power Onboard has different operating levels from 2.0 to 7.2 KW of power depending on the engine and instead of simply being a battery, the truck operates as a true mobile generator. In fact, during the storms in Texas earlier this year, some folks used it to run key electronics in their homes including refrigerators, tv's, sump pumps, wells and other stuff. For anyone who lives in an area that routinely experiences storm damage from floods, hurricanes, and tornados, the new F-150 might just be a the answer you are looking for to keep your family safe.
For the rest of us, it is the perfect truck to take to a tailgate party or camping trip since you can run your electric griddle (1,400W), loudspeakers (1,100W), popcorn machine (800W), Projector (500W), mini-fridge (400W), ice cream maker (250W), margarita machine (200W), and still have plenty of power to run your 8-inch circular saw so you can cut some planks to make a table or whatever else you might want if you have chosen the top version of Ford's Pro Power Onboard.
The outlets are located on the rear of the bed, right next to the tailgate so it is also incredibly easy to rest your gear in the bed.
As a side note, you'll also notice the hooks next to the Pro Power panel ... this was incredibly useful too when I did a pickup order from Home Depot since the runner could just hang the bags up there vs having it roll around in the back of the bed..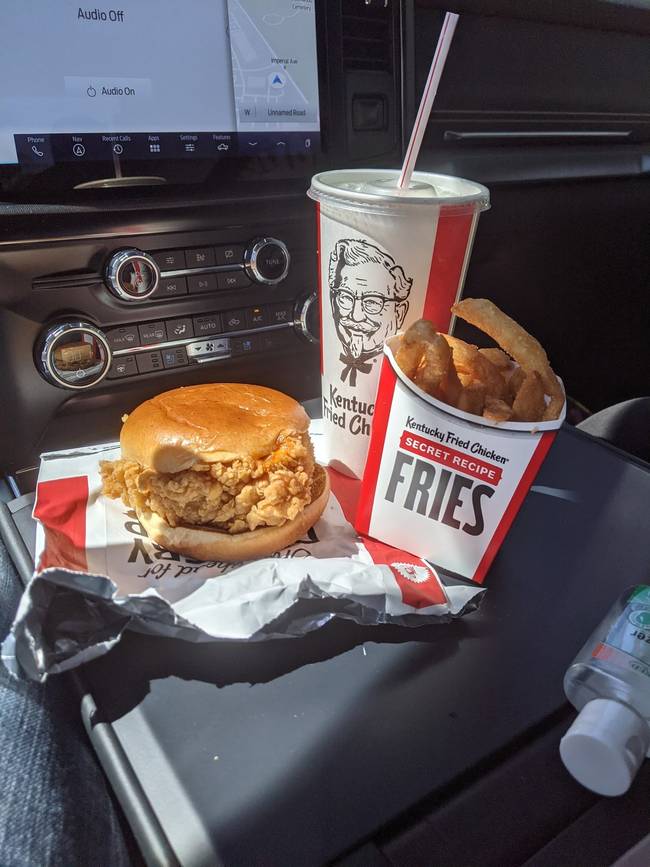 Mobile Workspace
Let's face it, the guy buying the Platinum trim is also either a foreman on a job site or a business executive and the truck is more than just a tool for hauling. This also serves as a mobile office.
Ford has designed the center console area so that the shifter can fold down and the center console vault lid folds forward to create a flat surface. It's up to you on how to use this space and undoubtedly it is designed so you have a table to rest your laptop or sign some papers.
However, I found it incredibly practical for sharing a lunch too. For the first time ever, I was able to put my food down on a stable surface vs resting it on my knee or on the dashboard.
It's little things like this that go a long way towards making a truck like this something that separates it from the rest of the pack.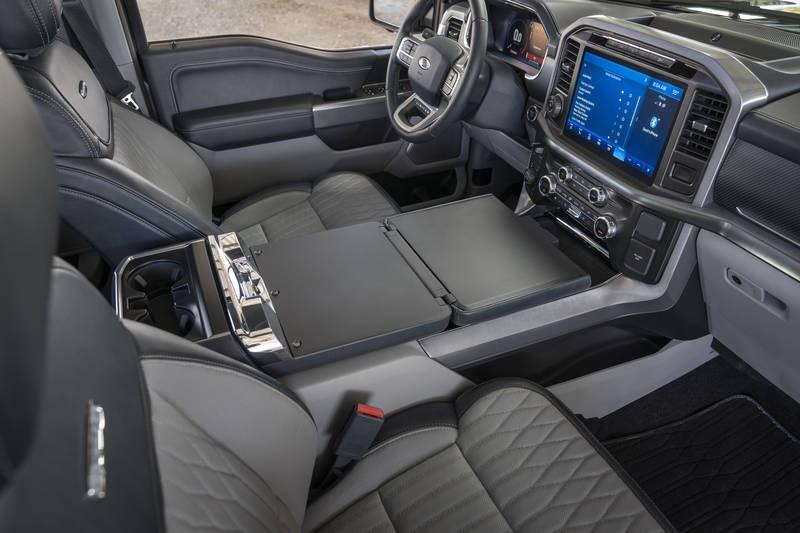 Technology
This is by far the most technologically advanced truck that I've ever driven. From a full LCD instrument console to safety features including adaptive cruise and lane keeping, to the hybrid engine, to Pro Power Onboard. it also features features like a power liftgate, B&O sound system, 360 camera system and more. This truck is truly the next generation of premium trucks.
Additionally, it matches features found in RAM 1500 such as the 12" vertical display (8" is standard). When I first saw RAM's 12" display I thought it was just damn silly to have a screen that big and as an admittedly GM fan boy when it comes to trucks I dismissed the value. Looking back at it a few years later and the 8" screen on Silverado and Sierra looks positively outdated. There's just a lot more that you can do on a large infotainment screen, including the ability to glance quickly and put your eyes back on the road. What I like about this one on the F-150 though is that there are still lots of physical buttons for easy access.
That being said, one feature that the GM brothers offer that is SHOCKINGLY missing from the F-150 is a heads up display. It is simply inexcusable to not have this as even an option here. Once you have driven a vehicle with a HUD, you will never want to go back. This is more than convenience, it is a key safety feature that keeps your eyes focused on the road. Ford has the technology and they added a basic version to the Ford Escape already.
Maybe Ford will introduce it in the 2022 or 2023 model year though. We can only hope.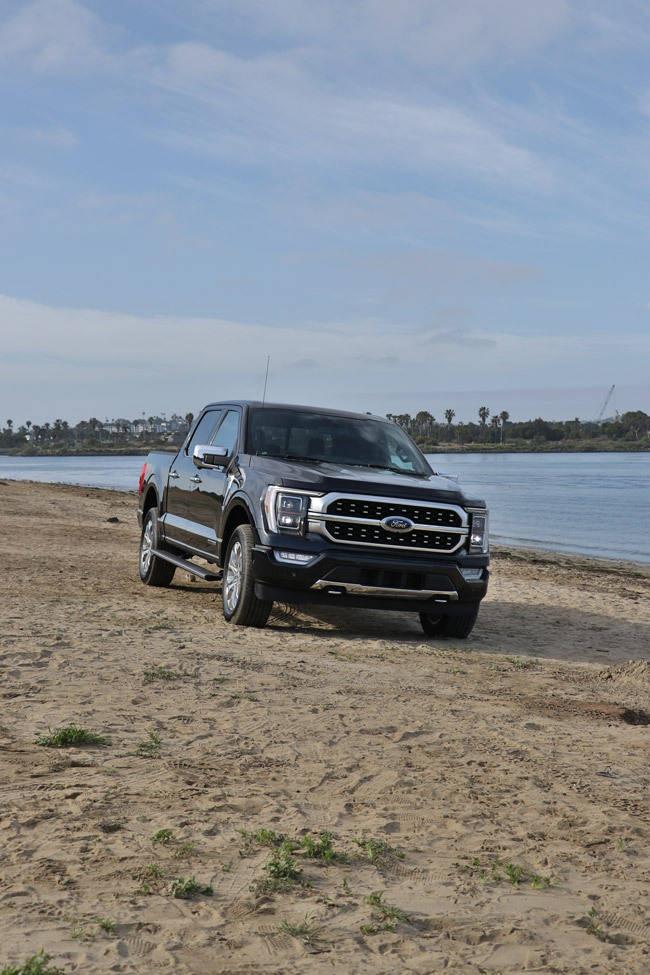 How's It Handle?
The truck market is split right now between what a traditional truck should feel like and a growing consumer segment that expects trucks to handle like their premium SUVs do. This is going to come down to your own needs and desires. I found the truck to handle well and be a good blend between the luxury SUV feel of the RAM 1500 and the more truck-like handling of the Chevy Silverado.
The new F-150 doesn't feel like a substantial improvement to the previous generation but the previous generation was also fully acceptable. I think the key here is that if you have 100's of thousands of people that love Ford trucks already, the goal is to make sure this one feels comfortable to them.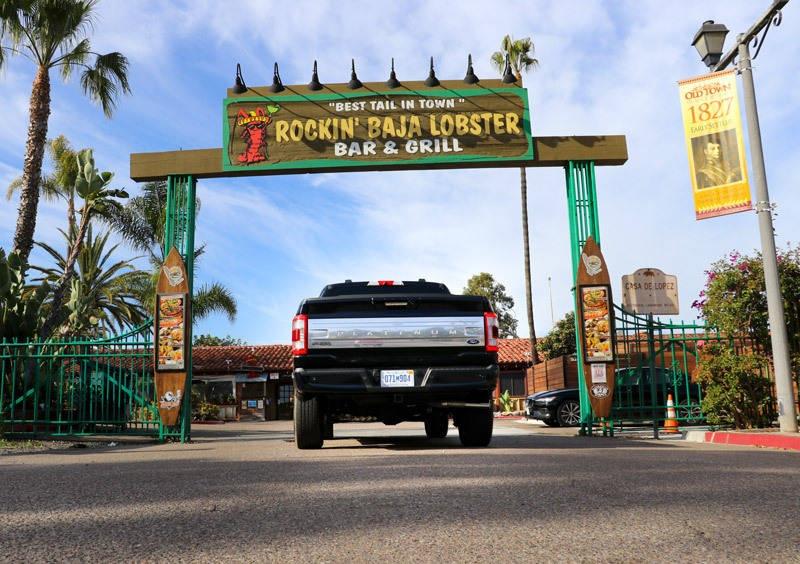 Final Verdict
At the end of the day, we're just starting to see where this F-150 platform will be taking us. In the weeks since we did our drive time, Ford has already unveiled the full EV F-150 Lightning and we're eagerly anticipating getting some seat time in the F-150 Raptor once that comes out as well. This is a true next generation truck platform and it is thrilling to see where Ford will take it over the next 5+ years.