It can be a dream come true to buy a new or used boat, and you may find it difficult to stop your mind from wandering as you and your friends or family enjoy many happy days on the water. Buying a boat, however, is not a matter to be taken lightly, and there are many factors to consider before you decide which boat to buy as well as when and where to buy it.
What Boat Insurance Do You Need?
It is often better to separate boat insurance from homeowner's insurance. Although homeowners insurance may cover a boat, be careful to ask some questions about how damage to your vessel will be covered. Many homeowners also use insurance riders for inland waterways, lakes, and rivers.
What's Your Total Budget?
Purchasing a boat can be costly, but owning and maintaining a boat can be even more costly. When you decide to buy a new or used boat, up-front expenses include the boat's purchase price, registration fees and taxes, delivery costs, and even maintenance and repairs if you purchase a used boat. Extra fees include marina or storage fees, boat insurance, gasoline, and annual maintenance and repair fees. You might also need to pay for training courses if you are required to obtain a boating license in your location.
What Do You Want To Use Your Boat For?
Many new boat owners have considered buying a specific type of boat for several years, but they may discover that the type of boat doesn't fit with how they want to use a boat. For instance, if you are sailing solo and going on a vacation at sea, you will need a yacht. If you're doing regular water skiing with the whole family, you will want a mid-sized ski boat. Most people have different boating purposes in mind, so make sure that almost all your needs and desires are fulfilled by the type of boat you buy.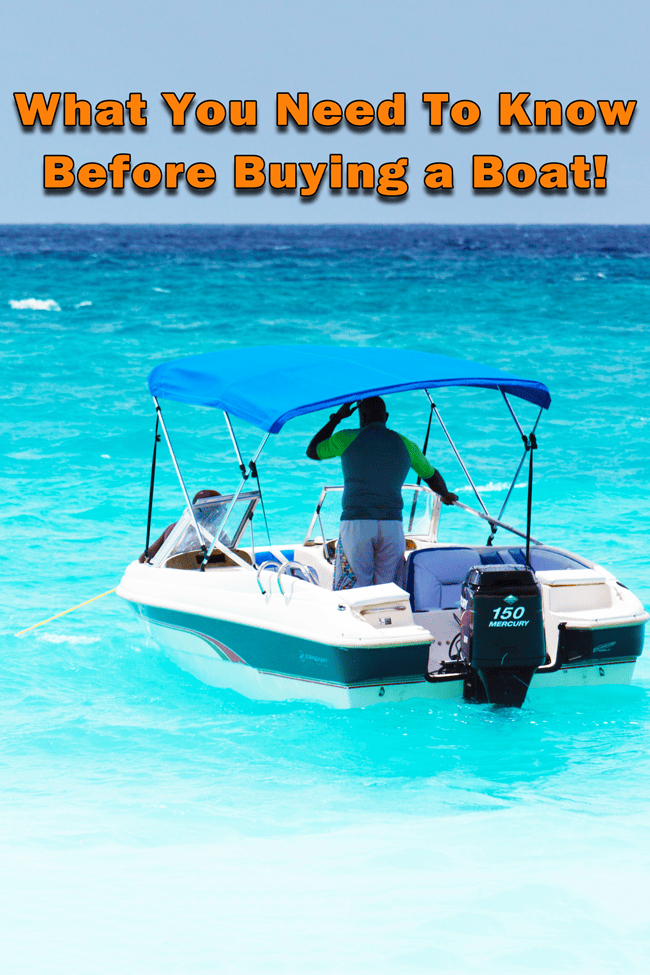 Where Will You Be Using Your New Boat?
An important factor to consider is the location where you plan to use the boat. Smaller boats may be more suitable for use on water bodies that are smaller or confined. Larger boats in tighter spaces can be difficult to maneuver, but they can be easier to manage through vast ocean waves.
Where Will You Be Storing Your Boat?
Will you be trailering you boat to the water on weekends or docking it in a marina? These preferences along with your total boat buying budget will determine how you will be storing your boat when not in use.
What Space Do You Need For Storage of Gear?
The need for storage space on a boat is one consideration that many boat buyers fail to consider. For instance, water skiers need plenty of room to store rope, skis and other features. Anyone planning overnight water trips may need extra space to store food, cooking gear, bedding, a change of clothes, and more. This will have a major impact on how relaxed you are when you use your boat.
How Will You Personalize Your Boat?
You might initially think that by picking a clever name or special font for the wording on the stern might be enough to make your boat stand out. Unfortunately, that's just not enough. To enjoy the boat in the long-term, you will also need to consider ways to personalize your boat and make it yours. For instance, while you can simply go with a standard black or white fabric for the sunshade over the center console, you can also customize it with a variety of colors and options like the guys over at Stryker T-tops offer for maximum boating experience. Other options for personalization would include baitwells, custom cushions, and of course engines.
Don't worry though, you don't have to build the perfect unique boat for your personality at the point of purchase. This is going to be something you can tweak and modify over the next several years too.
Boating Laws and Regulations
Many local areas may have specific regulations for pneumatic boats and not for sailboats or smaller yachts. In several situations, the boat's size and whether or not it is motorized can affect the validity of various regulations and rules. Several boat owners have discovered that for improved boating fun, selecting a boat that is just a foot or two smaller can lead to the avoidance of large boat regulations.
Training for Boat Operation
In buying a boat, your water skills and experience should also be taken into account. For instance, smaller sailing boats and yachts can be easier for beginner sailors to navigate, and they can be more manageable for a single person. Although most beginner boat owners would benefit from a formal training course, with a smaller vessel they may be able to learn on the water.