This summer I've had the fortune to borrow a Toyota Sequoia from their PR fleet twice. We did a road trip around Irving, Texas (suburban Dallas) earlier this summer and just a few weeks ago we drive around Punta Gorda, Florida. On initial glance, the SUV is old, outdated, and simple inside and out. After giving it some time though, it's become one of my favorite full-sized SUVs.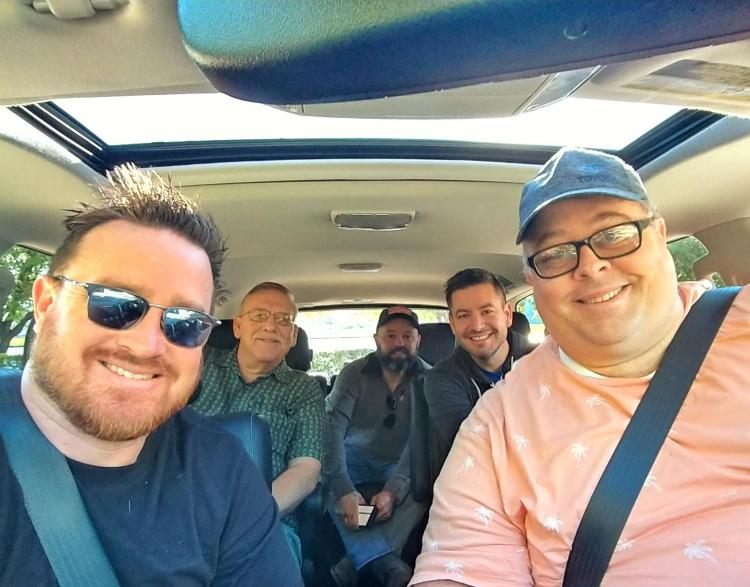 While other full-sized SUVs are simply brutishly large and unapologetically so - I'm looking at you Suburban and Expedition, Toyota's Sequoia can still hold five men and drive them around in comfort without breaking the bank. Realistically, it's the closest competitor is the Chevrolet Tahoe and its cousins.
As I myself have reached later years, my perspective on something "new" or "younger" has changed. Age can be bad ... but it can also reflect refinement and an understanding that common errors have been resolved. That seems to be a trend with Toyota and while the electronics package is old upon first glance at the center console - it still has a good complement of safety features. Beyond that, it has more horsepower and more torque than the Tahoe (381 hp / 401 lb-ft vs 355 / 383). It also has more shoulder room and hip room for added comfort.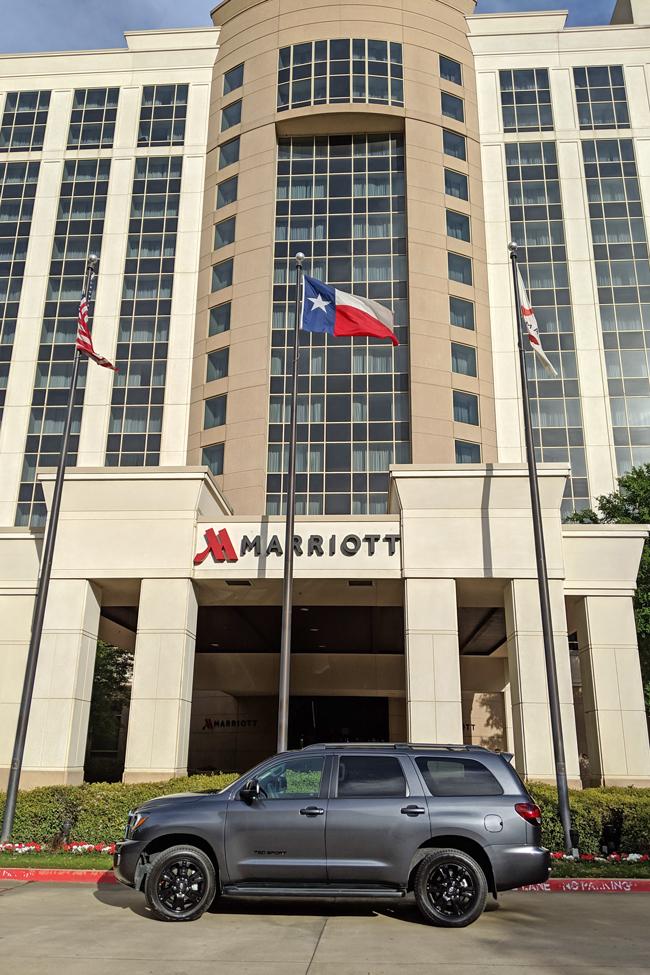 While driving around an urban area, despite its substantial wheelbase, Sequoia was pretty good at turning and parking was easier than expected as well. Overall, maneuverability was excellent for a vehicle this size.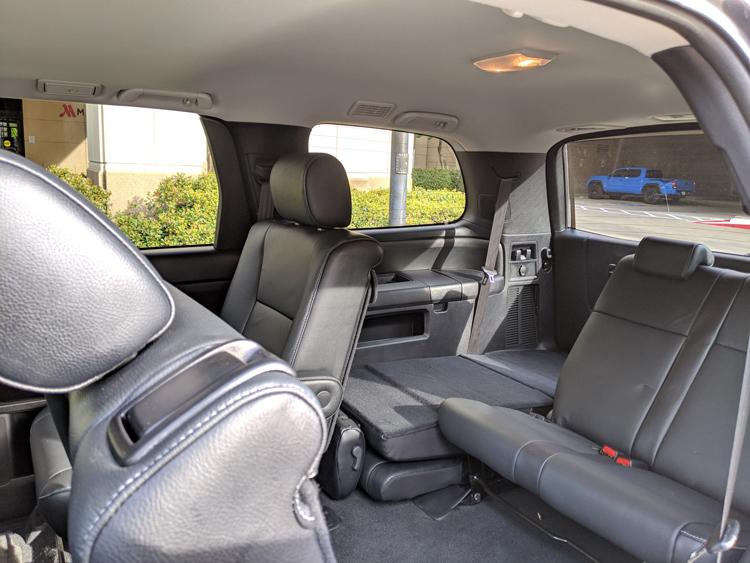 "Shot Gun!" that's a phrase uttered before almost any road trip with a bunch of guys and while the front passenger seat is almost always the best seat in the house, the third row is often the worst.
In other 3rd row SUVs, I've found that the third-row is barely more than a blank with a seatbelt attached. In the Sequoia TRD Sport, however, the third row was surprisingly comfortable and easy to get to. While cargo space is limited in the Sequoia, by folding one seat down in back it allowed for plenty of space for all five guys and their bags.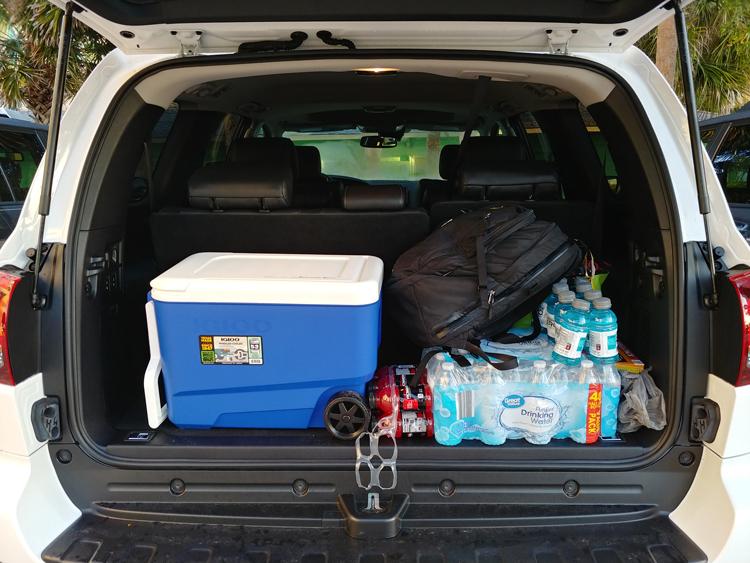 Even though it would be nice to have more storage space with all three rows being used, it's hard to complain about the actual usefulness of the space.
With third-row seats down, there's a whopping 120.1 cu-ft of space, but even with the seats up the Toyota Sequoia TRD Sport offers 18.9. Compared to the Tahoe, with 15.3 and 94.7 respectively, that's a huge difference.
In practical terms, the space in the rear was exactly right to hold an ice chest, a few cases of drinks and a bag on top. You could clearly load it up further but this was the perfect amount of space for our beach trip in Punta Gorda, Florida.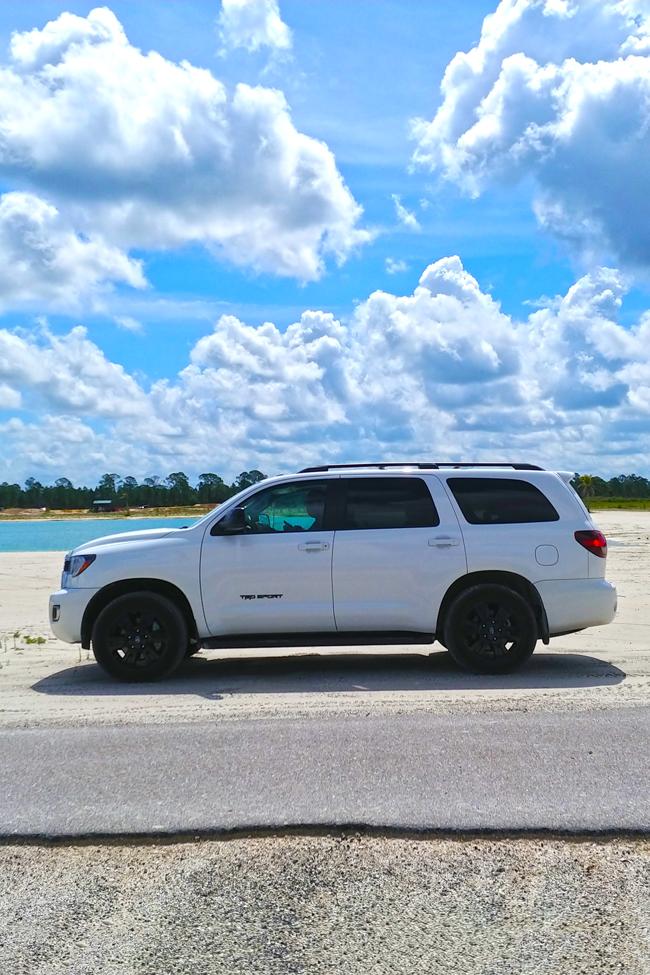 When you add it all up, the Toyota Sequoia is a great vehicle for an epic guys weekend!
The one area we didn't get to test out though that makes things even better is that depending on your trim level, the Sequoia is ready for off-road adventures too. With a 10 inch clearance, it is a full two inches better than the Tahoe. In 2020 things are going to get even better when the add a TRD Pro trim level that includes off-road tuned FOX shocks, skid plates and a center locking differential as well as even more tech updates inside.
The Toyota Sequoia has become a go-to vehicle when I know I need to haul a bunch of guys around on an adventure and I appreciate that!