Looking for a great pair of wireless earbuds that won't break the bank and more importantly won't fall out of your ear while working out? Check out the new Tranya T40 earbuds. These earbuds feature some of the latest technology, including Bluetooth 5.1, and a 4-mic design for great call quality ... all at a mid-market price point. We tested these earbuds out and were very impressed with their sound quality and features. If you're looking for a great pair of wireless earbuds, be sure to check out the Tranya T40!
The Tranya T40 wireless earbuds are designed for an active lifestyle, with a more accurate physical button control, ergonomically designed ear hook and 6 pair ear tip replacements, dual effects mode, and 4-mic design for high-quality call. The earbuds feature a 13mm upgraded dynamic driver and are IPX5 water and sweat-proof. They offer 8 hours of playtime on a single charge.
Beyond just a list of bulleted features, what I like about these T40 wireless earbuds is that they are "different". That should appeal to a different sorta guy who maybe doesn't ... or doesn't trust the traditional "hope they stay in" style of earbuds. I used to be in that camp myself but frankly those other styles do a pretty good job too.
Instead, the T40 features a wrap-around piece of rubberized plastic to old them on your ears even when jogging or doing squats. Additionally, unlike its cousins the T30 and T20, the T40 features a 13mm driver (vs 6mm) for better sound and it also features an improved physical button control too.
One strange difference though is that the T40 is "only" IPX5 vs IPX7 on the T20 and T30. While IPX7 is generally described as waterproof, IPX5 is only designed to resist low-pressure water spray. In actual use, unless you plan to store the earbuds at the bottom of a glass of water or go swimming with them (neither of which we recommend!), the functional difference is negligible. All three will be able to work great if you get caught in the rain or have a particularly sweaty workout session.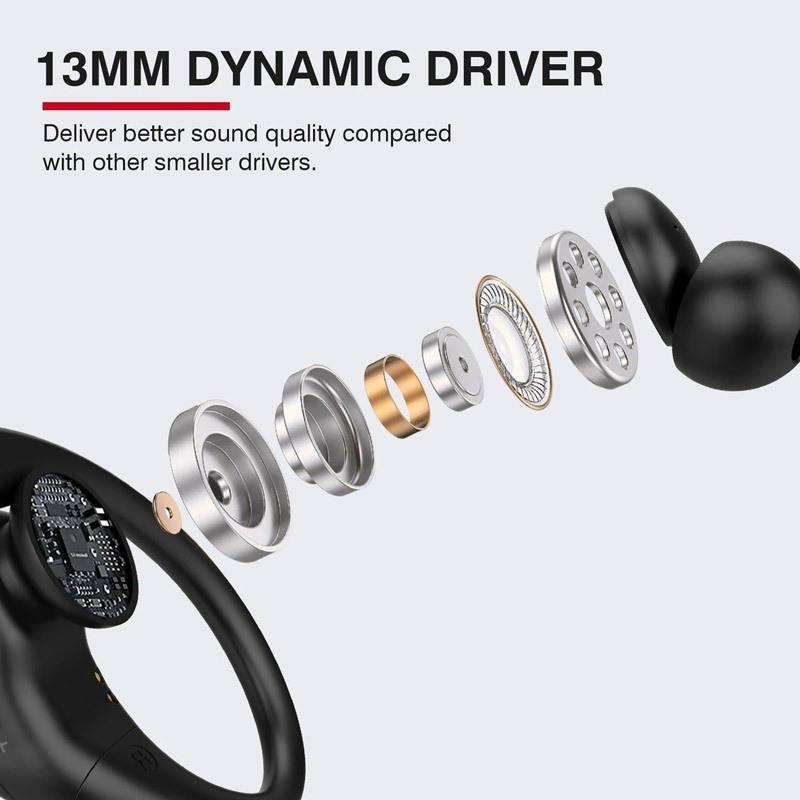 Tranya T40 Wireless Earbuds Features Include:
13mm Upgraded Dynamic Driver
Dual Effects Mode: Normal & Bass Boost
4-Mic Design for High-Quality Call
Type-C Fast Charging
IPX5 Water and Sweat Proof
8-Hour Playtime on A Single Charge
More Accurate Physical Button Control
Ergonomically Designed Ear Hook and 6 Pair Ear Tip Replacements
For more information about the Tranya T40 wireless earbuds, visit their website or you can buy them online at Amazon.