TruFuel has a simple mission - keep our engines running better, longer, with less hassle. That's a good thing since no one likes yard work :) It seems like a cruel plot that for most of us we spend all winter dreaming of the warm days of spring and summer and all the cool things we'll be doing ... and then we discover that those halcyon days are consumed by mowing the lawn and trimming the hedges. That's just not fair! While nothing short of a gardener can completely eliminate yard work, TruFuel can help make things a bit easier and more manageable.
TruFuel has three formulations and one of those should work with pretty much any type of gas-powered tools that you have at your disposal including string trimmers, chainsaws, leaf blowers, and lawn mowers. Of course, this can also work with other items such as jet ski's and small outboard motors but we'll get to that in a second.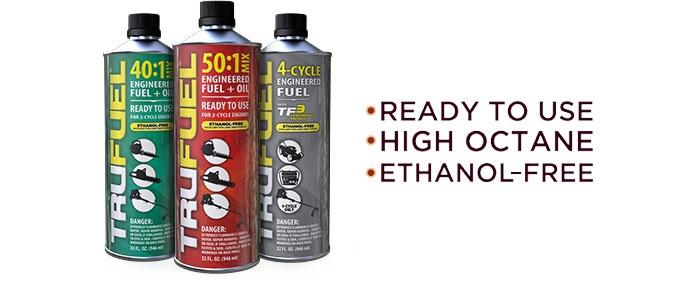 The three formulations are: 40:1 and 50:1 (both for 2-cycle engines) and then a version for 4-cycle machines such as most lawn mowers, generators, and some more powerful landscaping tools. It is critical to make sure you check your owners manual to determine what the proper version is for your stuff.
If you aren't certain what to use, don't worry - the #TruPros can help you too.
Personally I am SUPER excited about the pre-mixed 2-cycle / 2-stroke formulations. Mixing the fuel is probably the number 1 thing that I HATE about using chainsaws and gas-powered tools. It seems that I would always end up with extra oil, get my hands nasty and covered in oil. With TruFuel that's all in the past since it's pre-mixed and ready to pour into the engine. That ALONE would probably be enough for me to consider buying it to have it on hand but yeah - there's a ton more to this stuff that will make you want to check it out on your own.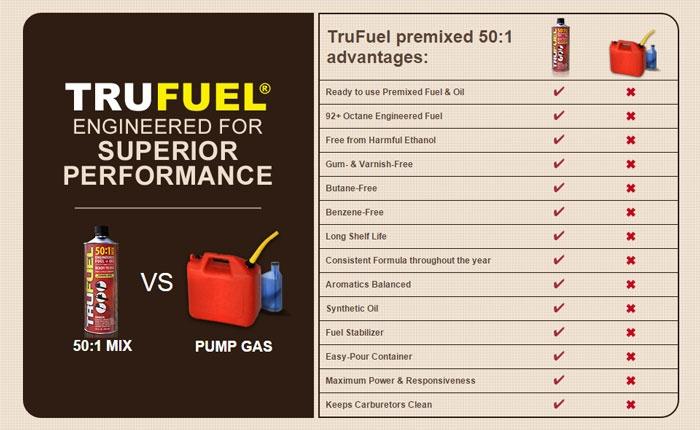 TruFuel is ethanol-free, has a shelf life of five years, and will stay fresh for up to two years after being opened. Sure - all those check marks above are important but when I have to do chores, all I care about is "Does it start quickly and run right?"
How many times have you grabbed something out of the garage only to find you over-prime the engine, pull the cord so many times that you are sure that your motor is dead? If you haven't used it all winter, chances are it isn't dead - the gas in the tank has simply started to go bad. That's pretty normal for things like chainsaws and generators that you may only use a couple times each year.
While TruFuel is SUPER expensive (equivalent of about $30 / gallon depending on store and if you buy a single bottle or a 6-pack), it's important to consider a few important things:
What's the value of your time? Going out and picking the right oil and gas and then measuring it, mixing it, and storing it all takes time.
I hate getting oil on my hands (and I guess you do too)!
How much is it worth to you, knowing that your chainsaw or generator is likely to start on the first pull? Forget the time wasted tinkering with it, in an emergency you want those tools to start quick and without a fuss.
How much are your tools worth to you? I know that I've probably bought a new string trimmer at least once because I couldn't get it started. (I never thought about it till now that it might have just been bad gas - DOH!)
Personally, this isn't practical for my lawn mower except at the beginning of the season to help clean it up, and at the end of the season to keep it ready to fire up in the spring. However, for my other tools, this is an absolute godsend that I heartily recommend that you check out as soon as possible.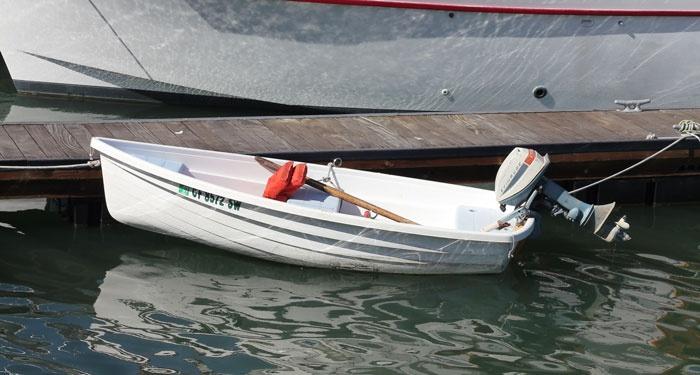 At the end of the day though, what's really important is that this extra time and money you save can be used going out on your boat or jet ski and enjoying the summer weather!
Luckily you are using TruFuel in that motor too and it starts quickly and lasts a long time too ...