This isn't hyperbole and aside from the obvious fact that the folks at UAG have been gracious enough to send me a few of their latest and greatest cases designed for the Samsung S23 Ultra, this post isn't sponsored in the least. Simply put, for the last several generations of phones, Urban Armor Gear - or UAG - is the only company that I trust to protect my mobile phones.
As you can imagine, I get many brands that approach me and offer to send me free cases. That's nice ... and I appreciate the offer. I'm also happy to accept sponsored opportunities to talk about them and share things that I like but this is genuine. My phone is quite honestly the most important piece of tech gear that I own.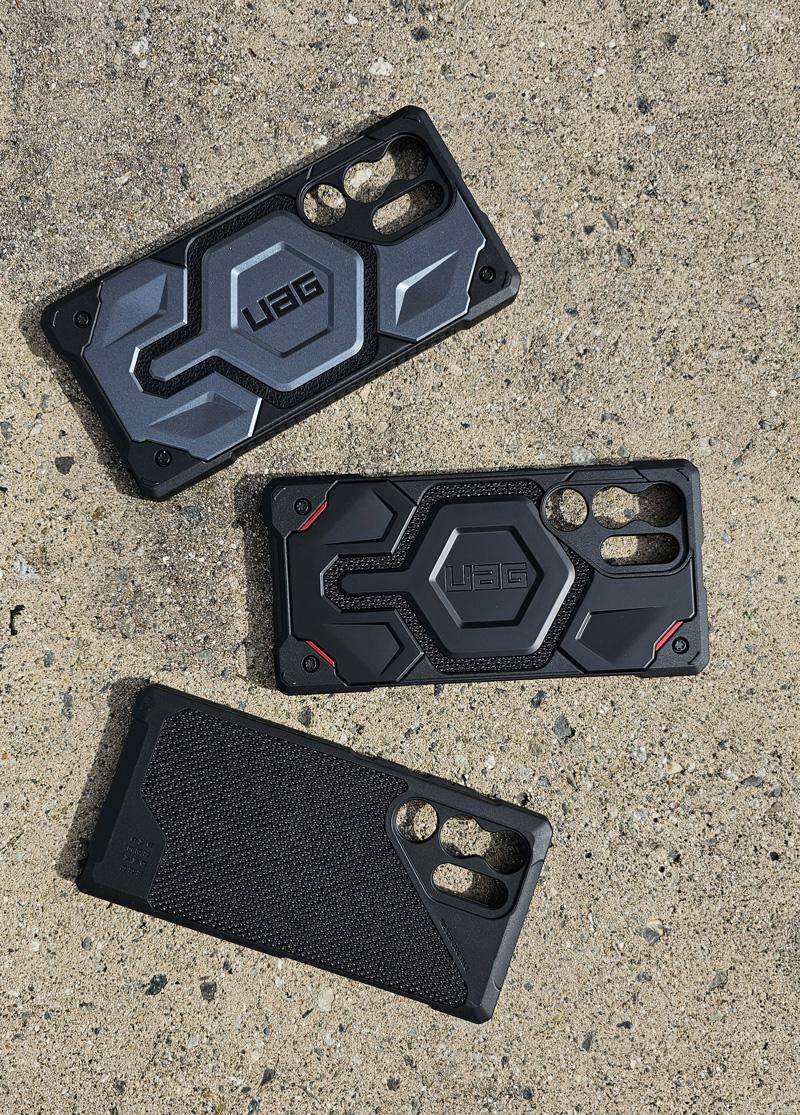 While I have multiple phones that I use for different reviews and comparisons, my "daily driver" is something personal. Not only is it a device I depend on for photos while traveling, streaming, recording videos, email, staying in touch, updating my sites, and yeah ... making phone calls too!, it is also extraordinarily expensive - at $1,200+ my S23 is even more expensive than my laptop and while that device will likely last 2, 3, maybe even 5 years ... I upgrade my phone at least every other year.
I simply can't afford to have downtime while my phone gets repaired.
Today we're going to take a look at three different cases that UAG sent me: Metropolis LT Pro, Monarch Pro Kevlar Series, and Monarch Pro Series.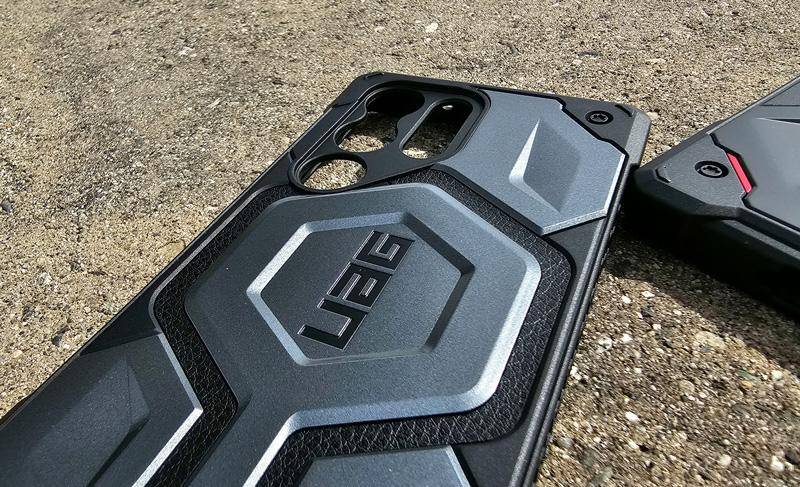 Monarch Pro Series
These are among the most protective options that UAG offers. At $99.95 the Monarch Pro Series cases are astonishingly expensive compared to the simple TPU sleeves that Heather used to buy but they also offer extraordinary levels of protection. While I'm reluctant to test it - UAG claims it has a drop protection rating of 25 FEET!
Both the regular Monarch Pro and the Kevlar Series Monarch Pro offer this rating, along with 5 layers of protection, fabulous grip on the sides and rear that won't easily slip through your fingers, and new since the last case I got from them - it also includes a built-in magnet module that makes wireless charging much easier to align and they say it will also help make it faster too. On top of this, both cases are also very lightweight and do a great job of complimenting the device ... rather than feeling like a bulky suit of armor.
The key difference between these two cases is that while the regular Monarch Pro Series contains carbon fiber or leather as well as a polycarbonate shear plate, allow metal hardware, and impact-resistant rubber - the Kevlar series features Kevlar for an extra level of protection. Protection against what, I'm not sure. Again, I don't intend to shoot my phone to find out what caliber it's good against.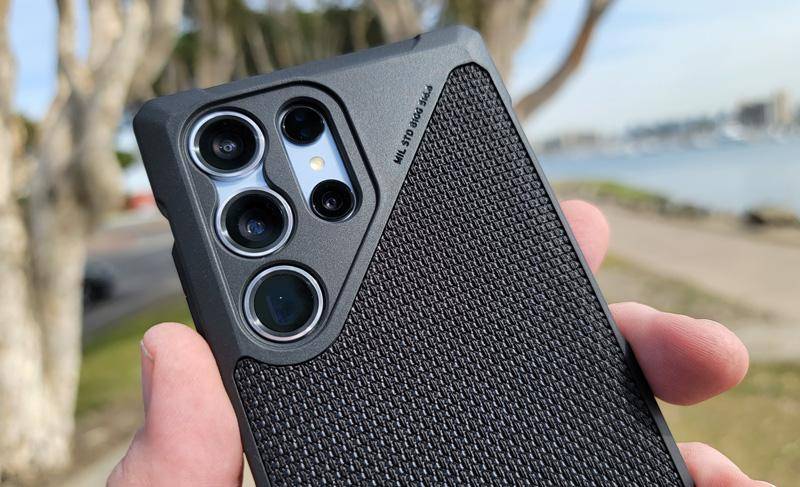 Metropolis LT Pro Series
While the Metropolis LT Pro Series case has the misfortune of being compared to the Monarch Pro Series as our "second pick", the reality is that this is also an extraordinarily good case. At $64.95, it is also much more expensive than many other options out there but again, this is what you are using to protect the most expensive thing in your pocket and I'm constantly amazed at how many people cheap out when it comes to buying a good case to protect their phone.
Instead of the layers of carbon fiber or kevlar protecting your phone, the Metropolis Lite series features a TPU frame and impact-absorbing inner bumper along with sculpted corners to protect the phone.
While it doesn't have quite the same drop protection - 18 feet vs 25 feet - this is still extraordinarily good and I don't know very many people dropping things off the side of a shipping container but if that's you then you're covered here!
Like the Monarch Pro Series, it also has a built-in magnet module to help with wireless charging.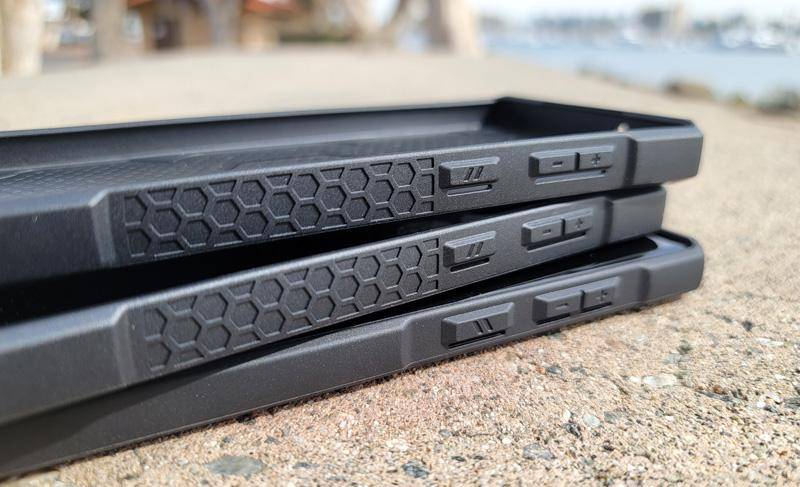 I Opted For Monarch Pro Kevlar Series But All Were Awesome
Each of the cases had a perfect fit and offered great protection while avoiding being bulky. I'm not surprised since they have always offered perfect fits where the buttons and cutouts line up perfectly, but it was refreshing to see that their quality continues to be at the top of the industry.
Ultimately, I selected the Monarch Pro Kevlar Series case because well ... it sounds cool to say my case is protected by layers of Kevlar but also I liked the red accents on the otherwise classic black case. Additionally, as someone who is often hanging over a balcony or reaching above my head while holding the phone by it's sides - the extra bit of grip offered by the Monarch Pro was the decision maker.
All of them offered great protection and look great though!
That's what I really like about UAG ... at the end fo the day they offer a wide variety of options that are well suited for a variety of different consumers but they also don't forget about keeping them stylish too.