For nearly 40 years, Wacom has been a leader in digital pen technology. Their latest offering, the Wacom Intuos Pro, is a must-have for any photography enthusiast looking to take their work to the next level. The Intuos Pro comes with the Wacom Pen 4K, which offers unparalleled precision and control when editing photos.
For me personally, I was first introduced to Wacom more than 20 years ago when I was more active in video production. The technology was simply magical as I watched a designer create smooth lines and fine adjustments to images and drag titles around in a way that simply wasn't possible to do with a traditional mouse.
Wacom ... and indeed digital pen technology has come a long way since and similar technology is now easily accessible to consumers through phones like the Samsung Note - and more recently, S23 Ultra, even Microsoft and Apple have their own pen-based technologies now. Indeed, a draw-on-video screen product is also available under their Cintiq Pro product line at a much higher price.
While that might be easier for consumers to pick up and run with, the Intuos Pro offers a great option at under $500 for the large size, to give photographers an opportunity to take their creative talents to a new level.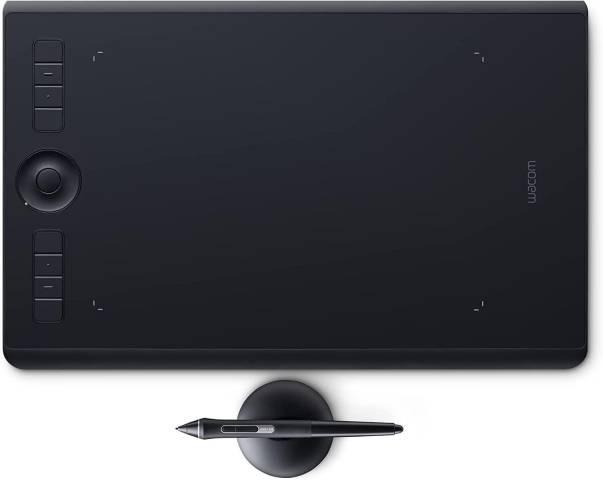 Wacom remains the choice for professionals and those that were forced to learn the disassociative skill of drawing on a tablet while looking at a screen in front of them will have a much lower learning curve than my wife did for instance when I had her try to use it. In fact, in our time spent on this review - the Intuos Pro was actually more sophisticated than we needed and this made it almost too complicated compared to less sophisticated solutions like those other mobile solutions I mentioned above.
From an end-user perspective, the biggest single difference is that Wacom's Intuos Pro is designed to augment work being done in front of you on a computer screen, while those other technologies are designed to work directly on a tablet, mobile phone screen, or directly on a laptop screen.
That being said, the Intuos Pro is designed for maximum comfort and convenience but it does have a steep learning curve. The tablet portion comes in three sizes depending on what you need, with the largest making for an excellent platform to draw long brush strokes while the smallest is better for doing smaller manipulations of images and video.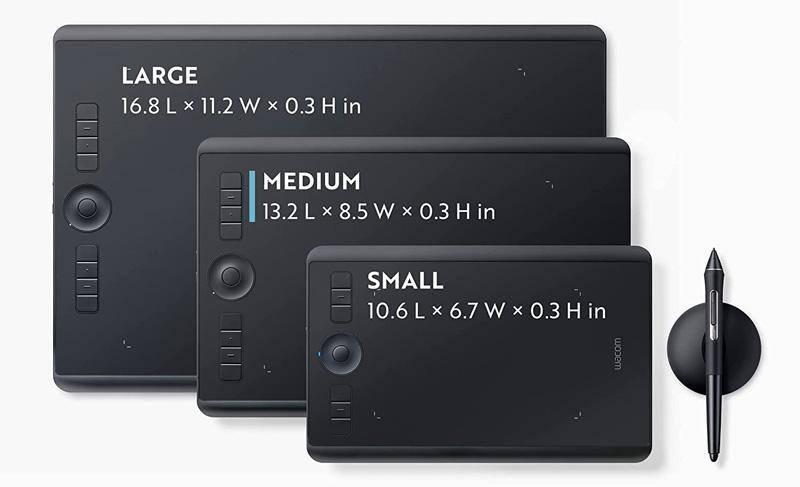 All three are wireless and relatively lightweight, making it easy to transport from one location to another - for instance from your desktop to a laptop for work outside where you might be wanting to draw something in the garden or at the park. The tablet also features eight customizable ExpressKeys that allow you to quickly access your most used tools and functions. Additionally, the 8192 levels of pressure sensitivity on the Pro Pen 2 provides an incredibly natural drawing experience that makes it easy to create stunning works of art.
To put this into perspective, this pen is both far more ergonomic and comfortable to hold in the hand compared to any other solution I've tried, but it is also far more sensitive. Compare the Pro Pen 2's 8,192 levels to the 4,096 found on the Samsung S Pen. This isn't really a fair comparison since Wacom is truly a tool designed for creators looking to create fine strokes where as the styluses from Samsung, Microsoft, and Apple have all evolved as a more fine-tipped replacement for your stubby fingers on screen.
The Intuos Pro offers several features specifically designed for photographers beyond simply drawing. The tablet's multi-touch capabilities make it easy to zoom in and out of images with just a few simple gestures. Additionally, the tablet's tilt recognition allows you to easily adjust the brush size or opacity with just a slight tilt of the pen. Finally, the tablet's high-resolution display ensures that every detail of your image is accurately represented on screen.
The Wacom Intuos Pro is compatible with a variety of photo editing software. Popular options include Adobe Photoshop, Adobe Lightroom, and Corel PaintShop Pro. Additionally, the tablet can be used with applications such as Autodesk Sketchbook and Clip Studio Paint. Finally, users can take advantage of unique features such as pressure sensitivity and tilt recognition with select software packages. It also works well with both Mac and PC and can connect by USB or wirelessly via Bluetooth to many Android devices.
Overall, the Wacom Intuos Pro is an excellent choice for any photographer looking to take their work to the next level. With its comfortable design and powerful features, it's sure to become an essential part of any photographer's toolkit.
You can learn more about it on their website or buy it on Amazon.com