While I respect and support the notion of sustainability and fair trade practices, I'm a firm believer that those factors need to come secondary to quality and value. As such, I haven't really been a big proponent of alternative fibers since in years past, cotton reined supreme. Things are starting to change now and I'm supremely impressed by the quality and value that WAMA offers in their ethically manufactured hemp underwear.
Key Takeaways
WAMA is a pioneer in sustainable hemp underwear, highlighting their commitment to comfort and consciousness. This includes certifications and contributions to sustainability, such as being PETA Approved Vegan, Green America Certified, and Oeko-Tex Certified.
Dedicated to maintaining ethical practices, including partnering with factories that implement fair wages and working environments, transparency and regular audits, and adherence to safe labor practices and a stringent supplier Code of Conduct.
WAMA's commitment to comfort and consciousness extends beyond their products, as they strive to have a positive impact on people, the environment, and the community through sustainable practices, fair wages, eco-friendly initiatives, and respect for community values.
Big Men's sizes are available, up to 4XL
Benefits of Hemp Fabric in Underwear
While these WAMA boxers that I'm currently wearing while writing this are insanely comfortable - even though the weather is hot and humid here in Ohio. However, the benefits of using hemp fabric in our underwear production go beyond simply feeling nice to wear. Hemp fiber is naturally anti-bacterial, super soft, and breathable, but also gets softer with each wash, making it the perfect fabric for underwear.
Additionally, the process of turning hemp fibers into fabric is better for the environment than conventional textile production methods using synthetic fibers and cotton. Specifically, the cultivation of hemp requires significantly less water and no harmful chemicals compared to cotton or polyester. It also has a far higher yield per acre - 2.650 pounds per acre for hemp vs 1,190 for cotton!
To be clear - these are not 100% hemp. Instead, most products produced by WAMA have a 53% hemp / 44% organic cotton / 3% spandex blend.
Ethical Manufacturing and Supply Chain
WAMA's commitment to doing the "right thing" doesn't stop there though. They've also worked to create a supply chain of like-minded businesses that understand the importance of fair wages and working environments in manufacturing. This includes a team member based in China to ensure transparency and conduct regular audits for continuous improvement.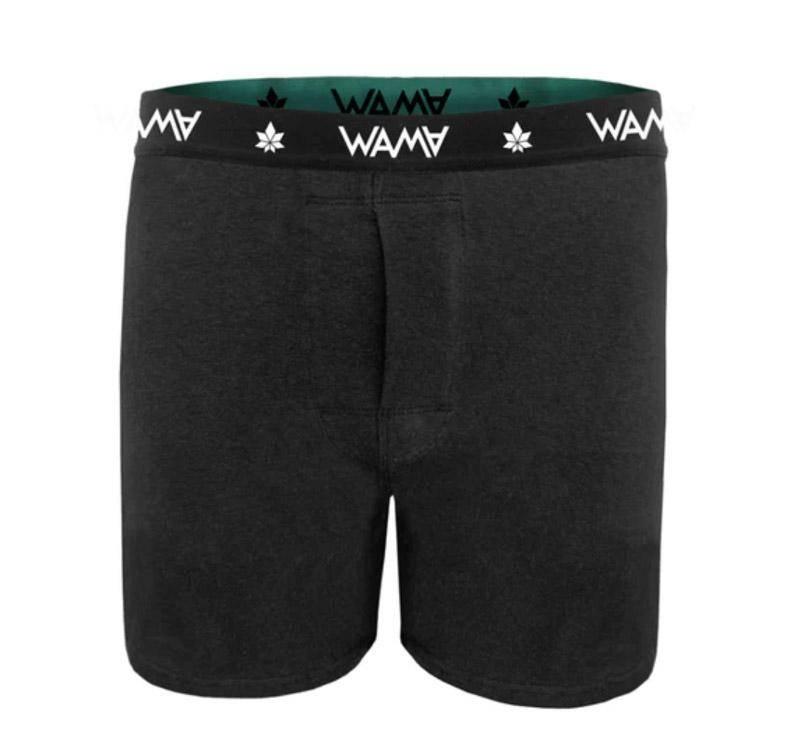 The Product Is Great Too!
I wouldn't have spent half the article talking about how great of a company WAMA is if I wasn't equally impressed by the quality and feel of their underwear too. As I stated earlier, these boxers, boxer briefs, and mens trunk underwear are hands-down some of the most comfortable that I've ever tried.
WAMA has a complete suite of underwear for both men as well as women including Boxer briefs, Trunks, Boxers, and Briefs in sizes ranging from S to 4XL. They also have items for women ranging from Hipsters and Thongs to Bralettes in sizes from XS to 4XL.
It was an interesting initial experience though since when I first put the boxers on, it felt a bit firm ... not tight, but not loose like my typical cotton blend ones that hang lose around my legs.
After about an hour of walking around though (without pants on), I realized that unlike the brand that I've been wearing for 10+ years - these felt almost invisible and when I went to readjust myself I was impressed by just how soft and stretchable they were ... without being loose.
This is a strange thing to describe but while I've had underwear with lycra woven in to add support - those always felt a bit binding. These however still felt comfortable and natural.
I'm a boxer shorts guy and so that's what I've tried first. However, the brand wanted me to test our their boxer briefs as well since that tends to be a pretty popular style with the younger guys. As a bigger guy and an older guy I've typically avoided that style since I'm not very athletic and previous attempts to try boxer briefs have resulted in a less than comfortable experience.
Here though, just like with the mens trunk underwear and boxer shorts, the hemp fiber boxer briefs were incredibly comfortable and offered support without binding or trapping sweat down there.

They Make Shopping Easy Too
While I would have liked to see a variety of body types, the fact that they did include details on the model as well as a video clip, so you could judge how the underwear will look on you. This definitely helps when it comes to making a purchase like this.
If you want to learn more, make sure to head on over to their website and check it out yourself. Pricing for most men's underwear items is $28.00 and they have free US shipping and returns on orders over $75.
For those of you (like my Father-in-Law) who balks at a price like this compared to the 10 pack of jockey shorts he buys at Walmart, all I can tell you is that the price is so worth it. Just like there's a difference between chuck steak and a cowboy ribeye ... there's a difference here as well.
It's funny in a way ... women have been spending money on their underwear for years and Heather has told me she does it not just to look sexy but that it feels good. I've always laughed at that notion but after trying these I'm hooked and I know you guys will be too if you give them a try!