Volkswagen's offerings in the United States have changed significantly over the past several years. While the brand was once defined by the classic VW Bug and similarly small sedans, today the company has two of the best SUVs on the market and we can hope that one day the Amarok mid-sized pickup will make it here as well. Sadly though, that's much more of a challenge due to tariffs and an increasingly competitive mid-sized truck space. In my previous experience with VW the cars were "nice" but skewed feminine and honestly something that just didn't appeal to my tastes. Then at the 2020 Chicago Auto Show I had a chance to check out the Atlas, but it took me a year to actually secure one for a road trip review.
At the show we were impressed that a manufacturer I'd only considered as a producer of compact "Euro Cars" had created a rugged vehicle that was spacious, powerful, and visually very attractive.
For this trip, we were paired with a 2021 VW Atlas Premium R-Line. The core difference between the Atlas and Atlas Cross Sport that we saw at the show last year is that the Cross-Sport is approximately 5" shorter and lacks the third row of seats and consequentially has less cargo space since you can't fold the third row seats down flat since they aren't there.
Our journey would span nearly a week, starting in San Diego we drive north to Santa Barbara County to explore three very different wine experiences. This included Santa Maria, Santa Ynez Valley, and then the Urban Wineries in Santa Barbara. Along the route we'd get a chance to explore a variety of terrain from urban freeways through Los Angeles, to mountain roads, to unimproved roads while traveling down the access roads between various agricultural fields.
As a test of the suspension, I even took a bit of a short cut down a hill at one point and was impressed by how solid the vehicle felt off pavement with a less than smooth surface, despite this clearly being a vehicle tuned for roads.
Our first stop would be Santa Maria, an area with a long history of wine production, but unlike gentrified areas such as say Napa or Temecula, Santa Maria is all about ranches and agriculture. What I liked most about this area is that while there is an innate sense of luxury that comes with producing fine wines, the folks here are quite litterally down to earth. While there are folks that continue a ranching heritage dating back to Mexican land grant days, there are also newcomers seeking to build a future in one of the few "undiscovered" best wine regions in California.
Had we been driving a BMW or Mercedes I feel like we would have been out of place here. However, the Atlas delivered a very similar level of quality and comfort while lacking that pretentiousness. For instance, from the outside, passersby know visually that this is a premium product. From the feel of the key fob, solid slam of the door, and the comfort of driving, you too know it is something special.
That experience matched perfectly the feel of this area too.
From Santa Maria it was time to head down to Santa Ynez Valley, in many ways the heart and soul of Santa Barbara's wine industry. With noted towns like Buellton, Solvang, Los Olivos, and AVAs like Sta Rita Hills, this is one of our absolute favorite wine regions anywhere in California.
Once again, the Atlas fit here nicely. As we cruised up and over hills and around corners, the vehicle felt surprisingly stable propelled forward by it's 276 hp engine with 266 lb-fit of torque. While I would have liked more power to allow it to live up to the promise that it looks like it could deliver, even at the moderate engine capability it still felt surprisingly fun for doing the type of driving that we were doing.
By this time, after several days on the road with long stretches of drive time, you start to feel the nuances of the seat and driving configuration. This was true for Atlas as well and while the seats aren't necessarily anything to write home about in terms of talking points, I think it deserves to be mentioned that entry and egress for a big and tall guy like myself was very comfortable from both the passenger and driver's side front seats. Additionally the seats were still comfortable to sit in, even after multiple hours on the road.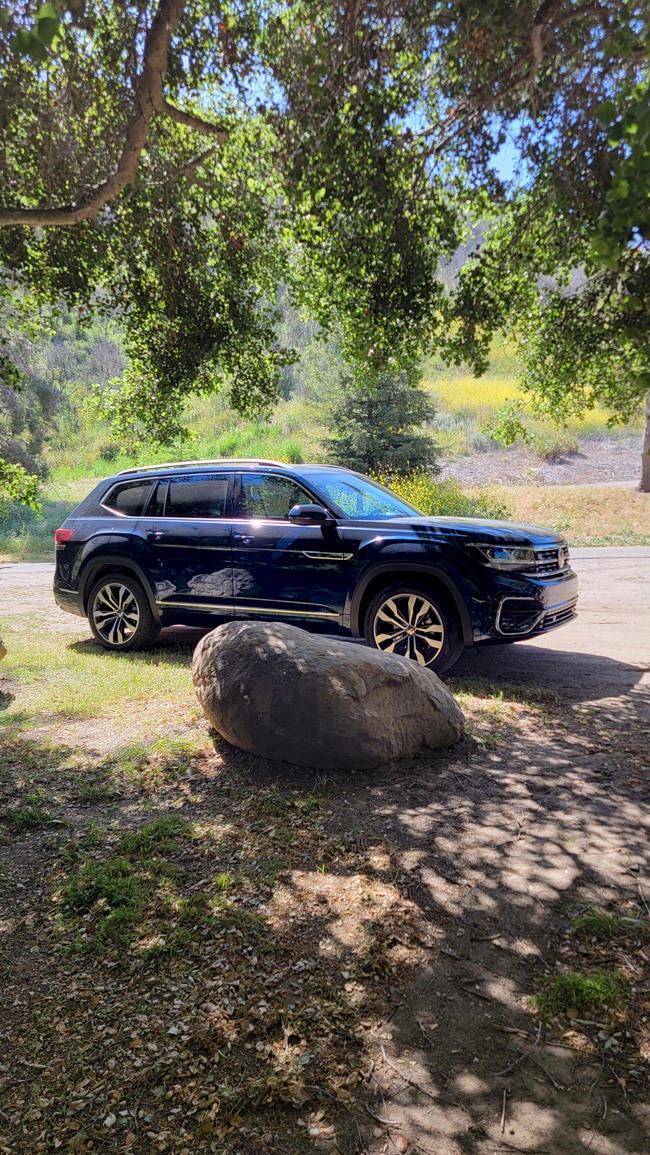 To be completely fair, a 7-passenger SUV like this was probably overkill for a couples getaway but on a wine road trip, we always tend to pick up "souvenirs" and on this trip it was no different. By the time we left our cabin at El Capitan Canyon (just west of Santa Barbara) our trunk contained no less than three cases of newly purchased wine to take home. Along with our bags, beach chairs, and other gear, we were very happy to have a large cargo space.
Atlas offers 96.8 cu ft of space with 2nd and 3rd row folded, and even with the 3rd row up, a impressive 20.6 cu ft. Compare that to a total of 82.1 cu ft and only 16 behind the third for the Honda Pilot. While the new Chevy Tahoe bests it in terms of overall cargo space with seats down, with the seats up it only offers 25.5 cu ft of cargo space in an overall much larger vehicle.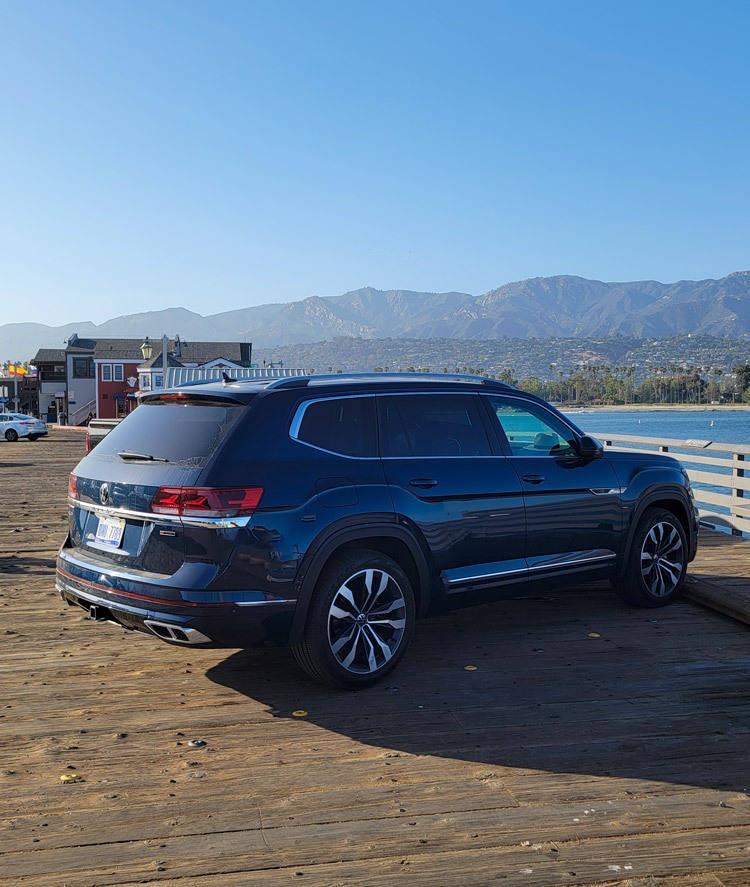 By the time we reached the coast and were ready to explore the "Urban Wine Trail" in Santa Barbara we had honestly become pretty comfortable driving it through rural areas. The challenge we faced now is , how would it fare in small, compact urban parking spots?
The good news is that despite how roomy the vehicle felt inside, it was remarkably maneuverable. Additionally, unlike some full sized competitors, it was very easy to know exactly where the front and rear corners of the vehicle were, even without sensors and the 360 overhead camera system.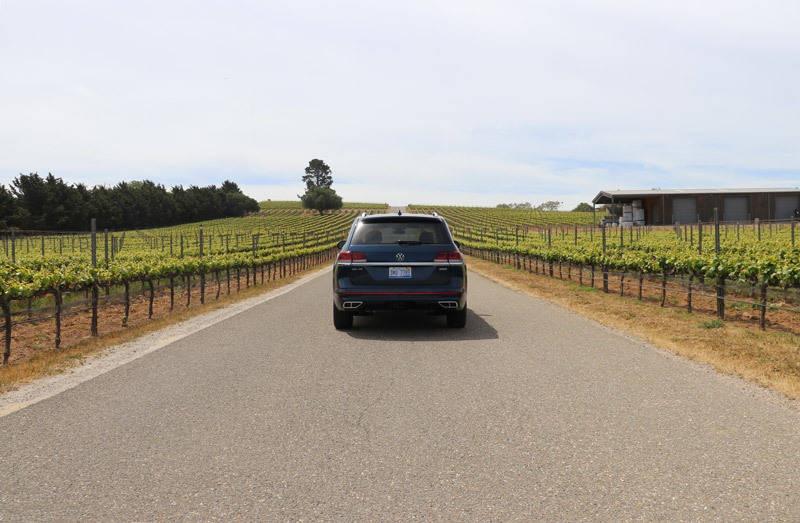 This was my first time - aside from a test drive of the VW Beatle Cabrillo, YEARS ago - driving a Volkswagen and I'm quite frankly impressed. My wife was similarly so and in fact this was one of the very few trips where she actually WANTED TO DRIVE. Usually we do a bit of trading seats so I can ride as the passenger to see what that experience is like. However, on this trip she was actually asking for a chance to drive again.
That says a lot for a vehicle design that two very different types of drivers are both happy to drive it on a road trip, instead of the passenger experience being sought after as "a break from driving".
The 2021 Atlas starts at $36,945 and the Premium R-Line configuration we had was $51,920. VW unlike many other manufacturers doesn't offer tons of add-on packages. I liked that since all too often when writing reviews like this, I look at the "Starts At" price for a trim and then am absolutely SHOCKED that the moroney price might be as much as $10,000 or more. Here though, I was frankly impressed and it was just one more reason why I look forward to working with the folks at Volkswagen again in the future.