Let's face it, the EV space hasn't been all that exciting outside of nerds and tech geeks as well as environmentally minded folks who supported the movement as an alternative to burning fossil fuels. For decades, the notion of "Electric Vehicles" meant compromise after compromise ... lighter, cheaper feeling cabins with less sound deadening and a rougher ride, anemic acceleration, and then to top things off ... the dreaded "range anxiety". With the launch of the Blazer EV those old ways to think about electric vehicles are almost in the rear view mirror.
To be fair, Tesla helped make EVs sexy but their vehicles frankly "look like an EV", plus they are extremely expensive. Even Ford's Mach-E and especially the Mach-E GT released last year have helped illustrate that an an EV "crossover" could be fun, sport, and yes practical all at the same time.
During the introduction last month it was clear though that with the Blazer EV this was everything that I loved about the current Chevy Blazer RS but now it was going to be even more stylish, faster, quicker, and due to the battery sled, the performance dynamics should be pretty darn impressive on curvy roads as well as the track.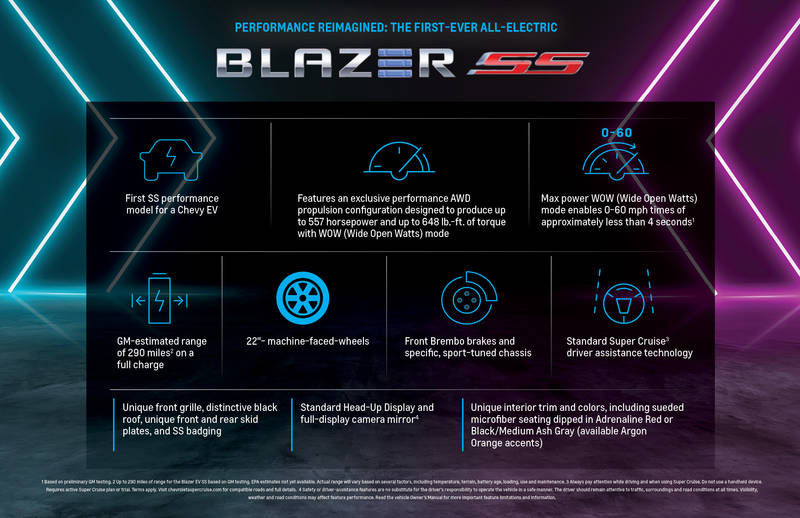 Performance:
Just as the current generation Blazer was introduced with a "base" model, a luxury trim, and a performance variant - the Blazer EV is set to do the same. However, while an ICE pretty much has to have the engine mounted in the front (or mid/rear for some exotics), with the Blazer EV buyers have the option of front, rear, or motors in both front and rear to through power directly to the wheels.
The SS model though is the a new addition to the lineup, one that will deliver up to 557 hp and 648 lb-ft of torque. With their WOW - Wide Open Watts - mode, the vehicle is able to do 0-60 sprints in less than 4 seconds. This is similar to the WTF - Watts To Freedom - function found on the Hummer EV which shares the same platform with Blazer EV.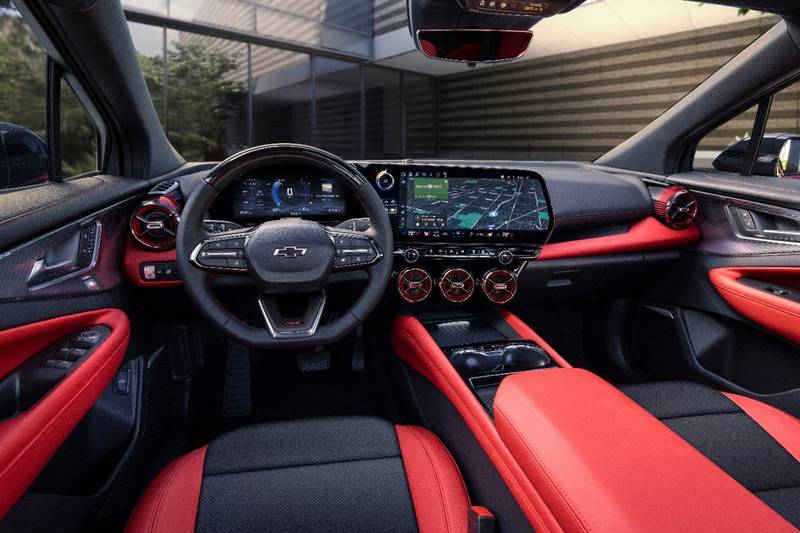 2024 Chevrolet Blazer EV SS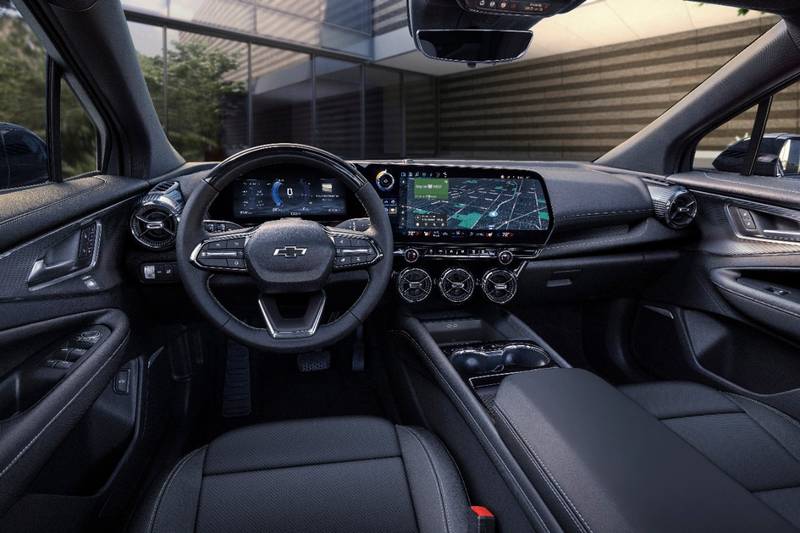 2024 Chevrolet Blazer EV 2LT interior
Design - Sporty And Spacious:
While we're focused on the Blazer EV SS here, the reality is the 2LT that we saw is also extremely sharp looking. However, I couldn't help but smile as the designers mentioned that while the Blazer RS took design inspiration from Camaro ... Blazer EV SS is taking design inspiration from the C8 Corvette.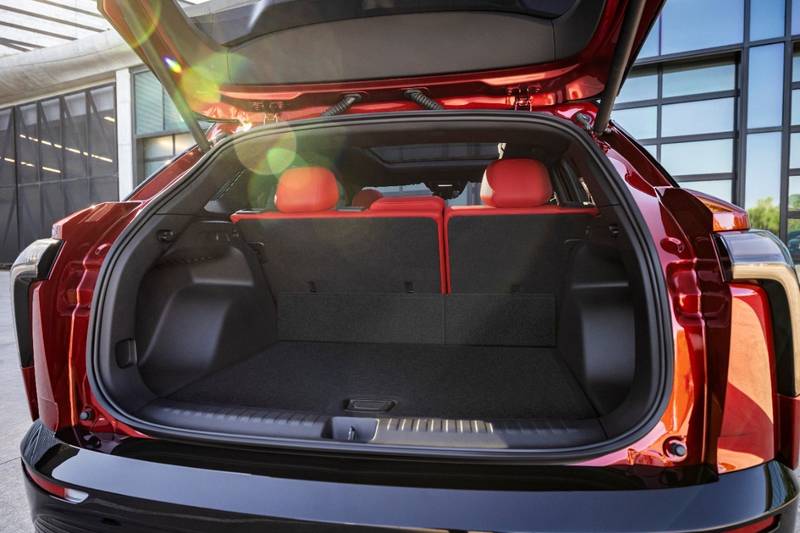 Despite that sporty and dare I say garish red leather combined with a driver-centric design (see how the center console is slightly angled towards the driver rather than being flat), Blazer EV in all trim levels has generous head and leg room in the second row as well as a large trunk that would enable a group of guys to pack gear for a road trip.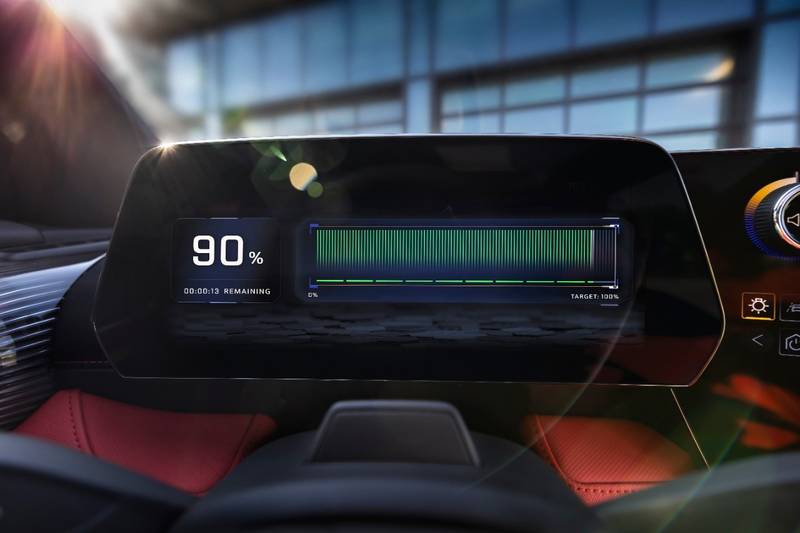 320 Mile Range:
Ok so technically, the SS only offers 290-mile range because of the extra power needed for the AWD since it uses two independent electric motors, front and back. However, the RS features up to 320-mile range and both RS and SS offer high-speed DC fast charging up to 190kW, enabling recharging of up to 78 miles3 of range to be added in approximately 10 minutes.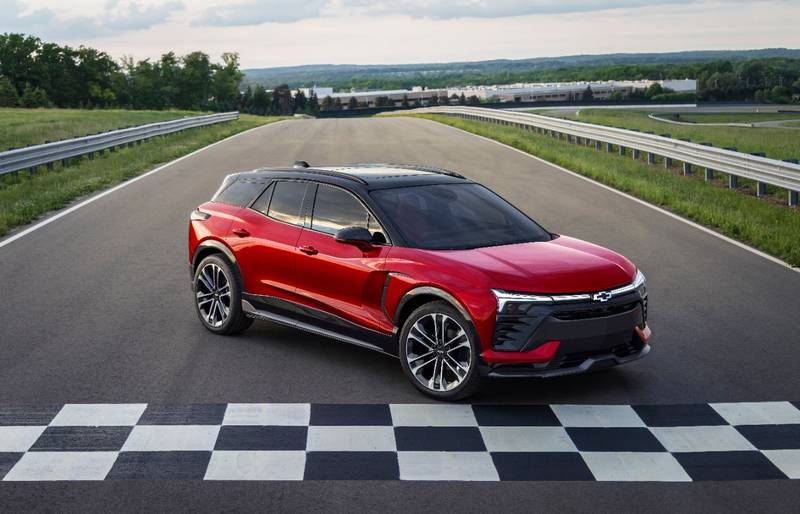 A Trim Level For Everyone:
As mentioned above, there are four trim levels here at a variety of price points and that makes this a truly mass market vehicle that almost anyone will be able to afford.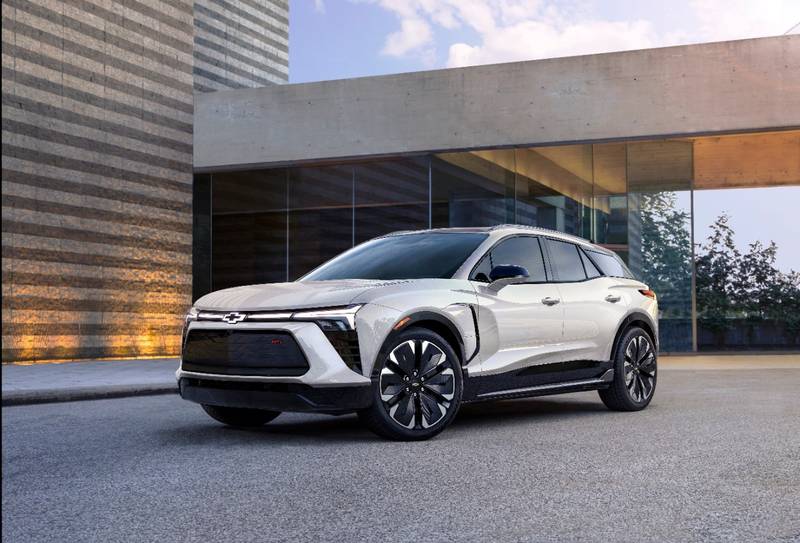 2024 Chevrolet Blazer EV RS
2024 Chevrolet Blazer EV 2LT and RS go on sale in summer 2023, priced starting around $47,595 and $51,995, respectively. The SS follows later in 2023, priced starting around $65,995, followed by the 1LT and the PPV fleet model in Q1 2024. The 1LT will be priced starting around $44,995.