As more people watch professional video game streamers on YouTube, Twitch, and Facebook, it's only logical to be able to want to do it themselves. The unfortunate reality though is that most of us will never have both the skill and personality to compel someone to watch and so I'm forced to find another justification for a device like the EVGA XR1 Video Capture Device. It might be just the excuse that makes you able to justify the purchase though!
In all honesty, this is a great product that hits all of the points needed for the casual game streamer and it sort of reminds me of the challenge that a lot of face. When buying a cool gaming laptop, the reality is we'll be spending more time with Word and Excel than actually killing aliens and other monsters. However, we ultimately want that feeling that we're doing something fun and we can feel that by looking at the lights and visual design to make it feel like we're doing something special. That's how I feel about this product too.
The EVGA XR1 capture device is an RGB LED capture card that allows you to stream or capture quality video footage of your console gameplay at a 1080p resolution and 60 frames-per-second straight to your PC. Being the first official captured card to be certified for OBS, armed with a full suite of features tailored for content creators, the XR1 attempts to deliver the best experience.
One of the XR1's features is its ability to pass-through a 4K image while capturing or streaming its 1080p 60 frames-per-second footage via its Pass Through Mode. With the introduction of next-gen game consoles that are capable of displaying beautiful 4K graphics on 4K TVs and monitors; utilizing a capture card without this 4K Pass Through feature would force your display's output resolution to match that of the capture card's recording resolution - often 1080p. Reducing your display's output resolution from a native 4K resolution to a 1080p resolution often results in a blurry and less than pleasing image on your display while you simultaneously game, record or stream. With 4K pass-through, your display will maintain its native 4K resolution during video capture, allowing you to enjoy the best of your next-gen console's graphical eye-candy while you capture your content. The XR1's even extends its pass-through capabilities with an added mode called Advanced Pass Through, which allows you to utilize a 144HZ refresh rate with HDR, all at the press of a button!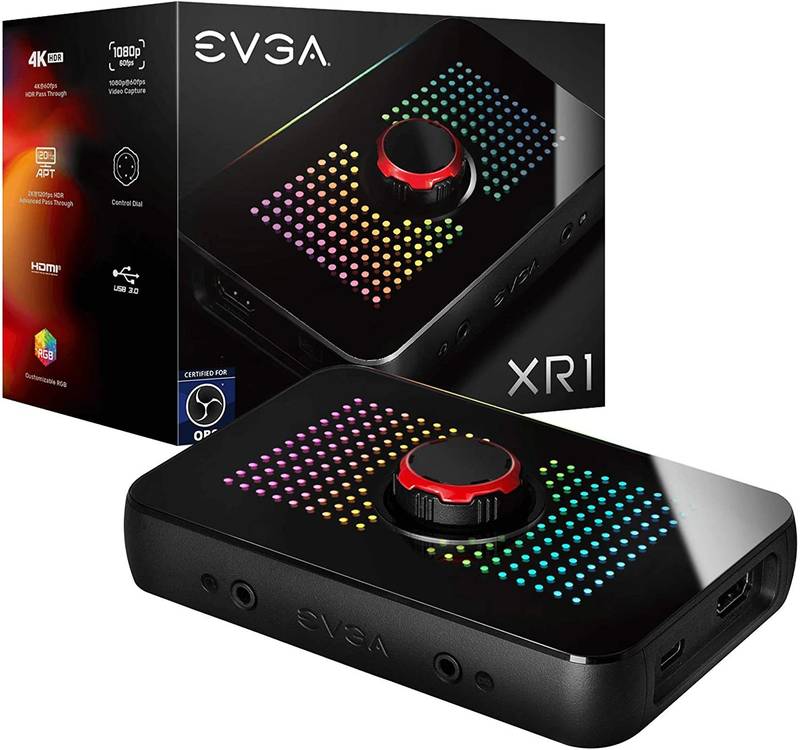 EVGA XR1 accessorizes its advanced video capabilities by featuring an array of audio tools such as a built-in Audio Mixer that allows you to control your microphone audio levels without any disruption to your gameplay from relaunching the game or recording software. The audio capabilities are enhanced further with the inclusion of a couple of 3.5MM audio ports built-in that allow various types of voice capture to be easily recorded in-game. One of these ports is a mic-in port that gives you the ability to capture your own microphone audio and the other is the Console Party Link port that captures the audio from your console's party chat via Xbox One/Series S|X and Playstation 4/5 controllers! The addition of these ports gives a user of the XR1 the advantage of recording all voice audio out of the box with the only added accessory needed being a 3.5MM audio cable to connect the controller to the XR1 for party chat audio.
All of the features included in the EVGA XR1 Capture Device are nicely packaged in a small and lightweight housing, complete with RGB lighting built-in that can be fully customized using EVGA's proprietary RBG software VIA your PC. At an MSRP of $199.99, the XR1 offers a complete set of tools to cover all the corners any content creator would need.
On the other hand, while all of these game streaming features a great, you can also use it to connect your digital camera to your computer for a much better image that may improve your visual presesne on Zoom meetings for work compared to a cheap webcam. Similarly you can record presentations or family videos from VHS tapes and record family videos to the computer. These aren't as glamourous as striving to be the next Twitch star but in a world where ever penny matters, sometimes it's these justifications that are what you need to pull the trigger.
The EVGA XR1 can be purchased on their website for a MSRP of $189 or you can buy it on Amazon.