There are boots and other pieces of clothing that I buy because it looks good - and others I buy because it's practical. I love it though when I find a great pair of boots that is stylish, rugged, and has a great story and deep heritage behind it. That's what I found in these Blundstone Super 550 Boots that they sent me to review. It would have been a shame to simply wear them around town, so I took them on an adventure along the California coast, exploring Big Sur and Carmel.
Blundstone might be a new name to many Americans but it is a heritage brand that has been operating in Tasmania, Australia since 1870. Despite being a global brand today they are still based there and so is the manufacturing base. While they have classic styles like the Original 500 Boots, they also offer a wide variety of other options in both men's as well as women's styles too. While all of their boots are rugged - for those seeking extra protection they also have a full line of Work and Safety Boots too.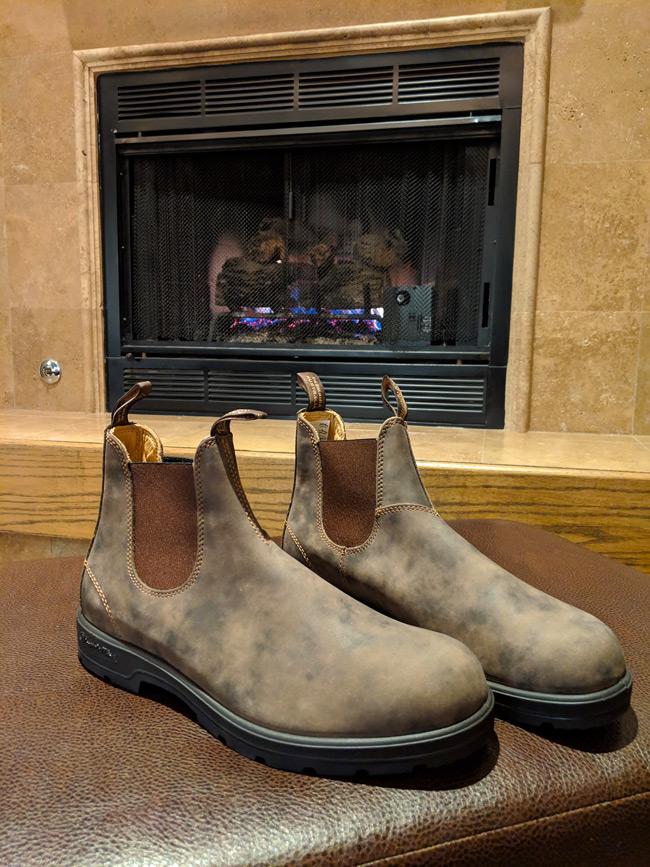 For me though, I was smitten with the Super 550 Boots. This line features a Chelsea Boot style with great soles, strong stitching and a variety of styles ranging from these conservative "Rustic Brown, Style 585" boots to more colorful options like the "Black and Red, Style 1316" boots.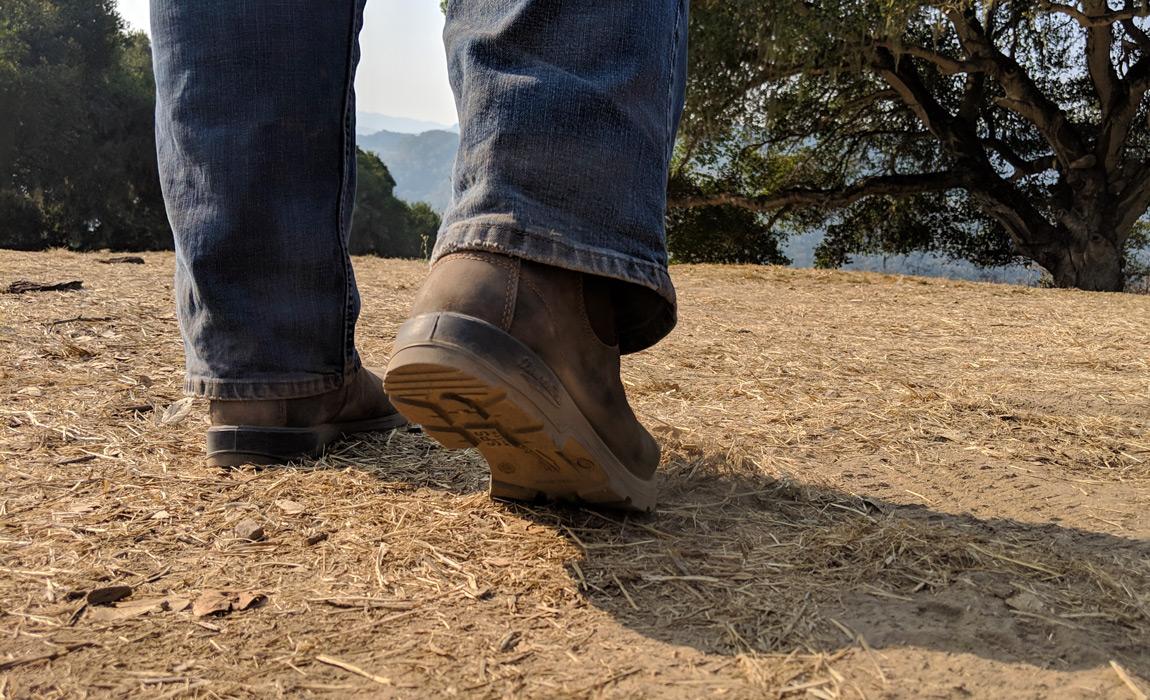 Chelsea-style boots are a double-edged sword in that they are easier to get on and off since there are no laces ... but they can be a PITA initially since new boots tend to be stiff initially. These Super 550 Boots from Blundstone were no different. However, I found the loops to be very strong and comfortable on my fingers as I wedged my foot into the boots. With some similar styles, I've worried that I might pull them off and be stuck with boots that looked good but would never again go on my feet.
I had no fear with these though. The stitching and materials used is absolutely fantastic and extremely rugged.
One thing I also noticed immediately was that while they quickly became covered in dust from the vineyard surrounding the hotel I was staying at - they still looked great. While the fabric section definitely ended up being more muted from the original red color, the leather has a fantastic mottled look to it that hid the dust fabulously.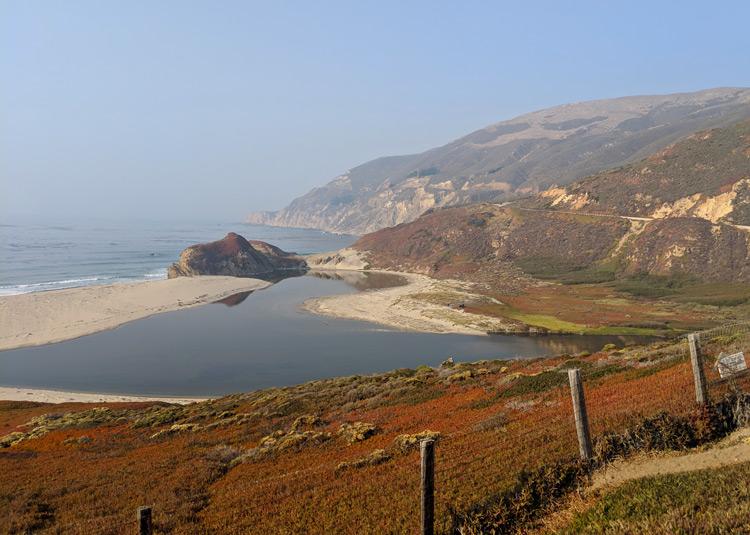 With boots on, it was time to set off on a road trip along the coast. While test one for these boots was the easy of getting them on, test number two was would they be comfortable enough to drive in.
Again, they passed this with flying colors. Despite the sharp turns, regular use of both gas and brake pedals the booth remained comfortable and didn't pinch or bind either in toes or around the ankle as they flexed.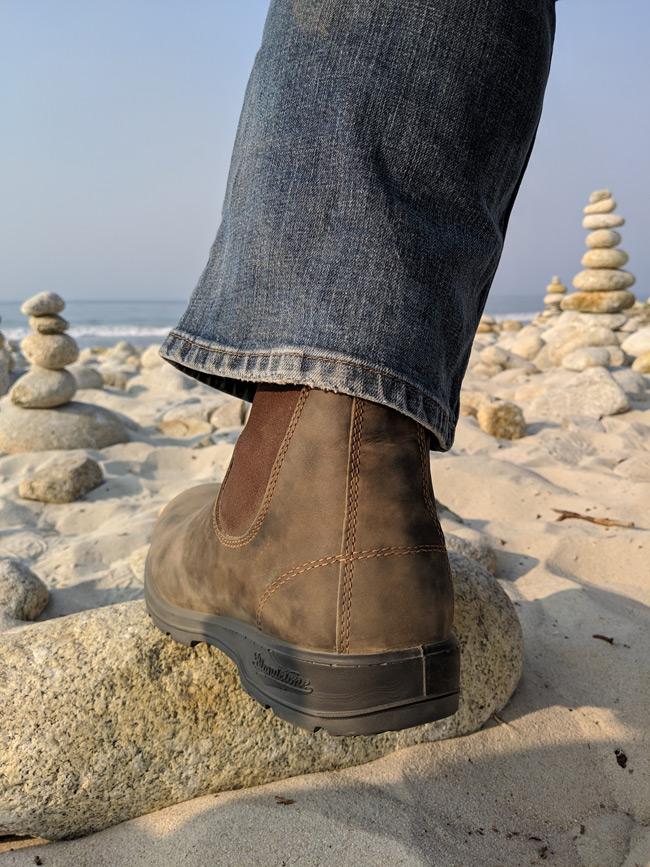 A good boot should do more than just be comfortable, it should also provide support. Again, the Blundstone Super 550 did a great job here as well. While we didn't test it in water - it provided good support while walking in sand, rocks, and hiking up some hills.
What I really liked here was that while most boots cater to urban walking with a soft and comfortable sole that is too floppy for rough terrain, these did both equally well. They are light enough to be comfortable as an "everyday shoe", but sturdy enough to allow you to go places a sneaker shouldn't. On the other hand, if you need that extra layer of sturdiness for a true Blundstone work boot - they've got you covered there too, with this same style. In many ways though, it's sort of like the Jeep Wrangler Sahara vs Rubicon. With these you can look good, do more than other options but if you want to go all the way ... there is an "ultimate" option available.
For those of you interested in that one - it features a steel toe cap, water / acid / oil resistant, heat resistant up to 290 degrees, electrical hazard resistant, slip resistant, and features a steel shank for maximum torsional stability. It's pretty much the ultimate work boot and still has that fashionable Chelsea boot look that requires no laces to worry about.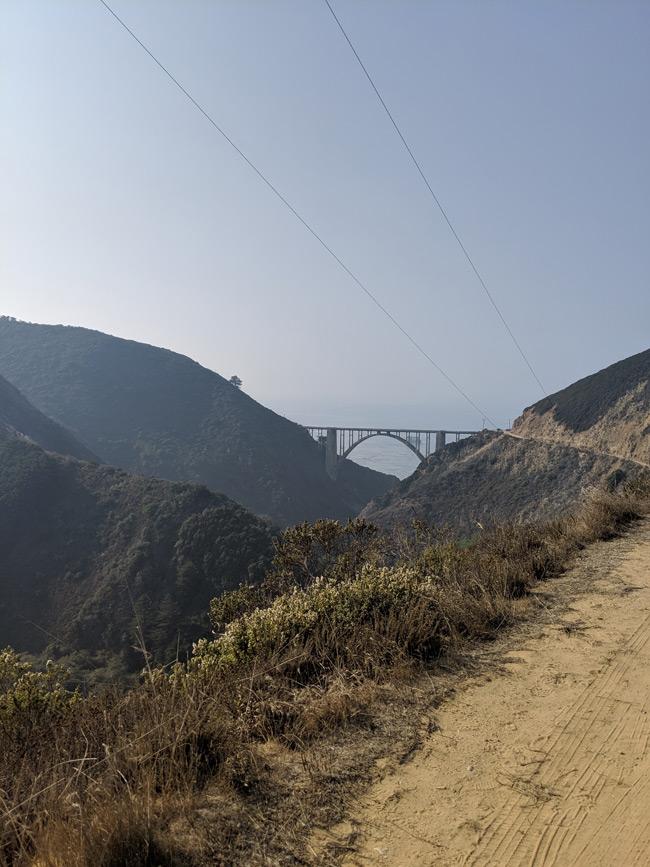 Blundstone Men's Super 550 Boots can be purchased online for $189.95 or at various retailers nationwide.
I honestly can't say enough about how much I love these boots. They are the absolute perfect combination of comfort and style.