Vineyard getaways, the kind where you actually get to stay in a room not far from the cellars, are fairly common in the wine country regions of France, Italy, and Spain. The gist of a wine resort vacation is to get the most out of your stay by combining a winery tour with tasting, gourmet dining, and the immersive experience of spending a couple of days right where the magic happens.
I have to begin this review of my experience staying at Allegretto with my honest first reaction. All of the photos that you see of the property ... including the ones I'm sharing here, make Allegretto look like it is set out in a rural area far from the hustle and bustle of the city. That just isn't accurate. In fact, the property is set in a very convenient location, just minutes from shops, restaurants, and urban wineries downtown and about equally distant from the wineries in East County as well as the ones in the hills to the west. It is quite literally set in the middle of commercial development.
Despite this, Allegretto's designers did an amazing job at the level of Disney's Imagineers at creating an authentic experience that wraps itself around you and makes you forget for a moment where you are actually located. While walking around the grounds of the resort you aren't just pretending to be in Tuscany, you pretty much are. I don't say that to be all fluffy and repeating PR hype, but it is genuinely how the guest experience feels. There are 20 acres of vineyards for growing grapes that they harvest for making wine, authentic works of art that adorn the walls, and even an Italian chapel for conducting wedding ceremonies in a way that you might if you were actually in the "old world".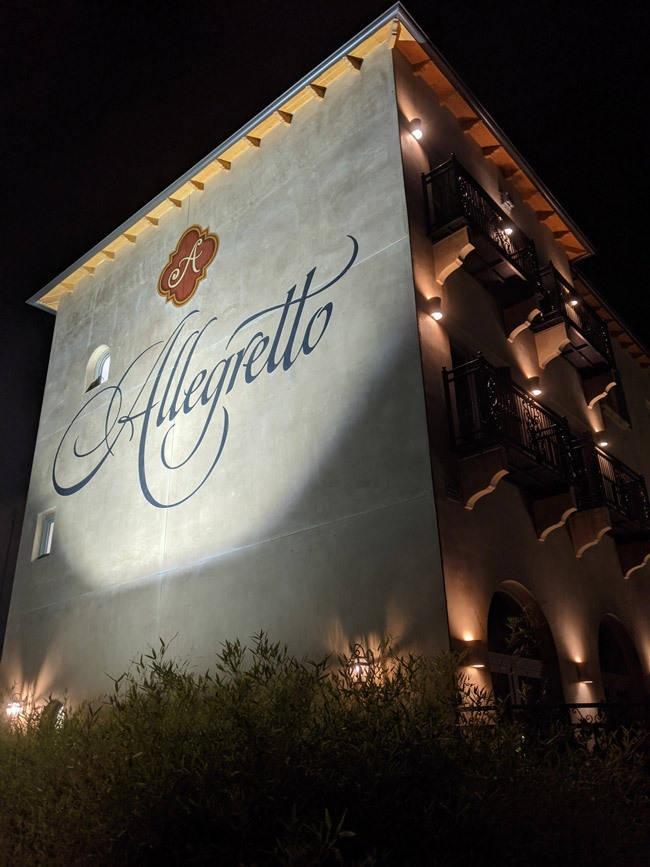 Whether you are visiting for a guys weekend or a romantic getaway, this is a property that you will enjoy and look forward to returning to again.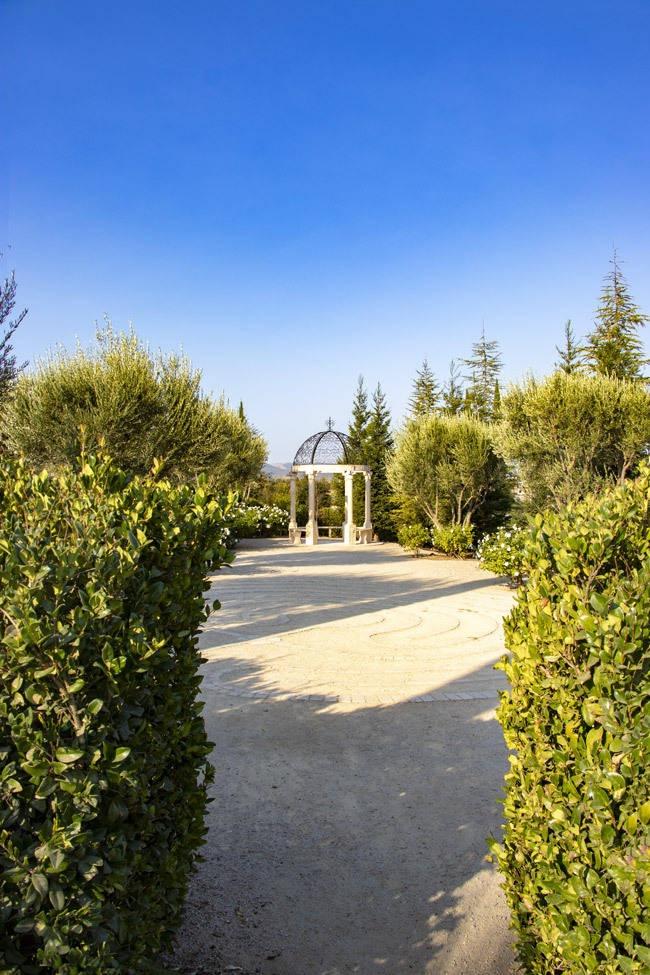 What You Should Know About Allegretto
The story of the Allegretto Vineyard Resort is one that many local winemakers can identify with. After his first visit to Paso Robles, Douglas Ayres fell in love with the place. Years later, Ayres returned with the intention of developing the idea that eventually became Allegretto, and he brought along the personal experiences he enjoyed at European vineyard resorts.
Prior to 1983, the idea of a vineyard resort of this scale would not have been considered in Paso Robles despite its winemaking tradition that goes back to the 18th century. Before Paso Robles was formally designated as an American Viticultural Area, grape cultivation was mostly limited to Cabernet for mass-production wines. The AVA title prompted soil and climatology research of the region, and this determined that the fertile land of Paso Robles is ideal for many grape varieties to grow; this is when renowned winemakers such as Ayres started flocking to the area.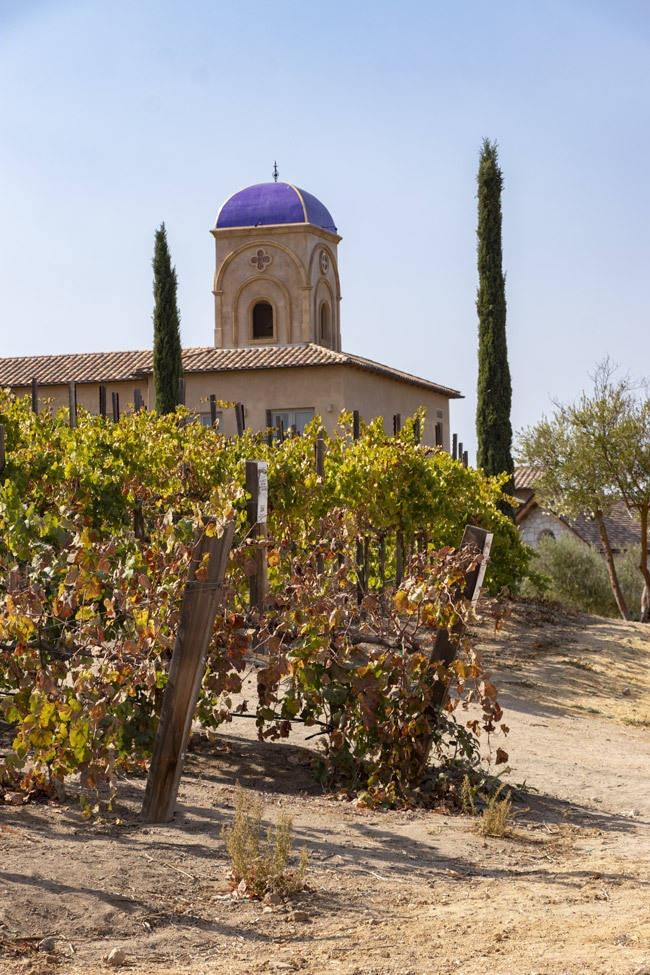 What Ayres has accomplished here is exactly what you would get when visiting an Italian winery estate in Tuscany. Allegretto oozes with style; the architectural design is clearly Tuscan with just a touch of California Modernism. The elegant suites feature their own terraces, the swimming pool is surrounded by cabanas, and there are even fire pits overlooking the vineyards. Since Paso Robles can get quite cold at night - even on summer days with temperatures in the 90's, the night temperature can drop to the 50s this is almost a must to enjoy the nights here.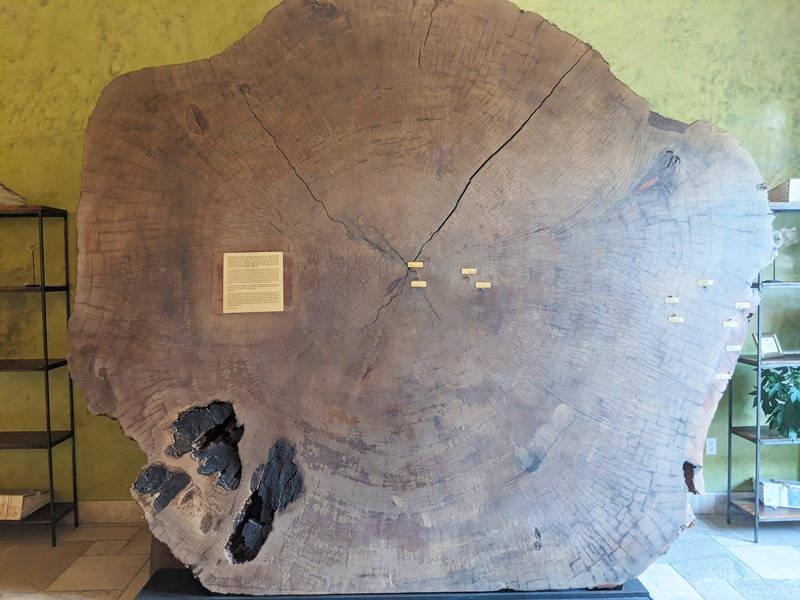 As you explore the resort, you'll find luxury art and sculptures all over the resort, and every piece of furniture has been clearly selected to match the incredible decor. This ranges from fountains to a giant slice of a 2,000-year-old sequoia tree that was blasted with dynamite in the 1950's since it was too big to cut down with a saw. To give you an idea of scale, this piece came from over 100' up in the air! What's more impressive to me is that according to the description placed on the wood written by Douglas Ayres, "In an effort to have the tree feel at home here at Allegretto it asked for a color from the forest. I clipped a piece of the new growth of the leaves of a giant sequoia where I live and matched the color into the Venetian Plaster so the tree resides around the colors it knows so well. The green color also represents the continued new growth in our lives as we gracefully age and take the time to contemplate on the natural wonders in nature."
That in itself is impressive, not merely for the curation of art and cultural relics that inspire you to explore the resort and peek around corners, but also for the thoughtfulness that manifests itself in every aspect of the resort.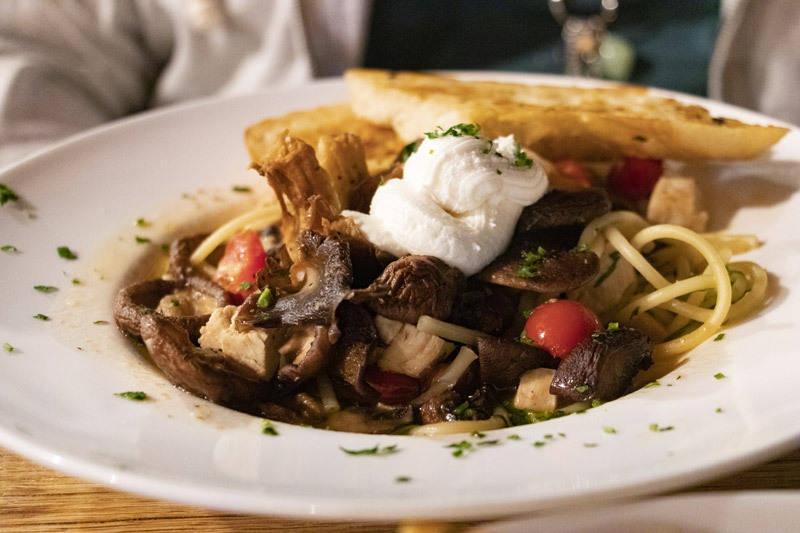 Dining and Special Activities
The Allegretto Vineyard Resort offers more than just wine tasting. The Cello Ristorante and Bar offers a fine dining experience with full gourmet meals and snacks to pair with the wines produced here as well as others from Paso Robles and Central Coast wineries. Al fresco dining is also available and highly recommended; you can enjoy outdoor dinners even during the cool winter nights of Paso Robles because the terrace is heated.
As befits an exclusive resort, Allegretto offers full concierge service that can help you set up fun activities such as the Canossa Grand Tour road trip through Highway 1. Activities within the estate include horseback riding through the pristine wine country and even encounters with exotic animals such as kangaroos, otters, and eagles. Allegretto is very family-friendly, so you can always come back with loved ones and children after your weekend with the guys.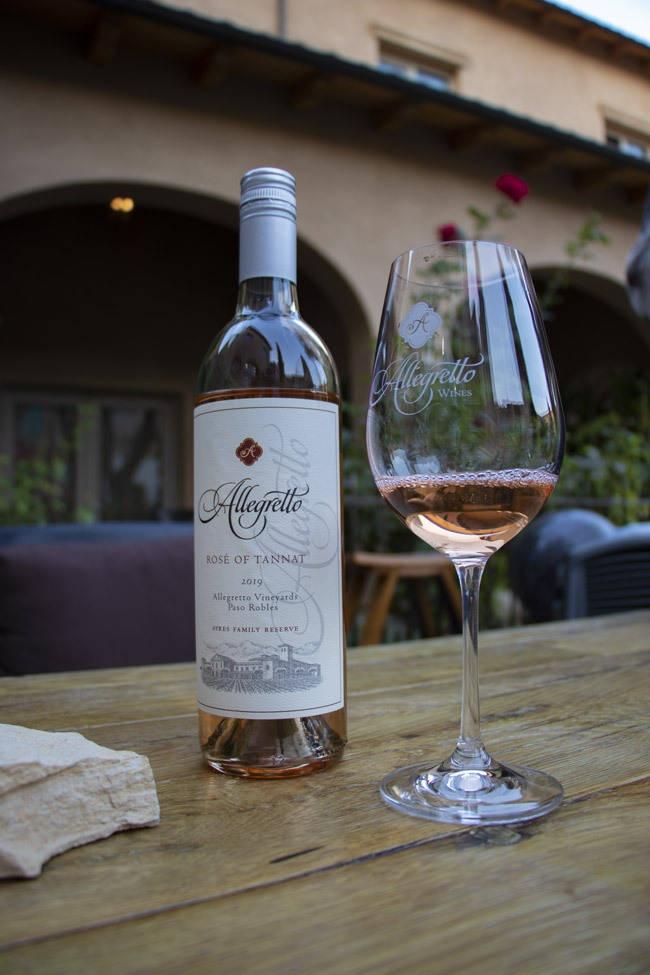 The Allegretto Wines Portfolio
As you'd expect from a stay in an Italian villa surrounded by vineyards, wine tasting is an important highlight to any stay at Allegretto. During this visit, my clear favorite was the 2019 Rose of Tannat. I'm not sure if it is just my infatuation with a new grape that I hadn't experienced prior to visiting Paso Robles or what, but I fell in love with this wine at Allegretto.
While they use grapes harvested from their own vineyards, they also source grapes from other local producers too. One of the interesting features of Allegretto Wines though is that it is a boutique winery that produces vintages in lots limited to only 100-200 cases. This means that some of my favorites on this visit will likely be gone when I visit again - even if only a few months later. Some of the outstanding wines include:
2014 Cabernet Sauvignon
This rich and savory vintage offers hints of berries and peppercorns for a very smooth finish that belies its 14.7% alcohol content.
2019 Cello White
As the ultimate sipping wine for summer parties, Cello White is the perfect blend of Roussane and Chardonnay grapes.
2016 Tannat
If you are a fan of bold reds with character, you must taste this vintage Tannat. The flavor hints are smokey with a touch of cherries dipped in liqueur.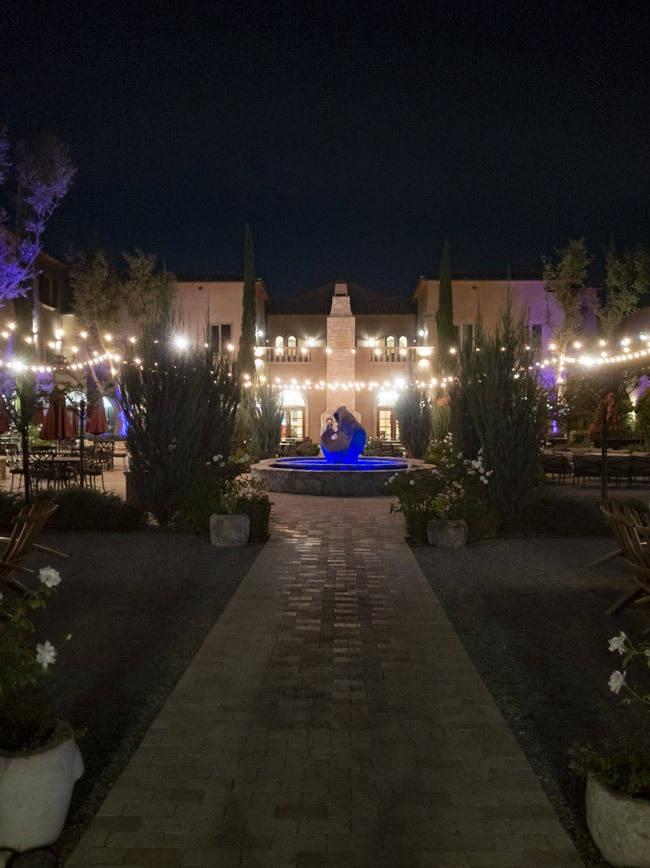 Allegretto Vineyard and Resort is truly one of the most impressive hotels or resorts that I've visited, even before covid put a pause on my travels. While it was purpose-built to be what it is, once you pass through the doors or the hedges surrounding the main building, it truly does transport you to a completely different place. Not only that, but there's an incredible sense of authenticity and attention to detail from covid protocol which is important today ... as well as the collected artwork, spacing of fire pits, and outdoor areas where you can laugh and relax as a couple or enjoy the company of friends.