For Americans, the Caribbean is our playground with warm water, beautiful beaches, and free-flowing drinks that make for a great party destination. Across the pond though, our European friends have the Mediterranean. While you can have an incredible stag party / bachelor party virtually anywhere from Ibiza to Bodrum, Cyprus offers their own sort of special atmosphere that makes it a fantastic destination for an epic party to send your friend off in style.
Why Cyprus?
While some other islands are extensions of their mainland culture, Cyprus is in fact its own territory. With a location sitting in the middle of ancient trade routes between Italy and Greece, Turkey, Israel, and Egypt it has a culture and cuisine that is a mixture of all of those Mediterranean styles as well as Middle Eastern and even Central Asian influences. If you have more on your agenda than simply drunken debauchery then this is a perfect island to visit and possibly explore some of its ancient cultures from neolithic remains to Roman towns, and even Medieval Castles. Over the thousands of years that Cyprus has existed various empires including Hittites, ancient Greeks, Assyrians, Persians, Romans and Ottomans have laid claim to the island and left their imprint here.
The official languages in Cyprus are Turkish and Greek but virtually everyone, especially in a hospitality role speaks excellent English.
Additionally, areas such as Ayia Napa have some of the most crystal clear water found anywhere in the Mediterranean. In fact, not only is the water exceptionally clear but it is also rated at 99.1% by the European Environment Agency (EEA). The agency found that Cyprus had the best top quality water for bathing anywhere in Europe. As a comparison, Austria scored 98.5%, Malta 97.7%, and Greece at 95.7%. So, if crystal clear and nearly pollution-free water sounds like a good start to your stag party getaway then let's talk about where you should go on Cyprus.+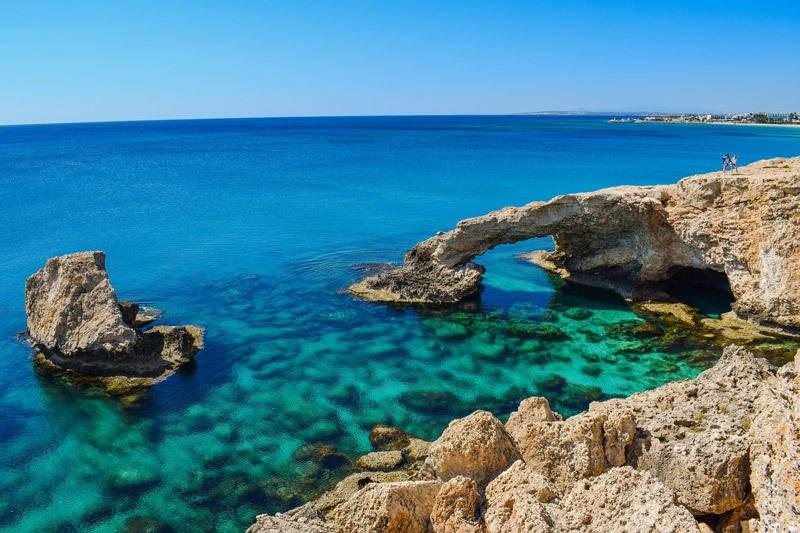 Best Area On Cyprus For A Stag Party?
Cyprus has many beautiful towns that would be great for a vacation but for a stag party, the two best areas would be Ayia Napa and Protaras. Both of these areas are located on the southeastern corner of the island and have great beaches as well as plenty of entertainment options. If strip clubs are what you are seeking, there are some located there and compared to some party destinations in Europe they can be safer and less dodgy than what you might expect. However, you should always ask the manager before entering to make sure you know what the prices and policies are.
Hotel Or Villa For Your Cyprus Stag Party?
There are plenty of hotels in the area, though more of them can be found in Protaras vs Ayia Napa. However, while these can be a good option, we're a big fan of renting a villa for a stag party. This way you can have more freedom and even if you want to stay home one night and enjoy some drinks and bbq then you can just kick back and relax. There are a lot of different options out there but we like some of the ones that are listed on Cyprus Villas and since they are an international company with villa rental properties all around the world, you know it isn't going to be some shady local operation.
What To Do On a Bachelor Party / Stag Do in Ayia Napa?
If girly bars aren't your preferred form of entertainment, don't worry. One of the best spots for a bar crawl on Cyprus is Napa where you'll find a great strip of bars and night clubs with outdoor and open-air spaces with live music and great drinks.
During the day, the beaches around Ayia Napa are fantastic and a short drive away you can also explore the Cape Greco National Forest Park. While many beaches in this area are very rocky, some areas such as Limnara Beach are nice and sandy. However, if you are looking to dive, fish, parasail, or simply take a boat excursion there are many areas here to do that too. If thrill-seeking is on your agenda, find a local or hire a guide and try some cliff diving.
No Cyprus Stag Party would be complete without chartering a party boat for a day (and night) of dancing, drinking, and seeing some of the most beautiful shorelines anywhere in the Mediterranean. There are many options here ranging from the "Black Pearl" pirate ship to the colorfully painted Napa Queen which offers 5-hour cruises that include stops for snorkeling