When the folks at Polaris invited me to Camp RZR as their guest, I was beyond excited for the opportunity to ride the iconic sand dunes of Glamis (a bucket list item for me) and have some fun. But once I got there, went through the safety briefing, and made my way onto the dunes, I was beginning to wonder if I had gotten in over my head, as riding in sand was very different than the dirt and mud trails I was used to.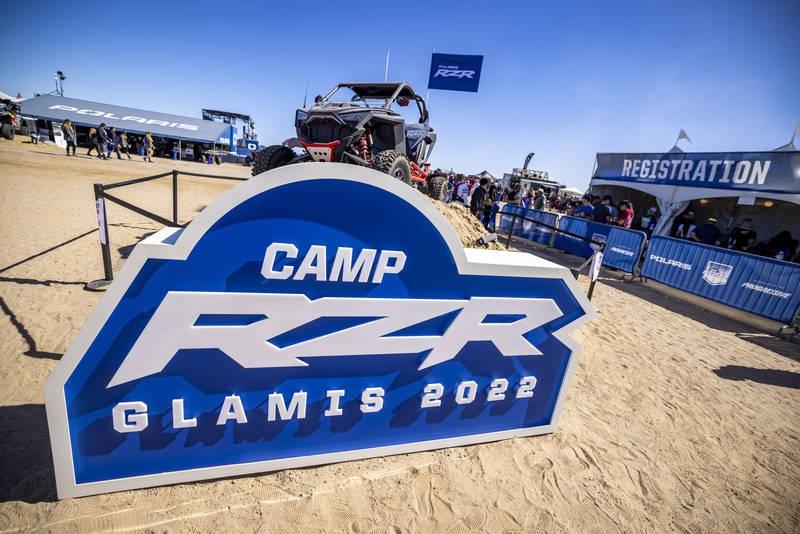 Here I was, strapped into a Polaris RZR Turbo R at the bottom of an impossibly steep 400-foot-tall sand dune called China Wall and being told to floor it and ride to the top of this massive mountain of sand. I looked to the very top of the dune and thought to myself, "There's no way I'm getting up there", as it seemed to defy the laws of physics. The last thing I wanted was to get stuck, or worse yet roll this shiny new RZR. Oh man, what had I gotten myself into?!
But there was no time to think about this. Suddenly I was getting the signal to go, so I said a quick prayer, mashed the pedal to the floor and hung on for dear life. Amazingly, my RZR raced up this massive dune with ease, and I made it to the top in record time. I hopped out of my ride grinning from ear to ear, my heart beating out of my chest. WHAT A RUSH! Needless to say, we did this climb a few more times, and each time was better than the last.
THIS is what Camp RZR is all about, giving off-roading enthusiasts a weekend that they won't soon forget. Now if you're someone who's into UTVs, you have probably heard about this epic weekend-long celebration that Polaris hosts annually at the Glamis Imperial Sand Dunes, one of the world's most renowned off-roading destinations.
It was started back in 2012 as a way to say thank you to the side-by-side community, and it's grown considerably over the years, with over 100,000 people in attendance this year, eager to hit the dunes and shred some sand after a two-year hiatus due to the pandemic.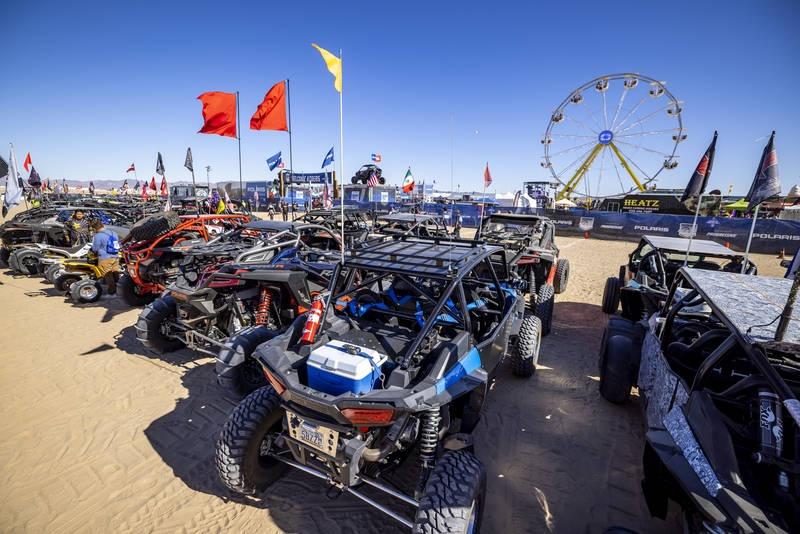 What's more, this free event isn't limited to just Polaris riders, it's open to anyone who wants to attend, regardless of their preferred choice of wheels. We saw ATVs, UTVs, motorcycles, and off-road vehicles of all kinds out there hooning around the dunes and having a blast. And that is what Camp RZR is all about, bringing together people who live this lifestyle for a wild and crazy weekend like no other.
That said, riding through the dunes comes with its own set of risks, and it's not uncommon for people to break something or have some mechanical issues, especially if they pushed things a little too far. But if you're driving a RZR, you can bring it over to Polaris's on-site service tents, where employees work tirelessly to get your ride back in working order quickly so that you can get back out on the sand. Oh, and did we mention that they're doing this all for free?
According to Polaris, it's not uncommon for the repair crews to service 400-500 UTVs over the course of the weekend. Pretty amazing, don't you think?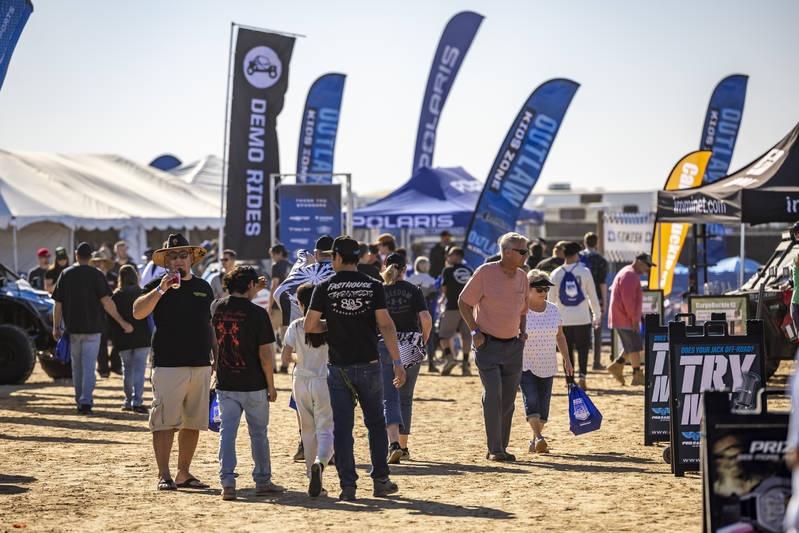 What's more, it was pretty great awesome to see the camaraderie amongst the riders. At one point during our ride, we saw someone who got their vehicle REALLY stuck, and people from far and wide rushed to their aid, working tirelessly until they freed it from the sand. People were also very mindful of one another on the dunes to avoid any potential accidents. And let me tell you, that's a big one, as it got pretty crowded out there as the day went on.
Glamis itself exceeded my wildest expectations. The Imperial Sand Dunes Recreation Area is the largest off-highway vehicle recreation area for sand dunes in the U.S., with golden sand as far as the eye can see, stretching over 118,000 acres and offering clear views into neighboring Mexico and Arizona. The constantly shifting winds of the valley make for ever-changing slopes and bowls, so you always want to keep looking ahead for what's coming next. Needless to say, riding the dunes is quite an adrenaline rush.. and really sandy.
When you're ready to take a break from riding the dunes, RZR's Vendor Village Camp offers a plethora of things to see and do. We're talking food trucks, vendor booths, aftermarket parts, customized rides, technology displays, demo rides of RZR Pro R and RZR Turbo R, a kids zone, along with a massive Ferris wheel that can be seen from miles around. At night, they had live musical performances from Pennywise and Face to Face, which was very cool.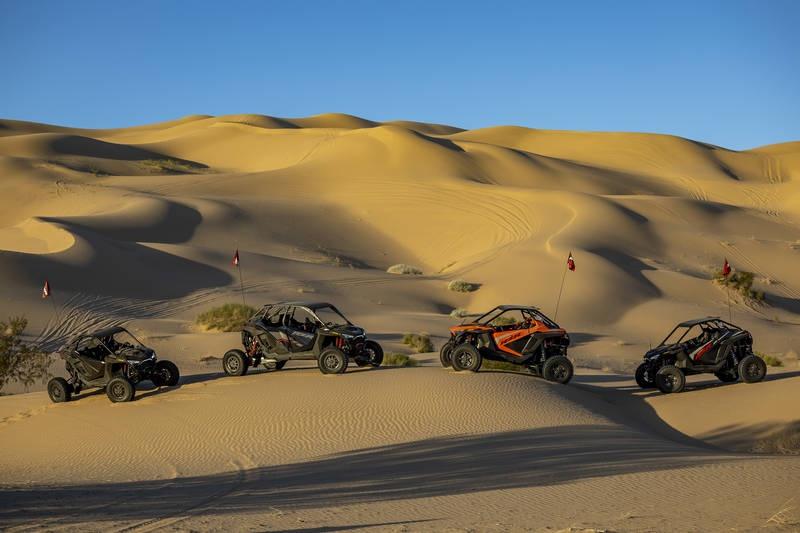 Guests also have the opportunity to meet top Polaris RZR racers and ambassadors, including Tanner Foust, RJ Anderson, Casey Currie, Blake Wilkey, and Heavy D Sparks of Diesel Brothers</em> fame. I actually got a chance to sit down and talk with Tanner Foust about Camp RZR, and he loves what it's all about, and especially how it's become a family affair, with kids taking part in the weekend and carrying on the love of the sport for the next generation. Casey Currie also took a few other media guests and me for a ride-along, which was pretty surreal.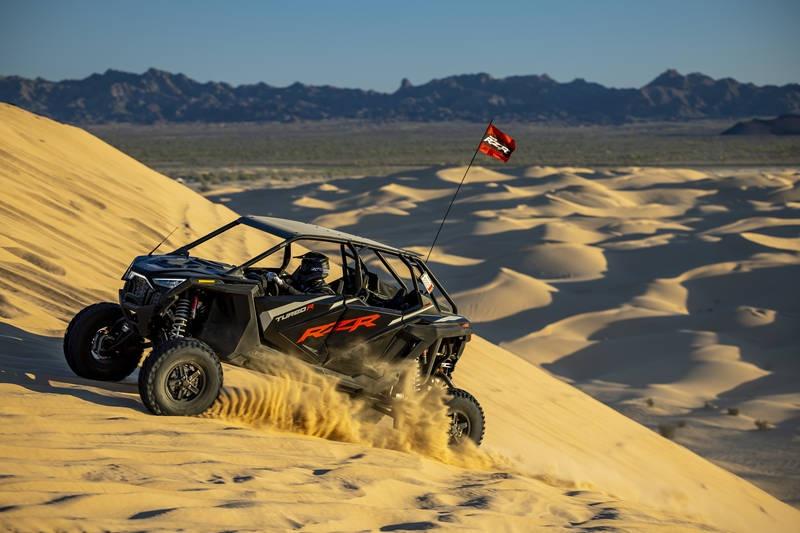 Riding Sand Dunes 101
As I said, I'm no stranger to UTVs, having ridden quite a few of them in the past. But this was my first time riding dunes, and it was quite a unique experience. Off-roading in sand isn't like regular terrain. The best way I can describe it is like how when you're walking in fresh, deep snow and how your leg sinks down deep. The same holds true for sand, so momentum is your friend. Stop in the wrong place (going up a hill, in deep sand, etc), and you could get stuck.
Steering in sand is more like sliding than turning, similar to rally racing, so you always want to be looking ahead. Dunes also come riddled with hazards, including unexpected holes called "witch's eyes" and steep drop-offs. The best way to navigate these is to angle your way up the dunes to scope out the far side rather than driving straight up them, so you don't end up going over nose first and taking a header.
Riding in groups is also a must, because it's very easy to get turned around in the dunes and lose your way, especially when you're surrounded by endless miles of sand. I actually had that happen on my last run, as I was giving the person in front of me some room, as I was getting pelted by sand, and before I knew it, he had raced off and I lost sight of him. Thankfully, RIDE COMMAND+ allowed me to see where they had gotten to, and I was able to find my way back to the group.
Proper gear is also essential when riding the dunes, as sand is not forgiving in the least. A full-face helmet, goggles, neck gaiter, gloves, and a long-sleeved shirt or jacket will keep you safe from the elements for the most part. Even with all of that, sand still managed to find a strip of my forehead that wasn't fully covered, and I ended up with some irritated skin afterwards. Yes, it's no fun being all covered up in the desert heat, but the alternative is even worse.
A word of advice: Hit the dunes in the morning, as it's significantly cooler outside, and there's a lot less traffic to boot, as most people are still asleep after partying too hard the night before.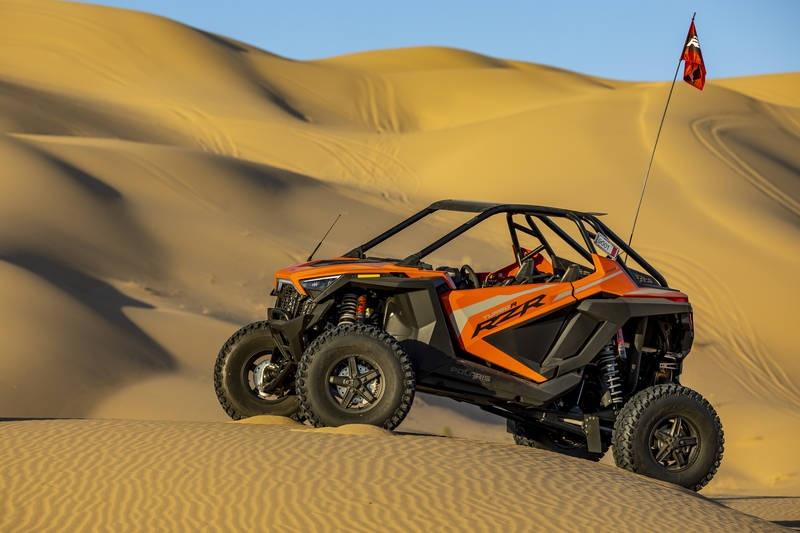 Driving The Polaris RZR Turbo R
I spent most of my time on the dunes behind the wheel of a Polaris RZR Turbo R 4, and it's by far the best UTV that I've ever driven. Powered by a 181-HP turbocharged engine combined with a wide 74" stance and big 28" suspension, this bad boy delivers eye-opening acceleration with unbelievable stability so you can tackle big terrain.
Taking on the most challenging off-road conditions requires extreme durability, and the Turbo R 4 delivers with a rigid one-piece chassis with a boxed and stamped-steel suspension. And from the innovative geometry upfront to the game-changing travel in back, the Turbo R 4 has impressive suspension giving you the confidence to chase bigger thrills.
While the two-seat Turbo R is a bit more nimble and easier to get airborne when hitting sweet jumps due to its smaller size and weight, I actually preferred the stability that the four-seater offers, especially on uneven terrain like this. Plus, if you've got a family, you can take everyone out for a ride, which is a lot more fun.
Pricing for the RZR Turbo R 4 starts at $31,999, while a loaded Ultimate model tips the scales at right around $40K. And if you want to kick things up a notch, the RZR Pro R 4 delivers even more power, strength and control, with a starting price of $41,699.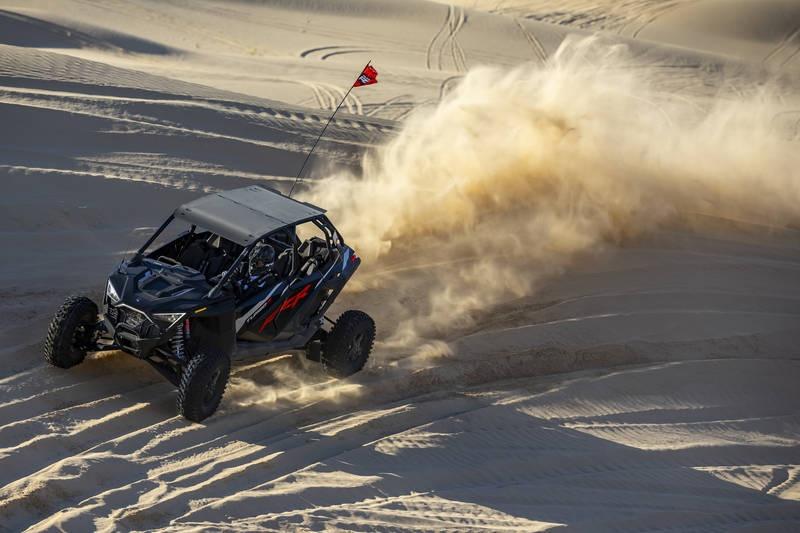 Camp RZR Is A Bucket List Event
There's no doubt about it; Camp RZR was an incredibly fun and memorable event, one that I won't soon forget. And I was really impressed by how well organized it was, as putting together something of this scale is no easy task. Needless to say, if you're into OHVs, Camp RZR should definitely be on your bucket list, especially if you're local and have your own ride. And even if you're not, you always fly in and rent something awesome to ride for the weekend.
Camp RZR is one of the largest gatherings of off-road UTV enthusiasts in the world, and after spending a few days in Glamis, I can totally see why. And the fact that it's completely free to the public as a way to give back to the powersports community? Talk about amazing.